Because many modern vehicles can travel a higher number of miles and continue to run and feel like new, many buyers looking at today's typical three-year old car have come to expect perfection, and are willing to pay for ones that look the part inside and out. Seat covers are probably the easiest and most effective way to keep your vehicle's interior looking new as long as you own it, which puts more money in your pocket when it's time to sell. Using your car the way life dictates translates to a lot of wear on your seats and scratches, tears, grime buildup, stains, sun damage, and odors than come from bacteria liquid spills can make any car's interior an unpleasant place to spend time in. While it's possible to clean dirt and grime off unprotected seat surfaces, it is not always possible to reverse other damage. For example, after a heavy spill you may not get everything out of the pores of the seat - which can result in mold and odors. If you have leather seats, nothing fades, dries out, and discolors them like the sun's ultraviolet rays do.
Because modern seat covers can protect your seats from all of these hazards so well, it's easy to picture how they will fit the needs of your life. But how will they actually fit the seats of your car? Whether they are made of neoprene wet-suit material, leatherette, velour, leather or polycotton, most modern seat covers come either custom-fitted or in universal one-size-fits-all form. Both offer the same kinds of protection, but each one comes with its own advantages and disadvantages. In order to figure out which style worked better and pick the best seat covers to offer you, the staff at CARiD tested a wide variety of custom-fit and universal seat covers on our own vehicles to determine which style really measured up. We looked at them based on five separate factors we found the most relevant.
Appearance Of Universal And Custom Fit Seat Covers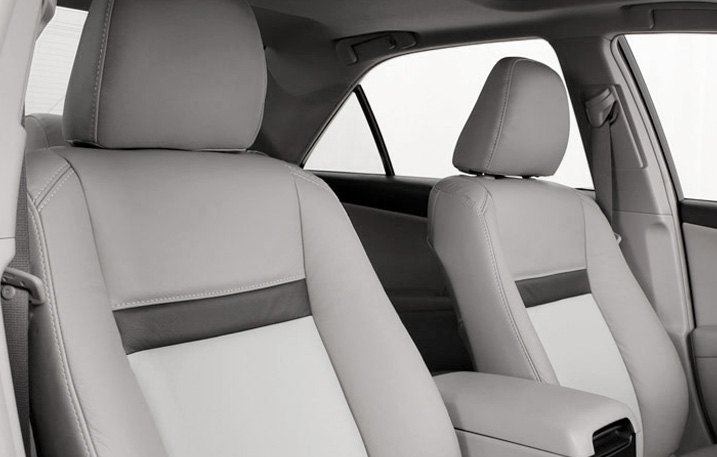 Computer-aided design has made it easy to create custom seat covers that are tailored to the exact contours of any vehicle make and model's seats. Modern materials allow covers to stay form-fittingly snug over each fold and crease, even under heavy use. If a vehicle had stylishly shaped seats, we noticed a tight and even fit from the seat covers actually complemented the basic seat structure more - especially covers with bright colors, toned accents or textured patterns. With universal seat covers, a good fit was a roll of the dice, and a perfect fit was an impossibility. They tended to mask the shape of the seat in varying degrees, with the worst-fitting covers creating a look that could be described as bean-bag at best.
CARiD staffers with trucks or sport utilities particularly noticed that fact when the friction of sliding up across their seats caused seat covers that were too loose or too tight to pull up and slide along with them. Not only did the resulting lumps and wrinkles look sloppy, they were uncomfortable to sit on top of. While most of us took the time to adjust the driver's seat cover to proper alignment when exiting, it was difficult to get passengers to do the same. Which left the car full of sloppy looking seat covers front and rear. We noted that was not something any of us would want a first date or potential client to see. It was clear the advantage here went to custom fit seat covers.
Advantage: Custom fit covers
Arm Rests, Head Rests, And Seat Switches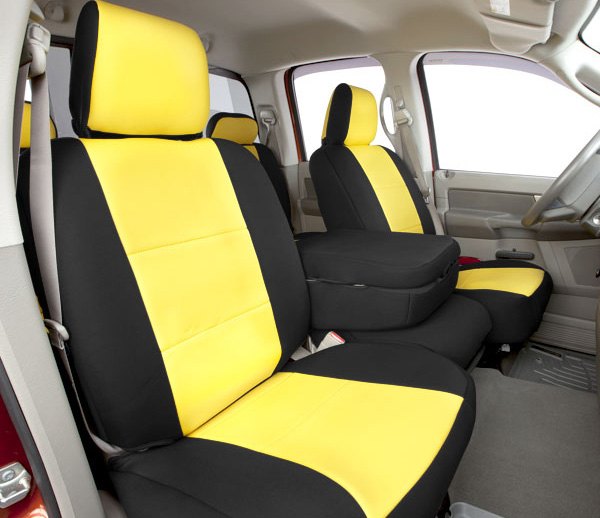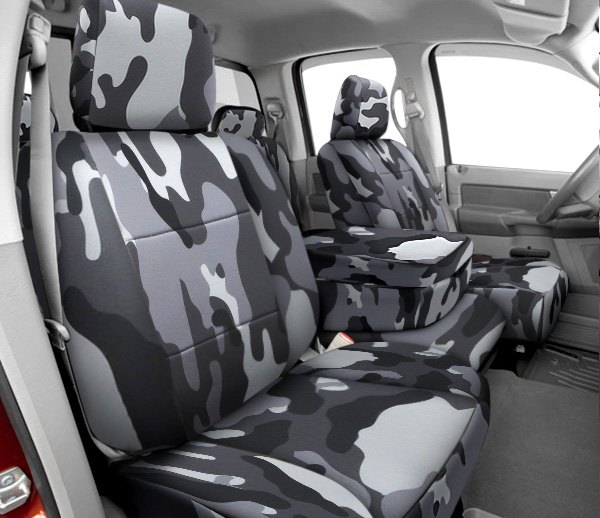 Because each make and model vehicle has different locations for power seat switches, lumbar support adjustment and more, custom fit covers take the location of them into account when each cover design is created. Additionally arm rest and head rest location, shape and movement must be accounted for or their function can be compromised. In order to ensure they cover the seat fully, universal seat covers cannot possibly provide for these factors, where custom-fitted car seats will have cutouts for each. A few staffers noted they couldn't find their seat button controls or move their armrests at all to get comfortable.
Advantage: Custom fit covers
Ease Of Installing And Removing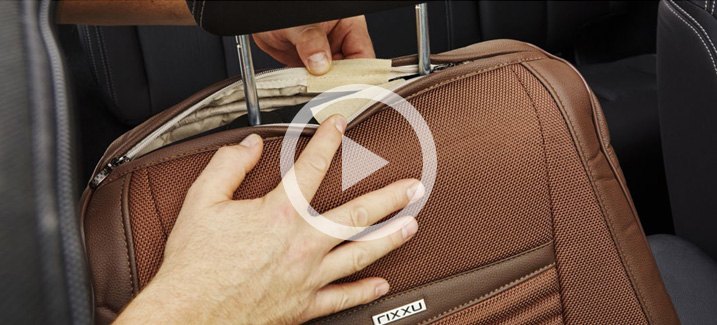 Custom-fit seat covers typically take longer to install because separate sections for each seat back and seat bottom must be fitted, rather than tossing a one-piece cover over all seat surfaces. This did become a disadvantage for staffers that had a frequent need to remove and install them. For example, one member had a classic car with a nicely restored interior he wanted to protect with a seat cover that slides on for the drive to the car show then removes easily when he got there to show off his vehicle's original beauty. And one of our sales staff had a premium luxury car with fine original leather seats she wanted to leave exposed so she could enjoy them herself and make a positive impression on clients during the work week. During the weekends when children hopped in with ice cream cones, she would install the seat covers. And our warehouse and technical staff that come to work clean in the morning and return home dirty at night said they appreciate seat covers that can be taken on and off easily each day. Why? Putting the seat cover on for the trip home ensures their car's seat does not get dirty. Then, taking it off for the next morning's commute to work ensures fresh clothing stays clean without soaking up the grime left on the seat cover from the night before. All of them found a distinct advantage with the ease of removal that universal covers offer.
Advantage: Universal covers
Pets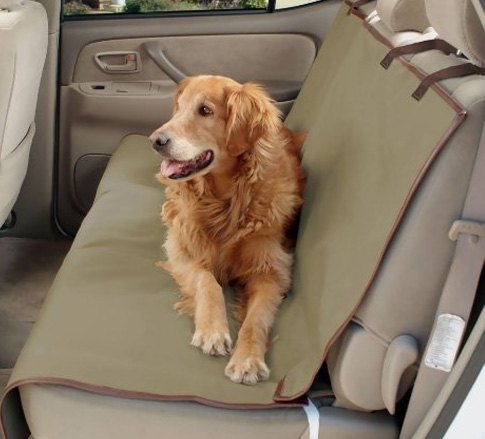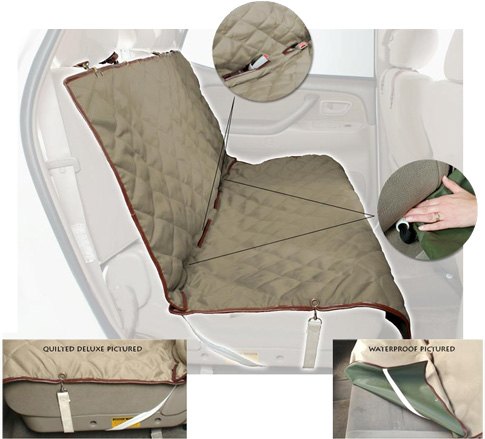 Because dogs or other pets may have sharp nails that can scratch or puncture fabric, seat covers for canines need to be thick and tear-resistant. Nylon has proven to be the most durable material for such applications, and its water-resistant nature is a plus. However, Nylon does not offer the elasticity needed to create form-fitting snugness necessary to create a custom fitted seat cover. Because canine seat coversmust have a heavy buffer of padding inside for seat protection, and a grippy rear surface to prevent the seat cover from sliding around, they have to be thick in order to do their job. Because that necessary thickness prevents construction of shapes that look and work like custom-fitted covers, there are none made by any manufacturer.
Advantage: Universal Seat Covers
Safety Of Custom Fit And Universal Seat Covers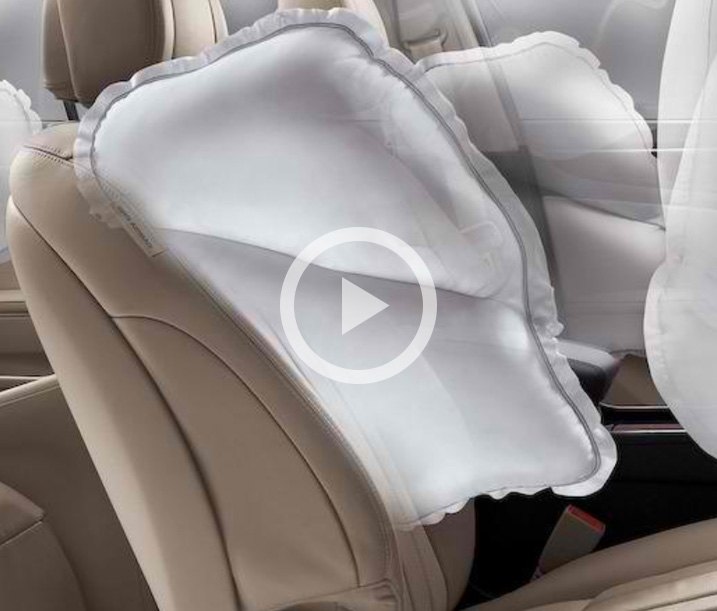 To quote one major seat cover manufacturer that sells universal seat covers, "There are times when an inexpensive seat cover is required. For this reason, we offer Universal Seat Covers in a variety of different designs and prints. Universal Seat Covers have limited applications, and ARE NOT INTENDED FOR VEHICLES WITH SEAT AIRBAGS." What they are referring to is the fact that many vehicle manufacturers design their side impact protection systems with airbags that deploy out of the sides of the front seats. Custom fitted seat covers designed for a specific vehicle model provide seams that allow seat-mounted air bags to deploy properly while universal seat covers do not. Additionally, ill-fitting seat covers that bunch up underneath can be uncomfortable to sit on. It is very difficult to focus on driving safely when you're in a seat belt trying to contort in such a manner to adjust a seat cover underneath back to proper shape.
Advantage: Custom-fit covers
Once we compared all of our findings, we found the result was clear. Custom-fitted seat covers offer more distinct advantages than disadvantages when compared to universal ones. That's why we offer an extensive line of form-fitting seat covers made from waterproof neoprene, leatherette, leather, and fabric patterns that simulate carbon fiber and western stitching. Because we were so impressed after using the universal-fit pet seat covers, we over a line of those also. CARiD understands you may have questions before purchasing, so we have specialists available seven days a week to provide answers and help you make the best seat cover purchase decision possible.
January 20, 2014