Seat cover design and construction have progressed a great deal in recent decades. Not so long ago, the phrase "automotive seat cover" meant ill-fitting covers which constantly slid off the seats and pulled up at the corners.
Fortunately, computer-aided design and production methods have resulted in modern seat covers that can be custom-tailored to fit any individual car or truck – stretching like a spandex glove over every contour. And thanks to modern materials, today's covers will stay form-fittingly snug over each fold and crease - even under heavy use. Passengers won't notice they are add-ons, and you may forget they're not original equipment yourself. So whether you want to protect your vehicle seats from liquid spills with neoprene covers, add luxury with leather, velour or suede, increase comfort with the washable utility of polycotton, or add western and outdoor flair, this section is sure to be of interest.
In this article, we'll look at the variety of materials used to make the seat covers found in the Custom Seat Covers section of our website. While most of the covers we sell are custom-fitting, some are universal in design. Either designation will be noted clearly as part of any seat cover product description. If the Product Options box prompts you to enter vehicle make, model, and year, the seat cover you're looking at is a custom-fit, tailored design. In another helpful article, we weigh in on the pros and cons of custom-fit vs. universal seat cover designs.
On custom-fitting seat covers, location of any OE (original equipment) headrests, split bench seat edges, power seat switches, under-seat storage drawers, center consoles, and seat-mounted side airbags are taken into account to create covers that stay tight over all surfaces without hindering the function of switchgear or safety features. Almost all are available in multiple colors and come as sets for 1st-, 2nd-, and 3rd-row seats - allowing you to order just what you need.
Washable Seat Covers
Whether you're a car buff who appreciates maximum cleanliness or you need to drive your vehicle while wearing dirty clothes, we've got just the seat covers for you. First, our custom-fitted Seat Armour Towel Seat Covers are easy to throw over your seat if, during the course of yardwork, you find yourself needing to make trips to the hardware store or town dump. These are 100% cotton terrycloth towels which slide on easily thanks to cutouts shaped just for your vehicle's headrests. Like a towel would, they drape on top of seat surfaces and wrap over edge areas to absorb dirt and sweat. But unlike a normal sheet towel, properly sized headrest cutouts will keep the Seat Armour cover in place so it doesn't fall down behind your back or bunch up uncomfortably.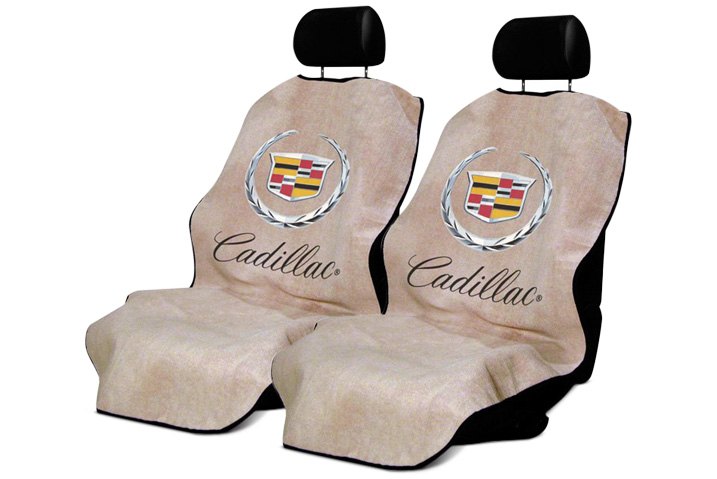 Because they're cotton, they'll also provide effective insulation from burning hot seats in summer – an invaluable plus on trips to the beach or the pool. But the best part is how easy they are to pull off and machine wash for the next time they're needed in a pinch. In fact, there's no reason they can't be used over other seat covers. Built-in seat airbags pose no issue as the towels do not fully surround or constrict the seat itself.
Should you prefer washable seat covers that completely surround seat backs and bottoms, take a look at the Covercraft SeatSaver Polycotton Seat Covers, Coverking Polycotton Drill Custom Seat Covers, and the Rugged Ridge Poly Cotton Seat Covers (for Jeep Wrangler and CJ models). All of them are custom-fit designs that look good on your seats, and the breathable nature of cotton keeps you cool thanks to high absorbency. Polyester mixed in to the weave ensures they remain durable without wearing or pilling up over time. Cotton's washable nature ensures quick cleaning will remove spills with a success rate similar to clothing.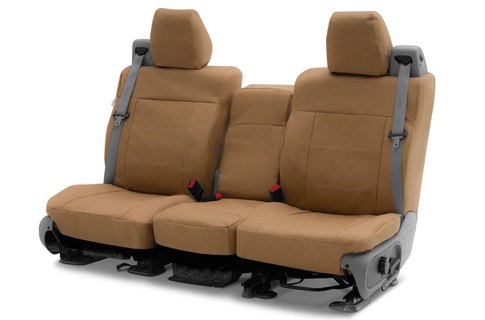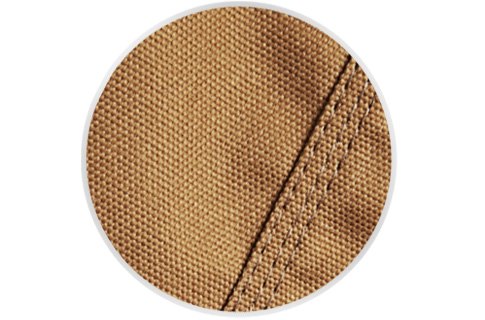 Another washable option for those that need heavier-duty seat covers is Carhartt material. If you're unfamiliar with Carhartt, it's named after a Detroit company that originally made durable and long-lasting overalls for railroad workers in the 1800s. Heavy-duty threads that resisted water and abrasion along (also described as "duck" material) with reinforcement rivets became trademark features of company products, and today Carhartt clothing is commonly found on construction sites, farms, and ranches.
We offer the Covercraft Carhartt SeatSaver Custom Seat Protectors which feature overlapped double- and triple-stitched seams purpose-built for standing up to dogs, kids, construction work, and more. The material has a water-repellant finish to handle spills, and can be home machine washed and dried without worry.
Neoprene & NeoSupreme Seat Covers
Neoprene is a thick, durable rubber-based material found in top-of-the-line wetsuits used by scuba divers and surfers. It's waterproof, hard to puncture, and is probably the most form-fitting type of seat cover material on the market. The highest blend neoprene is often described as "CR" grade, designating chloroprene rubber construction.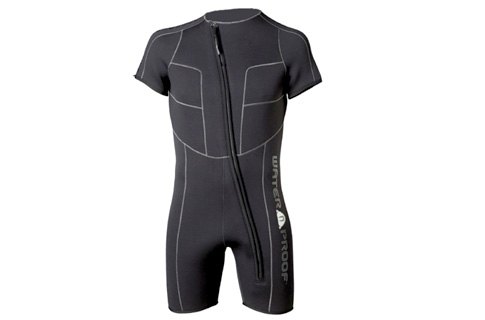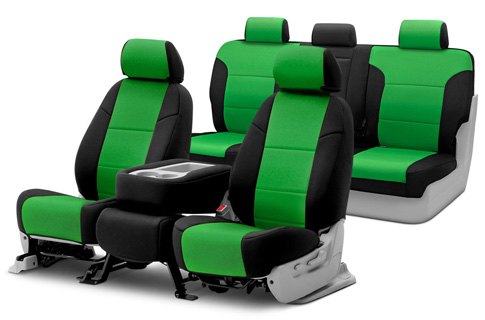 Real Neoprene vs. "NeoSupreme" Materials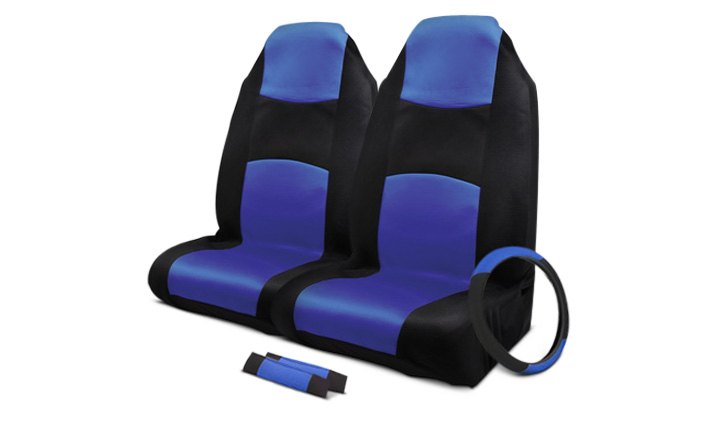 While seat covers labeled neoprene match the construction of wetsuit material, neosupreme ones feature polyester blended with a neoprene-like material known as neotex. Neosupreme, which is not quite as cushiony as neoprene, offers a layer of padding underneath. Used in seat cover form, neosupreme fabric provides very effective protection against spills and abuse while achieving the sporty looks of neoprene. If you are a hard core fan of the outdoors or watersports, real neoprene will stand up to a higher level of gritty abuse, albeit at a slightly higher price. Neosupreme offers most of the advantages of neoprene, at a slightly more favorable price.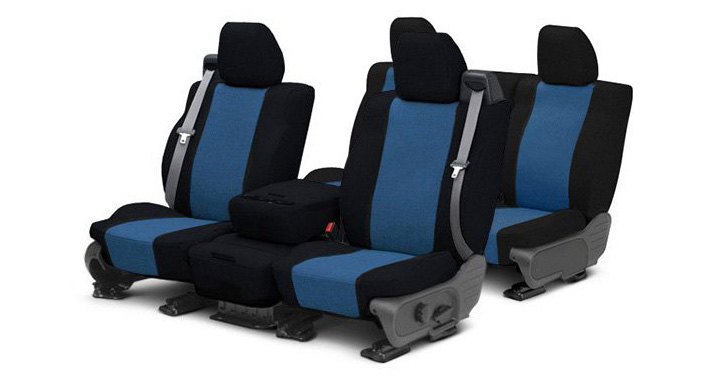 If you're looking for traditionally bright colors made of genuine neoprene, consider the custom-fitting CalTrend Neoprene Seat Covers. Or consider the Coverking CR-Grade Neoprene Custom Seat Covers featuring added layers of knit polyester mixed with a cotton/wool/rayon blend to create a more comfortable, cushioning feel. CR-Grade covers are available in traditional bright hues, but can also be selected with a variety of decorative prints that include flames, zebra stripes, leopard spots, floral patterns, and more.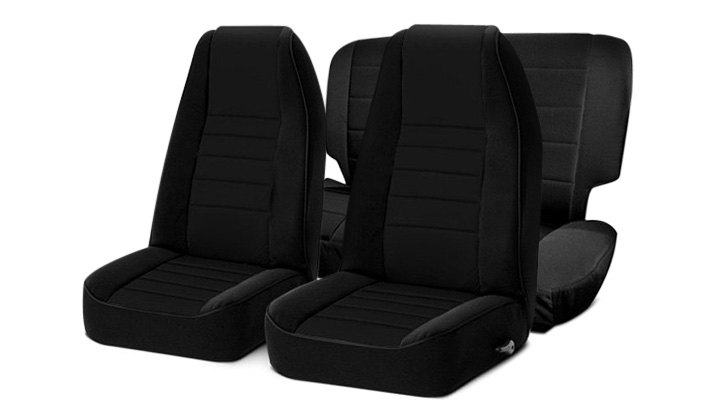 Owners of Jeep Wrangler and CJ models will find value with custom-fitting Smittybilt Neoprene Seat Covers and Rugged Ridge Neoprene Seat Protectors. These are essentially identical products licensed to both companies with one minor difference: the Smittybilt version does not have a defined cutout for the headrest like Rugged Ridge's does.
NeoSupreme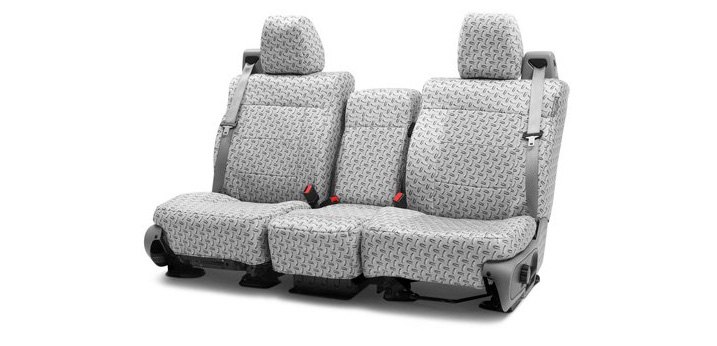 Should you decide you don't need the higher cost and heavier-duty resilience of genuine neoprene, many of the same benefits can be found with similar-feeling neoSupreme seat covers by Coverking. If you prefer solid colors in single and double combinations, take a look at Coverking's NeoSupreme Custom Seat Covers. You'll also find Coverking spices things up pretty nicely with their Designer Printed NeoSupreme Custom Seat Covers. There, you'll see a variety of interesting designs that resemble diamond plate aluminum, pin stripes, checkered patterns, and even "perforated" textures among others.
Leather Seat Covers
Real Leather Covers
If you've ever been in a vehicle with leather seating surfaces, you understand how real leather sells itself. It has a pleasant scent, feels luxurious and plush against the skin, and it adds an upscale flavor to any vehicle interior. Since leather is a natural and not a man-made material, it can require some special care to help prevent cracks from hot-cold expansion and contraction if the oils in the leather dry out over time. Periodic leather treatment products can restore lost moisture and keep leather seat covers looking and feeling new.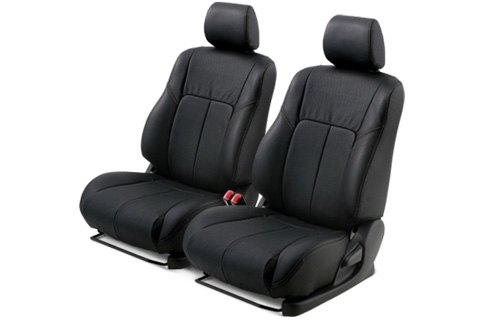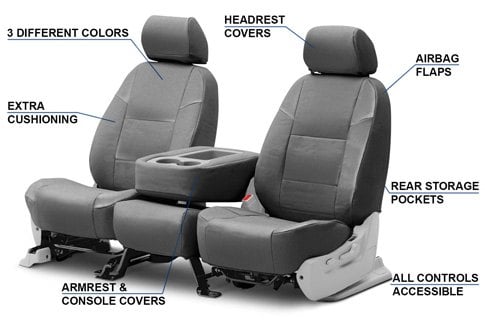 Both the Coverking Genuine Leather Custom Seat Covers and CalTrend Leather Custom Seat Covers provide custom-fitting coverage with real leather across the seating surfaces. A variety of understated solid colors are available. If you've got a full-size Dodge, Ford, GM, or Toyota pickup truck, take a look at Leathercraft's heavy-duty Leather Seat Covers.
Imitation Leather & Suede Seat Covers
One might argue original materials such as leather must be well worth having if products are made specifically to imitate it. So why own an "imitation product"? In the case of seat covers, artificially-made leatherette (also known as vinyl) offers an alternative compared to real leather. Leatherette seat covers are less expensive, look almost the same as leather, wear better without scratching or cracking (especially if pets travel along), and are much easier to clean and maintain. Sometimes, wiping leatherette down with water is all that's needed to erase just about any ill or spill.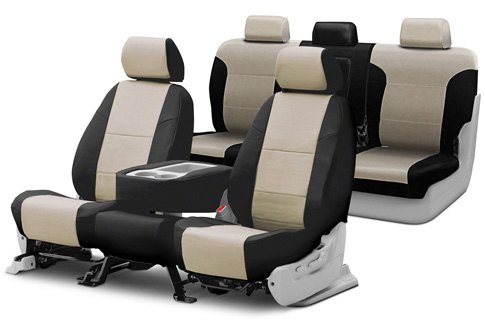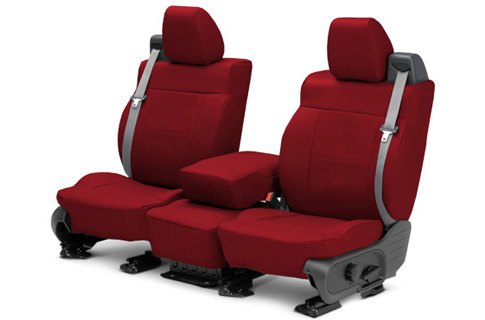 We feel value-conscious customers will be impressed with the leatherette seat covers we offer because they are built to high standards by manufacturers that are also experts with real leather. Additionally, the Coverking Leatherette Custom Seat Cover is available in 2-tone color choices as well as solid ones, and the CalTrend ICBINL (I Can't Believe It's Not Leather) Custom Seat Cover offers a dozen hues should you wish to create a brighter interior.
Imitation Suede & Alcantara Seat Covers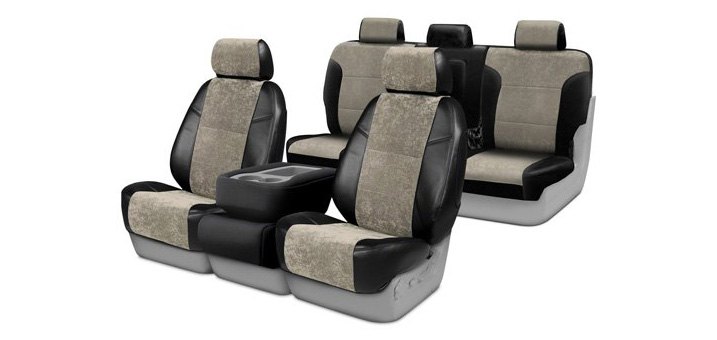 While authentic suede fabric is a luxurious material, it simply does not have the durability needed for use in automobiles. Instead, we offer several convincing imitation suede seat covers made from softly perforated polyester – all of which are custom fit for a wide range of cars and trucks.
For example, Coverking offers their Suede Custom Seat Covers in several muted solid colors, and they offer their Alcantara Custom Seat Covers in solid black or several 2-tone choices. All these covers are alcantara/leatherette combos. From CalTrend, there's also the MicroSuede Custom Seat Covers with solid material surfaces and the SuperSuede Custom Seat Covers with perforated inserts – both of which are available in your choice of solid or 2-tone colors.
Replacement Leather Upholstery

When it comes to leather, sometimes there's just no substitute for the appeal of real leather upholstery. So if you've been wishing your car or truck was equipped with leather seats, we offer a great selection of complete leather upholstery kits that replace your vehicle's existing seat fabric and transform your interior. We emphasize that these are not slide-on seat covers, but a complete replacement of your vehicle's existing upholstery that will require professional installation.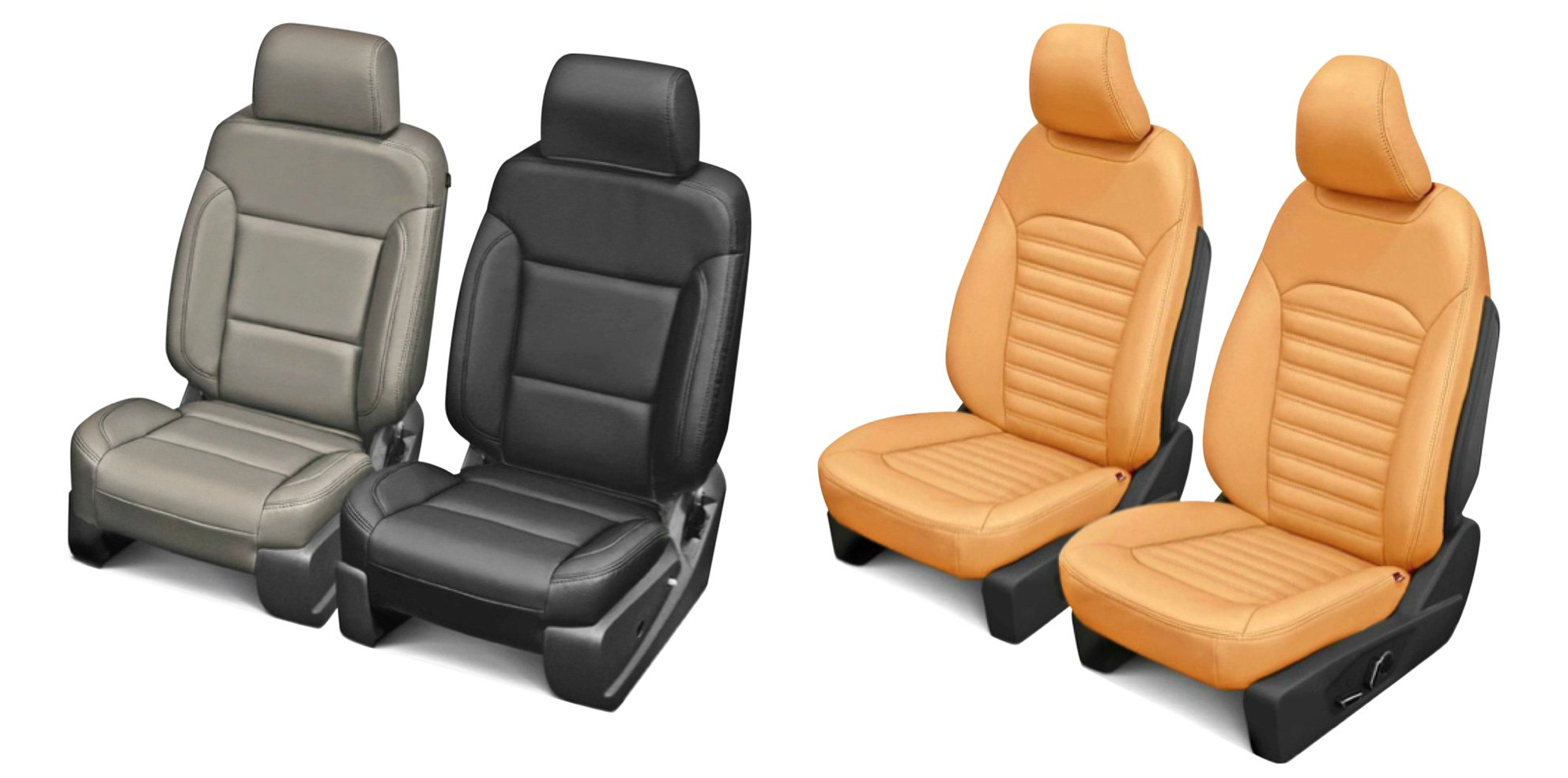 Katzkin leather upholstery kits focus on newer cars of 2012–on vintage. These leather interiors are cut from the finest grades of leather that often exceed some OEM specifications. Additionally, Katzkin is already a trusted OEM supplier of leather interiors to a number of major automakers.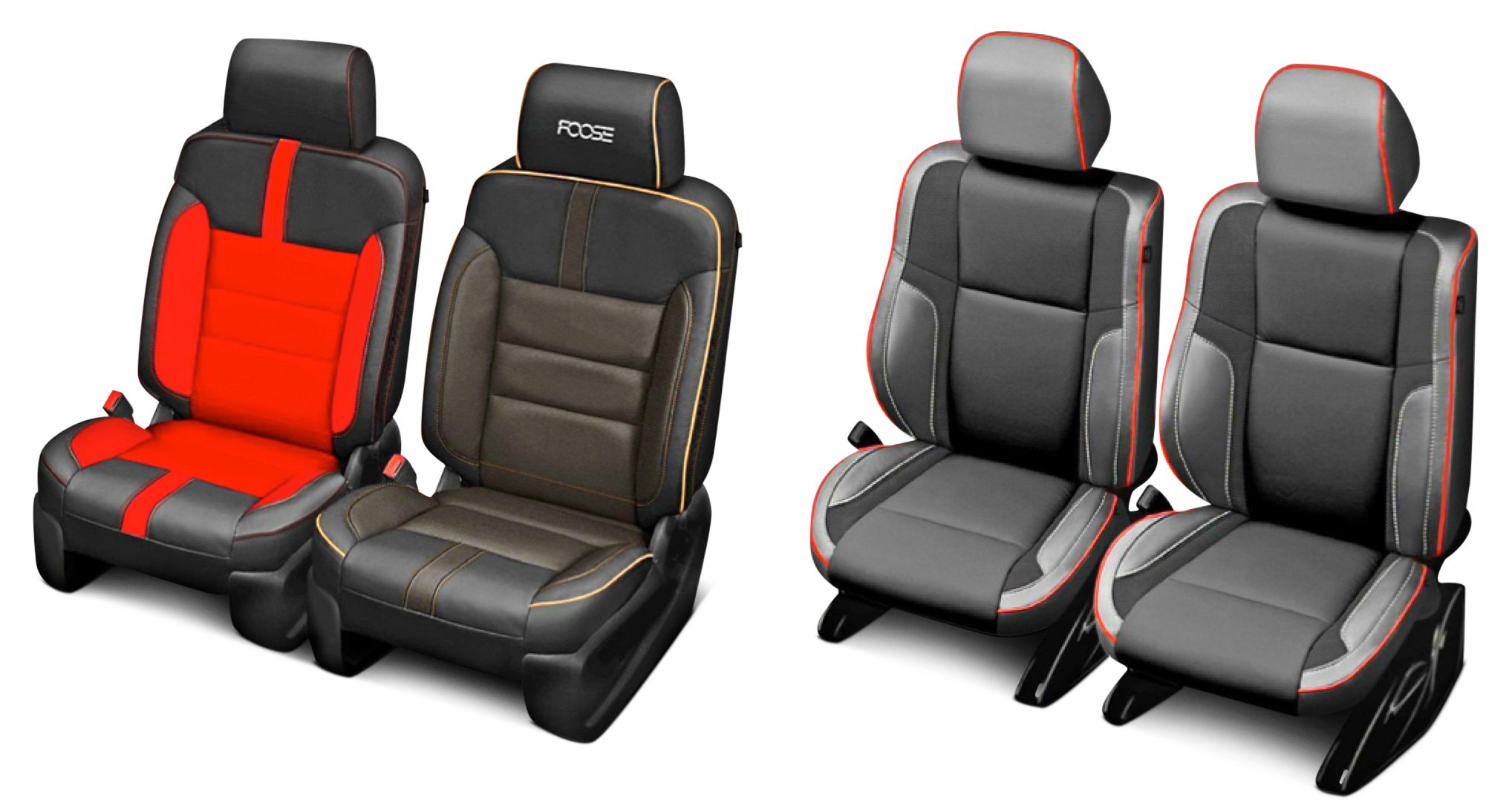 If you prefer a factory OEM look, take a look at the choices on our Katzkin Factory Design Leather Upholstery Interior Kit page. If your tastes lean toward custom designs with multiple colors, highlighted stitching, and accented piping, we've got a wealth of choices on our Katzkin Custom Design Leather Upholstery Interior Kit page.
And for late model Chevy Camaros, we even offer the incredibly powerful-looking IVS Havoc Custom Interior Package, a full factory-grade leather replacement set which also installs permanently in place of original OEM upholstery.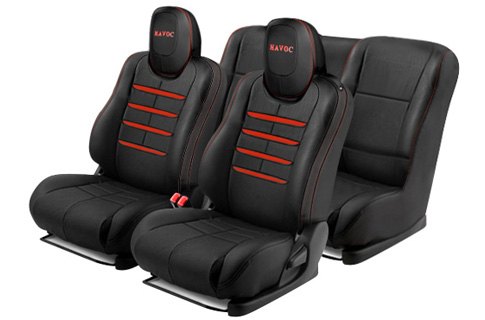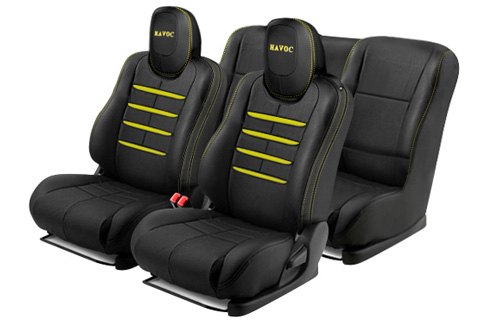 If you're interested in reading more about these and other styles of replacement leather upholstery we offer, see our article Leather Upholstery – Replace, Upgrade, or Restore.
The Comfort Of Velour And Fur
Velour is a fabric that's similar to velvet, with a thick soft nap that makes it luxurious to the touch. Unlike velvet, velour features knit construction which allows it to be extremely flexible and stretchy. While cotton may be used to create velour for clothing, the superior durability and ease of cleaning that polyester offers prove equally effective in automotive applications such as seat covers. For fans of velour, we offer Coverking's Velour Custom Seat Covers (available in solid colors) and CalTrend's Velour Custom Seat Covers available in both sold colors and subtle 2-tone patterns.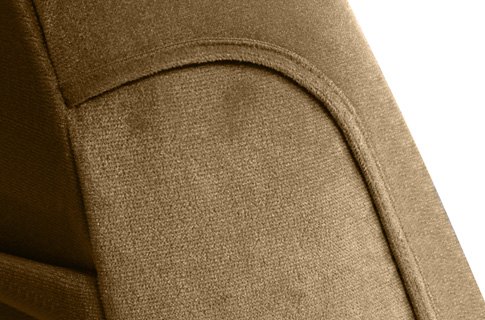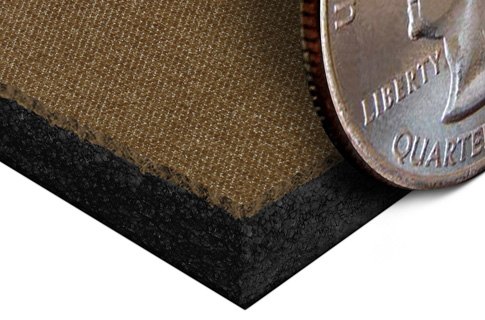 For those who prefer the ultimate in soft-touch luxury, Coverking offers the Snuggleplush Custom Seat Covers created from a fur-like microfiber material and backed with a half-inch of high-density foam. These may simply be the plushest and coziest seat covers ever offered.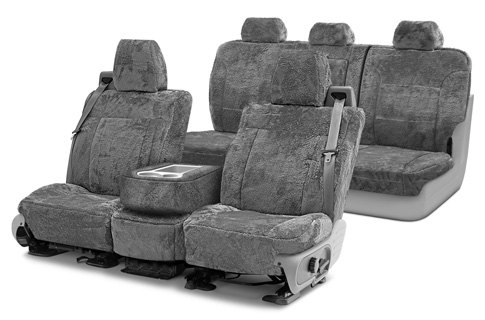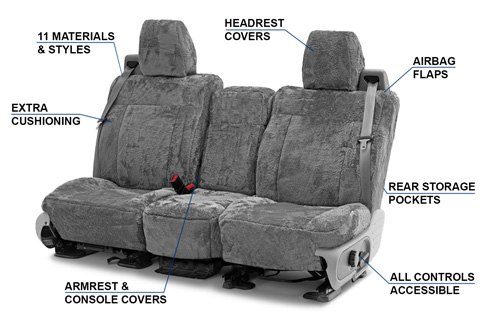 Sheepskin Covers
For those who prefer a deep, thick layer of softness that insulates the body well, we've got seat covers with an outer layer of real sheepskin. We've also got covers created from a fur-like microfiber material backed with a half-inch of high-density foam. These may simply be the plushest and coziest seat covers on the market.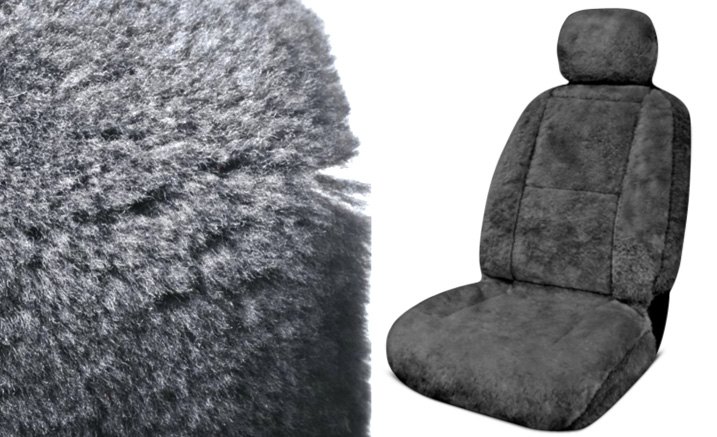 As with all of our seat covers, sheepskins are available in vehicle-specific and universal-fit configurations – many of which leave the side of the seat uncovered to ensure safe deployment of side-seat airbags in an emergency.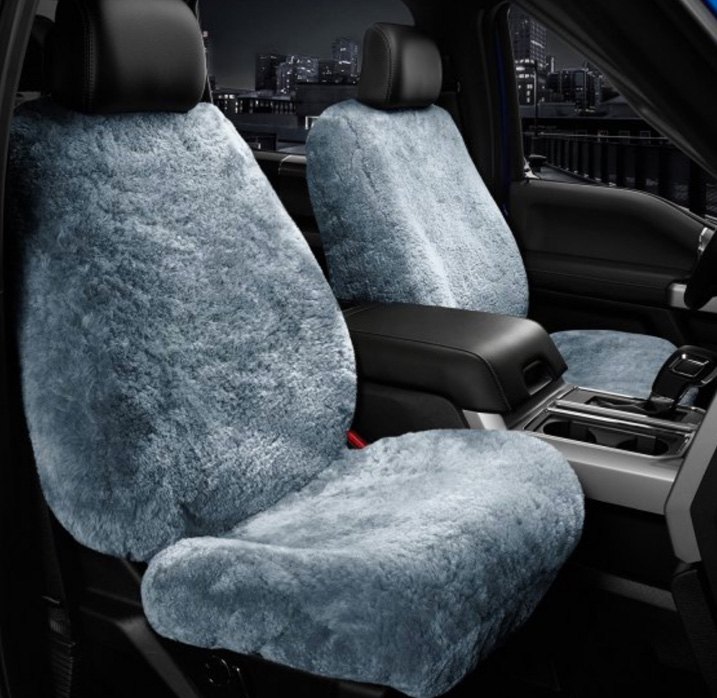 For a custom, vehicle-specific fit, there's the Superlamb Luxury Fleece Seat Covers (solid colors) and Superlamb Tailormade Insert Sheepskin Seat Covers (colored center with black side accents). Prefer a touch of opulence? Take a look at the Rixxu Sheepskin Seat Cover with Fox Fur Accents. The U.S. Sheepskin Deluxe Superfit Seat Cover offers universal-fit sizes in 50/50 high-back bucket, 50/50 low back buckets, and bench seat configurations. For vehicles with larger seat sizes, we've got the universal fit Eurow XL Design Sheepskin Seat Cover.
Camouflage Pattern Seat Covers
For those who desire a different look inside their vehicles, we offer "camo" seat covers with printed patterns of military camouflage as well as artistic outdoor wooded themes – all of which come custom-fit for a wide selection of cars and trucks. When it comes to traditional-looking military camouflage, check out Coverking's Traditional and Digital Camo Custom Seat Covers (neosupreme construction) and their Multicam Camo Custom Seat Covers (cordura construction). For reference, cordura is a densely-woven, high-strength nylon fabric originally created for military body armor. Designed for maximum durability, it offers exceptional resistance to tears and punctures while somewhat replicating the comfort of cotton weave.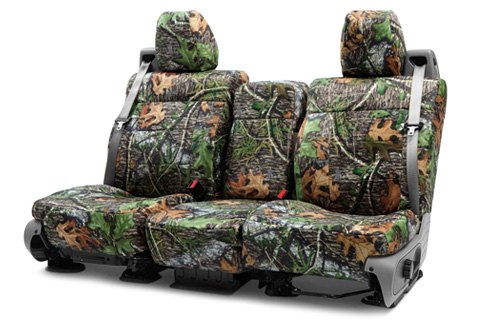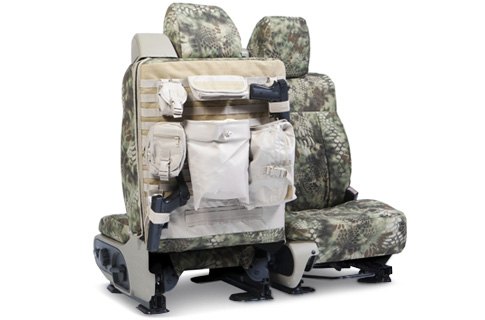 If you prefer "semi-military" patterns that heavily blur the lines of traditional looks, consider Coverking's A-TACS Camo Cordura Ballistic Custom Seat Covers and their Kryptek Camo Custom Seat Covers (both with cordura construction). Moving to outdoor foliage themes, take a look at Coverking's NEXT G1 Vista Camo Neosupreme Custom Seat Covers.
And finally, we offer darker-colored woods themes with neoprene or neosupreme construction that may appeal to hunters such as the Coverking's Realtree Camo Custom Seat Covers and their Mossy Oak Camo Custom Seat Covers.
Other Desirable Seat Covers We Offer
In our seat covers section, you'll also find custom-fit seat covers crafted in tweed, saddleblanket style western theme polyester fabric designs, and waterproof polyester seat covers designed for heavy-duty commercial use and hose-down cleaning. If you need the ultimate in breathability, consider spacer mesh polyester seat covers that are purpose-built with large pores to keep you and the seat cool and dry.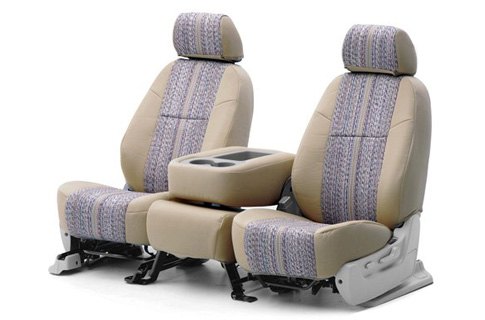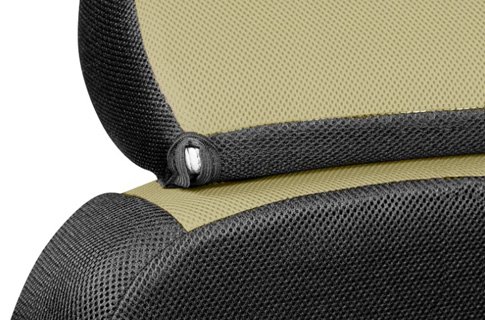 And if you want style to go with the full functionality that polyester offers, we've got some seat cover choices from Rixxu that you'll really love. Choose their Slimline Cover series with luxury accents, Designer Seat Covers in artistic "couture", "New York City", "tree", and "license plate" themes, or Classic Series Seat Covers with traditional horizontal ribbing. All universal-fit choices are available for 1st and 2nd row configurations, and can be selected in a number of colors.

Seat Cushions That Add Comfort, And Even Heat
In our Seat Cushions sub-section, you'll find a number of universal-fit seat cushions designed to be placed on top of your factory seat or seat cover that's already in place. These do not envelop your entire seat, only the middle areas of the seat bottom and seat back. Elastic straps secure wrap around the rear seat back and bottom areas to keep them in place and prevent shifting.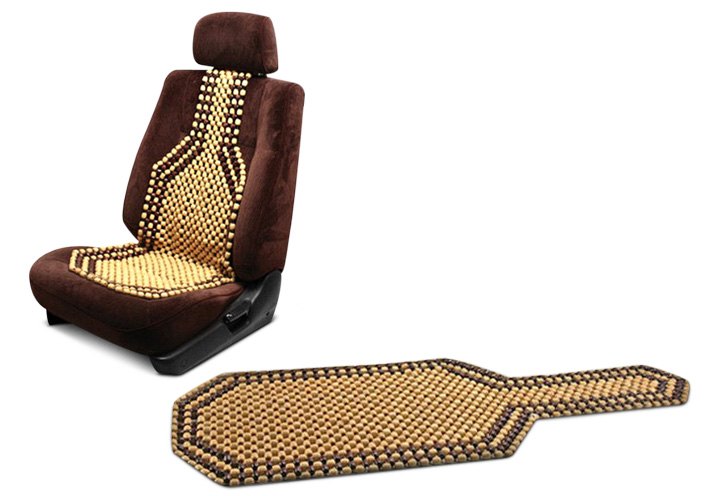 For starters, we've got the Pilot Wood Bead Seat Cushion that's designed to lift you off the seat itself. Small gaps between the beads allow air to circulate through and cool your skin on hot days, while the beads themselves create a multitude of pressure points that serve to massage the body on longer trips. If you prefer padded comfort below and behind you without any beads, the Plasticolor Comfort Seat Cushion is available with Ford or Chevy brand logos on the seatback.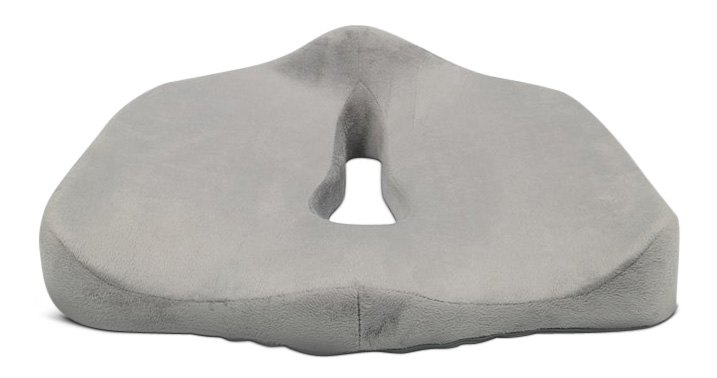 For drivers that have joint pain, back issues, or even hemorrhoid conditions, the RoadPro Memory Foam Seat Cushion is a thick foam cushion that slides between you and the seat bottom to create a much more comfortable seating area. It's equipped with a contoured design to match curves on the human body, and is 1 to 2 inches thick in various sections. A polyester slip-on cover can be removed for easy cleaning. Not only will it add to your comfort behind the wheel, it provides excellent temperature insulation when you need it.
Speaking of temperature insulation, we've also got seat cushions with built-in heating elements for the seat bottom and seat back. So if your vehicle didn't come from the factory with heated seats, you can treat yourself to the exact same benefit – for far less! These plug in to any 12-volt power socket, and the level of warmth can be adjusted manually. There's the Northwest ProHeat Heated Seat Cushion in solid black / gray or camouflage choices.

We understand it's easy to be overwhelmed by the extensive variety of seat covers available in our store. But when you take a few minutes to browse through the choices highlighted in this article, we're confident you'll find what you're looking for – and then some! Fabrics and colors are important choices, and the reason for having such a broad range of products is that every fitment is unique. You and your vehicle should only get what best suits your needs and wants. By providing you with this extensive collection, we know that you will end up with seat covers that satisfy every time you get into your ride.
June 30, 2015