If the air conditioning system in your car no longer blows cold air because performing costly repairs isn't feasible, you've probably become familiar with the cooling off method some describe as "460 Air Conditioning" - signifying 4 windows down at 60 miles per hour. You play around with just how much to open each window in order to create a balance that maximizes crosswind and minimizes unpleasant, ear-popping buffeting inside the cabin. But no matter how hard you try, you and your hair still end up disheveled. Hopefully you're not going to a place where that matters.
If there's rain, open-window ventilation means spray in your face and drip all over the armrests. And if you need to park in hot, direct sunlight, leaving the windows cracked open for ventilation (even a little) is an obvious indicator to thieves that the contents of your vehicle are now more accessible to them.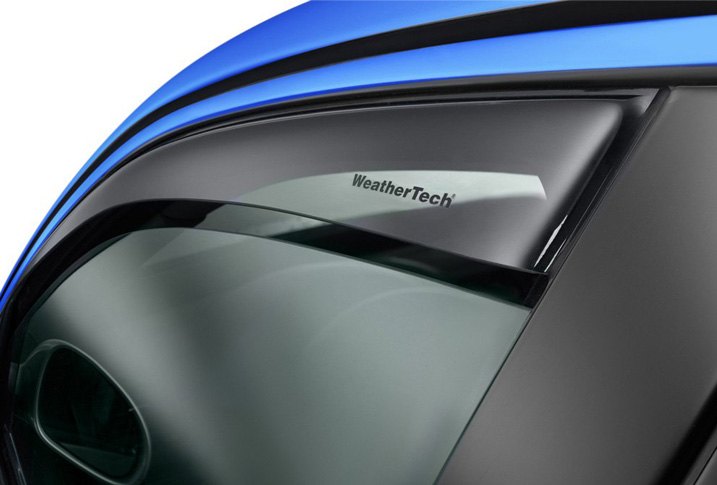 Wind Deflectors (also known as Rain Guards) are designed to remedy these issues. But you may be wondering are they really as effective as they claim to be? Do they actually keep rain out? And do they add extra noise at speed? To answer these questions, we'll start by drawing on feedback we've heard from our own customers. According to what they say, deflectors are effective at all those things because they do work - extremely well, in fact. We've also noticed that deflectors sell successfully and consistently year after year. It's important to note that when you do drive at high speed with side windows down, no deflector can completely eliminate wind noise and turbulence. There will always be some. Wind noise reduction will be most noticeable when driving in cities or country roads where speeds are moderate.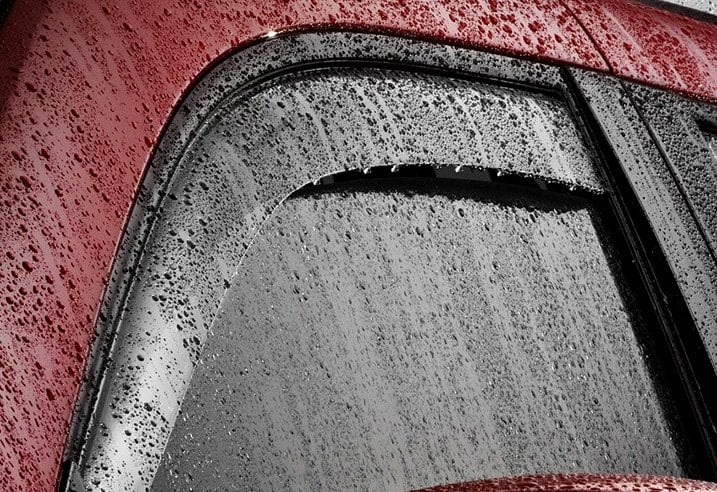 Another logical question to ask is if rain guards are so great, why don't vehicle manufacturers fit them as standard equipment? The answer is simple - manufacturers produce the most cost-effective cars and trucks that appeal to the widest cross-section of buyers. Because not everyone wants rain guards, they are deemed an expense with too small a return.
In the scope of this article, we'll look at deflector benefits as well as variations in finishes, coverage area, and contouring found on the ones we offer. While products we offer are described as both "rain guards" and "wind deflectors", we'll refer to them universally as "deflectors" in this article.
Air Conditioning vs. Open Windows: The Effect On Fuel Economy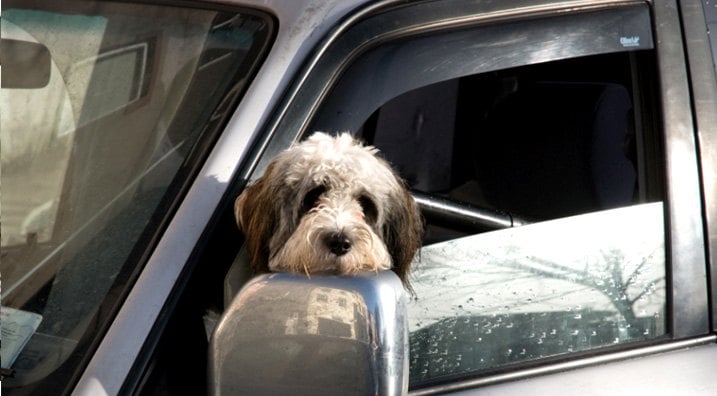 An open window alters a vehicle's aerodynamics in such a way that fast-moving air is drawn inside the car. Wind deflectors block this change by redirecting air into an arc pattern that flows around the sides of the vehicle. Reducing or eliminating airflow into the cabin also reduces wind drag that makes your engine work harder and burn more fuel. Just how much fuel can be saved by wind deflectors will vary depending on speed, overall vehicle shape, and other factors.
By eliminating much of the drag that comes from air entering your interior, wind deflectors allow you to enjoy effective ventilation, avoiding the fuel mileage penalty which occurs with fully open windows. Fuel economy on many vehicles should be better with windows cracked open, wind deflectors in place, and A/C off, than with windows up and A/C on.
Wind Deflectors Offer Benefits, Even Without The Windows Open
Those who never drive with their windows open may see wind deflectors as an unnecessary expense and extra hassle. We will point out that because wind deflectors serve as aero pieces, they direct water away from side window glass. In the rain, this greatly reduces the amount of water that travels across your side windows. As a result, water is prevented from "blobbing" into gelatinous-like pools that ripple across the windows at speed. And because that doesn't happen, salt spray, dirt, and other road contaminants aren't deposited across the entire surface of the windows. With these factors eliminated, side windows stay much cleaner and vision isn't obscured.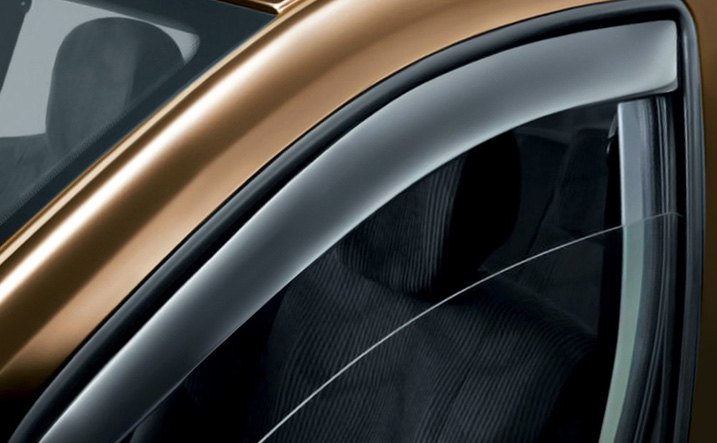 Dirt and grit left on side windows create a lot of drag on power window motors, window regulator arms, and other components which move when the glass is raised and lowered. It may not seem like much, but over time, the extra stress causes these moving parts inside your door to wear out faster. After regulator failures caused by windows frozen in place by ice, abrasive drag is the next leading cause of failure. So the cleaner glass which results from the use of wind deflectors can also save you money on expensive repairs in the long run.
Rain Guards Help Prevent Vehicle Break-Ins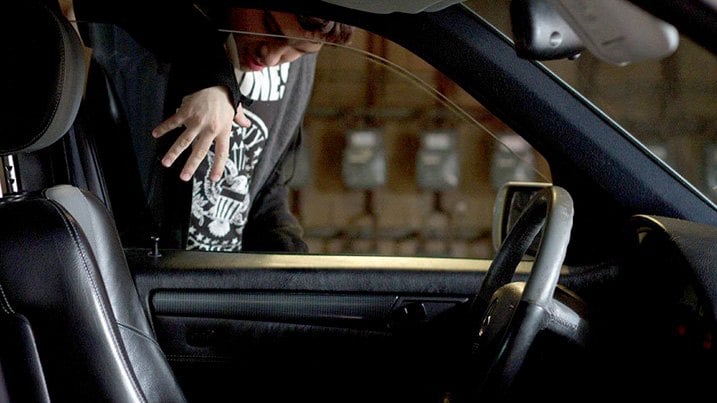 Commuters who are lucky enough to have a spot inside a parking garage where the sun never shines don't need to keep windows cracked for ventilation, and have no need for a rain guard to conceal the open crack. For most of us who do need to park in scorching sun and need air flowing through the car, the dark smoke tint or solid color of rain guards performs an effective job of concealing the fact that windows are open an inch or two. To avoid suspicion and detection, most thieves move quickly through a parking lot looking for the easiest vehicles to prey on. Because they don't have time to slow down and spend time looking at each car or truck closely, they'll usually never spot the slightly open windows when rain guards are present.
Bright Metal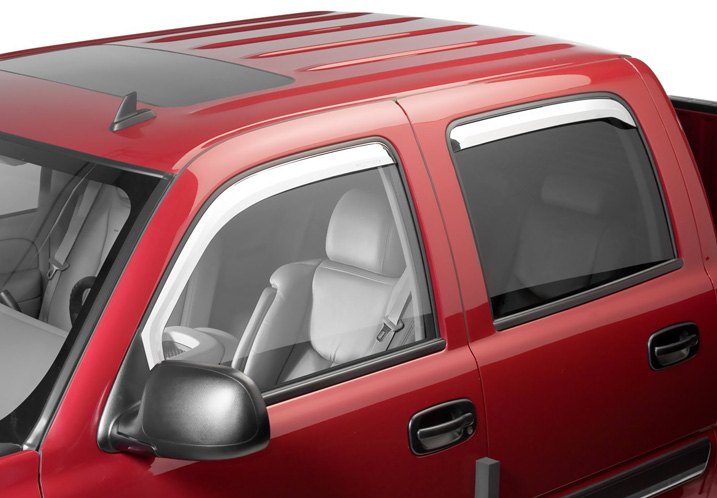 For those who prefer a non-see-thru deflector with actual chrome finish, we've got the chrome-plated Putco Element Window Visors (in tape-on and in-channel varieties), AVS In-Channel VentShade Window Deflectors, Stampede Tape-Onz Sidewind Deflectors (also available in camouflage or dark smoke tint), and the tape-on or in-channel RI Window Visors (available in smoke tint or chrome depending on vehicle application). By selecting the "Chrome/Polished" check box along the left of the screen, you'll also see a number of choices that feature polished stainless steel construction instead of chrome-plating over plastic.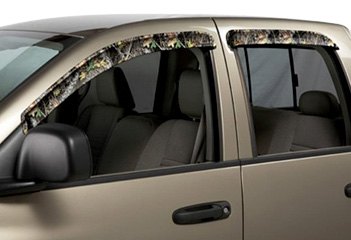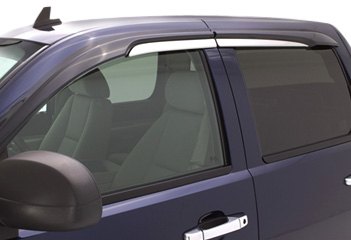 If you've got a 4-door vehicle and are looking for deflectors with unique styling, the AVS Tape-On Accent Visor Window Deflectors feature a chrome insert that starts halfway along the front window section and continues onto the rear window piece. Untrimmed plastic sections feature a dark smoke tint.
Black Finish
If a matte black, non-see-thru finish would create the right look on your vehicle, we've got the AVS in-channel or tape-on Low Profile Ventvisor Window Deflectors (available in matte black for a limited number of models, or in dark smoke tint). These offer the distinction of being designed to sit very flush with the door frame instead of sticking out to the side, and they blend in well enough to look like original equipment. In fact, an extra chrome trim strip is fitted to match the original look of vehicles that are so equipped. These are also designed to be painted any color you like.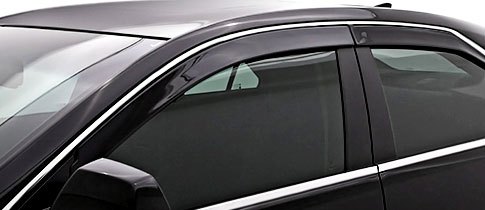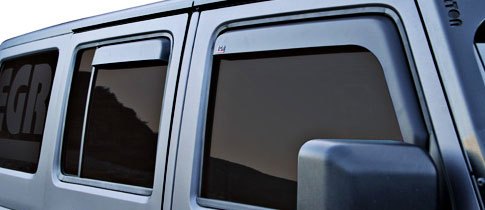 EGR's In-Channel Window Visors are also available in matte black finish for certain select makes and models (or in dark smoke tint). Should a shiny black finish be to your liking, there's the AVS stainless steel Vent Shade referenced earlier in this article.
Deflectors With A Larger Area Of Coverage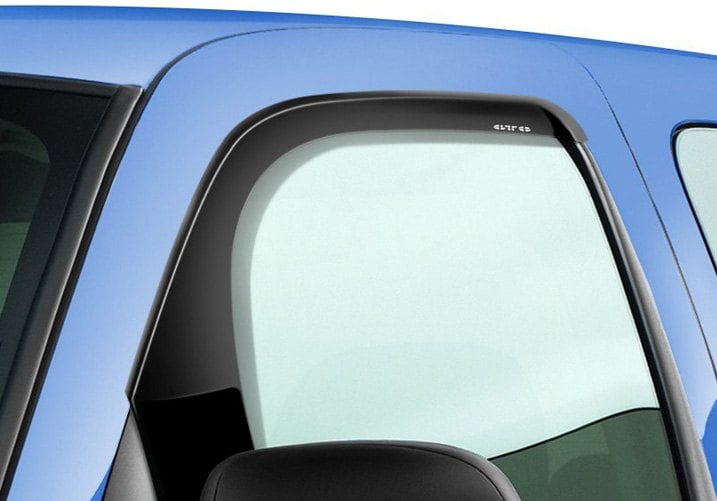 If you travel at higher speeds or face the issue of mud splash back from wheels on non-paved surfaces, we offer several smoke tint plastic deflectors that cover a larger portion of the window area. For a variety of pickup models (even 1973-87 Chevy El Caminos), we've got the GTS Tape-On Smoke Bubble Ventguards Window Deflector as well as the Wade Tape-On Smoke Extra Wide Wind Guard. AVS also offers their AeroVisor tape-on or in-channel Window Deflectors which provide a higher level of integrity by mounting under the side mirror assembly (must be removed temporarily during installation).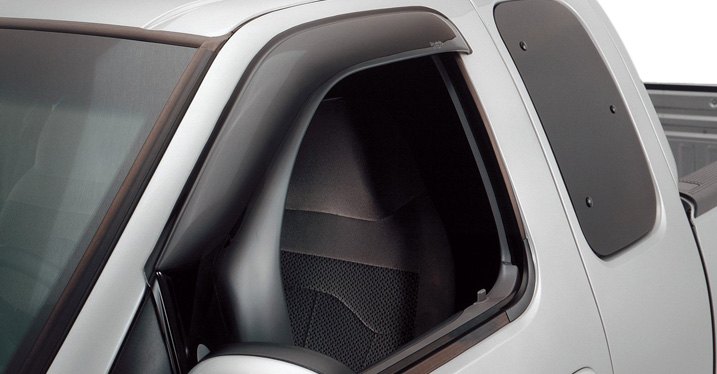 Unless otherwise specified in individual product descriptions, side window deflectors are made from durable plastic composites. Browsing through what's available in any of the sections referenced on our website, you'll notice each deflector product features one main picture. These lead pictures are not always fully indicative of all the variations you'll find from that manufacturer, because finishes (and even materials) offered may vary from vehicle to vehicle. In the Product Options drop down box, you'll see any available choices once your vehicle's year, make, and model have been entered.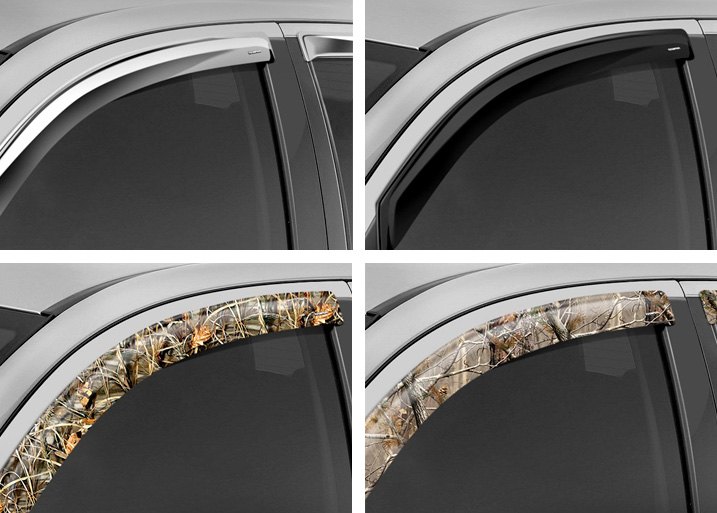 Now that all the benefits of wind deflectors have been covered, it's easy to realize that they offer functional, real-word advantages regardless of how often you open your windows. If you're still deciding which installation type to get, please reference our article on in-channel vs. adhesive-mount window deflectors. Simply choose the tint or color you'd like, and when your acquaintances ask, you can truthfully answer: "Rain guards really do work!"
February 12, 2016