Have you ever been driving your pickup truck and found that sun glare coming from the rear window is a real nuisance? Because your vehicle manufacturer was not thoughtful enough to install fold-down visors for the rear window area, it's hard to block sunlight from streaming in at that angle. You could fashion and install some kind of curtain, but that would only create a greater nuisance by blocking rear vision.

For this reason, we offer rear window deflectors (found in our Rain Guards and Wind Deflectors website section). They're made of durable plastic composites, and are tinted to reduce blinding sun glare which also heats up vehicle interiors to unpleasant temperature levels in warm months. And, should you choose to open a sliding rear window, they allow cab ventilation while driving without as much hair disturbance. If your truck is equipped with side window deflectors found in this section of our website also, you'll those we offer for the rear complete the look and create a more finished overall appearance.
In this article, we'll look at the rear window deflectors we offer. All of them are vehicle-specific, meaning they're tailor-fitted to the dimensions and shapes of individual pickup models. If your truck is equipped with a factory third brake light or cargo area light along the roof edge, these deflectors will feature a cut-out section or overall shape that flows around it to ensure nothing is blocked.


If you've got a Chevy S-10 or Ford Ranger dating back to the early 1980s, Wade's Tape-On Cab Guard Wind Deflector has you covered with dark smoke tint. The Cab Guard's shape is flatter and less curved, and will fit in well with the lines of trucks that feature angular, squared-off designs. Additionally, these rear deflectors are available for full-size Dodge, Chevy, and Ford pickups across various years.
And if you've got an older imported or domestic compact pickup truck, the GTS Tape-On Smoke Shadeblade Rear Window Deflector features plastic one-piece construction with dark smoke tint. The Shadeblade deflector features more of an outward curve to its shape and is also available for late model full-size Chevy and Ford pickups.


The AVS Tape-On Sunflector Window Sun Deflector features an inwardly-contoured curve to its overall shape, and comes in dark smoke tint. The Sunflector is generally offered for full-size domestic trucks, but if you've got an Isuzu, Mazda, or Toyota compact pickup (built from the mid-1990s on) that you've been having a hard time finding a deflector for, you'll find a fitted version for those models too.
Rear Wind Deflector For SUVs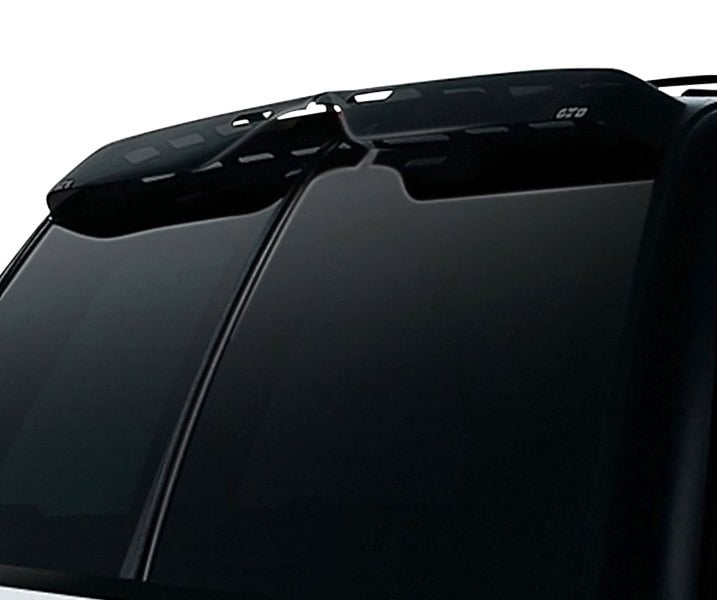 Because SUVs and other wagon-shaped vehicles with roll-down or pop-open tailgate windows can also benefit from rear wind deflectors, we offer the GTS Tape-On Aerowing Rear Window Deflector in dark smoke plastic tint. If you've got a 2001-2010 Chrysler PT Cruiser, 2003-06 Scion xB, GTS has these popular models covered. From the mid-2000s back, you'll find these SUV deflectors available for a number of SUVs from GM, Ford, Jeep, Isuzu, Mitsubishi, Nissan, and more. They're even offered for older Chrysler minivans as well.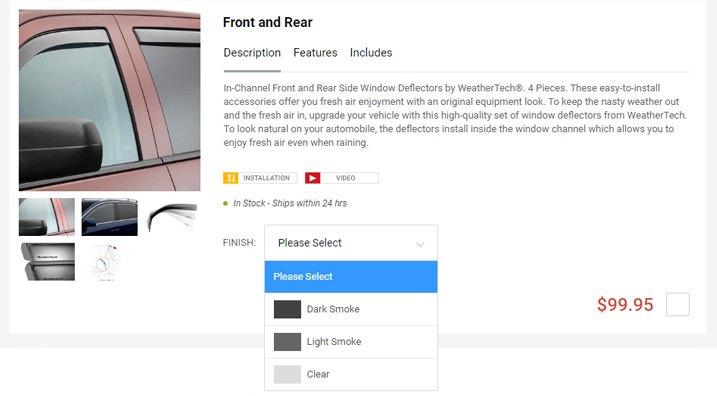 We invite you to read our related articles on rain guard advantages: "Do Rain Guards Really Work?" and "Rain Guards: In-Channel vs Stick-On". The side window deflectors/rain guards have been around for a long time, but perhaps you own a pickup or SUV and have just discovered that we offer REAR window deflectors. How uber-cool would it be to install the deflectors on both the sides and the rear? Get the set in your choice of clear or dark tint, and we guarantee your truck will look like no other.
February 18, 2016