Rain Guards, also known as wind deflectors, window deflectors, or window visors, improve your vehicle's aerodynamics when the windows are down, reduce annoying wind noise, shield you from rain spray, and allow windows to be left cracked in a parking lot without giving notice to potential thieves. Going forward, we'll refer to them as "deflectors" in this article.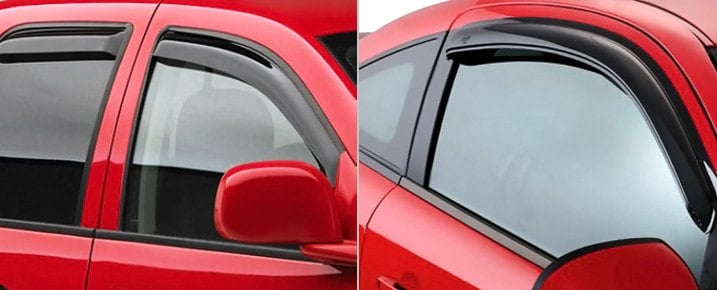 Here, we'll cover the easy steps involved with installing both types of deflectors: In-Channel and Stick-On. Always follow the specific instructions from the manufacturer whose product you are installing. We also invite you to read our related article "Rain Guards: In-Channel vs. Stick-On" for more details on the two types, specific products offered, and advantages of each style.
In-Channel Deflectors
In-channel window deflectors are made with a thin flange that slots into a car door's upper window channel. As you begin this installation, lay out all the pieces and be certain that you have the correct deflector for each door (driver's side front, passenger side rear, etc.) Start by lowering the window and tucking the flange all the way up into the window channel, beginning at the front. Some deflectors rely on tension to maintain a snug fit once installed, and these literally "snap" into place inside the window channel. Take your time and work each deflector as far into the channel as possible.
Follow the detailed instructions written as captions under each illustration below.




It's important to note that many in-channel deflectors use a small amount of double-sided tape for assistance in staying in place once installed. If you've got an in-channel deflector that uses tape, be sure to test fit it into the window channel first - because once it's installed with the tape, removal becomes more difficult.
Once you're satisfied the fit is good, remove the deflector from the window channel, clean the area, and entirely remove the adhesive backing strips. Then, tuck the deflector flange back up into the window channel all the way. Raise the window up completely to keep pressure on the adhesive until it fully bonds in place. Individual manufacturers will specify an amount of time that windows should remain up to ensure everything sets properly. If they don't, 24 hours is an appropriate period of time.
NOTE! From our experience, a common reason why in-channel deflectors fall out of place is the failure to leave the windows up and the vehicle undisturbed for the recommended amount of time! It is best if the vehicle is allowed to sit. If you must drive, be certain that you and your passengers do NOT lower the windows! This is both to allow the adhesive (if used) to cure, and to allow the plastic deflector to conform to the shape of the window channel.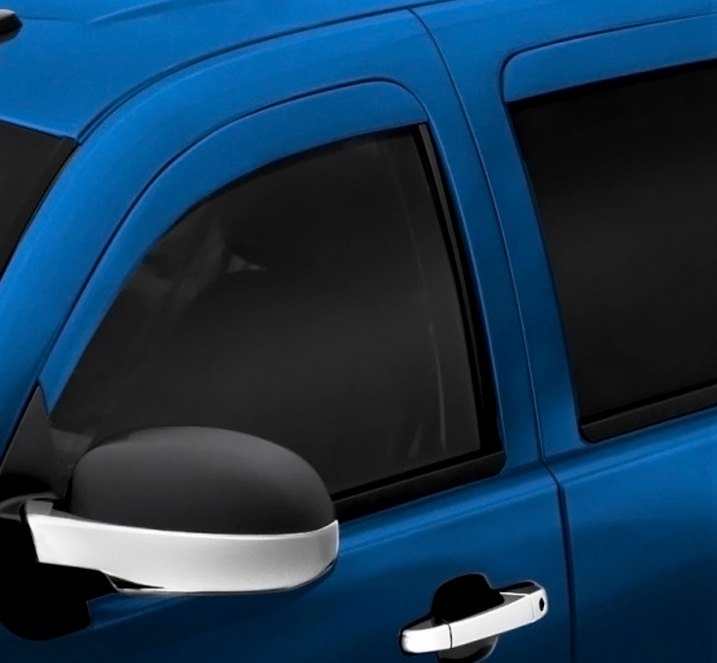 When it comes to in-channel wind deflectors, we've got the WeatherTech In-Channel Side Window Deflectors (choose light or dark tint), Putco In-Channel Element Window Visors (tinted or chrome), Stampede Snap-Inz Sidewind Deflectors (tinted), Lund In-Channel Ventvisor Elite Window Deflectors (tinted), and GTS In-Channel Ventgard Snap Window Deflectors (clear or tinted) just to name a few.
If you prefer a low profile deflector that sits more flush to the door panels, we've got the AVS Factory Color Match In-Channel Low Profile with surfaces available in a variety of auto manufacturer paint codes. Or, choose the low-profile version with heavily tinted clear plastic.
Stick-On Deflectors
Stick-on deflectors are attached with tape to the exterior of the vehicle just above the window channel - either on the door frame for side window deflectors, or the roof for rear window deflectors. If your side windows are frameless, then you'll be attaching the deflectors directly to the roof. Because there's no window channel to use as a guide, stick-on deflectors require more "eyeball" work to ensure they line up properly - especially when four doors are involved.
Follow the detailed instructions written as captions under each illustration below.




Start by cleaning the vehicle where the adhesive tape will be applied using a cleaner/degreaser and water. Buff any window trim moldings that will come in contact with the deflector using a light scuff pad. Clean the entire area, either using isopropyl alcohol, "paint prep", or "surface preparation" pads which may be included in your kit. This step removes wax and other contaminants that might prevent the tape from adhering properly.
To make test fitting easier, peel a small portion of the backing strip away from the tape at both ends of the window visor. Place the deflector in the position where it will be mounted, aligning it with any window trim that's present. Adjust the position of the deflector until you're satisfied, then gently press on the ends so the peeled adhesive keep the deflector in place (make sure the ends of the backing strips stick out visibly, because you'll need to grab on to them in order to pull the tape all the way off).
When you're ready, remove all remaining backing tape by pulling on the end strips that were left sticking out during the previous step. As you peel the rest of the backing strip away, apply pressure on that spot as you go. When all the backing has been removed, rub your hand back and forth over the deflector in order to continue applying pressure to all areas a little longer. Once bonding is complete, test for proper adherence by attempting to wiggle the deflector; it should not flex. Follow the manufacturer's guidelines about not washing the vehicle for a period of time after installation.

If tape-on wind deflectors are your preference, The Stampede Tape-Onz Sidewind Deflectors (available in simulated carbon fiber and camo patterns), AVS Tape-On Aerovisor Window Deflectors, Putco Tape-On Element Window Visors (tinted or chrome finish), EGR Tape-On Window Visors (tinted or matte black), Rugged Ridge Tape-On Window Deflectors (tinted, simulated carbon fiber, matte black), RI Tape-On Window Visors (tinted or chrome), and GTS Tape-On Ventguard Sport Window Deflectors (tinted or simulated carbon fiber) among many others.
If you prefer a low profile deflector that sits more flush to the door panels, we've got the AVS Tape-On Low Profile Ventvisor Window Deflectors (tinted or matte black). If you prefer a choice of auto manufacturer colors, there's the Factory Color Match version.

Rain guards / window deflectors offer you so many advantages. We are certain you're going to get a lot of enjoyment out of the deflectors we offer - no matter which ones you choose. They're made from non-corrosive materials, and will remain attractive and functional for a long time. One of their biggest advantages is that you don't need to pay someone the big bucks to put them on - you CAN perform the installation yourself. We trust that this brief set of instructions gives you the confidence to move ahead with the window deflectors you want!
March 02, 2016