Grille guards are sought-after accessories because they offer the rare combination of significantly boosting a truck's looks and adding valuable protection against front-end damage on job sites, off-road trails, and other tricky situations. Looking through the grille guard & bull bar section of our website, you'll see a variety of ways to protect the front of your vehicle. Because the expression "grille guard" has grown to encompass bull bars, brush guards, push bars, and bumper guards, we'll define these different styles and review the benefits each variation offers. Some of them span just the center area of your vehicle's front fascia, while others reach all the way from corner to corner.
Because grille guards, bull bars, and the other items in this section mount directly to the frame of your vehicle, it's important to know the difference between "body-on-frame" vs. "unibody" vehicle construction. Body-on-frame vehicles such as trucks and older cars feature a frame that's separate from fenders and other body components. These separate frames are often more rigid because they may be tailored for heavy-duty use.
"Unibody" construction found on most modern passenger cars combines the body and frame into one skeleton in order to reduce weight while tailoring crumple zones to boost passenger safety. While crash protection items are most often found on body-on-frame trucks, they can offer protection for unibody passenger cars as well.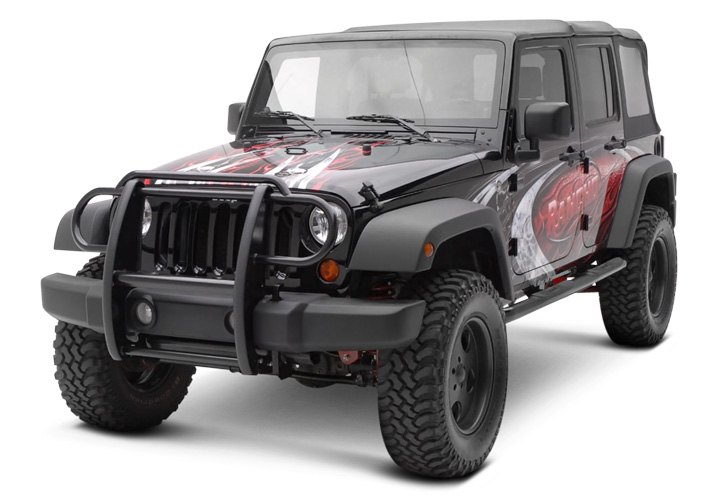 It's important to note that in a collision, frame-mounted grille guards and bull bars serve to transfer energy away from softer front body panels and channel it directly to a vehicle's frame. Because truck frames are solid heavy steel, they will inherently yield much less than softer body panels that make up front end "crumple zones". While this may help protect body panels during low speed impacts, it also makes a vehicle come to a stop more abruptly - a factor that can contribute to damage and injuries in high-speed crashes.
Full Grille Guards
Full grille guards (also known as "brush guards") span the full width of your vehicle's front fascia. Not only do they protect the center area of the front bumper and grille from damage, they offer protection for headlights too thanks to specially-shaped tubes that wrap around outer perimeters of the headlamp assemblies. Because all grille guards we offer are vehicle specific, tubing is shaped to fit the contours of your specific vehicle so that headlights are not blocked and radiator airflow is not compromised.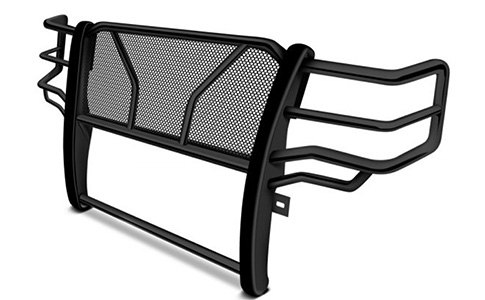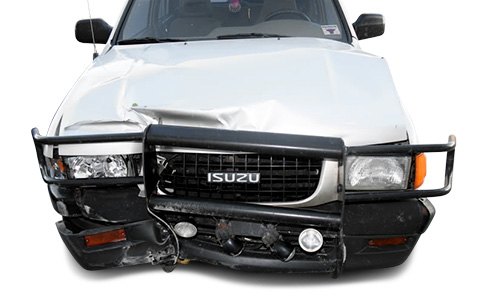 Properly mounted, grille guards offer effective protection for a truck's front grille, bumper, headlights, and body panels in collisions with large animals, in low-speed parking lot accidents, or when plowing through brush in off-road driving. In fact, police officers with years of experience dealing with damage that can result from hitting deer, livestock, or other large wild animals feel that trucks with grille guards usually fare better than those without them.
Typically, straight-on frontal collisions with animals are guaranteed to do significant damage to a vehicle and have a high chance of passenger injuries. Grille guards may get bent backwards into the hood and front fenders a bit, but they can often prevent a large animal from rolling up on to the hood and into the windshield.
There are those in the industry who have found that the use of grille guards can minimize damage to other components on the vehicle. While this may vary from case to case, it's no coincidence that grille guards are found on most light trucks used on farms or in the construction field. These are two places where rough, crowded environments are most likely to create low-speed body damage at the drop of a hat.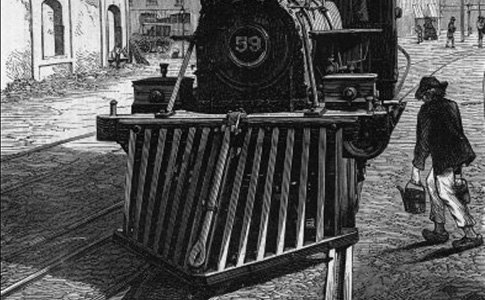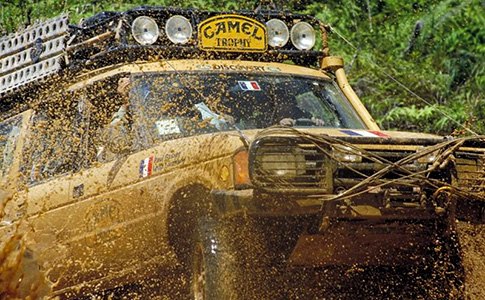 For those who enjoy taking their 4x4s off-roading, full grille guards will be equally helpful. And while these bars will block large branches and debris in bushy terrain, they won't obstruct light from your headlamps because each one is shaped and contoured for your specific make and model. Anyone who's been off-roading will tell you flying stones, clumps, and debris are always a clear and present danger - especially if the situation dictates pulling out another vehicle that's stuck with wheels spinning in the mud.
If the off-roading environment you'll face is severe enough, it may be best to look for a full grille guard with mesh across the center to protect yourself from being stranded due to a punctured radiator. And if equipping your vehicle with a winch is something you'd like to do, many of the front grille guards we offer feature built-in holes and mounting points for winches.
Such grille guards have the bracing and strength needed to operate a winch under full capacity. And, since grille guards bolt directly to the truck's frame, no other vehicle body parts or components are stressed. Should you also be looking for a specially designed off-road bumper, we also offer replacement off-road bumpers with built-in grille guards and winch attachment points.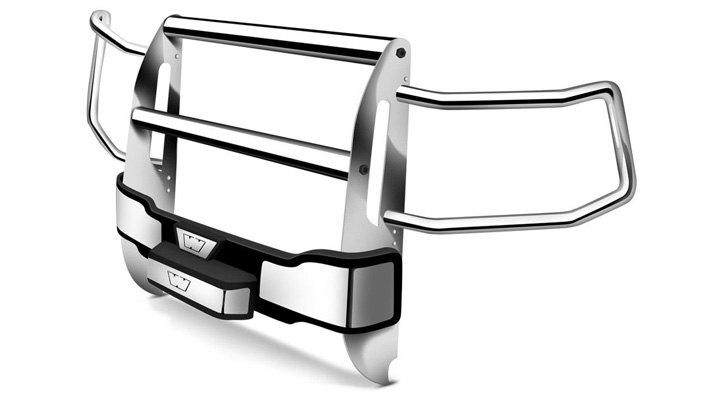 Front grille guards also provide a perfect high mounting point for auxiliary lights. Virtually all of the grille guards we sell feature pre-drilled holes along the highest horizontal bars - giving much better visibility than a bumper-mounted light could provide. And because these mounting points are also right by the front grille, the need to drill and run extensive lengths of wiring to those lights is eliminated.
Push Bars / a.k.a. Center Grille Guards
The purpose of a "push bar" is to align with the bumper of another vehicle in front of you in order to provide a gentle push out without causing damage. The bars that do the pushing themselves are usually vertical, coated with rubber, and curved gently enough to ensure pressure is evenly spread out. As a stand-alone component, a push bar assembly bolts to the front structure of your vehicle and may extend upward far enough to offer some protection for a portion of your center grille area. Because of this, some push bars are also known as "center grille guards".
However, some push bar assemblies do not protect the entire center grille area. And not all center grille guards designed to protect the center grille area are equipped with push bars. Those vertical push bars which do the pushing can be incorporated into full grille guard assemblies, and often are (see further above in this article).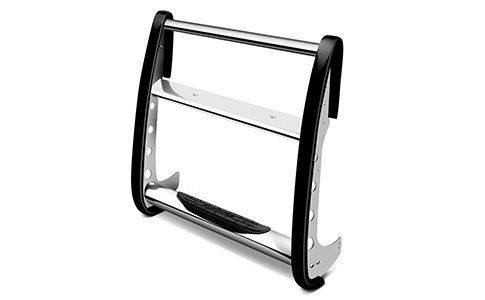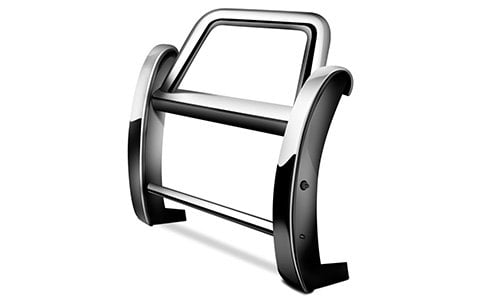 Rugged Ridge's Push Bar for Jeep Wranglers is available as a traditional push bar, or it can be selected with a stylish brush guard add-on piece which offers some protection for headlights without spanning the full width of the Wrangler's front.
Got a late-model pickup that you work on yourself? GoRhino's 3000 Series Push Bar offers the advantage of a bottom rung that's purpose-built to serve as a step, with a grippy foot pad right in the center. Additionally, the AMI Swing Step Push Bar features an extra section that unlatches and swings down to transform the bull bar into a step ladder.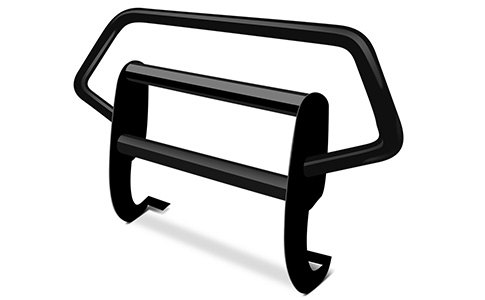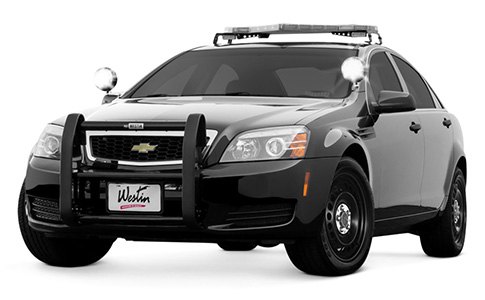 And if you're looking for the long-term corrosion resistance and looks of polished stainless steel, Onki's Aegis Polished Push Bar for pickups and SUVs offers it. It features traditional design elements of a push bar with beefed up construction typically found on a bull bar. However configured, "push bars" can be a lifesaver anywhere. Think how nice it would be to help a motorist with a stalled vehicle get it out of the middle of a highway and onto the shoulder without anyone risking life and limb stepping out into traffic.
Bull Bars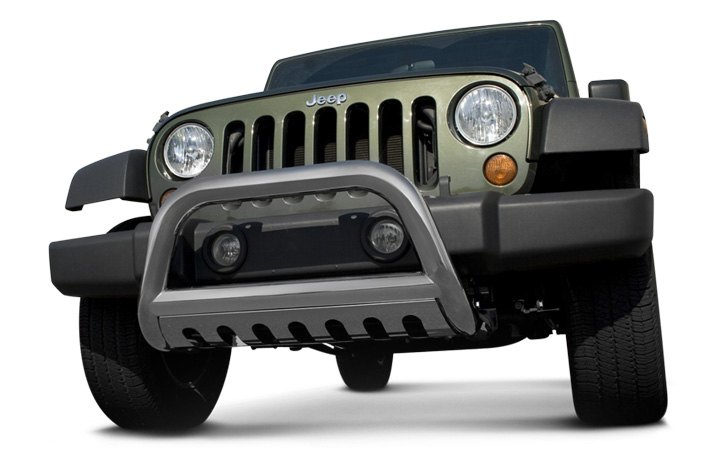 A bull bar is an assembly that protects part of the center face and underside of the bumper from frontal and underside impact damage. Bull bars are designed to offer more robust protection than push bar or grille guard assemblies, with tubular construction that's wider in diameter and heavier-duty in construction.
Like grille guards, bull bars bolt to the front of a vehicle and serve to block crash energy from reaching softer front body panels - channeling it directly to the vehicle's structure instead. Bull Bars combine function and design to create a look of strength that's also subtler because they don't extend upward as far as a grille guard does. And, bull bars typically come equipped with pre-drilled holes or tabs that make it easy to attach off-road fog lights or driving lights.

Most of our bull bars feature tubes that measure a beefy 3 inches in diameter - a standard size that provides the strength needed on full-size 4x4s as well as balanced looks to the naked eye. Virtually all of them have skid plates bolted or welded to their underside to protect mechanicals such as oil pans, differentials, and steering linkages that are vulnerable on uneven terrain.
If you prefer standard size bull bars with a removable skid plate, we've got the Westin E-Series Bull Bar in polished stainless steel, Westin Ultimate Bull Bar (chrome or black powdercoat), Aries 3" Bull Bar (polished stainless steel or black powdercoat), Aries 3" Stealth™ Series Black Bull Bar (matte finish black powdercoat only), and the AdvantEDGE LED Bull Bar (chrome or black powdercoat).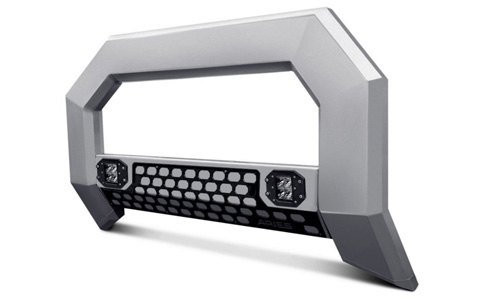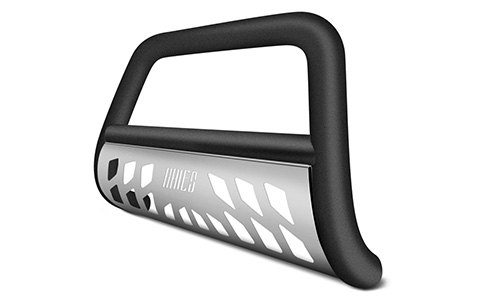 Looking for a bull bar you can mount a winch on? If so, Westin offers the 3" Max Black Bull Bar for Winch Mount. We've even got larger 3.5"- and 4"-diameter bars such as the Black Horse 3.5" Savannah Oval Bar (polished stainless steel or black, removable skid plate) and the Aries 4" Big Horn Bull Bar (in polished stainless steel or black). And if you appreciate big size and strength but want the lowest weight possible, Aries offers the 4" Big Horn Bull Bar in an aluminum version with skid plate and textured black powder coat finish.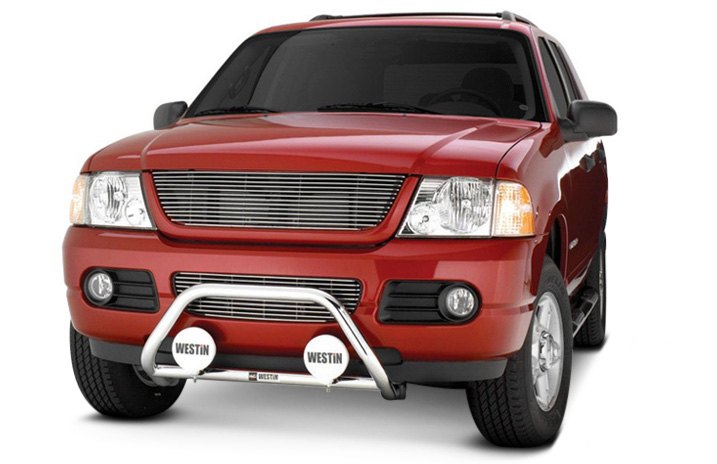 For smaller and mid-size SUVs, we've got 2"- and 2.5"-diameter tube bull bars without skid plates such as the Westin 2" Safari Light Bull Bar (polished stainless steel or black powdercoat), Westin 2" Contour Safari Light Bull Bar (comes with unique attachments for lights, polished stainless steel or black powdercoat), Broadfeet 2.5" Bull Bar (polished stainless steel only), and the Steelcraft 2.5" Polished Sport Bar (polished stainless steel only).
Bumper Guards
Rear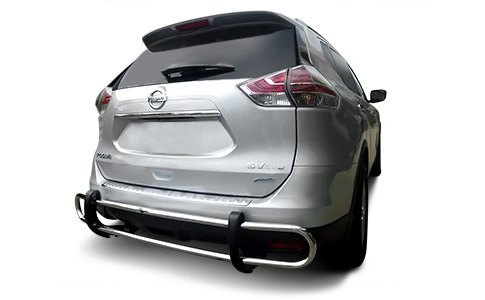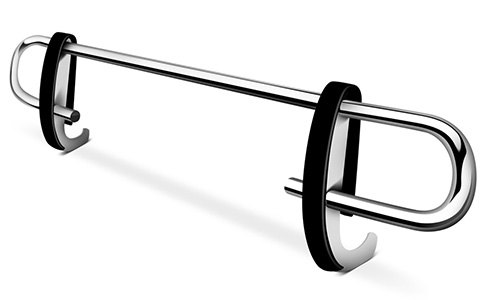 While front-end protection for your vehicle is valuable, it's important to remember the rear bumper area is always at high risk from careless drivers in supermarket lots and on the street who routinely botch parking jobs. Keeping your bumper shielded with a rear bumper guard can literally save you hundreds or thousands of dollars, because you won't have to repaint or replace a damaged bumper cover. Similar to grille guards, rear bumper guards are made from tubular metal bars that mount to steel framework under the vehicle rather than to the bumper itself. While they are effective at protecting against low-speed damage, they offer minimal protection during hard-core off-roading.
For those who prefer a traditional-looking rear bumper guard with rubber-coated vertical reinforcements, we've got the Steelcraft Double Tube Rear Bumper Guard, Broadfeet WAAG Style Double Pipe Rear Bumper Guard, and Black Horse Double Tube Rear Bumper Guard just to name a few. Owners of select Chevy, Dodge, Ford, and Toyota pickups can choose Steelcraft's EVO3 Rear Bumper Guard with a uniquely rugged look that's all its own.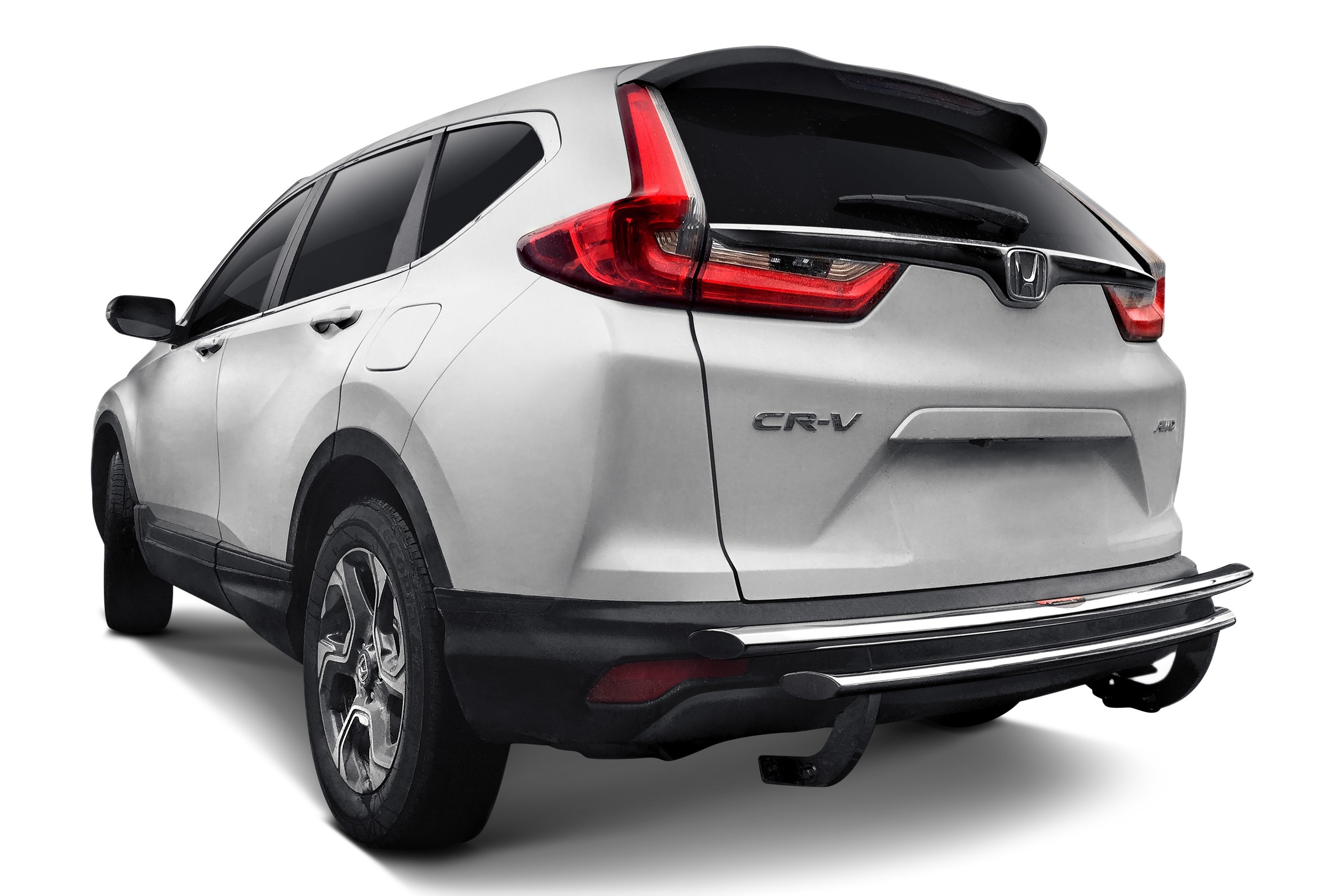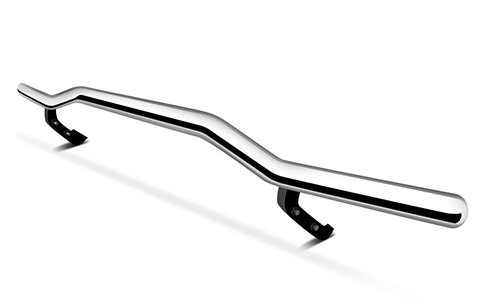 If you like the idea of rear bumper protection but prefer the most discreet appearance possible, we've also got single-tube "sport bars" that are designed to match the contours of OEM bumpers. We've got the Steelcraft Rear Bumper Sport Tube and the Black Horse Single Tube Rear Bumper Guard - both with similar bend lines.
Broadfeet's Pintle Style Single Pipe Rear Bumper Guard features polished stainless steel construction with a grippy black step pad in the center. And if you appreciate contemporary styling, Broadfeet's Double Layer Rear Bumper Guard has two rows of stylishly curved stainless steel tubes instead of just one.
Front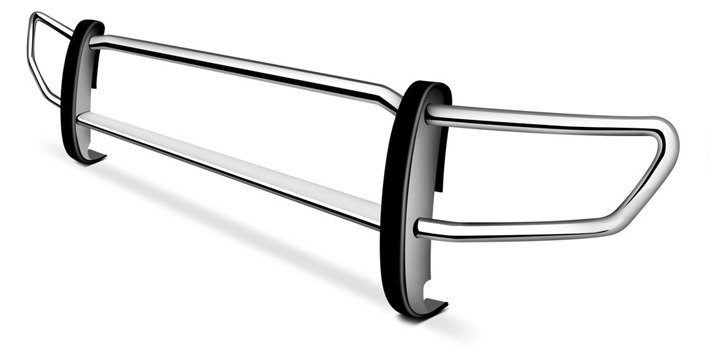 For those who want to protect their front bumper in urban areas but don't need the full protection of a grille guard, we've also got front bumper guards (also known as "front runner bars"). If you prefer traditional-looking bumper guards with more coverage, consider the Black Horse Front Runner Guard or Broadfeet WAAG Style Polished Front Runner Guard. If you prefer a single-bar application, you may like Broadfeet's X-Bar Polished Front Runner.

To help guide you through the selection of grille guards and other bumper protection devices we offer, we've set up the corresponding sections of our website to provide you with only the choices that will fit your vehicle. It's possible to enter specific make, model, and year in drop down boxes before beginning your search. Or, input vehicle information after entering an individual page. If grille guards we offer are not made for your vehicle or do not apply to it, they won't show up as choices.
We know protecting your bumper will lead to great peace of mind whether the jungle you travel through has trees or poles in it, and we wish you many enjoyable looks back at your truck's front end once you've got the equipment installed. Just be careful looking back while you walk!
September 21, 2015