Tools And Supplies Needed:
Hand wrenches, ratchet wrenches, sockets, screwdrivers, penetrating solvent
We recommend the application of anti-seize lubricant to fasteners before installation.
Optional tools depending on vehicle and accessory: power drill, drill bits designed for metal, grinder with a cutting wheel or a compact portable saw, die grinder
Grille guards, bull bars, push bars, and bumper guards all offer good looks and serious protection for the front of your vehicle against hard knocks found on roads and trails everywhere. One of the best things about these protective devices is even though they'll look good and keep their high-strength integrity for a long time, it only takes a very short time to install any of them. In fact, they can bolted on relatively easily, in most cases using simple hand tools.
In this article, we'll show you the basic steps so you can see that getting one on your vehicle is easier than you might think. For the purpose of simplicity, we'll refer to grille guards, bull bars, bumper guards, and others simply as "guard pieces" because installation for any of them is essentially the same.
Lower Bracket Pieces
The first step is to install the lower brackets for your guard piece. Usually, lower brackets are all that's needed on pieces such as bull bars, push bars, or bumper guards. Larger assemblies such as full-width grille guards often have upper brackets as well. Lower brackets are designed to mount onto holes already drilled in your vehicle's frame, and the ones included in the kit for your specific make and model should be an exact fit. On some vehicles, these pre-drilled holes are already in use as attachment points for factory tow hooks. If so, those tow hooks will need to unbolted and removed. Since they've been in place for awhile in an area that sees lots of moisture and corrosive salt spray, use some of that penetrating solvent we recommended earlier to loosen any stuck bolts. Other vehicles may even have black plastic filler plugs located in the holes you need access to - remove the plugs with a flathead screwdriver or similar.

Note that if the design of your truck's frame members requires it, your guard piece will come with extra fitted bolt plates that have been created to fit in tight areas. Once installed, the lower brackets will mount to these bolt plates instead of directly to the frame itself. If your vehicle has a large plastic splash shield underneath, you may need to remove it temporarily in order to access key installation points.

Depending on the design of your make and model, lower brackets may be intended to protrude from tow hook access openings in the bumper cover. In other cases where there's more clearance, lower brackets may be designed to mount further underneath and wrap around the underside of the bumper instead. If your brackets will be passing through the bumper, slide them through the openings before attaching them to the frame. The instructions that come with your grille guard will be specific to your make and model, so use them as a reference point. At this stage, attach bolts loosely enough so that movement and adjustments are possible - you'll tighten all of them later once everything is in place.

Cutting Your Own Pass-Through Holes For Lower Brackets (If Required)

Usually, if your vehicle was not designed with any pass-through holes on the bumpers or bumper covers, lower brackets will be designed to wrap around underneath the bumper instead. However, should you find yourself needing to cut your own pass-through holes, it's best to have a friend help you lift the guard piece into place and center it on the bumper. Once you're satisfied you've got it where you want it to be, hold the guard piece over the center of the bumper. You'll be able to see exactly where you'll need to cut in order to allow the lower brackets to pass through. Mark these spots with a grease pencil or other temporary marker, then use a grinder with a cutting wheel, compact portable saw, or die grinder (see tool list at top of article) to cut the holes in the plastic bumper. Test fit the guard piece again, and cut away any further bumper plastic necessary to ensure the guard piece sits squarely.
Upper Mounting Brackets (Not Required In All Circumstances)
While not all guard pieces have upper mounting brackets, larger and heavier assemblies such as full-width grille guards often do. If so equipped, the next step is to install these brackets. When factory grilles allow, these brackets will be slim enough to fit between existing grille openings above or below bumper level. Note that on some brackets, the end that bolts to the radiator frame posts may be larger than the part that bolts to the guard piece outside. In such cases, the larger inside end of the bracket may not fit through the grille slot, and you may need to feed the piece through from behind the grille assembly.

If passing through the grille is physically impossible on your vehicle, the brackets are probably shaped to slot underneath the grille assembly piece. This will require temporary removal of the grille. If your vehicle was built with any pre-existing holes on the framework behind the grille or on the radiator support posts, the brackets will be fitted with pre-existing holes in the right spots. If not, you may need to drill those holes.

Once upper and lower brackets are in place, the grille guard or bull bar can be secured onto both of them. When everything is centered and lined up to your satisfaction, go ahead and perform a final tightening of all the nuts and bolts.
Installing A Winch With Your Guard Piece
A number of grille guards and bull bars we sell are available with optional fitted trays designed to serve as a mounting cradle for a winch. In most cases, such as Westin's MAX Winch Mount System with Bull Bar, the support tray for the winch is mounted directly to the vehicle's frame. The bull bar, which surrounds it, is then bolted to the tray itself rather than to the vehicle frame. Because operating a winch will place heavy demands on the support tray, both lower and upper mounting brackets will be used. Thus, the procedure for mounting a tray is essentially similar to the process of bolting on a guard piece as we covered in the paragraphs above. First attach the lower support brackets, bolt the tray to them, then attach the upper support brackets and tighten everything in place securely.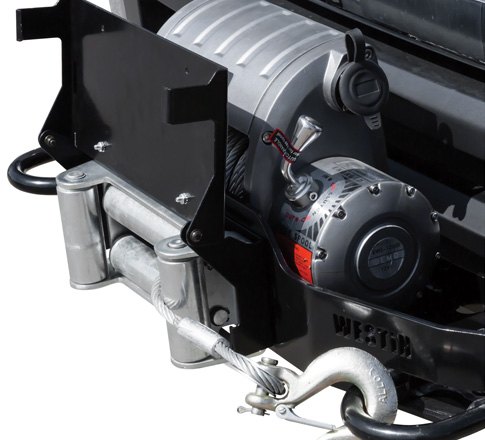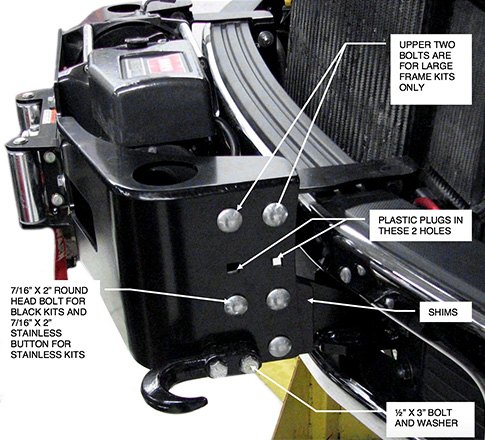 License Plate Relocators
Some guard pieces we sell may obstruct the factory location of your vehicle's front license plate. For this reason, you'll see specially-fitted license plate relocator brackets appear in the Product Options section of any grille guard, bull bar, or other guard piece that interferes with visibility of the plate. So if you see an optional relocator bracket, purchase it - because it will be necessary to keep your vehicle street legal in states that require exterior front license plates to be visible.

Depending on the make and model of your vehicle, you may need to attach the bottom part of your relocator to your factory-supplied plastic license plate holder, or you may need to remove that factory license plate holder in order to install the new bracket in the same hole. Once you've positioned the new bracket behind your grille guard piece and bolted the bottom of it on, the bracket arms should reach above the level of any bar that's posing an obstruction. Attach your license plate to those visible tabs.

Doing all parts of the installation process yourself instead of paying someone to do it for you allows more wiggle room to splurge on related "wow" items for your guard piece such as off-road lights, LED light bars, auxiliary driving lights, and even additional light mounts and brackets. They'll provide style on the street, keep you out of dark pits that lurk off the road, and increase safety in low-visibility conditions because you can be seen by others sooner.

To help guide you through the selection of grille guards and other bumper protection devices we offer, we've set up the corresponding sections of our website to provide you with only the choices that will fit your vehicle. It's possible to enter specific make, model, and year in drop down boxes before beginning your search. Or, input vehicle information after entering an individual page. We want you to enjoy the look and function of your new grille guard or bull bar, and we've provided you this installation outline to help show you how easy it can be to bolt one of these beauties onto your ride!
October 06, 2015