Engines have often been compared to air pumps, because the engine that's most efficient in terms of economy and power is the one that can get air in and out of its cylinders the easiest. That's why most performance modifications like conical air filters, cold air intake systems, headers, and cat-back exhaust systems are aimed at making the intake and exhaust systems less restrictive. These parts increase the flow of air into the engine and ease the flow of exhaust gas out of the engine. Among these components, headers may be the most difficult to install. In this article, we'll discuss what headers do, their different types, and how much performance they can add to your car.
What Exhaust Headers Do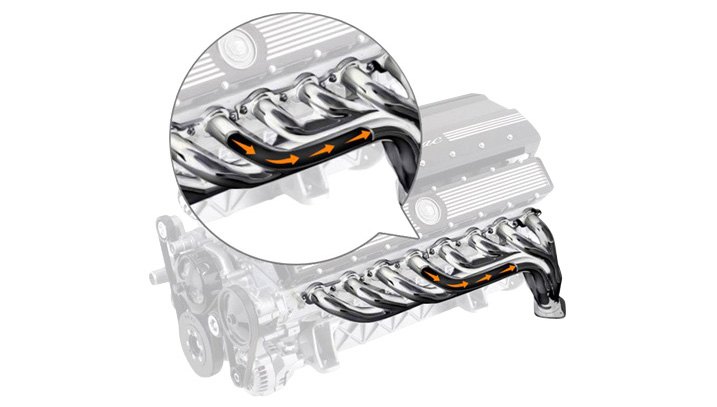 Headers take the place of your exhaust manifolds, which are the first part of your exhaust system between the cylinder heads and the front exhaust pipes. They are constructed of individual tubes (one for each exhaust port) that meet in a larger tube called a collector. Although the main function of headers and manifolds is the same, their performance is different, and this difference can be quite essential.
Exhaust Headers vs Manifolds
In a nutshell, headers are installed because they boost the rate of exhaust flow out of your engine compared to OEM stock exhaust manifolds, which are typically designed to take up as little space as possible. However, as we will see, the quality of manifold exhaust flow rate varies from vehicle to vehicle. Regardless of the manifold, we recommend making the rest of your exhaust system less restrictive when you install headers. This means installing larger-diameter, mandrel bent exhaust pipes, and it definitely means using freer-flowing mufflers. There's no benefit to putting headers on if the exhaust flow is only going to be choked further down the line.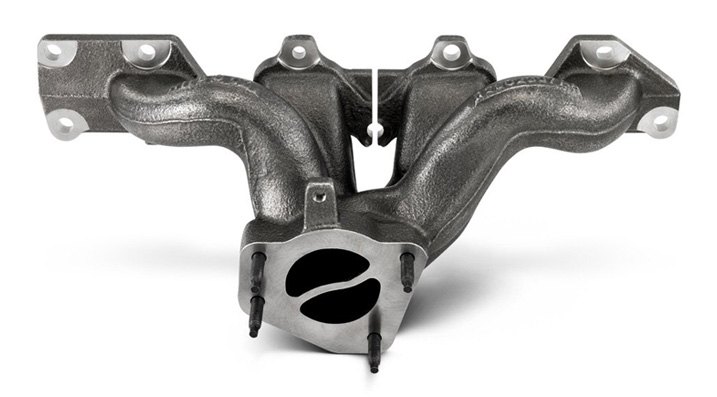 Headers will provide the biggest gains to cars and trucks equipped with cast-iron log-type exhaust manifolds. A log-type manifold is just a big tube bolted to the exhaust ports to collect the exhaust gas. It doesn't take up a lot of space in the engine bay and does the job of getting the exhaust gas back to the exhaust pipes, but it doesn't do much for performance because all the exhaust pulses dump into the same space. On a V8 engine, one cylinder on each bank fires within 90 degrees of crankshaft rotation of another cylinder on the same bank. These two cylinders exhaust almost simultaneously into the tube. When the exhaust gas has to compete for space in the manifold, restrictive back pressure is the result.

An exhaust header has individual tubes for each exhaust port, allowing each exhaust pulse to flow unobstructed from the cylinder head. However, some factory exhaust manifolds also have individual tubes. The most sophisticated of these and the most well thought out of this type are found on performance cars.
Cars with individual runner manifolds will not benefit from headers as much as those with the log-type manifolds, but that doesn't mean they can't be improved upon. Tubes on headers are usually larger in diameter than the runners on an exhaust manifold, plus header tubes are mandrel bent to ensure the opening of the pipe stays the same radius at points where it curves. Once again, the goal is to reduce restriction and increase flow, but headers have still another benefit.
Well-designed headers produce a "scavenging" effect. When an exhaust gas pulse exits a header tube into the collector, a negative pressure wave is created that travels back up the header tube to the exhaust port during valve overlap. This negative pressure helps pull any remaining exhaust gas from the cylinder and also helps draw the incoming intake charge into the cylinder. This, of course, is very beneficial to engine performance but the tubes must be long enough for it to be effective during a useable rpm range. This brings us to our next topic, header types.
Header Types
Long Tube Headers
The aforementioned scavenging effect is most pronounced on long tube headers. However, they are usually more expensive, the most difficult to install, and take up the most space. Long tube headers require that the exhaust pipes be cut and flanges attached where they join with the header collector. The benefit is increased power at sustained high revs, making them ideal for racetrack use.
If you've got a late model American V8 performance car, we offer BBK Full-Length Headers (available with ceramic or chrome finish) and Flowmaster's Scavenger Series Headers (stainless steel with ceramic coating standard). For select Honda models with higher-revving engine designs, there are Banks TorqueTube Exhaust Headers and PaceSetter Mild Steel Exhaust Headers.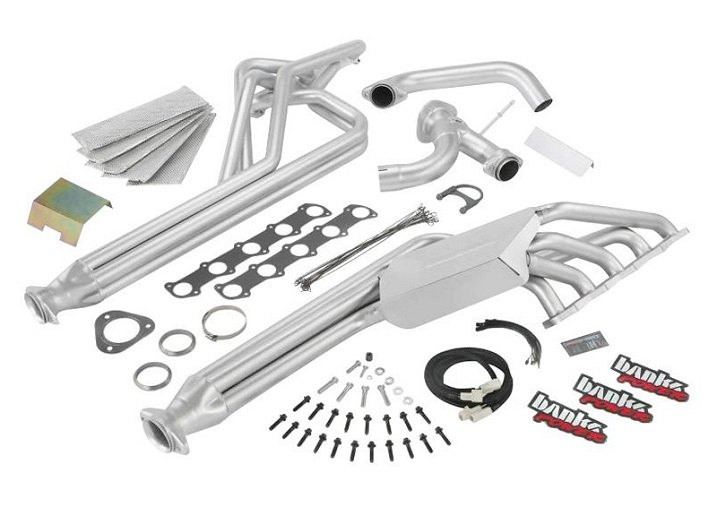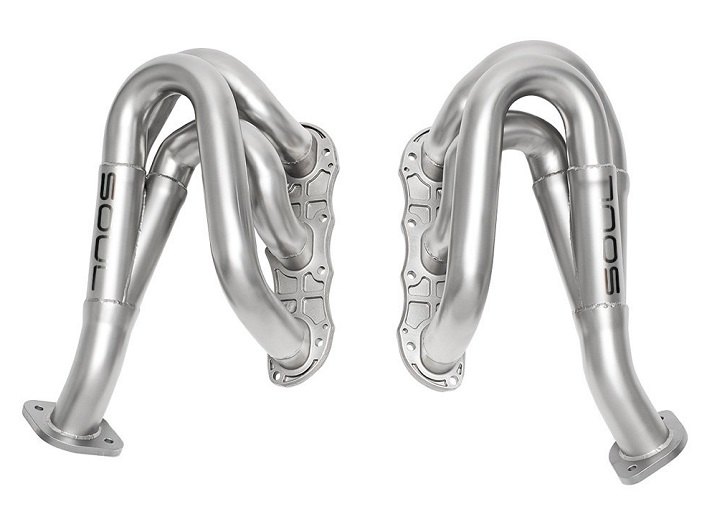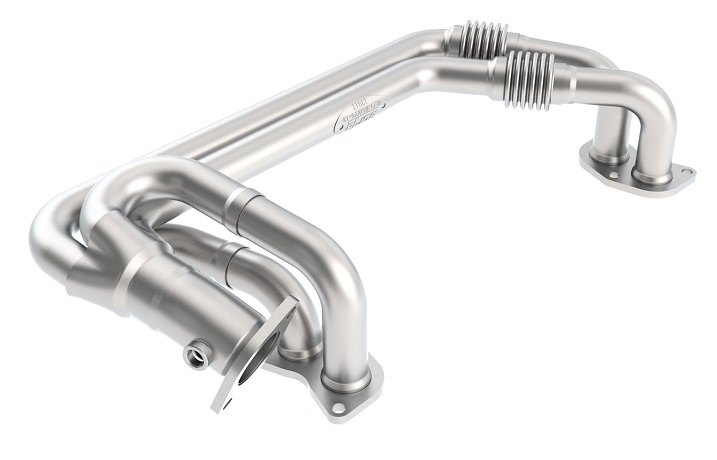 And if you've built a performance car that only sees track use, Weapon-R also offers stainless steel long-tube headers for popular 4-cylinder track built cars without catalytic converters. Particularly, there is the Weapon-R Race Stainless Steel 4-2-1 Exhaust Header for the Scion FR-S and Subaru BRZ.
While long tube headers are generally better for maximum performance than short tubes, the amount of power increase either type can provide depends on the camshaft design, intake system, cylinder head ports, and how restrictive the stock exhaust manifolds are. In general, a quality set of headers should provide an increase of approximately 10-20 horsepower, and if you're restrained with your right foot, you may even see an increase in fuel mileage.

Short Tube Headers
Pipes on "short" tube headers are still of decent length, but they're usually not long enough to create the full scavenging effect generated by long tube headers. Before you discount short tube headers completely, they do boost power and they do fit more easily into modern engine compartments - a real benefit on newer vehicles that lack the long front end and spacious under hood clearance of yesterday's cars.
Additionally, many shorty headers are designed to connect to existing exhaust pipe flanges, making cutting or welding unnecessary. The diameter size of the header tube also affects flow and scavenging - larger tubes are generally better for high rpms, and smaller tubes excel at maintaining exhaust gas velocity for low-end torque.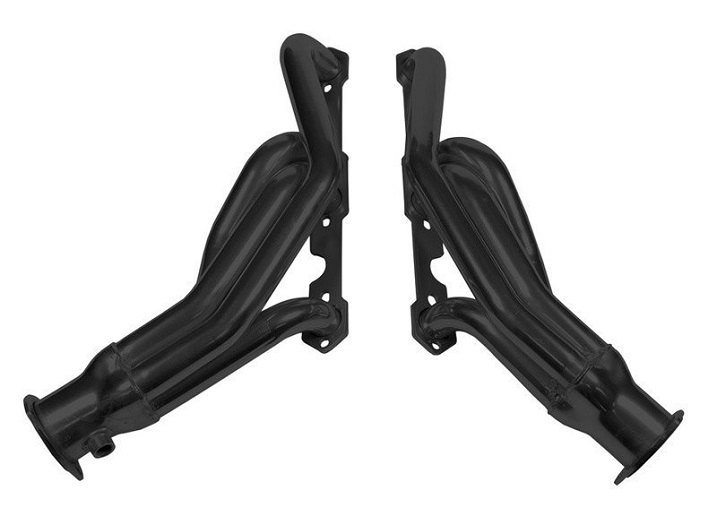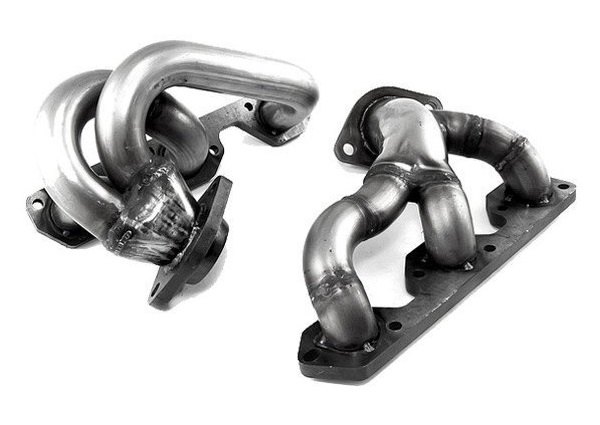 For select late-model Chevrolet, Pontiac, Ford, and Chrysler V8 engines, we've got Hooker Block Hugger Exhaust Headers. BBK Tuned Length Steel Silver Ceramic Coated Short Tube Exhaust Headers are popular with owners of Ram 1500 trucks with a 5.7-liter engine. An increase in exhaust flow provided by this upgrade results in a gain of around 15 HP and 20 lb-ft of torque; a throaty exhaust note is a bonus.
If you've been struggling to find headers for a 1994-96 Chevy Impala SS, BBK makes them in with silver ceramic coating. AFE's Twisted Steel Headers are created specifically for a variety of Jeeps and select imports, including a variety of German and Japanese brands that are most often found on tracks or street performance driving. If you have a classic American vehicle by GM or Chrysler, check out the Swap Exhaust or Tight Tubes Street Rod Headers by Hedman Hedders.
Header Pipe Layout
Layout of headers is easy to determine just by looking at them. Most headers are of the "4 into 1" design, where all 4 pipes end together in the collector. On V-6 engine applications with 3 pipes per side, the expression "3 into 1" would apply to this type of layout. Another style of header pipe layout is the "Tri-Y" design. On a tri-y, opposite cylinders in the firing order are paired in a short "Y", then multiple Ys combine in the collector. Tri-Y headers increase the scavenging effect and provide a wider powerband.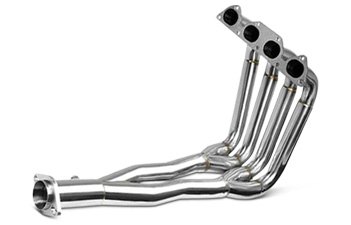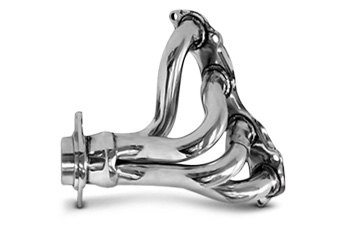 Metals And Finishes Used In Header Construction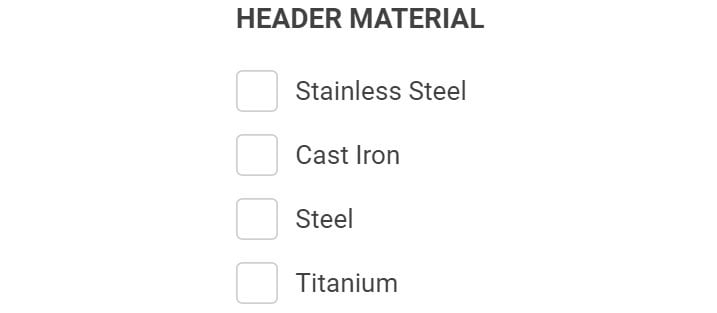 While most of our performance headers are made from stainless steel, we also offer choices crafted from traditional steel, cast iron, and titanium. Check boxes along the left side of the screen on the home page allow you to narrow your search.
Stainless Steel
When it comes to corrosion resistance, stainless steel is a good long-term investment. While stainless steel headers won't rust, they often turn blue near the head flange if subject to prolonged heat exposure. For engines that will be run at high rpms and high temperatures for sustained periods of time, stainless steel construction with ceramic coating is recommended. In some cases, it makes sense to use an exhaust header wrap to reduce underhood temps.
The Gibson Performance Stainless Steel Short Tube Exhaust Header is a 50-state-legal upgrade for a variety of V8-equipped GM models. It is developed and dyno-tested to deliver higher torque at low and mid-range RPM.
Traditional Steel
If you're looking at traditional steel headers, choose one with a coating that effectively resists corrosion from moisture and high engine temperatures. Most of the ones we sell are finished with your choice of chrome or durable ceramic that can be selected in the Product Options field.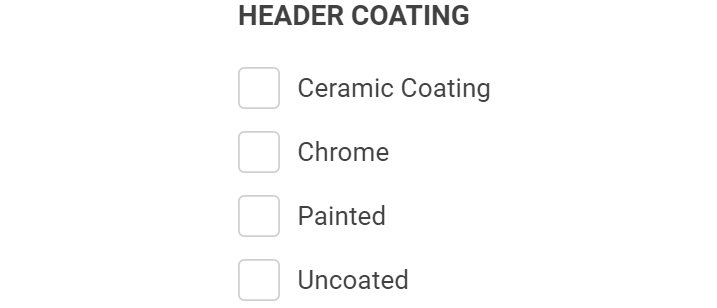 It's important to remember that painted steel headers will need to be recoated from time to time to avoid rust. If you prefer to add your own high-temperature coating, you may want to consider an "uncoated" header. Ceramic coating is best suited to high heat applications.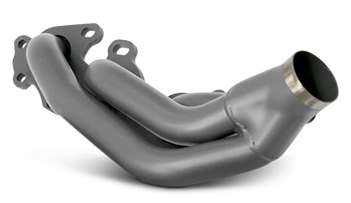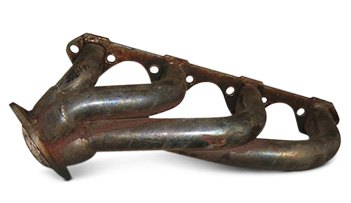 Cast Iron
Cast iron headers offer the advantage of lower cost, and are available for select vehicles. While cast iron is heavier than other materials, it soaks up heat better – a plus for emissions, and it prevents unwanted heat from radiating onto other nearby components. Quite often, cast iron headers are also called performance exhaust manifolds, as their shape is not as intricate as that of steel headers. But anyway, such manifolds are commonly more advanced than the original ones, thanks to an improved design, higher resistance to leaks, and special coatings that ensure better protection against corrosion or heat. The Hooker Performance Exhaust Manifold is a case in point.
Titanium
Often found in aeronautic parts and jet engines, titanium offers the benefits of lighter weight and higher strength compared to stainless steel. Additionally, titanium can withstand very high temperatures and is naturally corrosion-resistant. As you might imagine, headers made of titanium are a natural choice for high-performance racing applications. We've got the Blox Racing Max-Flo B-Series Tri-Y Exhaust Header for Acura/Honda models, 4-into-1 Unequal Length GR1 Titanium Exhaust Header for Subaru BRZ/Toyota 86 models, and more.
Regardless of the material you choose, a quality set of headers will have a substantial head flange to prevent exhaust leaks and all connections will have high-quality welds. Finally, an engine works as a system, so the effectiveness of individual components is very dependent on the other parts.
What Do "CARB-Compliant" and "EPA-Compliant" Designations Signify?
In our selection, check boxes allow you to see products that are either "CARB compliant" or "EPA compliant". "EPA compliant" components meet federal emissions standards set by the United States Environmental Protection Agency. These will get you through emissions tests in all states except those following more stringent standards set by the California Air Resources Board (CARB). If you're not sure which set of emissions regulations your state follows, contact the state motor vehicles division to find out. If you live in a CARB-following state, you'll need to select exhaust components that are "CARB compliant".

Headers are not the least expensive engine modification you can make; nor are they the easiest accessory to install. You will, however, be knocked out by the performance improvement AND the good looks they bring to your engine compartment!
Updated: August 18, 2022