Whether you're towing a trailer, boat, RV, or other equipment, keeping an eye on the road behind you becomes a challenge. Without proper side mirrors mounted further outboard, changing lanes or backing up requires a huge leap of faith - along with worry about just how high your insurance deductible is for certain types of incidents.
Standard side view mirrors on most trucks are good for normal driving, but they don't let you see where your trailer wheels are in relation to a curb when you're turning a corner. And if you use a car for towing instead of a truck, you're at an even greater disadvantage because standard side mirrors are usually too small to be helpful.
In the scope of this article, we'll focus on towing mirrors that clip into place around the outside of your existing factory mirror. Because these are not permanently mounted, there's no need for drilling. So no matter what kind of vehicle you use for towing, you'll have the full vision coverage that oversize mirrors provide - without their inherent bulk and dismantling of your OEM mirrors. For more details on the benefits of towing mirrors, we encourage you to read our related topic Towing Mirrors Allow You To See Behind Your Trailer.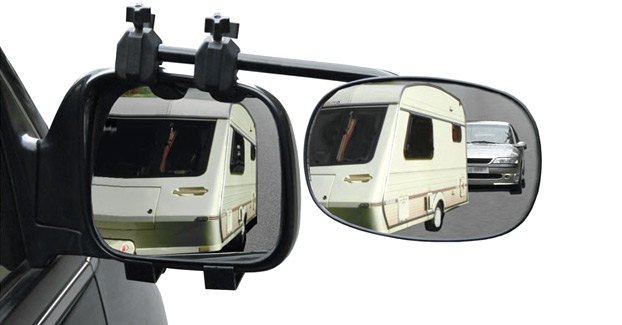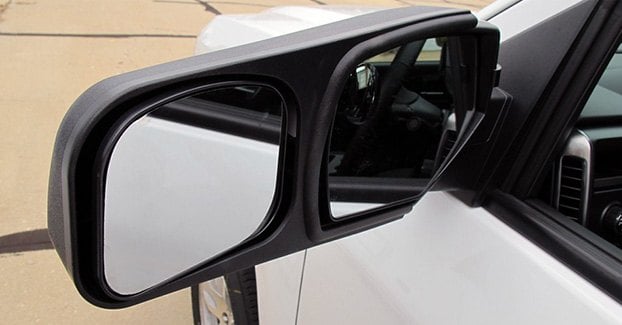 Clip-On Mirrors
We have several different styles of clip-on mirrors that can be removed or installed in just a few minutes. This makes them ideal to transfer between vehicles if you have a fleet of trucks or vans used for towing purposes. They also provide mirror span coverage that's comparable to larger, permanently-installed towing mirrors. So if you happen to prefer the size and styling of your factory mirrors to oversized replacements, clip-ons give you the extra coverage only when you want it. When you don't, they pop right off.

First, we've got vehicle-specific clip on mirrors with black plastic housings that completely surround and envelop your factory mirror. An extra towing mirror is contained within the housing, and sits outboard of your existing one. If you were looking at your truck from the front, this type of mirror creates a look of one solid, integrated piece. And because they're vehicle-specific, they're designed with the exact dimensions necessary to create a snug and even-looking fit on your year, make, and model.
For full-size Ford trucks back to 1997, Dodges back to 2002, and GM or Toyota trucks back to 2007, there's the K Source Clip-On Towing Mirrors that secure in place using tabs positioned along their edges. There's also the vehicle-specific CIPA Extension Towing Mirrors that fit over the factory mirror, then secure in place with knobs that can be tightened. These are crafted for Ford and Dodge trucks back to the 1980s, GM trucks and vans back to the 1970s, and a variety of minivans and import trucks from the 1990s on.


If you appreciate the look of integrated clip-on towing mirrors but the above two products aren't made for your vehicle, we've got the universal-fit Longview Towing Mirrors Side Extension Towing Mirrors. Because they're made to fit virtually any car or truck, they don't cover the entire mirror housing the way vehicle-specific ones do. However, they'll still look plenty stylish when installed. These attach quickly and easily using hooks that attach to the edge of your factory mirror housing, then tighten with nuts that fit over the ends. We've also got a number of similar universal-fit designs from Custom Towing Mirrors.

Extension Mirrors
If you've got an irregularly-shaped side mirror housing, we've still got you covered with extension mirrors that strap in place quickly and easily. The CURT Driver & Passenger Side Towing Mirror Extension is designed to fit mirrors from 4" to 11" high, and can be adjusted in a number of ways. K Source Manual Towing Mirrors function in the same fashion. For any car or truck, these two towing mirrors represent a solid best value.

Maybe you prefer a minimalist design. To this end, we offer the Prime Products Driver & Passenger Side Extension Towing Mirror. Instead of a curved piece that surrounds the factory mirror housing, this piece is simply a bar that clips onto the top edge of the housing with knobs to adjust tightness. The bar is designed with a flexible joint in the middle, allowing it to bend in order to wrap around mirror assemblies that are curved.
Once you realize how easy these mirrors are to use and how effective they are, we expect that you will feel that much more confident when trailering. And if you should need any trailer towing accessories, we've also got a great selection of hitches, couplers, trailer brake kits, trailer jacks, winches, lights, wiring, A-frame tool boxes, and much more in our Trailer Hitches & Towing section. From mirrors to 5th wheels, we are your trailer superstore!
November 30, 2016