What are TPMS sensors, and what do they do?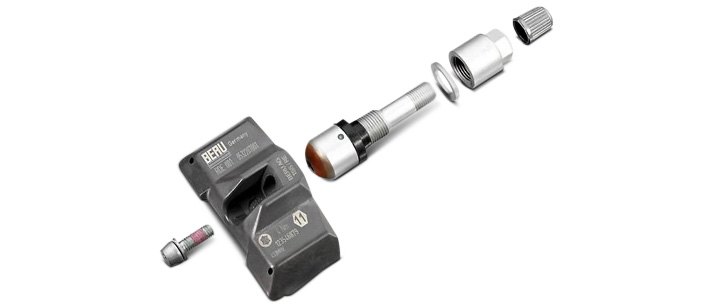 Tire Pressure Monitoring System sensors (TPMS sensors) are fitted on the inner surface of your wheel, inside your tire. Attached to that sensor is a valve stem that protrudes outside the tire for the purposes of adding air. A built-in pressure detector monitors tire inflation at all times when the vehicle's ignition is on. That pressure detector has its own battery and transmitter which relays information to the car's main computer.
Vehicle control systems read input from all four tires, and will alert the driver via a warning light if the pressure in any one of them drops 25% or more below a pre-determined level. The idea is to give a driver an "early warning" if any tires are low, so that the tire pressures can be corrected.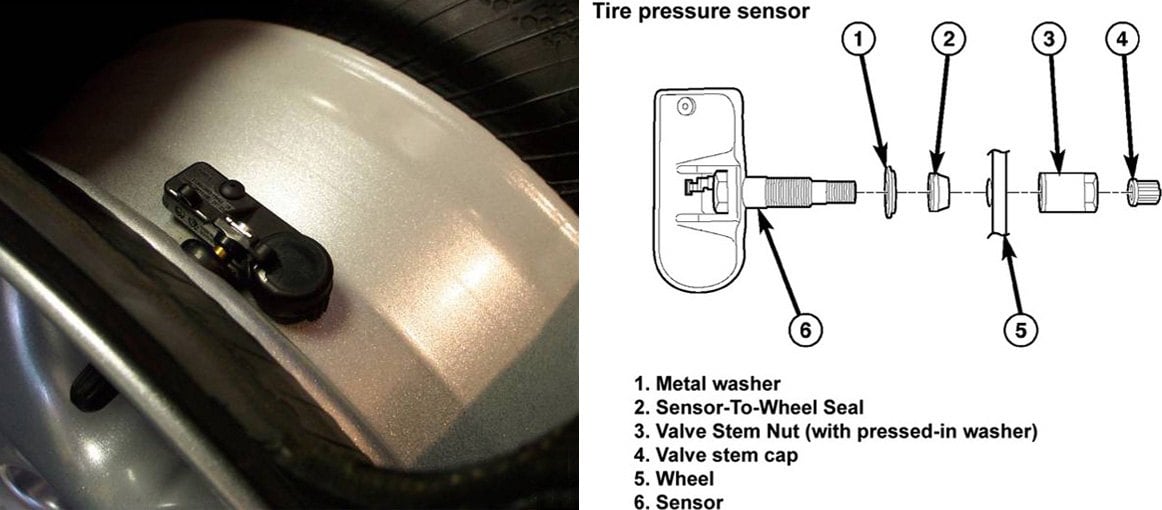 In this article, we'll discuss the benefits of installing new TPMS sensors whenever you purchase new tires - and more importantly, why we make the strong recommendation to buy new sensors when purchasing wheel and tire sets from us.
Are TPMS sensors required by law?
The U.S. Congress passed the Tire Recall Enhancement, Accountability, and Documentation (TREAD) Act of 2000, which mandated all passenger vehicles weighing under 10,000 pounds sold in the U.S. as of September 1, 2007 be equipped with a system that warns drivers if any of the tires on the vehicle are underinflated. There was a three-year phase-in period which preceded this, and several car makers offered TPMS as standard or optional equipment before that.
So, while tire pressure monitoring systems have been around for several decades, all U.S. market cars and trucks from model year 2008 and later are required to have them.
How long do TPMS sensors last?
Because transmitter batteries are an integrated, non-replaceable part of TPMS sensors, the entire sensor itself must be replaced when the batteries reach the end of their lifespan. Even if it was possible to pop new batteries into an old sensor, doing so wouldn't have much value because sensitive electronic components within the sensor also wear out due to constant, extreme levels of vibration and pressure.
Tire pressure sensors can also reach the end of their lifespan sooner if they're subject to poor road conditions and/or are fitted inside of low-profile tires with smaller sidewalls that provide a minimal amount of impact absorption. When this happens, sensors no longer transmit a clear, steady signal.
How difficult is it to replace a TPMS sensor?
Because of their location inside your tire, there is simply no way to access and replace a TPMS sensor without the use of special tire equipment to remove, re-install, and re-balance the tire. Automotive shops and dealers with these machines will have varying labor costs for tire removal & reinstallation, and those costs will likely be higher for low-profile tires or oversize truck tires because they require additional time and effort.
Should I buy new TPMS sensors when replacing my tires?
We recommend purchasing new TPMS sensors when you're replacing tires after your vehicle's new car warranty has expired. New car warranties will typically cover replacement of the sensors if they fail within the warranty period. We understand that there will be great variability regarding how long your OE (original equipment) tires will last before needing replacement. If we select several average values: 12,000 miles/year of driving, and tires which will last 60,000 miles, the "average" consumer will be replacing that first set of tires after five years.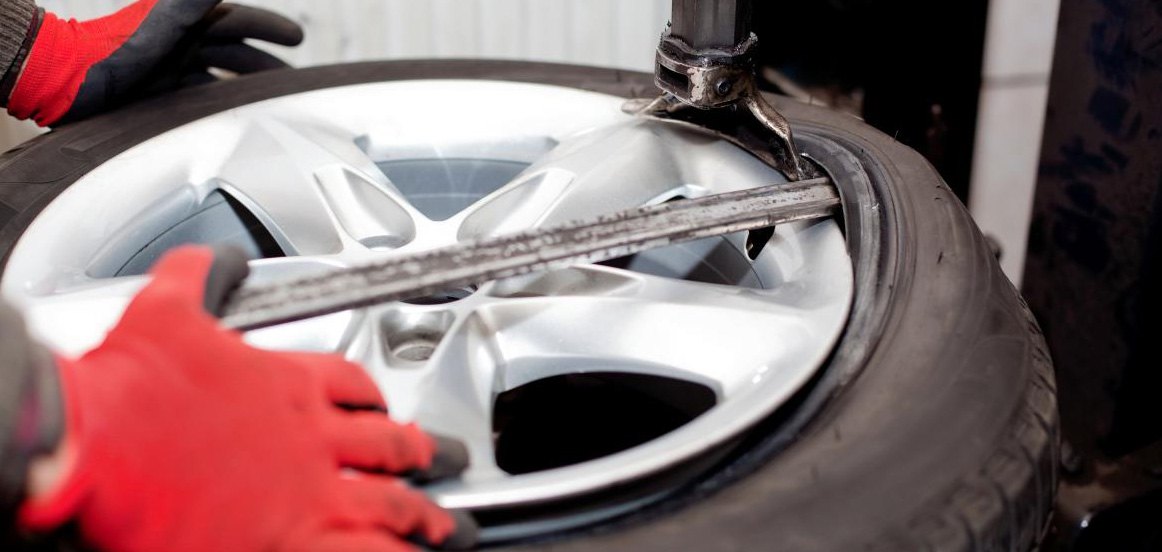 When replacing tires, you will need to pay to have them mounted and balanced. Once the old tire is dismounted, there's no extra labor to slide the old TPMS sensor out and pop a new one in. Plus, the new TPMS sensor comes a new fitted tire valve stem. Metal stems are more durable than traditional rubber ones fitted on non-TPMS cars, but they can still wear out. Stem pieces can be replaced by themselves - but you're still looking at the same cost of a tire dismount and remount to do so.
Whether you are purchasing your replacement tires from us or from a shop installing them, having replacement TPMS sensors from us already in your hand when you walk in will save you from overpaying the markup an installer would charge for these same parts. A list of TPMS sensors we offer is further below in this article.
Why do we recommend new TPMS sensors with every set of wheels and tires we sell?

We are quite proud, and rightly so, of our extensive selection of custom wheels which are available in our Custom Wheels Specialty Store. In addition to the widest choice of rims on the Internet, we help make the shopping experience uber-sweet by offering tires (in many different brands), and then performing the mounting and balancing at no extra cost to you. Once the package arrives, you literally only need to bolt them up to your ride - it is one-stop shopping at its finest.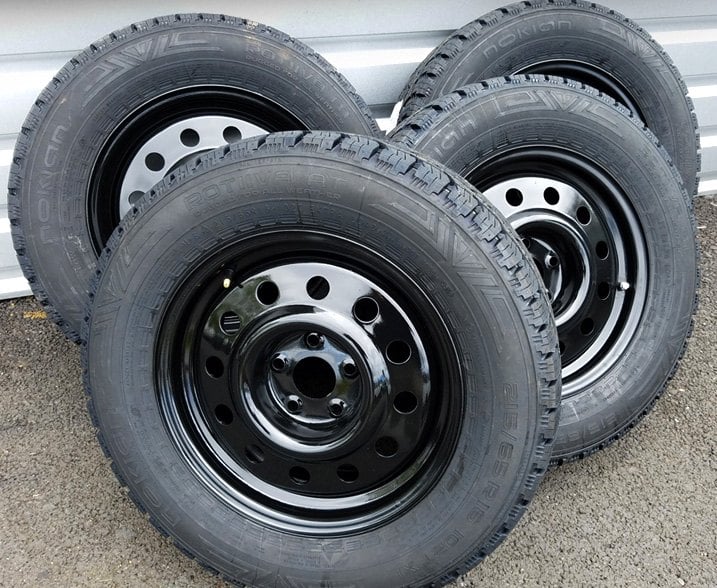 Within our wheel & tire drop-down menu, you will also see tire pressure sensors listed. We've set up our website such that, if your vehicle is required to use TPMS sensors, the system will pre-check the order for the sensors.
Why do we do this? Simply put, we are trying to keep you (and us) within the confines of the law. The National Highway and Traffic Safety Administration (NHTSA) has interpreted the TREAD Act to mean that it would be a violation for a service provider to replace wheels and tires on a TPMS-equipped vehicle without also ensuring that the TPMS still functions.
This means either re-using existing, or providing new, TPMS sensors. IF you decide to re-use existing sensors, not only must you pay to have your new tires dismounted, remounted, and balanced, you lose the use of the sensors in your existing wheels if you plan to keep them (as seasonal tires, for example).

For these reasons, we pre-check the box for new sensors for your new wheels. You are free to un-check it; however, if you do, the following message box appears: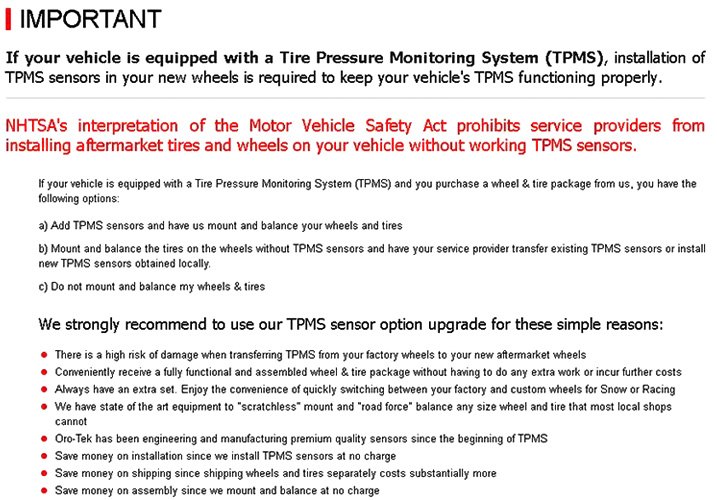 Here is the bottom line: it is less expensive in the long run, and much more convenient, to install new sensors when the new wheels and tires are mounted and balanced. We want you to be completely satisfied with your purchase, and offering this to you saves you time and money. Finally, the TPMS on your vehicle is a good thing! You want it to function correctly, and this is the best route to take to ensure that it does.
If you are NOT purchasing wheels and tires from us, but need new TPMS sensors, or wish to equip your car with such a system, please see the following section for information about our sensors.
TPMS Sensors We Offer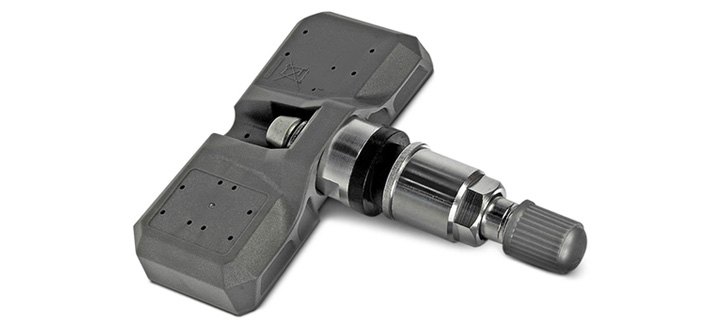 If your vehicle is already equipped with a TMPS, we have replacement sensors from Oro-Tek, Dorman, Standard, Auto 7, Denso, Omix-Ada, and Crown – just to name a few. These are vehicle-specific, and are designed to adapt to existing software your car or truck has in order to function the same fashion as original equipment. Dorman sensors require the Dorman Multi-Fit TPMS Programmer Tool for vehicle synch up.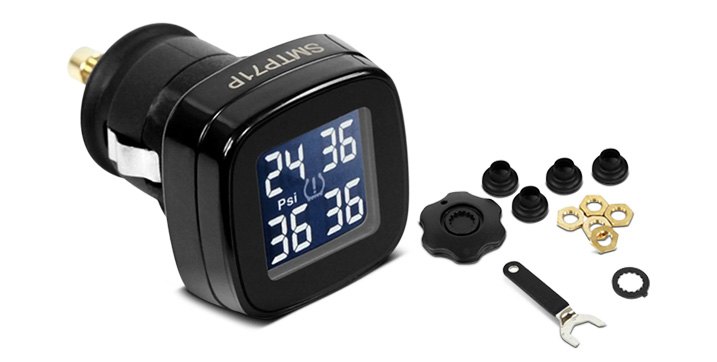 If your vehicle was not originally equipped with a TPMS system, we offer a cost-effective kit that lets you transmit, receive, and display data about all four of your vehicle's tires. The Omega R&D Excalibur Tire Pressure Monitoring System is a universal-fit kit that works with any car or truck. Instead of sensors that mount inside your tires, Omega R&D ones screw on to the outside of your valve stems - in place of small plastic caps usually found there.
Once in place, they continually measure tire pressure using valve stem pins, and a digital monitor that plugs into your vehicle's cigarette lighter adapter provides a clear reading of each of the tires. Alarms will sound if fast or slow pressure drops are detected. This system is also a best-cost option for keeping an eye on tire pressures if your original system is no longer functioning.
Tools & Parts For Servicing A TPMS Sensor
Should you find yourself needing to replace the hardware related to your TPMS sensor, but not the sensor itself, we've got you covered with replacement kits and components. Whether you need just a metal stem, valve core, seal washers, cap, other components, or a complete kit with all these items, you'll find OEM quality pieces on our site. For full kits, a wide range of makes and models, we've got the Standard TPMS Sensor Service Kit, Denso TPMS Sensor Service Kit, and the Dorman TPMS Service Kit. For Chrysler brands, we've got the Crown TPMS Valve Stem Hardware Kit.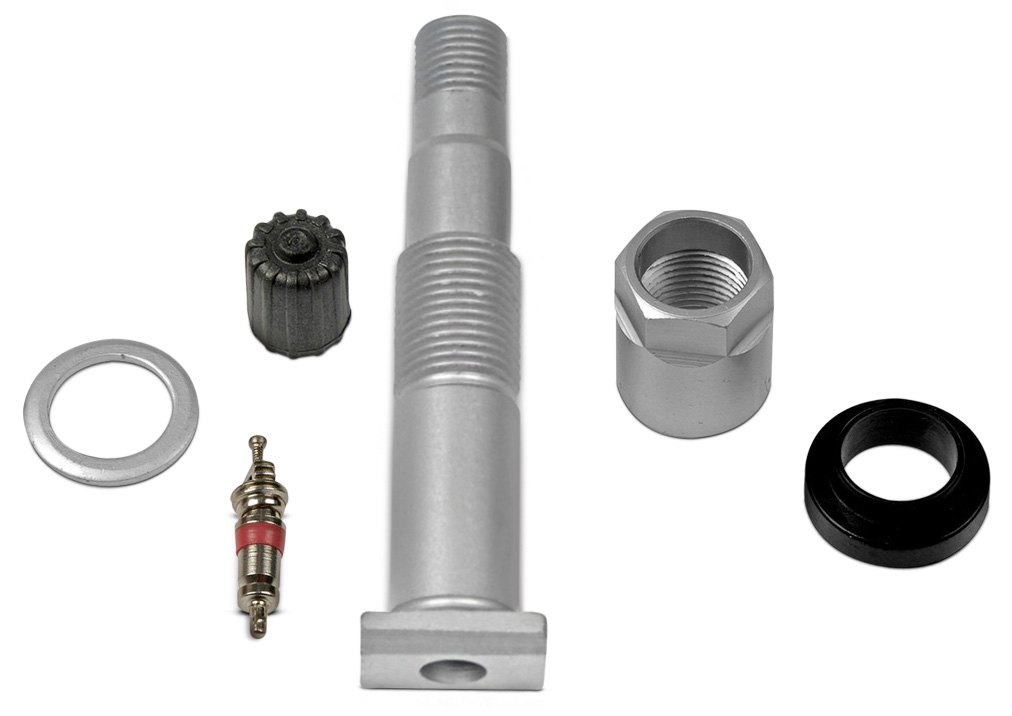 For service professionals that need to troubleshoot and work on TPMS systems, we've also got a sub-section for TPMS Tools such as scan tool kits, programmers, TPMS control units, and more. And if you need other assorted repair parts such as individual stems, grommets, sensor mounting bands, TPMS sensor cradles, clips, and other assorted pieces, check out our TPMS Components sub-page.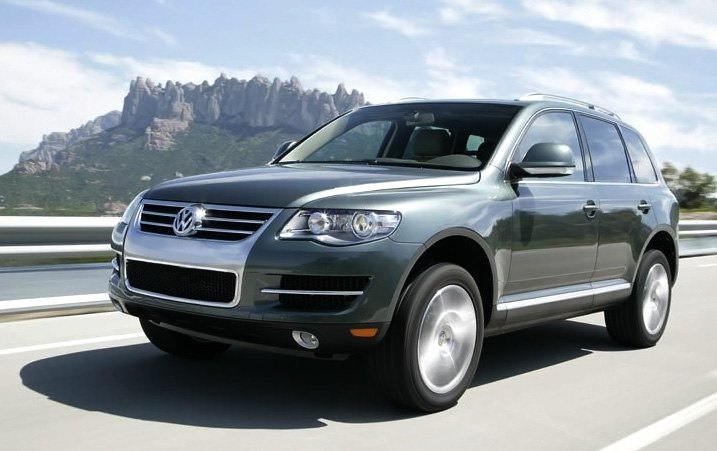 In closing, we'll point out that tire pressure monitoring systems really are effective. In fact, a detailed U.S. National Highway Traffic Safety Authority research study documented that TPMS reduced the likelihood of severely underinflated tires by 55%. It is in no one's interest to disable the system. So, for a small cost, you can make a smart choice and keep all four wheels safely monitored for many miles, without incurring additional labor costs to do so.
August 17, 2016