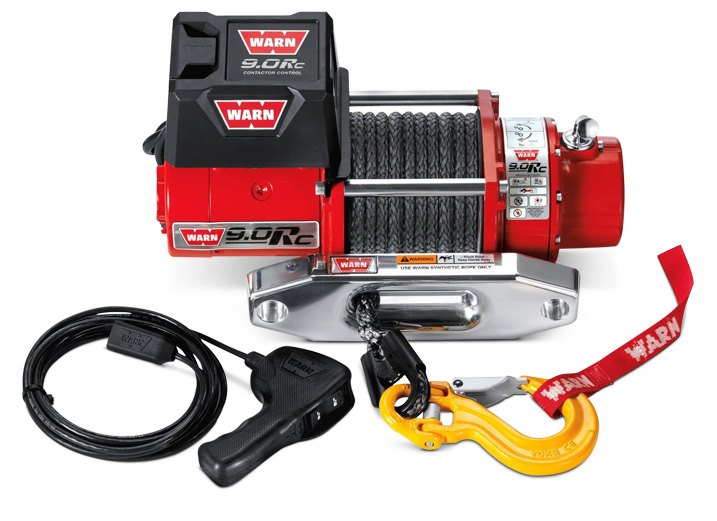 A winch can be an extremely useful tool while exploring off-road trails far from civilization, for rescuing another vehicle while cruising on the beach, or landscaping in your own back yard. All winches are given a pull rating - which determines the amount of weight that the unit can safely pull. With many winches rated for different pulling weights, it can be hard to know exactly what you need. A generally accepted formula is to choose a winch that is rated for at least 1.5 times the weight you will need to pull. You will need to calculate the total weight of the running vehicle; not just the listed curb weight. This will include vehicle curb weight + occupant weight + equipment weight + accessory weight + anything else you might have in your rig.
Total Weight Calculation For 2012 4 door Jeep Wrangler Unlimited
For this article we'll be using a 2012 4 door Jeep Wrangler Unlimited as an example. The listed curb weight for this vehicle is 4,129 lbs. (4,243 with a full tank of gas.) If we've modified this Jeep, we'll need to account for the added weight of bigger tires, heavy duty bumpers, skid plates, tools, overland gear, and of course, our occupants.
The 30 inch Mud-Terrain tires that Jeep puts on the Rubicon from the factory weigh 21.02 lbs. each. A 35X12.5 inch BF Goodrich KM2 weighs 30.4lbs; adding 46.9lbs to our vehicle weight with the five bigger tires. You'll need to account for any tools that you're bringing with you as well. Your tool box can vary in weight based on the type of vehicle you have, or what kind of trip you're on. A full mechanic wrench and socket set can weigh anywhere from 30 - 100 lbs. (or more,) and heavy duty off-road jacks can weigh up to 50 lbs. Tools and recovery gear can add weight quickly, so be sure to account for all of it.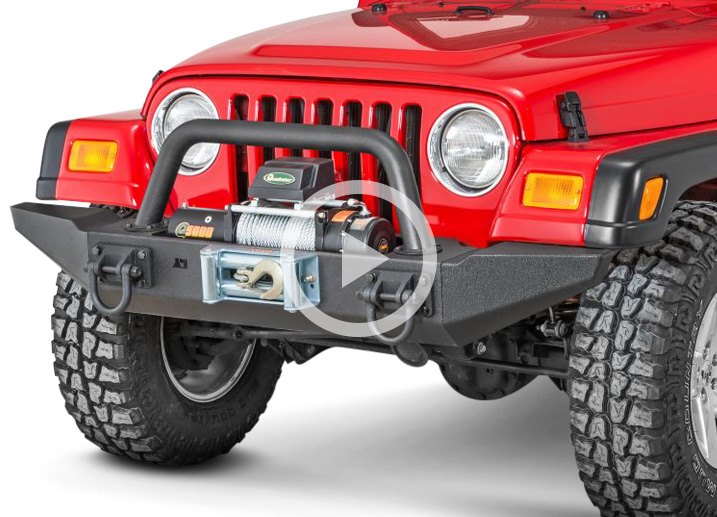 If you've replaced your factory plastic bumpers with steel aftermarket ones - like the winch mount bumper you're most likely considering - you'll need to add any additional weight for those as well. The factory Wrangler bumpers weigh 31 lbs. (26 lbs. for the front, and 15 lbs. for the rear.) If you were to replace those with aftermarket bumpers, you could be adding over 350 lbs. to the weight of your vehicle; as some bumpers weigh close to 200 lbs. each. You'll also need to add the weight of the winch itself. The T-Max Outback Series pictured above weighs a little over 100 lbs. If we add in 600 lbs. for 4-5 adult passengers, we've already added over 1,000 lbs. to the curb weight of the Jeep. Roof top tents, coolers full of food, and gallons of water or extra fuel, can also add hundreds of lbs. to the weight as well. If we add in another 500 lbs. for additional gear (like water, fuel, roof racks, skid plates, etc.) our total vehicle weight is roughly 5,900 lbs. (1770 lbs. more than our listed curb weight.)
Using the formula mentioned above: 1.5 times the curb weight of our Jeep would be 6,193 lbs. 1.5 times our new total vehicle running weight is 8,850 lbs. As you can see, using the curb weight would suggest that a winch with a pulling power of 6,500 lbs. would have been sufficient - but with the gear loaded in, you'll need a winch with pulling power of at least 8,850 lbs. That's more than a ton of additional needed pulling power! If you wanted to play it safe with this Jeep setup - installing a winch with a pulling power of 9,500 lbs. (or even 12,000 lbs.) would be a better choice; as you never know what you might need to pull. Winching is extremely dangerous, and safety measures should always be taken prior to use. Take a look at these helpful links before attempting to extract a vehicle, or anything else. Happy winching!
May 25, 2012