Trailer hitches are not just for pulling trailers. At CARiD, we have seen more than our fair share of customers who have purchased a receiver hitch even though they do not own a trailer and never intend to own a trailer. We have heard from customers who have purchased a used vehicle with a trailer hitch installed, not intending to ever use it. That is, until they discovered that hitches have multiple uses. In this article, we are going to demonstrate how convenient and flexible receiver hitches are when they are utilized as cargo carriers.
Our website offers a broad array of choices if you're looking for using your trailer hitch in this fashion. But before we get to the products, let's take a moment to look in more detail at the advantages this setup offers. It seems that the typical American family has more and more stuff to carry. Whether you're empty nesters, or have a brood that occupies every seat in the minivan, everyone wants to bring along everything they "need" when headed out on the road. If that road trip is an overnight one, the Necessary List just got longer. A full week's vacation? You'll spend more time arguing what not to bring.
Hitch-Mounted Cargo Carriers Variety
Now let's think about the vehicles we drive. You know (because we've talked about it in other articles) that 50% of the new cars sold in the U.S. are actually trucks: minivans, pickups, and Sport Utility Vehicles to be precise. And although these vehicles have gotten larger in recent years, we STILL need more room for more stuff! One option is to put it on the roof, using rails and cargo boxes. While a great choice for many, some don't want to lift it that high, or have clearance issues, or want their stuff lower because it needs to be accessed more frequently. Hitch-mounted cargo carriers allow you to carry stuff, which might not otherwise fit inside the vehicle, on the outside at a height where it can be easily reached. Eureka! Solution found! Let's get into the specifics of both the enclosed and open type cargo carriers we carry.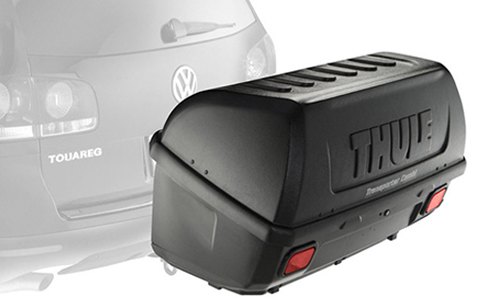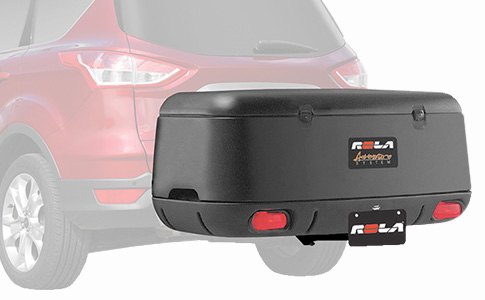 Hard-Shell Enclosed Carriers
If you're looking at some sort of hard-shell enclosed carrier, the Thule Transporter Combi Combo Box is a great place to start. This box does it all: it can hold up to 150 lbs. of cargo, can be adapted to either 1 1/4" or 2" receivers, is prewired for tail lights, and tilts down to allow you access to your tailgate. The Rola Adventure System Carrier offers the options of tilt OR swing away for the rear hatch/tailgate to open. There are also choices for a light kit, license plate kit, and locking latch kit. The Rola box can carry 150 lbs.
Tray Cargo Carriers
When considering trays or baskets, the choices expand exponentially. Take a look at the different designs, because trays have low sides, advantageous if carrying larger or bulky items. Baskets have raised sides of differing heights, which do a better job of keeping your goodies in place.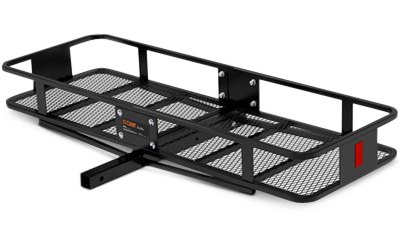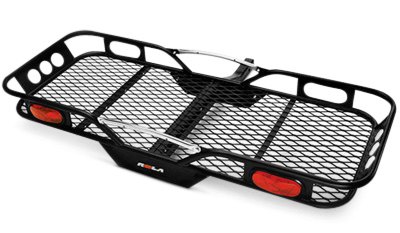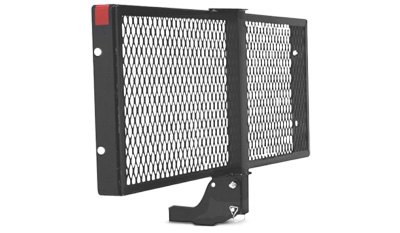 Some representative trays include the Curt Tray Cargo Carrier, which can handle 500 lbs.; the Rola Steel Cargo Carrier, which can handle up to 600 lbs.; the Pro Series Folding Cargo Carrier, which flips up and out of the way when not in use; the Bully Hitch Tubular Cargo Rack, which features an open tube design; and the value-priced Outland 20"x60" Receiver Rack.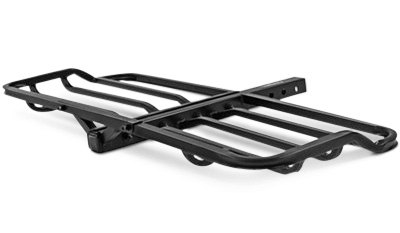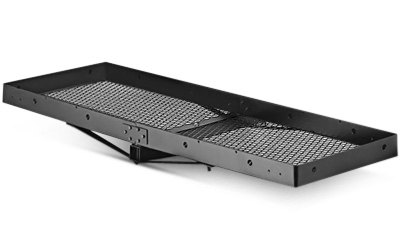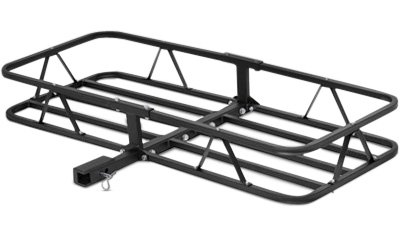 Basket Cargo Carriers
Basket choices include the Curt Basket Cargo Carrier, which can fit either 1 1/4" or 2" receivers, and has 6" high sides; the Pro Series GearCage Cargo Carrier, with solid platform and 7" side rails; the SportRack Folding Hitch Basket which, as its name implies, folds when not in use, and can handle 500 lbs. when in use; and the Dee Zee Premium Cargo Basket which has some of the highest side rails of any basket at 18".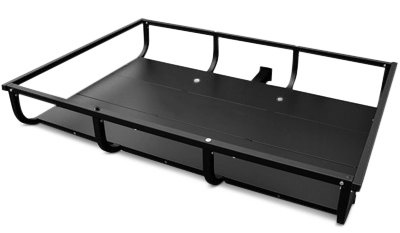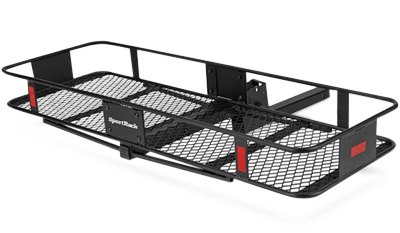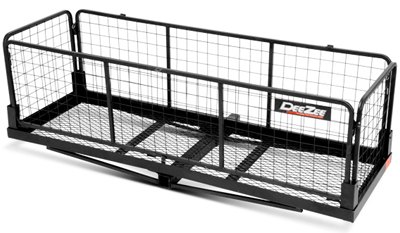 Cargo Bags and Nets
If the open design of the tray or basket appeals to you, yet you are still looking for some additional support (literally), you'll be happy to know that soft-sided cargo bags, made to be placed onto the tray, are available from Pilot and Rola. An even more flexible solution (again literally) is a cargo net, which cinches down over the items on the tray or in the basket, keeping them secure during those long trips to the vacation spot. Cargo nets are available from Curt, Pro Series, and Pilot.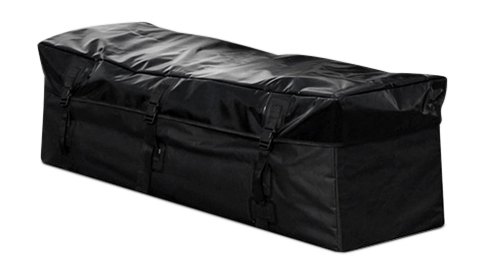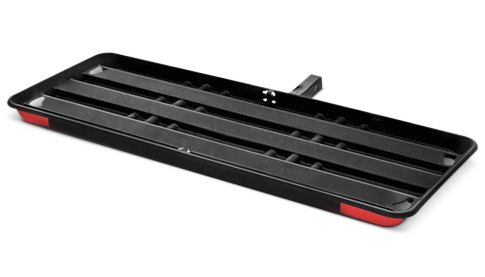 The most difficult of this entire process might be deciding which kind of hitch-mounted cargo carrier is right for you. Boxes and open racks each have their advantages. We like the boxes for their all-weather security, and tend to use them if taking a longer trip. The trays and baskets can handle the runs to the hardware OR the antique store because the larger and more awkward-shaped items are so easily loaded. Once we started using one, we actually put a trailer hitch on our second car just to be able to accommodate the cargo carrier! So don't blame us if you bring more stuff with you on that next road trip.
March 16, 2015