Sometimes when towing a trailer, it's hard not to think about all the things that can go wrong - especially worst-case scenarios such as the trailer breaking free from your vehicle and becoming a "runaway" that puts property and life at risk. You start to worry if, when you lowered the trailer hitch down onto the ball, the locking tongue actually secured in place under the ball - or did it get pushed up into the ball cavity on the hitch? This mishap can happen to the most of experienced towers because things look normal to the eye, and the coupler will even lock in place as if it's properly attached. Or, maybe the nut on the tow ball has been slowly backing itself off on a long trip (lock washers have a less-than-infinite life span).
Additionally, there are always other careless drivers to worry about that may cause an accident involving you and your trailer. As an initial backup measure, safety chains connecting your trailer and vehicle are designed to hold on to the trailer if the coupler comes off the tow ball. However, it's not uncommon for them to snap or fail in an accident or if weight on the trailer is too heavy.

For worst case scenarios, trailer breakaway kits will automatically activate a runaway trailer's electric brakes if it's broken completely free from the tow vehicle. In such an event, a special cable attached to your vehicle will pull itself loose from a safety switch mounted on the trailer frame. A self-contained battery supplies power for the switch to send commands to the trailer's own electric brakes to apply gradually without locking up to ensure the trailer slows itself to a stop safely and predictably. Because of obvious safety benefits, most states require breakaway kits on trailers heavier than 3,000 pounds.

In the scope of this article, we'll take a brief look at universal-fit complete trailer breakaway kits designed to handle trailers with electric brakes. All of the products we offer include a pressure pull-out switch, cable, 12-volt battery with 5-amp draw, wiring, and mounting hardware. Some kits will offer an extra battery charger designed to draw power from the tow vehicle through an auxiliary wire, and some offer a built-in battery tester that lets you check if battery strength is full, weak, or dead.
Universal-Fit Complete Trailer Breakaway Kit Components
In our trailer breakaway kit section, you'll also find individual replacement components for cables, switches, battery cases, hardware, and even LED battery tester lids. Enter the Product Options field (if it's present) for a specific item to select variations in wiring lengths as well as to purchase additional related equipment such as optional battery chargers, etc.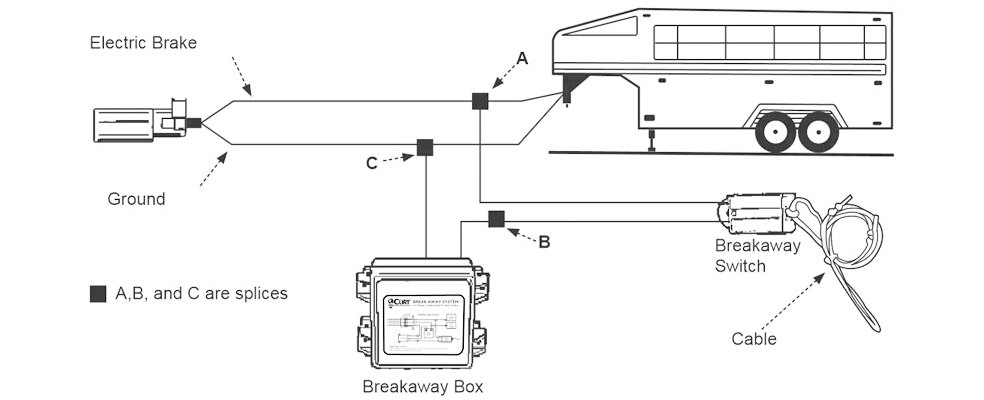 For starters, Curt's Soft-Trac Lockable Breakaway System for 1-3 axles is available in three versions starting with the Soft-Trac I that includes a durable nylon breakaway cable and a lockable side-loading battery case made of polyethylene. If you prefer to mount a breakaway battery case on an A-frame trailer tongue, the Soft Trac II kit has an attached bracket that lets you do so - plus, the bracket includes a round hole for a trailer jack. Curt's Push-To-Test Breakaway System version offers the option of a top-loading or side-loading battery case with a battery monitor.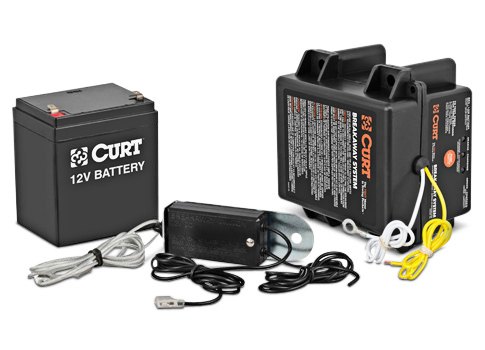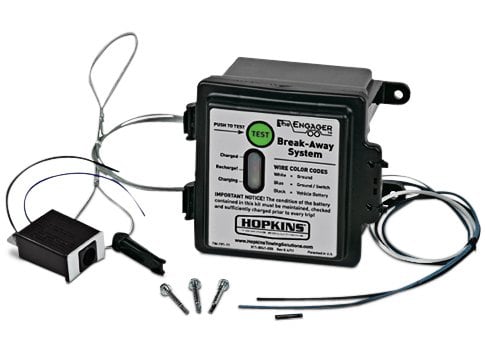 For basic value, Hopkins offers their Engager Breakaway System (choose "SM" with side-loading battery case or top-loading "FT" versions) and Breakaway System designed for 1-2 axle trailers. In Product Options fields, you'll see chargers, LED battery monitors, and switches that may also be available.
Tekonsha's Breakaway System for 1-3 Axle Trailers with Electric Brakes (top-loading battery) comes standard with a multi-stage charger that adjusts electrical flow rate to keep the battery fully topped off without overcharging it. The kit also includes a standard push-to-test battery condition meter on the lid, and offers a choice of 7.5" or 48" wiring lengths in the Product Options field. Also available with a multi-stage battery charger and push-to-test battery meter is the top-loading Pro Series Breakaway System designed for up to 3 axles.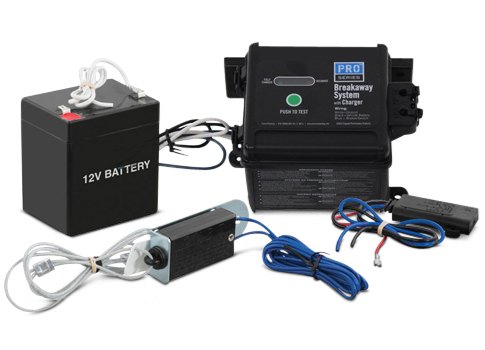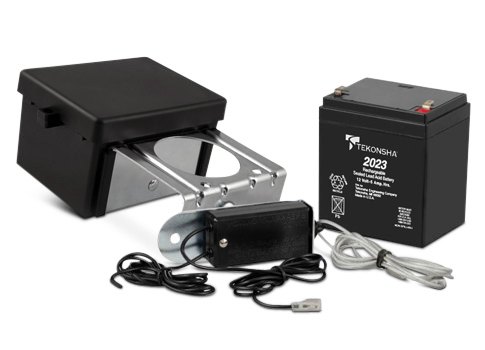 Need a breakaway kit for a trailer with up to 4 axles? Tekonsha offers a number of 4-axle choices available with or without a rapid battery charger designated "ABCD" (Accelerated Battery Charging Device). The Shur-Set III Lockable Breakaway System is available with a durable nylon pull cord and a bracket to install the top-loading battery holder on an A-frame trailer tongue. For standard mounting locations, Tekonsha also offers the Shur-Set Lockable Breakaway System with an integrated metal hold-down bracket for the lid of the top-loading battery.
If you'd prefer a weather-resistant battery holder made of plastic rather than metal, the Shur-Set Polymer Lockable Breakaway System offers the above benefits with an all-polymer case and a specially-designed lid that won't fly open. For best value, the Bargman Breakaway System for 3 axles is also available with Tekonsha's ABCD rapid battery charger under license.

To help guide you through the selection referenced above, we've set up items in our Trailer Breakaway Kit area to inform you of choices available for variations in wiring lengths as well as optional related equipment in the Product Options field for each item. Should you still have questions about what you've seen for sale on CARiD, we encourage you to contact us seven days a week with any questions you may have before purchasing.
April 28, 2015