Exhaust work can be challenging. Old parts are usually corroded and difficult to separate, and new ones sometimes need minor fitment adjustments during installation. Here, we'll look at some specially-designed tools we offer that address these issues and make exhaust work easy.
Air Hammers, Chisels, Separators, Splitters, Cutters
If you've got a pneumatic air gun and a source of compressed air, air hammers and bits are a must-have for exhaust work.
For starters, cutter pieces make easy slices through old exhaust pipes. If you've got rusted nuts on old clamps, cutter pieces can slice them off completely. Additionally, they can scrape off spot welds.
Like cutter pieces, chisel pieces are also shaped to get into narrow areas. However, these are usually not as sharp as cutting bits. Among other uses, chisel pieces are effective in shocking stubborn exhaust manifold bolts free once a small, angled cut is made into the side of the bolt.


Hammer bits have a flat end just like traditional hammerheads. Because these are designed to spread impact force over a wider area, these are ideal for situations when parts need to be shocked free but kept intact without damage. While they're great for driving out larger bolts and bushings, hammer bits can smooth down rough edges of metal surfaces - something that's extremely useful in exhaust work.
Punch bits taper down to a flat or pointed end. These are useful for creating holes for spot welding purposes, or for driving out old rivets. Punch bits can also be used to break frozen nuts free, align holes, and insert pins.


Separator bits (also described as "pickle forks") feature a tong-shaped fork at the end, and are commonly used for wedging stuck things apart without puncturing or splitting anything.

Support Stands
Once you've freed rusted-together exhaust sections, removal is the next stage. But before you take anything off the vehicle, check if the section you'll be removing serves as support for mufflers, catalytic converters, or other adjacent pieces which need to stay in place. If exhaust sections will suddenly be hanging free, they need support to prevent costly damage.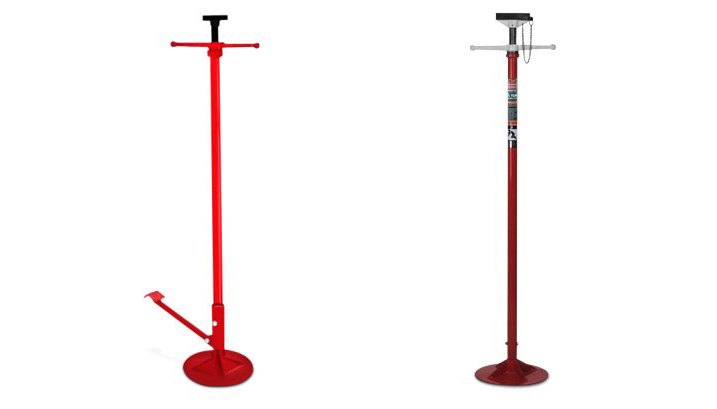 We've got high-reaching support stands created to support heavy components that are up high when a vehicle's on a lift. They're designed with sturdy bases that won't topple over, and they've got wide brace pieces up top to securely cradle any large mufflers or header pipes. The importance of having a muffler stand should not be dismissed, as these also maintain correct pipe position and angle when new exhaust sections are in place for bolting on or welding.
If you prefer best values, take a look at our exhaust stands from Blackhawk and OTC. For a small amount more, we've also got stands from AFF and Sunex (see Product Options) equipped with foot pedals for hands-free height adjustment.
Tail Pipe Expanders
When mating new exhaust pipe sections to old ones, sometimes a little extra clearance is needed for proper fitment. Like their name suggests, tail pipe expander tools make it easy to widen the opening of an exhaust pipe.

These tools consist of a series of curved metal plates that extend outward when a center shaft is rotated. As they expand, they maintain a symmetrical, round overall shape. These are also useful for removing indentations made by old clamps that may cause unwanted gaps and leaks.

Using a socket piece, the center shaft of the tool is rotated. Note that because higher amounts of torque may be needed to spin the shaft once the tool is inside the tail pipe, an air impact gun can provide more twisting force. We've got Tail Pipe Expander Tools from Powerbuilt, Lisle, GearWrench, and ATD.
Tools For Removing & Installing Exhaust Hangers
During the course of exhaust work, you'll probably need to remove and reinstall rubber hanger pieces. Because they're designed with high resistance to keep them in place, these rubber blocks can be difficult to get on and off by hand or with a screwdriver.
Exhaust hanger removal pliers make the process simple by bracing against the hanger support peg on one side. As the handle is squeezed together, the back side of the tool (flat in shape) pushes the rubber hanger off the peg quickly and easily.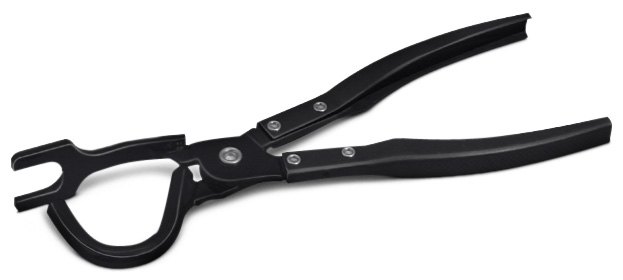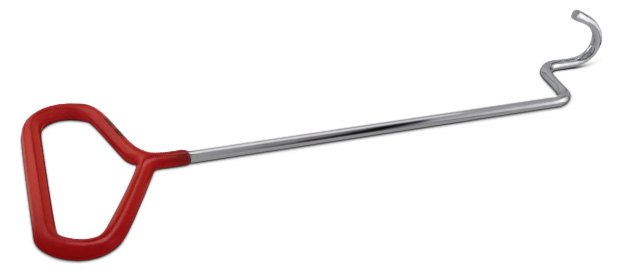 We've got exhaust hanger removal tools from Lisle, Kastar, and 9 Circle. For re-installing the rubber hanger onto your new exhaust piece, we recommend the OEM Tools Exhaust Donut Stretcher that's specially shaped to stretch hanger pieces back onto their support pegs.
Cutting Exhaust Pipes

When you need to cut through an exhaust pipe, we've got effective, hand-operated tools from Lisle and OEM Tools. After clamping either of these around the pipe, multiple blades cut into the metal as the tool is moved by hand. Because approximately 1/3rd of a turn cuts all the way around, pipes can be cut while on the vehicle.

If you prefer to get the job done quicker with an air-powered exhaust cutting tool, we've got the Aircat Extended Cut-Off Tool with a small, high-rpm cutting wheel.
Because virtually all of these tools can also be used for a wide variety of automotive repairs, they make smart money purchases for any do-it-yourselfer. Remember that the right tool makes the job quicker and safer. Exhaust work is hard enough; be sure to make the smart investment to ensure that your new exhaust is installed without hassle!
August 30, 2017