Have you taken a close look at the existing floor mats in your vehicle lately? Odds are if they came as standard equipment, they've become more worn, stained, and full of ground-in dirt than you think. Factory floor mats typically consist of a thin layer of lightweight carpeting bonded to a thin layer of polymer type material that blocks water from getting through. Not a great formula for protection, and not the type of construction that's guaranteed to last the length of time you own your vehicle.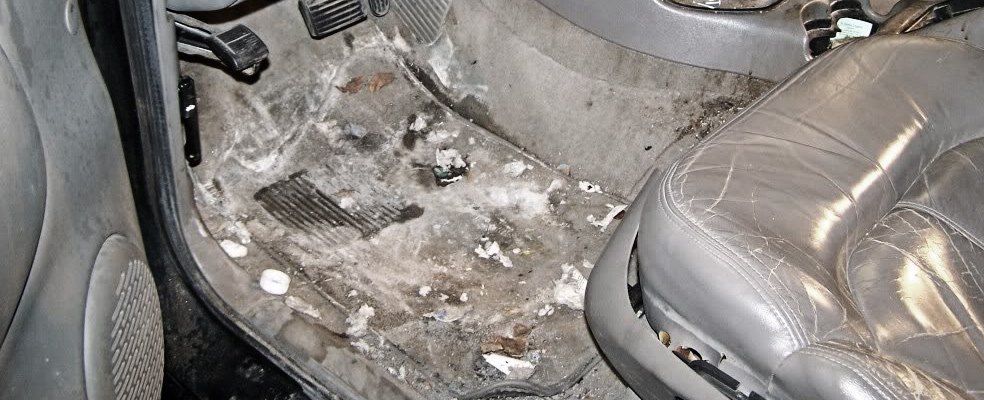 In addition, if someone who drives the vehicle wears high heels, the top layer can be scraped away completely in spots. Add in a few winter seasons of tracking dirty slush into the car, and you've got floor mats that require lots of elbow effort with carpet cleaner to look presentable again. There is no guarantee that all the stains will come out or that the carpet itself is still in one piece.
If you originally balked at the high prices car dealers charge for a set of durable, easy-to-clean rubber floor mats (typically well over $100), we understand. That's why we offer a wide selection of floor mats and floor liners made of rubber, polyethylene blends, carpeting, and even aluminum, all at values you'll be sure to appreciate. In this article, we'll discuss these available choices and we'll help you understand the differences between "mats" and "liners".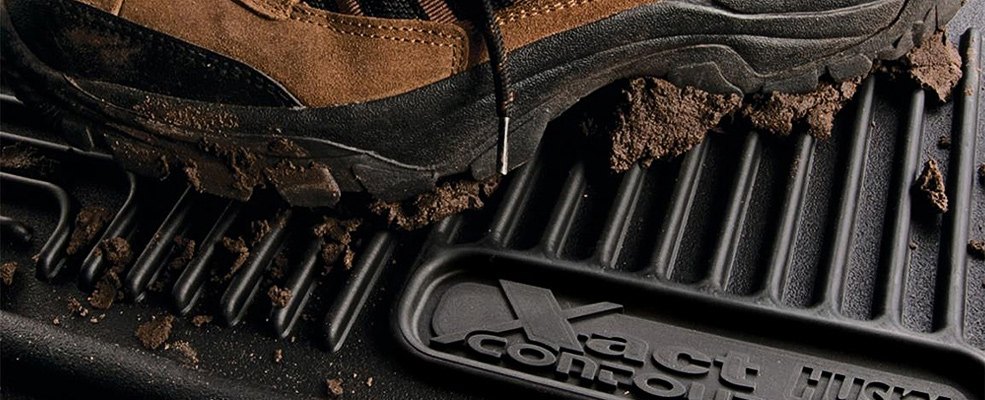 "Floor Mats" vs. "Floor Liners"
The best way to look at the general philosophy of automotive floor mats and floor liners is to compare them to household carpeting. Figuratively, floor mats are more like a sectional rug while liners are intended as more of a wall-to-wall carpeting overlay. Mats are flat on the bottom, while liners are molded to the contours of a specific vehicle floor and feature edges which run up along the walls of the foot wells or cargo space - not unlike how wall-to-wall carpeting wraps up stairways and into other nooks.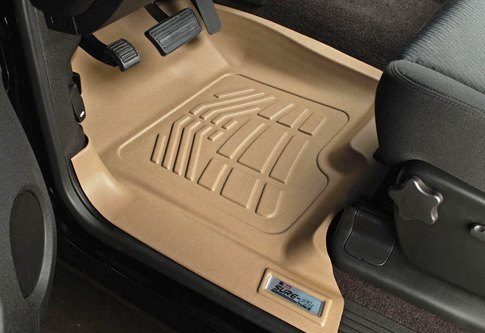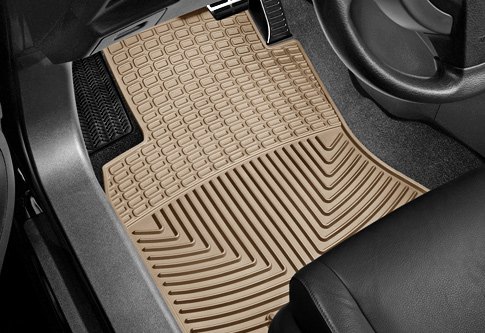 Both mats and liners may feature grooves, cups, or other compartments to trap dirt and water to prevent it from escaping, or they may feature a smooth, flat surface. With a few exceptions, carpeted floor mats and liners do not have ridges. Some styles of mats and liners may feature small, flexible spikes on their underside to grip carpeting underneath better.
Floor mats are typically made of rubber, polymers, or carpeting while floor liners are usually always made of polymers. Note that different terms are used by various manufacturers for polymer construction of floor mats and liners - "rubberized plastic", "vinyl", "thermoplastic", and "synthetic rubber" are just a few. For the purposes of this article, we'll refer to polymer construction as synthetic rubber.

Custom Fit vs. Universal
While floor liners are almost always custom-fitted for individual vehicles, floor mats may or may not be. If you see a Product Option field that asks for your make, model, and year, then the mats you'll see displayed are custom- or semi-custom fit. A universal mat will state that fact somewhere in the product description and will not ask for detailed vehicle info. Often, universal mats feature excess material around the edges which is designed to be trimmed off as needed by the end user.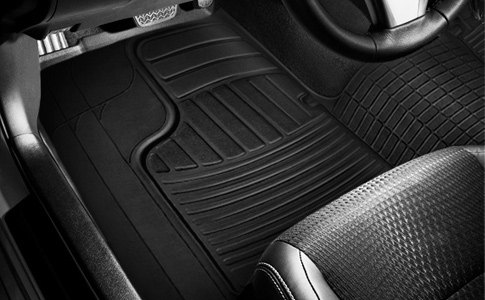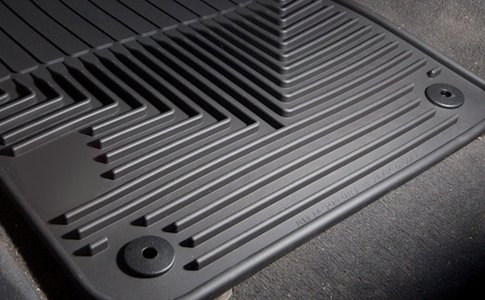 One advantage some custom-fit mats and liners offer is built-in button holes (sometimes described as "cleats"). These are positioned to match the location of the locating pegs that vehicle manufacturers install on underlying floor carpeting. When holes are snapped onto pegs, a mat will stay in place instead of sliding around. This is a huge safety benefit, as it keeps the mat in place, avoiding any brake or gas pedal interference.
Floor Mats
Rubber Mats
While floor liners are made from stiffer polymer compounds that support their contoured shapes better, rubber construction is available on many floor mats we offer should you prefer the comfort of softer, more pliable material under your feet. For starters, there are the WeatherTech All-Weather Floor Mats with grooves and square ribs, available for most cars as well as trucks. Lloyd custom-fit Rubbertite Custom Fit All-Weather Protection Floor Mats feature indented round cups to catch muck, and they offer the distinction of being available in 13 colors instead of traditional choices of black, gray, or tan. The Weathertech and Lloyd mats come in 1st, 2nd, and 3rd row configurations for many vehicles.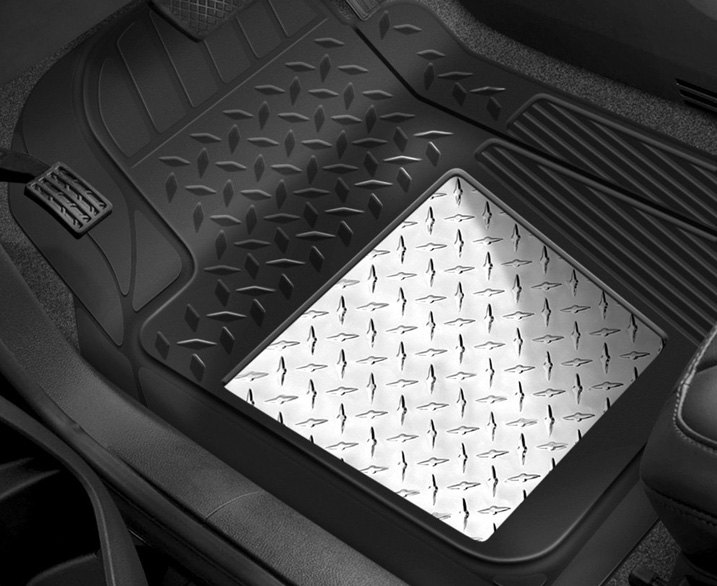 Dee Zee offers the universal 61"x27" All Season Floor Mat for vehicles with a center hump but no console, and the company offers the Brite-Tread 1st Row Front Floor Mat with a centerpiece of actual diamond plate aluminum covering 50% of the grooved surface area.
All-Aluminum Floor Mats

If you've got a lot of lightweight body panels or weight-reducing components on your vehicle for performance, why not celebrate and display that fact with lightweight aluminum floor mats? They're flat in shape and custom-fitted for certain select car models in 1st and 2nd row configurations.
Aluminum has many qualities that make for a good floor mat. Dirt and liquid won't penetrate the surface; it's extremely durable and won't tarnish, rust or fade; and because it's rigid it can't bunch up under the brake and accelerator pedal to create unsafe driving conditions.
If you're in the mood for bright colors, the ACC Aluminum Floor Mats are available with durable powder coat finishes of black, yellow, blue, red, or orange. For Jeep YJ Wranglers through 1995, the Warrior aluminum Floor Mats are available in polished or black diamond plate as well as brushed aluminum or smooth black steel. For a wide range of vehicles, we've got Intro-Tech Diamond Plate Floor Mats available in 1st-row, 2nd-row, and cargo area configurations.
Synthetic Rubber Floor Mats
While chemical formulas for "synthetic" floor mats made primarily of polymers (instead of rubber) vary, they tend to look and feel a lot like rubber. Upon closer inspection, however, it becomes noticeable that synthetic mat surfaces are usually a little harder and less flexible to the touch. Like rubber, synthetic mats do offer full resistance to water seepage and will likely last the full amount of time you own your vehicle without degrading. In short, synthetic floor mats are an excellent choice for durability if you've got a vehicle that's going to be hauling a lot of family, pets, friends, or passengers on a regular basis.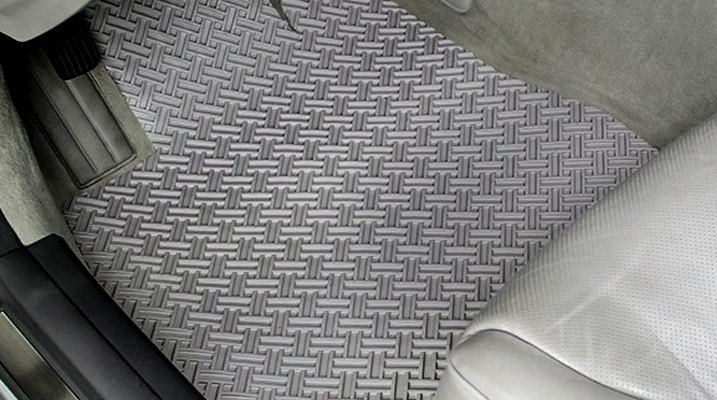 We have the Husky Liners Heavy Duty Floor Mats that feature a combination of parallel grooves and diamond plate texture patterns embossed into the mat. These are available for a range of vehicles with 3-row seating, and in your choice of black, grey, or tan. If you're in the mood for vivid hues, Lloyd offers the synthetic rubber Northridge Custom Fit Floor Mats in a choice of 8 colors (including clear) for vehicles with up to 3 rows of seating.
Floor Liners
As discussed above, all floor liners feature vinyl/polymer construction rather than rubber, and are custom fit to specific vehicles. Floor liners typically cover more surface area than mats.
Floor Liners With Grooves And Ridges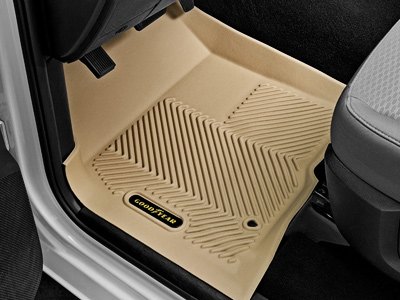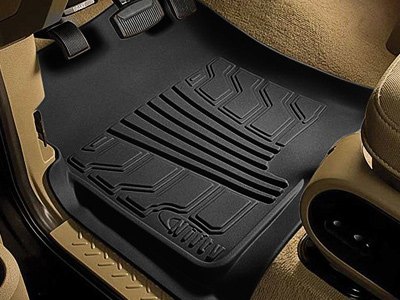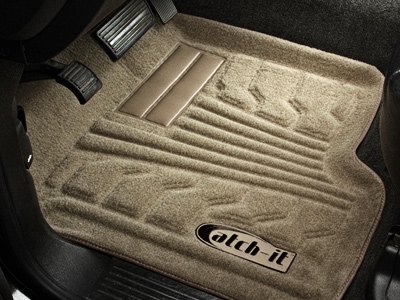 Husky Liners X-Act Contour Floor Liners are built with an extra-thick cushion area under the driver's right heel, and sturdy spikes on the underside that prevent the liner from shifting around turns. These mats are specifically designed to resemble OEM-quality and fit mats. Another brand of liners with this style of grooves and channels are the GoodYear Floor Liners.
If reinforced thickness around heel placement areas would be beneficial to you, take a look at the Lund Catch-It Vinyl Floor Liners and Catch-It Carpet Floor Liners. The Catch-It Carpet liners are especially noteworthy as just about the only available carpeted liner. These can be hose-rinsed, dried, and re-used. This design is good for wet weather use because a wider lip around the perimeter serves to shield more splash-up on all sides, and a unique grooved design moves water away from where your feet are to the back of the mat where it's designed to collect.
Floor Liners That Match The Look Of Off-Road Tires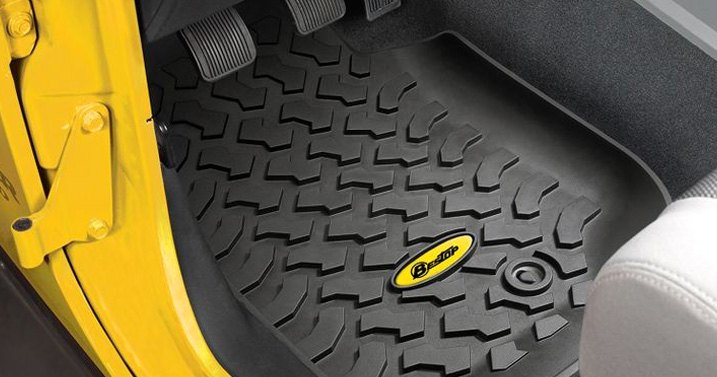 If you've got a 4x4 with deep-treaded knobby tires, we've got floor liners patterned to match the mud-stomping looks of off-road tires. For example, Rugged Ridge builds the All-Terrain Floor Liners for a number of SUVs and pickups in 2-row configuration, and Bestop produces Floor Liners specifically for Jeep CJ and Wrangler models spanning back over four decades. For a little variety on this theme, take a look at Bully's 3D Molded Tray Liners with recessed pockets that trap dirt, mud, and liquid.
Floor Liners With Fitted Center Hump Coverage
Sometimes, vehicle needs require a fitted liner that goes the extra distance by covering a center hump area. But unless contours and dimensions provide an exact fit to the shape of your vehicle's floor panel, foot pad areas end up askew and off to the side at best - constantly shifting out of position while water runs onto your carpet. You'll find liners that solve this problem with the Husky Liners Weatherbeater Floor Liners.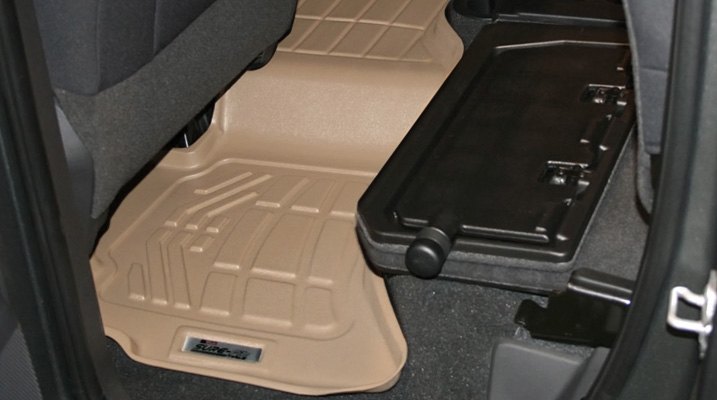 If you prefer a floor liner that fashions a diamond plate pattern across its entire floor surface, the synthetic rubber Husky Liners Classic Style Floor Liner is available in traditional black, gray, and tan colors. MaxLiner MaxFloormat Floor Liners and WeatherTech DigitalFit Molded Floor Liners both offer less-deep grooves.
Of note, Weathertech DigitalFit front liners are made from a High-Density Tri-Extruded (HDTE) material which combines rigid strength, surface friction at the carpet, and good tactile surface feel. Rear DigitalFit liners use a custom blended TPO (thermopolyolefin) that is wear resistant and remains flexible under extreme temperatures.
Mats & Floor Liners With A Smooth Surface
Sometimes a smooth, textured surface meets your needs better than anything else, so we've grouped mats and floor liners of this style together. We've got polymer-based floor mats with a surface that's flexible and smooth enough to wipe clean easily, yet textured enough to provide grip for rubber shoes.
Lund Catch-All Floor Liners and Catch-All Xtreme Floor Liners are designed for heavier-duty use with 1st, 2nd, and 3rd row configurations available for some vehicles. Lloyd's custom-fit Clear Protector Custom Fit Floor Mats offer good value with a thin, smooth surface of harder plastic that's completely flat. The clear material allows the beauty and color of your factory carpet to show through. Robust spikes on the bottom keep it anchored in place for heavy-duty use.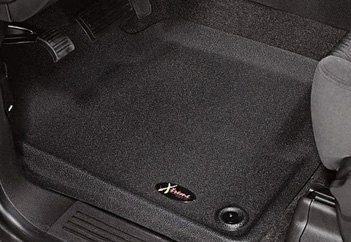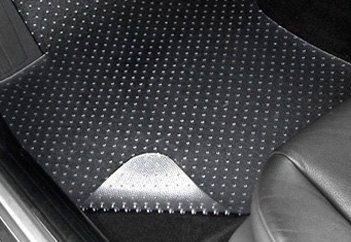 Ultimately, The Choice Is Yours
So, which is better, floor mats or floor liners? It depends. (We hope you didn't expect us to make the decision for you.) Significant factors include your local climate, number of regular passengers, and overall "wear & tear" the vehicle's interior is subject to. In general, the tougher the climate (snow and mud), and the more passengers (kids and construction workers), the more likely that a liner (especially one geared for all-weather use) will be a more practical choice.
That does not rule out mats! If price is an issue, take another look at the wide choices of mats, all of which do an adequate job of protecting the carpet. Generally speaking mats also offer a wider choice of materials and colors. Another factor is whether you lease or own your ride. If you don't want to get dinged an additional charge when returning a lease car, be sure to look for a mat or liner that offers the maximum interior protection.
Whichever you choose, we want you to be satisfied with the choice. That's why we're available to answer any inquiries by phone seven days a week to ensure you make the best decision.
May 19, 2015