At CARiD, we understand it can be challenging to choose between styles of floor mats and floor liners, decide if you need a cargo liner, and figure out whether carpeting, vinyl, or rubber construction is best for you. In the Car & Truck Floor Mats section of our website, we offer many choices - each one with its own product description reflecting different descriptive terms and expressions used by the mat manufacturers. Because such terms can vary from manufacturer to manufacturer, we've created this glossary to help you make a more informed choice.
Anchors
A mat retention system which uses vertical bars extending up from the vehicle's carpet, and reinforced circular openings in the mat designed to fit over the bars. The bars may be installed from the factory, or the mat manufacturer may provide such anchors. See also Retention hook.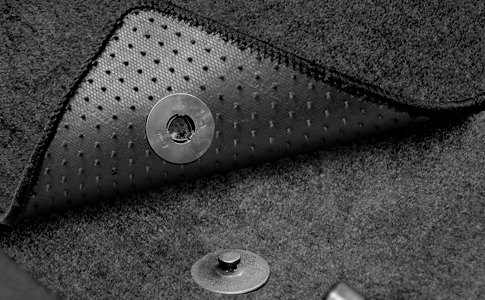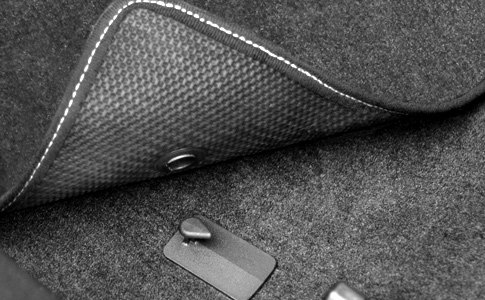 Applique
A one-piece logo design that is manufactured separately from the mat, and is then sewn or glued onto the mat's surface. This contrasts with embroidered logos which are stitched through the mat's entire thickness. See also embroidered logo design.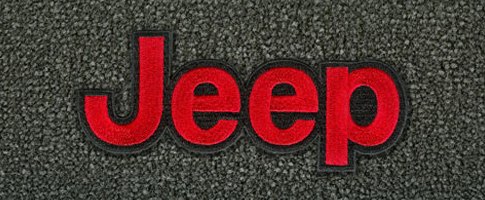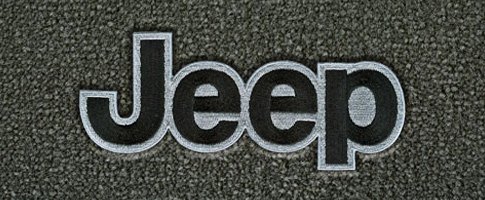 Berber
A style of dense looped carpet made with heavy, bulky yarns of differing colors - creating a surface with multiple color flecks. Berber carpet mats are designed for heavy-duty use and tend to hide dirt by absorbing it and/or disguising it with color fleck patterns. While most berber floor mat carpeting is made from polypropylene (plastic-based) fibers, some are made from nylon or a blend.

Cargo Liner
A one-piece floor covering that completely protects a vehicle's rearmost cargo or trunk area against dirt and spills. Cargo liners are typically custom-fit designs with high lips around most or all edges, and they come shaped to match uneven contours of the vehicle's floor. Surface textures and materials vary. In SUVs and vans, some cargo liners are designed to cover only the area behind a 3rd row seat while others may cover from the 2nd row back. See also cargo mat.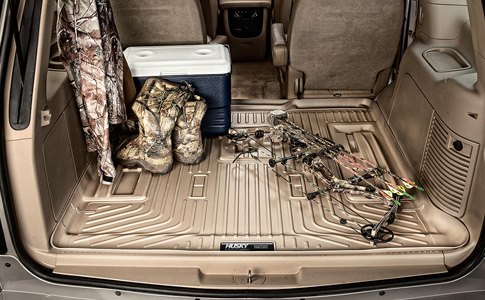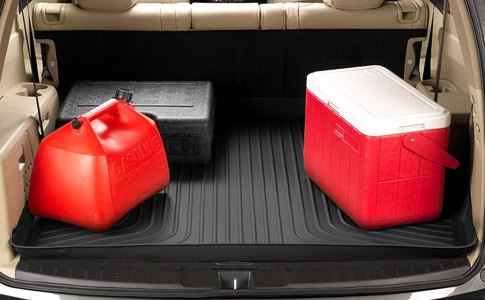 Cargo Mat
One-piece floor covering designed to protect some or most of a vehicle's rearmost cargo or trunk area against dirt and spills. Unlike cargo liners, cargo mats are flat on the bottom and do not feature high walls or lips around their perimeter. Cargo mats may be universal and not cover the entire area, or they may be custom-fitting designs. Surface textures and materials vary. In SUVs and vans, some cargo mats are designed to cover only the area behind a 3rd row seat while others may cover from the 2nd row back. See also cargo liner.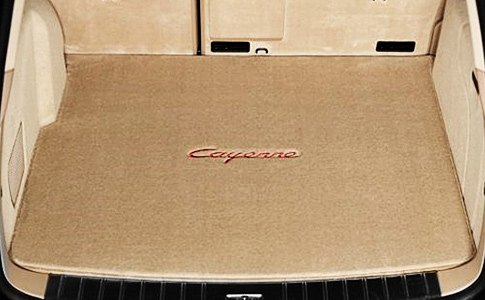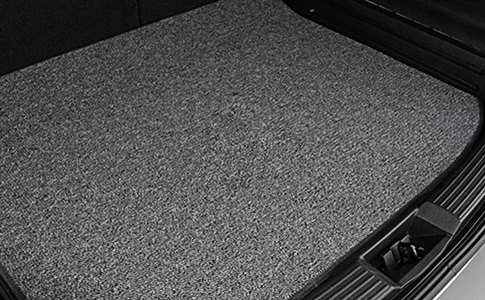 Carpet Depth
A measurement of how high carpet fibers reach up from the floor mat backing piece.


Carpet Weight
A measurement, in ounces, of the amount of carpet fiber found per square yard. Household carpeting may have a weight of 35 to 45 ounces. Thinner carpeted floor mats may have a weight of 20 ounces per square yard, while deep-pile ones may range up to 48 ounces per square yard.
Center Hump Coverage
See "over-the-hump coverage".

Custom-Fit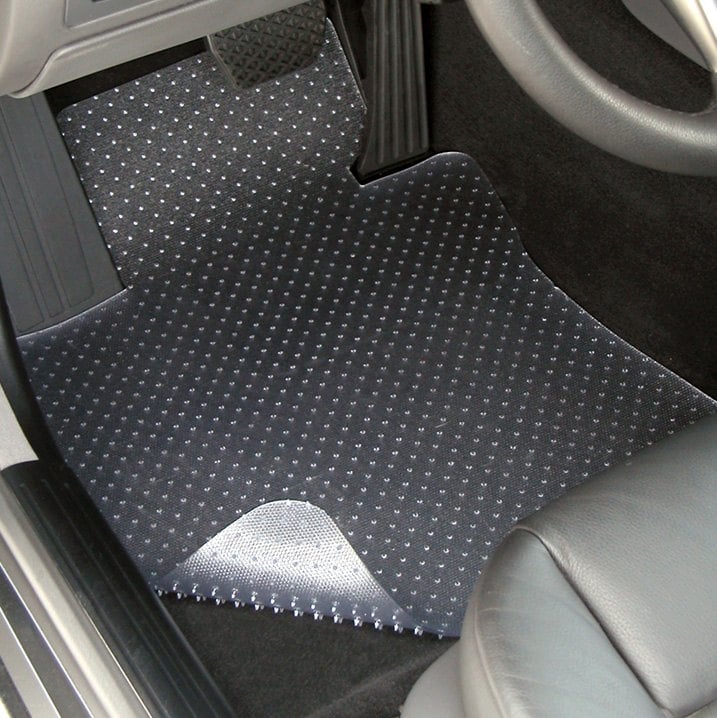 A floor mat or floor liner is said to be a custom-fit design if it is tailor-shaped to fit the floor area of a specific make, model, and year vehicle. While liners are always custom-fitting, mats may or may not be. Custom-fit designs typically fit better and cover more of the floor area than universal ones do, plus they look more like original equipment. See also Universal fit.
Custom-Made Mats And Liners
There are some floor mats which are custom-made at the time the order is placed. Being "made-to-order", they are not returnable once the manufacturing process has begun. When this applies, you'll see a notification on our website.

Cut Pile Carpeting

A style of carpeting with yarn loops that are clipped on top, similar to the way grass is cut with a lawn mower. This results in carpeting with an even height and a soft texture with well-defined individual tuft tips. This style is common on carpeted floor mats. See also Loop pile carpeting.
Diamond Plate Pattern
A textured pattern of raised lines that run at 90 degree angles to one another without touching. Typically found on metal walkways and ramps, this added texture enhances foot grip and is often associated with high-strength industrial settings. Diamond tread pattern can be found in both rubber and aluminum running boards, floor mats, tailgate protectors, bed liners, and tool boxes.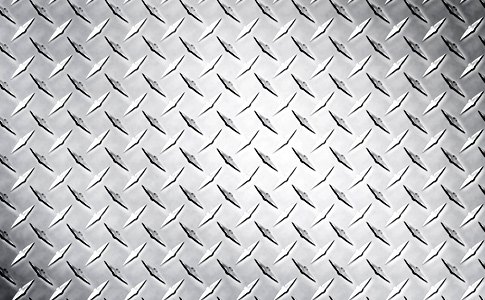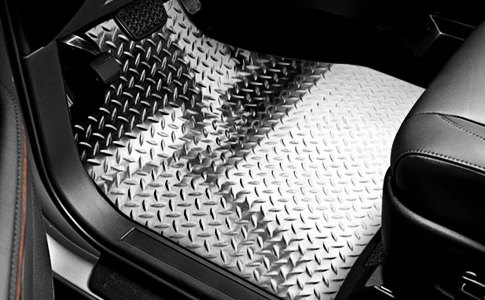 Dye-Injected Coloring
This process uses ink jets to inject dyes of various colors deep into carpet fibers - creating various colors and designs using pre-selected patterns. Sometimes referred to as "digital printing technology" or "chromo jet printing".
Embroidered Logo Design
A decorative logo which is sewn directly into the mat itself. Typically, as it is installed after the order is placed, a customer has a choice of thread color. These may also fall under the category of monogrammed and custom logo mats.

Floor Liner
A floor covering designed to cover a complete section of the floor area of a specific vehicle. Floor liners are typically custom-fit designs with high lips around most or all edges, and they come shaped to match uneven floor contours. Surface textures and materials vary. See also Floor mat.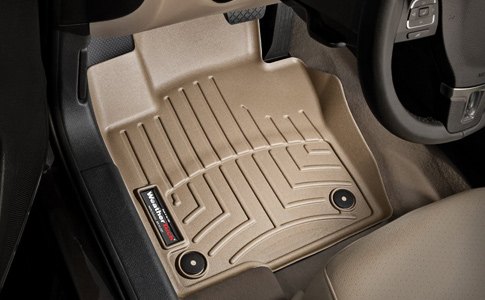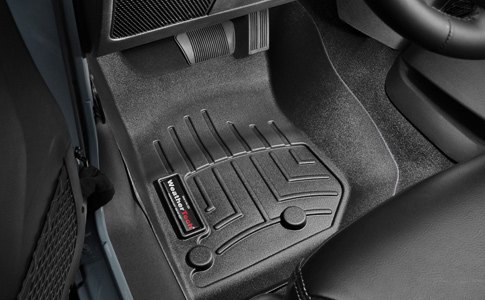 Floor Mat
A floor covering designed to cover some or most (but not all) of a vehicle's floor area. Unlike floor liners, mats are flat on the bottom and do not feature high walls or lips around their perimeter. Floor mats can be custom-fit or universal fit designs. Surface textures and materials vary. See also floor liner.

Flow-Through Console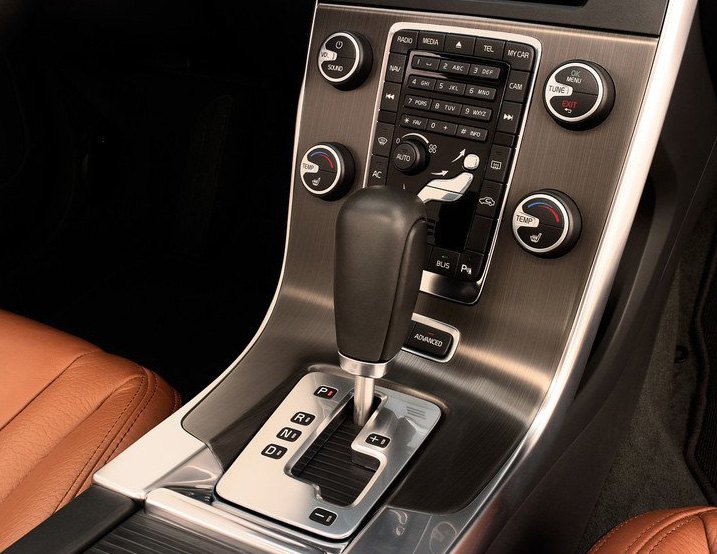 A flow-through console is directly attached to the dashboard and flows between the two front-row seats, all the way to the second row seats. Some vehicles may have a console starting at the dashboard and ending between the front seats. There may be a console between the front seats that's not attached to the dash. Vehicles with front bench seating may have no console at all. Console design is important to know when ordering floor mats so that proper size, shape and fit can be determined.
Full-Width Mat/Liner
A one-piece floor mat or liner with full-width coverage spans the entire width of a vehicle from left to right side. Any mat or liner that covers a footwell area in front of a 1st, 2nd, or even 3rd row seat can be described as full-width. Custom-fitting liners may have contours for over-the-hump-coverage, while universal ones will not.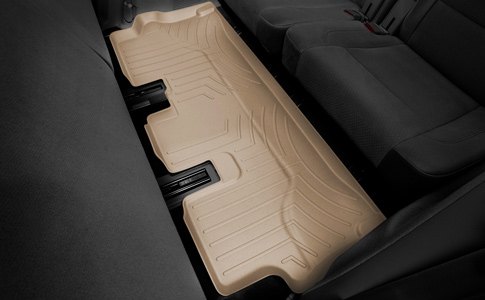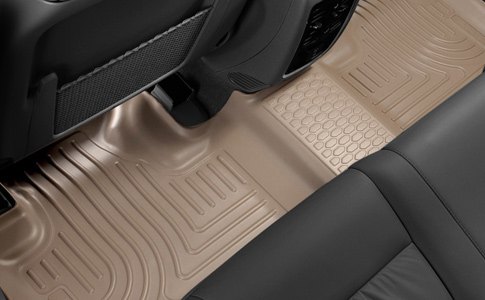 Grooves
Long, narrow cuts or trenches designed to trap liquid and prevent it from escaping the confines of a floor mat or liner. Grooves are separated by high ridges between them, and are usually parallel in design. When it comes to floor mats, the word "grooves" typically dominates as a descriptive factor when the width of the trenches exceeds that of the ridges on top.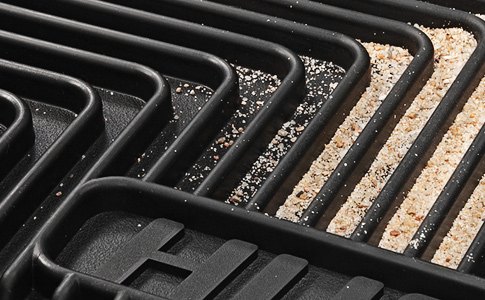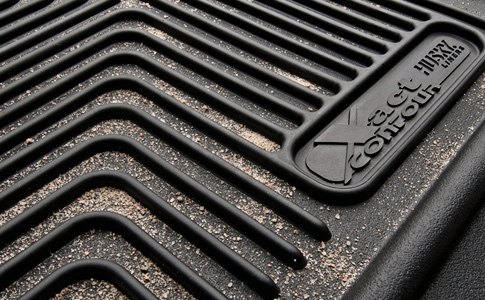 Heel Pad
A reinforced area on a floor mat directly below where the driver is likely to place his/her shoes. This so-called pad helps provide a longer-lasting area on the portion of the mat which is subject to the greatest amount of wear.
Lip
A raised edge which surrounds the perimeter of a floor liner or cargo liner. Lips are designed to trap a higher amount of debris and liquid within the floor liner surface itself. "Liners" are usually equipped with lips, and "mats" are usually not.

Logo
A decorative design, which can be the vehicle manufacturer's name, a sports team's symbol, or almost any image, permanently attached to the surface of the floor mat. See also Applique and Embroidered logo design.

Loop Pile Carpeting
A carpet style with a pile surface that consists of uncut loops. These tend to show wear less, and are a good choice for high traffic areas. Berber carpet is an example of a loop pile carpet. See also Cut pile carpeting.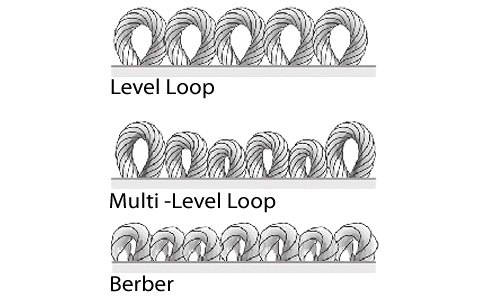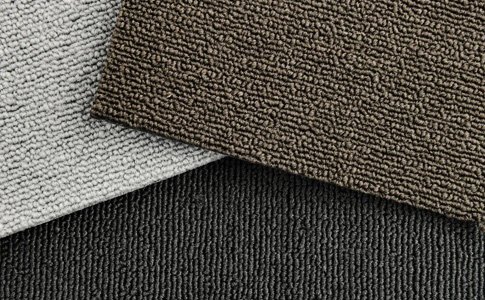 Nibs
Small, flexible spikes molded into the underside of a mat or liner which grip carpeting below to prevent sliding.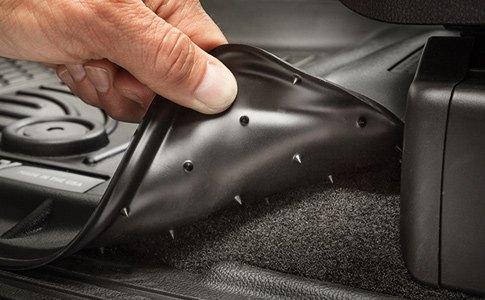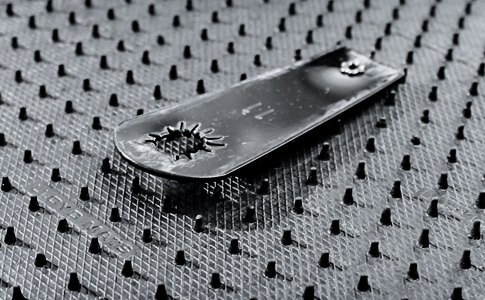 One-Piece Mat Set
A "one-piece" mat covers all seating areas including the center floor. A one-piece mat is usually stated to include over-the-hump coverage. See also "Two piece mat set".
Over-The-Hump Coverage
A floor liner or mat spanning across the vehicle's floor width which features coverage for the center area. As most cars and trucks have a raised center area for driveshafts, exhaust, etc., this style of mat is call "over the hump". Such coverage may be accomplished by using one, two, or even three separate pieces of mat material. Also described as center hump coverage.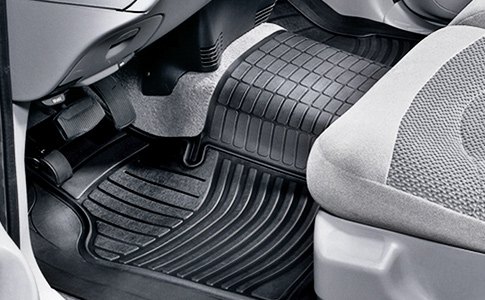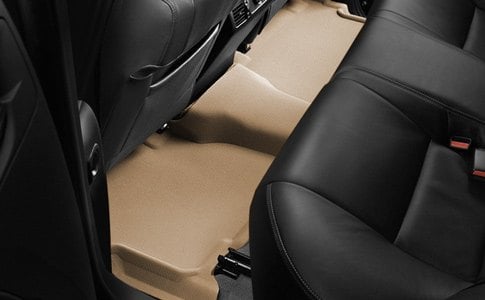 Pet Liner
Pet liners are a covering for the rear cargo floor of vans and SUVs made from deeply padded, waterproof materials designed to comfort pets while preventing hair, mud, and wetness from getting through to the floor. Most are universal in design. Some cover just the cargo floor area, while others provide coverage for seatbacks and can adapt to being folded up or down. These may also be described as pet mats.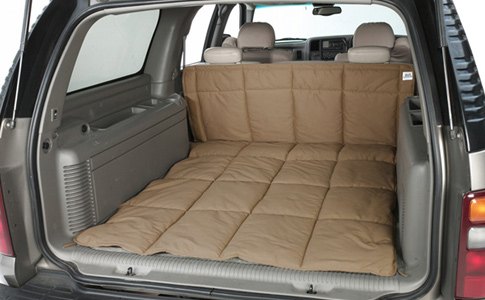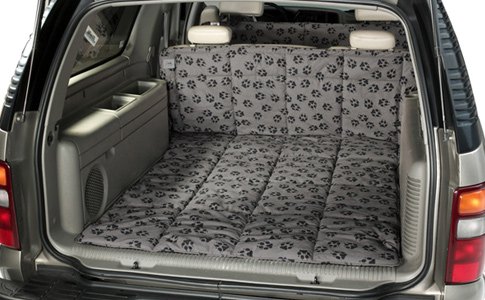 Pile
A carpeting term used for the topmost visible wear surface of carpeting that feet make contact with. "Cut pile" refers to yarn loops that are clipped on top resulting in carpet that's soft and dense with well-defined individual tuft tips (most common). "Loop pile" carpet refers to yarn loops that have not been clipped.

Polypropylene
A synthetic, thermoplastic polymer that's flexible in nature and extremely resistant to wear. Also described as "synthetic rubber" or "vinyl". Used to make vinyl floor mats and some carpet fibers.
Retention Hook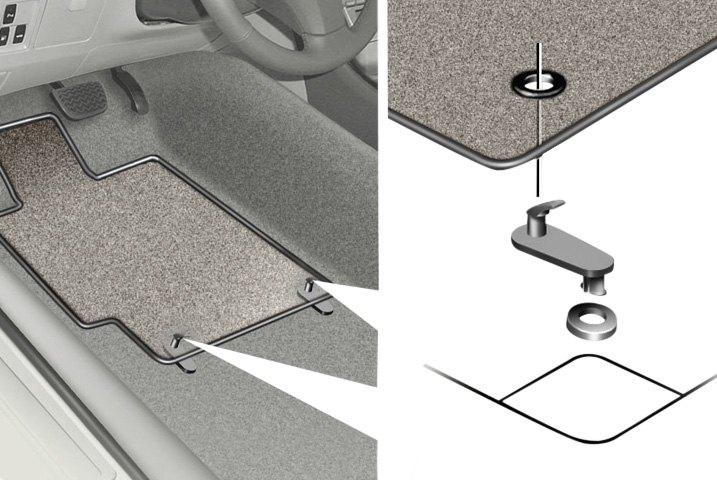 A peg attached to the underlying floor carpeting of your vehicle, which may be from the vehicle manufacturer or provided by the mat manufacturer. Custom-fitting floor mats and liners will have reinforced circular openings in matching locations. As a mat is placed on the floor of your vehicle, the holes will line up with the retention hooks and serve to secure the mat in the optimum position without shifting. See also Anchor.
Ribbed
Floor mats and liners are often described as "ribbed" when parallel grooves or trenches are present. The purpose of a ribbed mat is to provide a place for rain, snow, or liquid spills to gather, which keeps them off your feet as well as off the factory carpeting.

Rubber Construction
An elastic yet tough substance produced from the latex of the naturally-grown tropical rubber plant. In floor mat applications, rubber's softness to the touch, flexibility, grip, and durability make it a good choice for many seeking these attributes.
Two-Piece Mat Set
A "two piece" mat set consists of two separate mats, one for each seat in a row. Center floor areas are not covered. See also "One piece mat set".
Universal Fit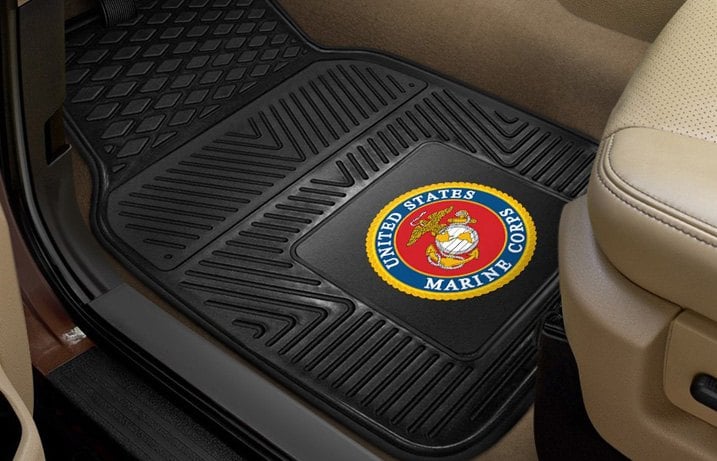 A universal-fitting mat is not tailor-shaped to any specific vehicle. They may come in "universal" sizes such as Small and Large. Because universal fit mats are designed to fit any make and model vehicle, they tend to cover less floor area than custom-fitting ones do. Some universal fit mats made of rubber or vinyl feature extra material around the sides designed to be trimmed by the purchaser. This allows the owner to make some slight customization of the universal mat for a better fit. See also "Custom fit".
Vinyl Construction
Vinyl is a synthetic resin or plastic consisting of flexible polymers which allow floor mats to be flexible yet extremely wear-resistant. Vinyl is also described by various manufacturers as "rubberized plastic", "thermoplastic", "polypropylene", or "synthetic rubber". Vinyl is not as soft to the touch as rubber is, and is recommended for heavy-duty, high-wear applications. See also "Rubber construction".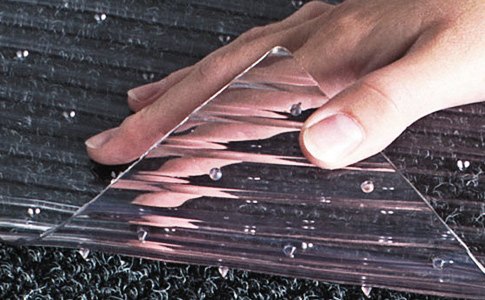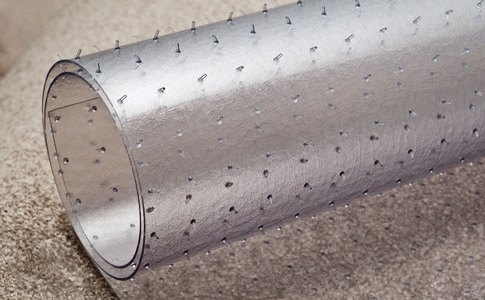 June 04, 2015