Differential covers play an important role in keeping your wheels turning. While allowing easy servicing of your differential fluid, they also create a sealed area that protects gears and gear fluid from dirt and moisture. Diff covers must also boost the structural rigidity of the differential itself so that the housing doesn't flex and deform under load. They must resist the inevitable physical hard knocks that come along. And they must dissipate heat well enough to keep high temperatures from wreaking havoc inside the differential.
In this article, we'll look at a variety of differential covers that are all-around performance enhancers thanks to stronger-yet-lighter materials, better heat-reducing designs, and stylish finishes that will dress up your axles.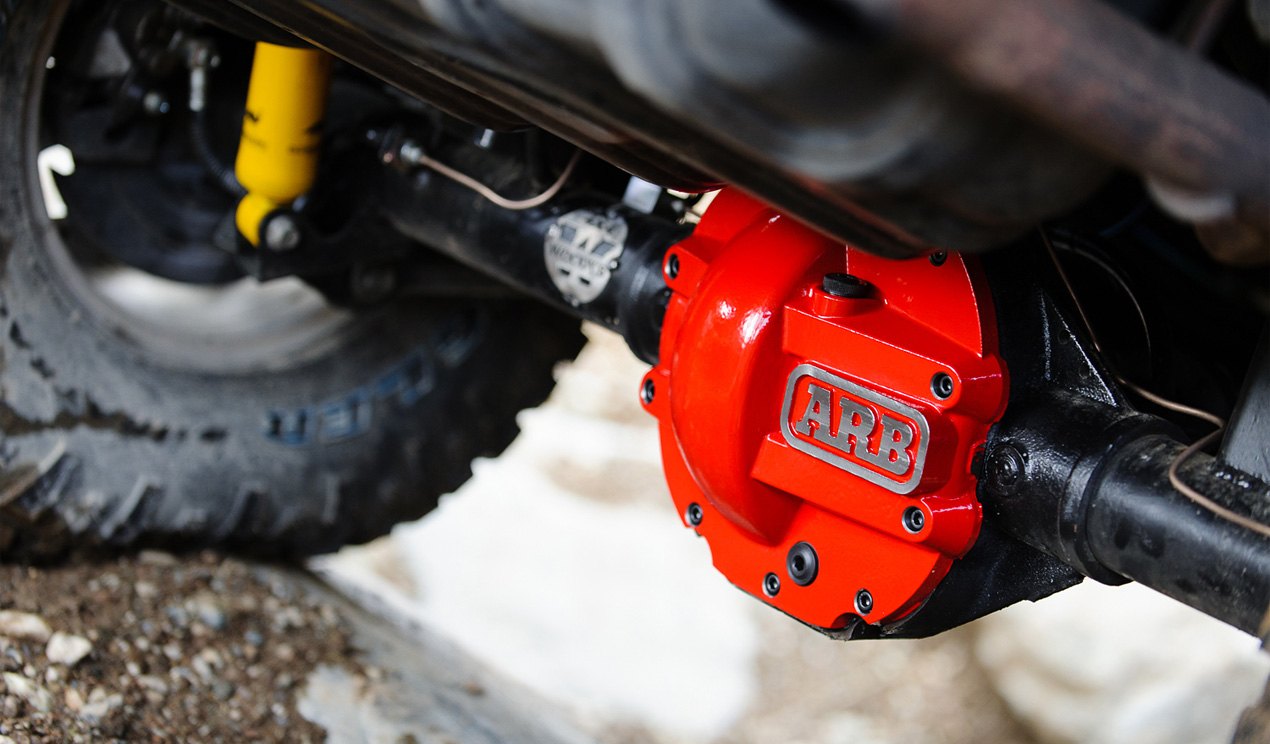 Better Protection Off-Roading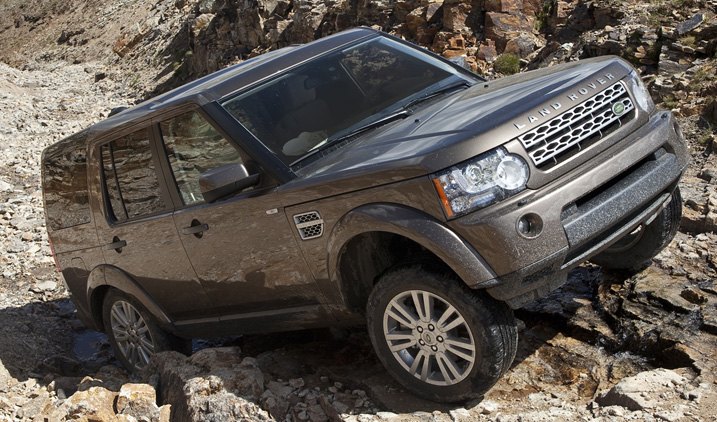 Serious off-roaders say differential covers built for maximum strength make the biggest difference on the trails. Many original-equipment diff covers are made of rather thin stamped steel. A common problem with OEM covers is, while they won't necessarily crack apart, the bottom edge of the cover will bend and peel itself away from the differential when a vehicle drags its chassis over rocks.
Land the wrong way and bounce off something hard, and OEM-strength diff covers are likely to get dented also. Either of these scenarios quickly leads to fluid leakage as well as entry of water and grit that chews up gears.
We've got heavy-duty performance diff covers made of iron that can take a bashing. Yes, they are heavier than steel or aluminum, but they're typically the beefiest ones you can buy. Greater rigidity inherent with iron construction ensures such covers will survive unscathed to fight another day.
ARB cast iron differential covers are available for various Dana, Ford, GM, and Dodge 4x4s. A built-in cross brace on these diff covers increases torsional rigidity of the axle assembly by up to 900 foot-pounds. This reduces overall flex of the differential housing and improves meshing of ring and pinion gears - resulting in longer lifespan for all moving parts. ARB covers are available with a tough outer coating in your choice of black or red.

We've also got reinforced steel differential covers that offer greater protection off-road as well. If you've got a Jeep CJ or Wrangler, we've got you covered with covers from Alloy USA. You can choose between a heavy stamped steel cover, or a heavier cast steel one.
For a variety of Jeep models using Dana 30, 44, and 60 axles, see the TeraFlex Heavy Duty Differential Cover. These covers are made from steel which is over 3/8" thick.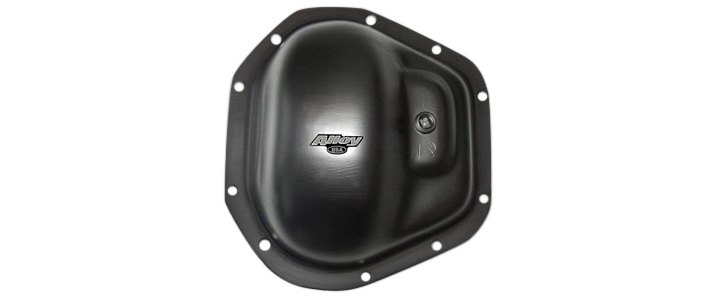 Better Cooling Ability
If you drive your vehicle hard on the streets, track or the parking lot, differential covers made of aluminum offer clear advantages. Naturally, the lighter weight of aluminum helps in the never-ending quest to trim pounds from your vehicle.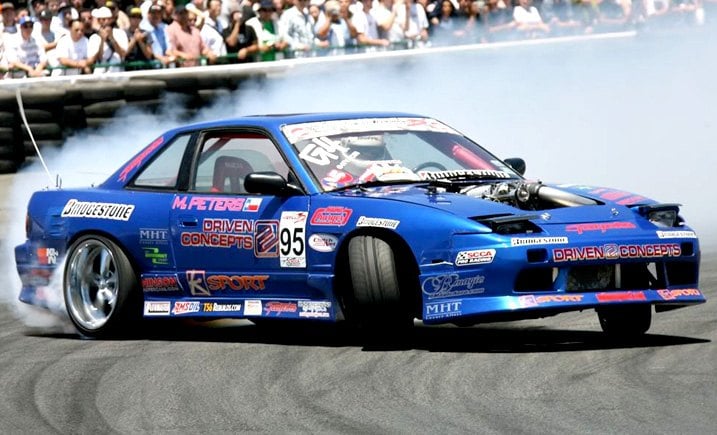 Aluminum also provides superior heat disbursement compared to steel or iron, ensuring differential temperatures stay cooler under all conditions. Cooler gear oil stays denser, and thus provides better lubrication without breaking down as quickly.
Another way to improve cooling is by increasing fluid capacity, and some diff covers do just that, by allowing you room to add more gear oil.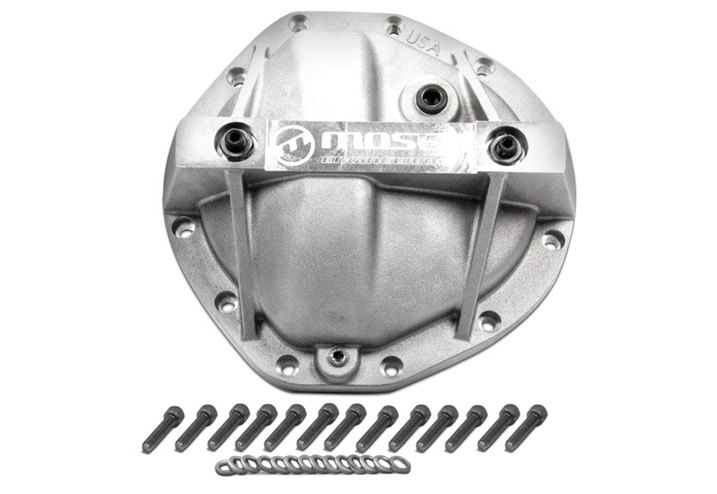 The aluminum differential covers from Moser Engineering weigh only 6 lbs., and include all necessary gaskets, bolts and washers. See those center bolts on the "bridge" of the Moser cover? Those are load bolts, which are tightened against the diff's bearing caps. So this cover provides better cooling AND strength.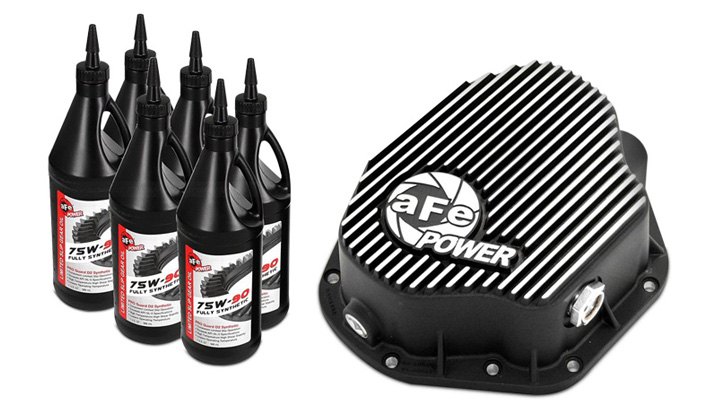 Aluminum diff covers with built-in cooling fins provide even more surface area for better cooling. The aFe brand of diff covers offer this feature, and combine it with increased fluid capacity. Some covers are even sold with axle oil!
Enhanced Style
True car fanatics know the desire to hook their ride up with beautiful styling touches everywhere - even underneath. If you prefer mirror-like gleam on your differential cover, Yukon Gear & Axle's Differential Cover is available in your choice of chrome-plated steel, or aluminum that's polished to the point it looks virtually like chrome. These are great for adding style to lifted 4x4s.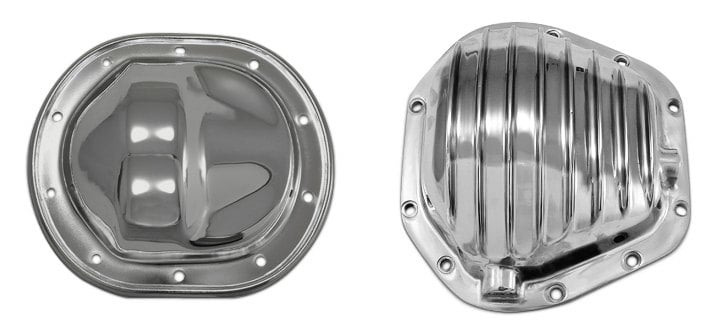 So depending on whether your priority is increasing strength, decreasing weight, improving cooling capacity, or providing some chassis bling, you have lots of choices. Let's not discount the fact that some of these covers provide more than one of these benefits! And if you're driving a 4x4, as we presume you are, you'll want to invest in both a front diff cover AND a rear one, so that things are good whether you're coming or going!
March 14, 2017