Passion for restoring old cars has increased in recent years as growing numbers of enthusiasts look to revisit their youth by enjoying a classic they owned or dreamed of owning decades earlier. Many of us at CARiD are also involved in rebuilding cars that are special to us, and we understand the road to romantic nostalgia can be pretty bumpy at times. We've created this article to help with one of the trickier parts of restoration – finding replacement exterior sheet metal. Body panels such as fenders and quarter panels are subject to dents and corrosion during a lifetime of use – factors that can lead to nasty surprises for a new owner who discovers damage and rust lurking under a layer of makeup.
Fenders are an integral part of your vehicle. They're one of the first things people will notice about your repair or restoration job. It's also true that when you're looking for a vehicle to help you drift back in time, the one with sketchy-looking fenders simply won't do it as sweetly as a car with perfect sheet metal. If you've decided to address the issue and have found old sheet metal that is too compromised to repair, you may find yourself agonizing whether to look for an original part from an older donor vehicle or buy a brand new fender. Because we've faced this issue ourselves, we'll share information on some premium quality new fenders we believe may finally solve this dilemma faced by enthusiasts everywhere.
Fenders Defined
Front Fender Panel

This is a one-piece exterior metal panel which frames the front wheel area and serves as a visual extension of the hood, door panels, and front fascia. While most front fender panels are designed to bolt in place, some vehicles have welded front fenders.
Inner Fender

Inner fenders are panels mounted inside the front or rear fender which cover the top and inner side of the wheel area to prevent debris and moisture from entering the trunk or underhood area. Older vehicles used inner fender panels made of metal while modern vehicles often use inner fender panels made of thermoplastic (also known as wheel well liners).
Rear Quarter Panel

This is a one-piece exterior metal panel which serves both as a rear fender and part of the roof, trunk surround, door jamb, or rocker panel. Because rear quarter panels provide structural support for the vehicle, they are welded in place.
There are those in the field of auto restoration who think that spending time with a new part bending it to fit or fixing issues with a vintage, original panel is mandatory. We say while professional installation and painting is recommended when installing body panels, there doesn't need to be a lot of labor with new parts. Whether it's one fender or a whole restoration, new parts that fit right will greatly speed up completion time on your project. And if rust-free salvage-yard examples of your model have become scarce, new parts from the aftermarket will probably be your only choice.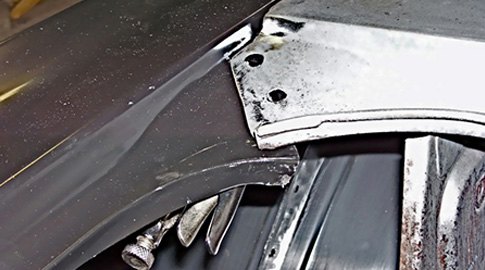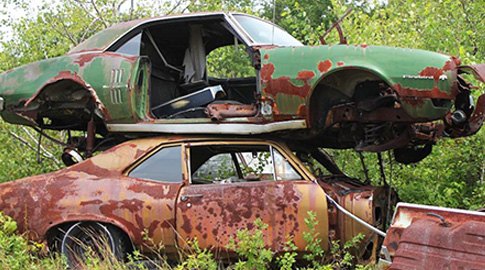 While it's easy to assume a front or rear fender taken from a donor car is factory original and will fit perfectly, in reality that part may not be what it appears. It might look clean to the naked eye, but rust holes and dents covered by filler can easily be revealed after paint is stripped off. Plus, there's no guarantee that a part on a donor car is actually original just because it looks old. Professionals have noted that panels pulled off older vehicles often turn out to be replacement pieces with questionable fit that were installed at some point during the vehicle's lifetime.
CARiD offers a full line of GoodMark replacement body panels because we have found, as a brand, they achieve extremely high consistency in production tolerances when it comes to matching OEM fit, shape, thicknesses, and finish. They have consistently proven themselves with panels that fit and look like new ones. GoodMark spends the money and effort creating stamping dies that match what your vehicle manufacturer originally created. Their engineering talent knows how to use CAD/CAM (Computer Aided Design/Computer Aided Manufacturing) in order to get the best results when it comes to evenness of sheet metal thickness, smooth contouring, and perfect fit.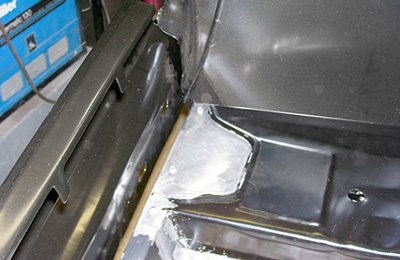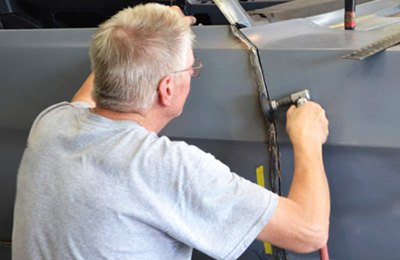 Since fenders are located in areas highly subject to foreign debris and corrosive elements from the road, panels with extra built-in rust protection distinguish themselves as time goes by. GoodMark achieves this using Electro Deposit Primer (EDP) on its fenders (as well as most of its other sheetmetal), which serves as a protective primer coat needing only a light scuffing before painting. EDP is electrically charged and bonded to the metal, making these parts more desirable because of their increased rust resistance and ease of painting.
It's true there are risks buying new parts from aftermarket manufacturers. The perception is even though they may claim theirs fit correctly, the concern is that what you'll get is a far cry from the original factory piece. For example, the panel you get might be so thin in spots that it can become bent, or dented easily. Panels might have contour bends that aren't cleanly shaped, or they may be the wrong shape and size entirely. Curves might not match original designs, and surfaces can be wavy.
Poor-fitting panels require professional cutting and welding to correct, and if a panel is not stamped with the right length and width, the only option is to return it. The time and money spent correcting imperfections or finding another panel will cost more than any amount saved on a lower purchase price. Body shop professionals will tell you how frustrating it can be to waste time modifying aftermarket panels to fit.
Another key point to remember with older vehicles is that original body panels made at the factory didn't fit perfectly either. The older the vehicle, the greater the chance that more extensive body panel modification was just part of the normal routine on the assembly line. If the best aftermarket body panels require slight fitment work, it's only because they match originals which also did decades ago. Keeping this in mind while you hang replacement panels on your project might help frustration from building as you do what you love to do.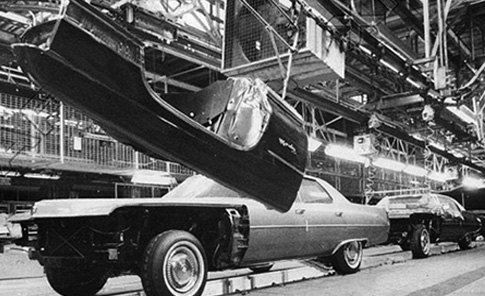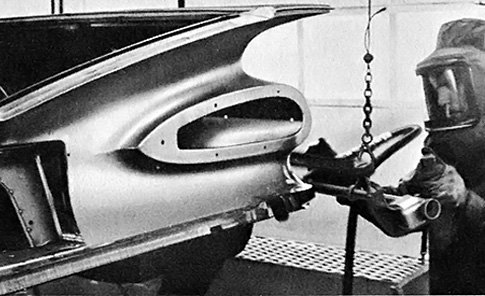 To help guide you through the selection of front fender panels, inner fenders, and weld-on quarter panels you may need, we have set up our website to provide you the choices that will fit your specific ride. Once year, make, and model are provided, you'll automatically see a choice of fenders, and you'll see if any variations originally existed for your vehicle.
For example, if front fenders originally featured a two-piece design (1970 Dodge Challenger), you'll see both listed from GoodMark. If a quarter panel was available as "early style with marker hole" or "late style without marker hole" (1968 Ford Mustang), GoodMark offers both. For some vehicle applications, the same part number will apply to more than one model year.
Shop with confidence at CARiD! GoodMark sweats the details to help ensure that their high-quality fenders and quarter panels will get your restoration project back on the road as quickly as possible.