Ahh yes, ordinary cars. They're everywhere these days, so ubiquitous that you can't tell one from the other. A dreary procession of dull black plastic rolling down the highway. And what are these ordinary cars and trucks lacking? SHINE!!! The brilliant gleam and glimmer that comes from bright chrome and polished stainless steel! Why are these cars so dull and dreary? Are they doomed to remain this way? Read on to find out.
From the dawn of the automobile, carmakers adorned their creations with bright chrome. Its brilliant shine and reflective qualities never cease to delight the human eye. But chrome plating metal wasn't cheap, and rationing chrome became a method for auto manufacturers to save money on low end cars. The hierarchy of models within a car line became easy to track - the lowest priced model had the least amount of chrome while the top of the line had the most. Models in between had degrees of chrome trim that escalated as the price increased. This tradition has continued to the present, the only difference being that in most cases black plastic has replaced plain painted steel on less expensive models.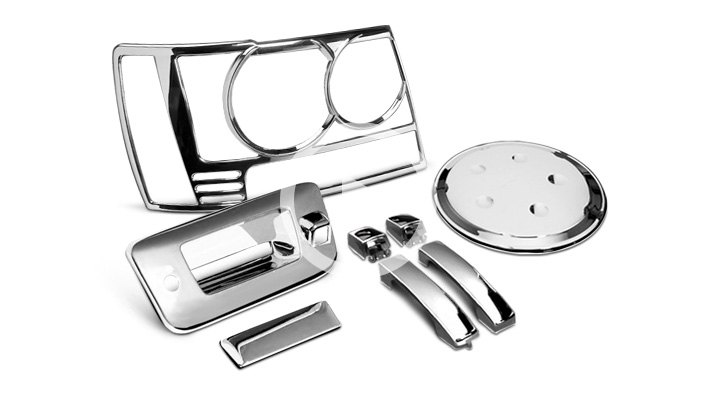 Today, however, it's not just inexpensive cars that lack beautiful chrome trim. For many years automotive stylists have treated chrome like an anachronism from the past instead of an integral component of automotive design (although in recent years this seems to be changing). The result has been even expensive, luxury models that are bland and unexciting. So, we've established the reasons for the lack of shine, but what can be done about it? Happily, we've got plenty of solutions. Bright chrome and polished stainless steel trim parts are available to transform virtually every part of your car or truck - stainless steel and chrome grilles, side vents, headlight and taillight bezels, door handles, mirror covers, window visors, pillar posts, window belt moldings, tailgate moldings and much, much more. And these are just for the exterior; we also carry hundreds of chrome and stainless products to liven up your interior and dress up your engine bay.
Liven Up Your Car With Bright Chrome And Stainless Steel Parts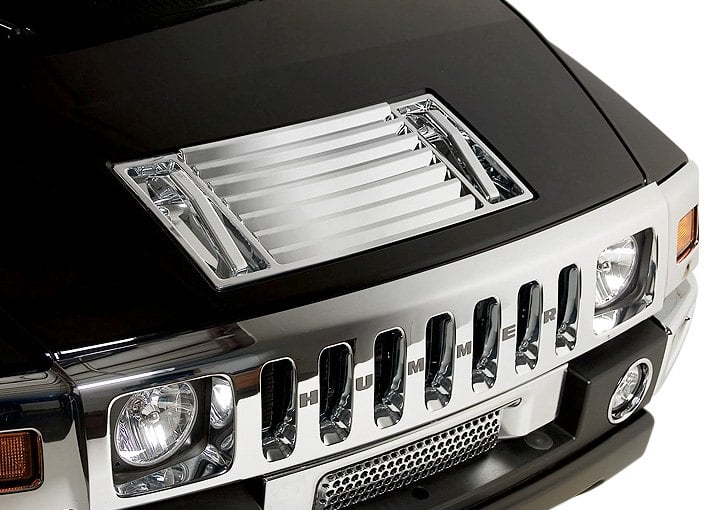 Besides the great selection of trim parts, you also benefit from the high quality of today's chrome and stainless steel parts. To coin a phrase - "this ain't your father's chrome". In the old days chrome was subject to corrosion, pitting and rusting, even if it was well cared for. But there's no such problem with today's chrome. All of our chrome trim parts have a substrate of high grade stainless steel or tough, durable automotive-grade ABS (Acrylonitrile Butadiene Styrene) plastic. Most trim part manufacturers use 304 grade stainless steel. This is an austenitic grade stainless, and contains a maximum of 0.08% carbon, and a minimum of 16% chromium and 8% nickel. 304 stainless steel is tough, yet lends itself readily to forming, and gets its high corrosion resistance from its chromium content. Besides chroming, stainless steel can also be polished to a mirror-like finish that in many cases is indistinguishable from chrome.
ABS Plastic
Stainless steel is well-known for its strength and resistance to corrosion, but you may not be familiar with ABS plastic. ABS is a thermoplastic made by polymerizing styrene and acrylonitrile in the presence of polybutadiene. The result is a material that combines the strength and rigidity of the acrylonitrile and styrene polymers with the ruggedness of the polybutadiene rubber. ABS plastic is impact, chemical and heat resistant, and widely used by the Original Equipment automobile Manufacturers (OEMs). To give these materials their brilliant luster, the ABS plastic and stainless steel are triple chrome plated, which includes at least one layer of nickel plating for smoothness, corrosion resistance and reflectivity.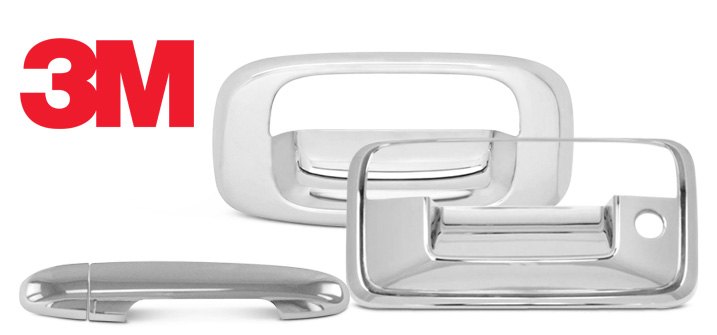 3M Acrylic Foam Tape
Selection and quality aside, the best feature of these trim parts for enthusiasts may be their ease of installation. With a few exceptions, most of these parts are easily attached with 3M™ double-sided acrylic foam tape. Now, before you recoil in horror shouting "TAPE!!!" know that this adhesive is nothing like the cellophane stuff on a roll. 3M™ acrylic foam tape is super strong and so effective it's used by the automobile manufacturers to attach trim at the factory. Because no drilling is required, there's no need to worry about rust forming at a hole. The foam core allows the tape to expand and contract with temperature changes and conform to surface irregularities. Installation is not only simpler; there are no unsightly fasteners to deal with. We don't recommend it because in most cases you'll destroy the part in the process, but if you doubt the strength of this adhesive, just try removing the part once it's installed!
So, now you know why there are so many ordinary cars, and what you can do to separate your car or truck from the crowd. Browse the CARiD web site and look at our extensive selection of quality chrome and polished stainless trim parts; we're sure you'll be tempted by more than a few items. Or call one of our knowledgeable sales associates, they'll be happy to assist you and make suggestions. Put the "shine" on your car or truck and make it the "special" ride it was meant to be!
March 04, 2012