The Ford Motor Company released its new Bronco SUV to wide acclaim. There have been so many pre-orders for the truck that Ford is working overtime to fill them. Every published road test has raved about the vehicle's performance, on road and off. And there are a dizzying number of models and trims available at many different price points.
If you are one of the lucky ones who snagged an early production Bronco, congratulations! We hope you got the pick of the litter. But if not, or even if you did and you're ready to make your truck more personalized, you've come to the right place! Our large team of vendor specialists has been hard at work developing all kinds of accessories for the Bronco, staring before the first ones were offered for sale.
In this article, we are going to feature Bronco accessories from four of our more popular categories: Running boards (also known as side steps); accessory soft tops and hard tops; suspension lift kits; and cargo liners. As we stated earlier, perhaps you were able to buy the Bronco of your dreams; or perhaps, in the rush to get an early model, you settled for one without all your desired features in place. Have no fear, and keep reading, because www.CARiD.com is your one-stop Bronco shopping spot.
Running Boards
Running boards serve multiple purposes: they can literally be a step up, needed especially for lifted vehicles; they can help protect rocker panels and other sheet metal from damage when off-roading; and they can add a bit of bling to a truck's sides, whether that bling be bright metal or black.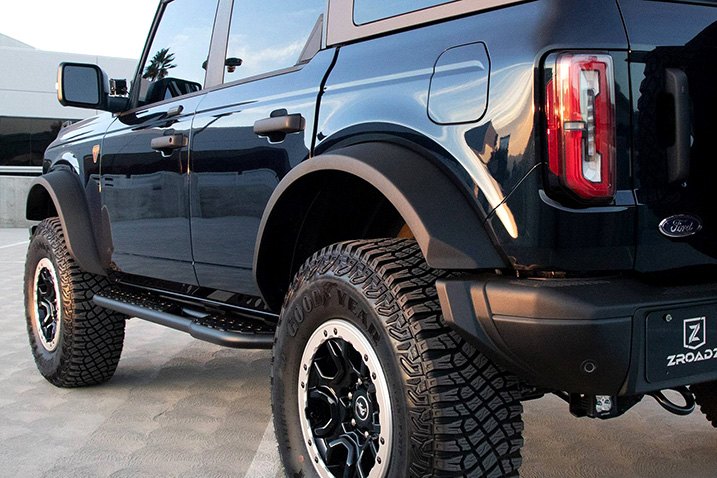 Among your many choices are the Zroadz Black Rock Slider side steps, in semi-black finish, the Steelcraft 4" Oval side bars in your choice of polished stainless or black powder coat, the N-Fab 3" Black Round Nerf Steps, finished in either gloss black or textured black, or one of the widest boards we carry, the Go Rhino 6" running boards in a black textured finish. Pick a size and color that suits you and your truck, and enjoy the added protection and functionality.
Soft and Hard Tops
The Bronco's removable top makes it a great truck to drive to the mountains, the beach, or wherever the wide outdoors beckons. From the factory, you may have gotten either the soft top or the hard top, but maybe you want the chance to switch that up. CARiD has the 'top' options for you to do just that! One of our most popular vendors for replacement and accessory tops, Bestop, has several designs. The Trektop Slantback soft top, the Mesh Safari Bimini Sun Shade, and the foldable Sunrider are all worthy of your consideration.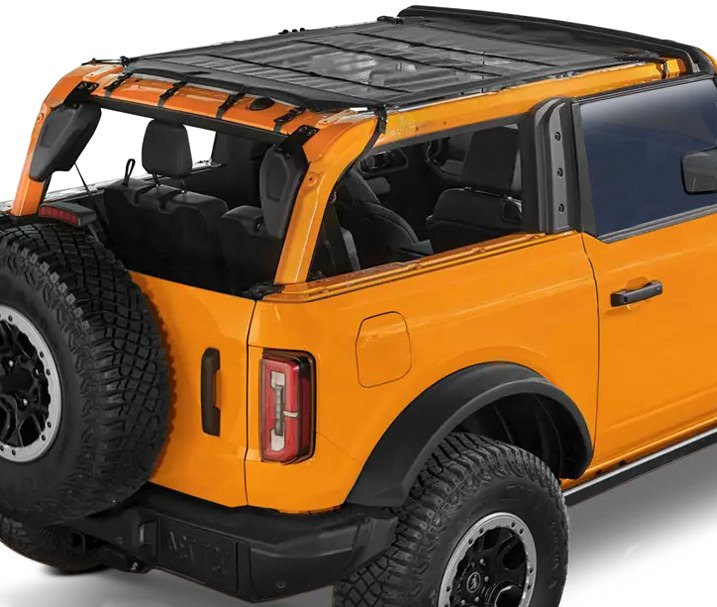 Suspension Lift Kits
From the factory, certain Bronco models include some amount of lift. Wherever yours sits, it's entirely possible that you want more. Do you plan to install larger wheels and tires at some point? Depending on how big those donuts are, some additional lift is going to be necessary. Aren't you glad that CARiD already has the kits in stock to do just that?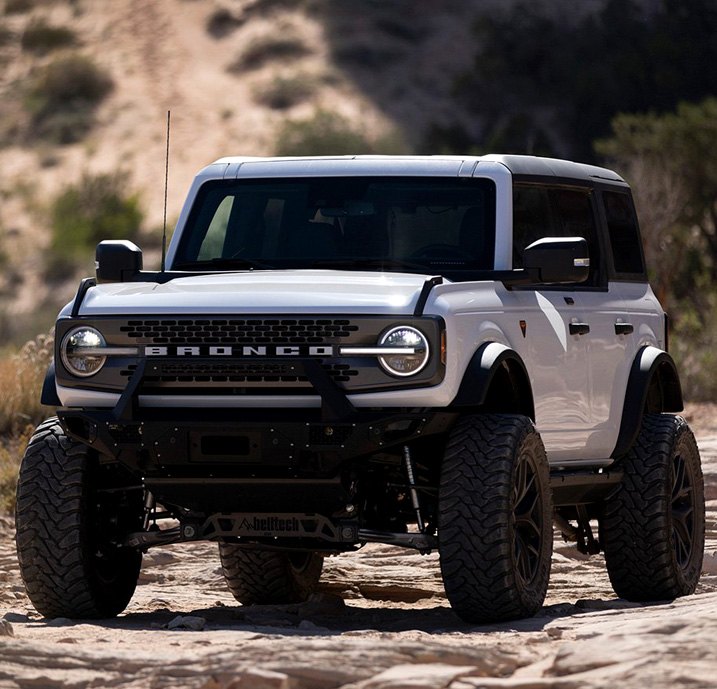 ReadyLIFT, a major manufacturer of suspension systems, has Bronco lift kits in 1.5" x 1.5", 2" x 2", and 2" x 2.5". Be sure to check the Fitment Notes for each kit regarding model fitment and maximum tire size. Need to go higher? Look at the Fabtech 4" Uniball Front and Rear Suspension Lift Kit which will accommodate tires up to 35" x 12.5".
Cargo Liners
While running boards, removable tops, and suspension lift kits help you enjoy your Bronco in all kinds of driving conditions, we also want you to take care of it! Dirt, mud, sand, and all other kinds of gunk have a habit of finding their way into the truck's interior. If you're carrying gear on any of these outings, be considerate of how you treat the Bronco's cargo area. You might be pleasantly surprised to learn that first, there are custom-fit cargo liners already available for the new Bronco, and second, that they are rather affordable. Here are some of our favorites.
The Weather Tech brand should need no introduction. What's neat about their cargo liner is that you have choices, including one with a foldout bumper protector. Given the likelihood of scratching that bumper during any load-ins or load-outs, this one earns high marks from us.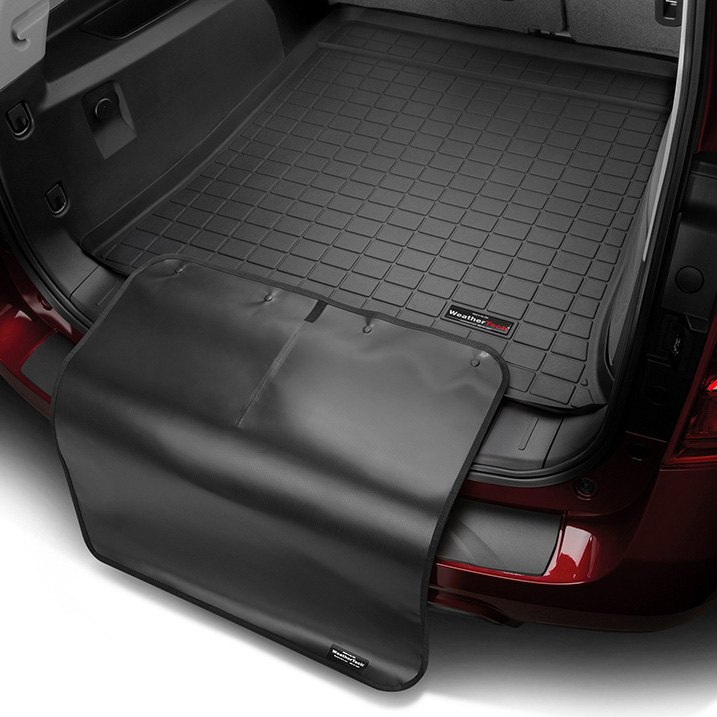 Lloyd mats, with one of the largest selections of interior protection products, offers Bronco cargo mats in their Rubbertite, Ultimat, and Velourtex series, among others. Check out all the color, logo and trim options, which are almost endless. For a value-priced choice, there is this clear mat from ExactMats.
While this brief overview of running boards, soft tops, lift kits, and cargo liners is designed to whet your appetite for what's possible with the new Bronco, please don't think that is all we offer! Be sure to check out all of our other departments, including lighting, wheels & tires, engine performance, and maintenance parts, all designed to save you money, provide easy access to DIY parts, and keep your new Bronco looking good and running well for years to come.
July 19, 2022