Our OEM Parts Department provides you with the ability to purchase genuine factory Original Equipment parts with online convenience instead of traveling to a dealer brick-and-mortar location. We feature many of the top brands, including BMW OE, Dodge OE, Ford OE, Honda OE, Nissan OE, and Ram OE, among many others. OEM parts offer an alternative to aftermarket parts for those who wish to stay with factory-sourced components.
Questions have come to us from our customer base about our OEM categories, and we have taken the most popular of those in order to create this list of Frequently Asked Questions (FAQ). Please use this FAQ document as a guide. As always, should you have questions not answered here, feel free to reach out to us at 800-505-3274 or at info@carid.com.
Q. What does "OE" or "OEM" stand for?
A. "OE" stands for Original Equipment; "OEM" stands for Original Equipment Manufacturer. On our site, we use OE and OEM interchangeably.
Q. Are OE or OEM parts as good as the parts I would get at a dealer?
A. OE/OEM parts are in fact identical to the factory-sourced parts that dealers sell.
Q. Why should I purchase OEM parts from CARiD instead of a car dealer?
A. Purchasing from CARiD offers all the same advantages as our other parts and accessories: and easy-to-use website, competitive pricing, outstanding selection, and courteous sales and service help. In addition, we offer the convenience of combining OEM parts with anything else on our website as a single purchase, something not possible at a brick-and-mortar dealership.
Q. Do OE/OEM parts come with installation instructions?
A. OE and OEM parts are not provided with installation instructions. While many of these parts could be installed by someone with some mechanical knowledge, if you are not comfortable completing the install yourself, we recommend professional installation.
Q. The part description states "left" or "right" side. Which side of the car is that?
A. For U.S. market vehicles, left side is always the driver's side; right side is always the passenger's side.
Q. What is the difference between the number in the illustration, and the number by the price?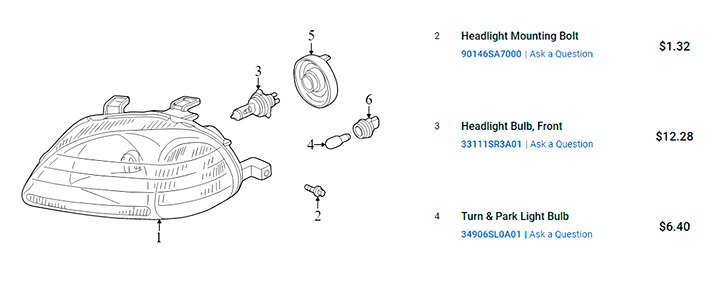 A. Each part in the illustration is numbered (1, 2, 3, etc.) with a "part reference number". The actual part number is in the column on the right, under the part description. For example, if you are looking for a front bulb in the illustration above, part reference #3 is the headlight bulb, while part reference #4 is the turn & park light bulb. To order one, click on the actual part number below the part description.
Q. Why do I sometimes see the "part reference number" listed multiple times?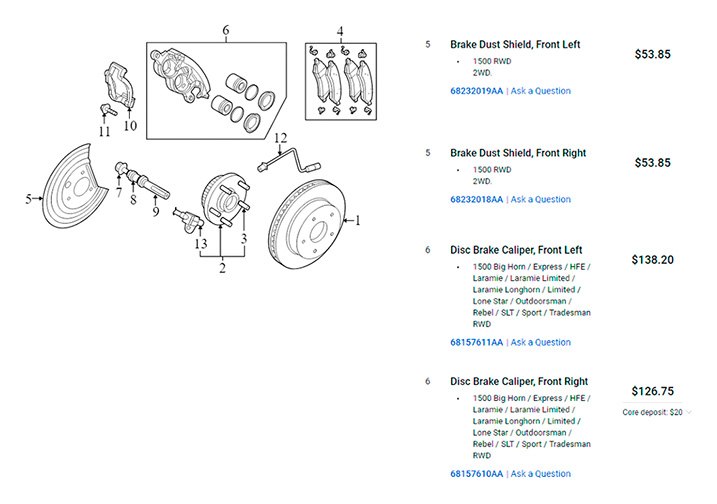 A. The "part reference number" appears multiple times if there are multiple versions of the part. For example, in the illustration above, if you are looking for a "brake dust shield", part reference #5, note that there is a "front left" and a "front right" and that they are two different part numbers. The same is true for part reference #6, "disc brake caliper", which has different part numbers for the left and right sides.
Q. How do I know how many pieces are included with a listed part?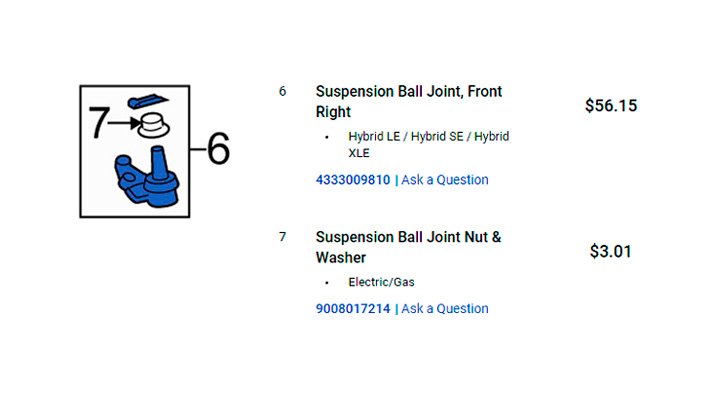 A. In almost all cases with OE parts, each part number is quantity "one" (1). Be especially mindful of mounting hardware, which unless stated otherwise is not included. An exception is a part reference number with a box drawn around other part reference numbers. In the example above, part reference #6 is a front ball joint, which includes part reference #7, nut & washer, as it is within the box. Part reference #7 is also available separately.
March 16, 2021