We at CARiD know that there are times when you need to replace factory headlight assemblies with units that match the quality and function of your originals. While it's more "fun" to customize your ride, sometimes the repair takes priority. One headlamp lens may be cracked. You may have been in a minor fender-bender (lamp bender?) and the mounting tabs may have broken. Note that "factory" style headlight assemblies we sell are designed to replicate the original lamps, so you will not be considering features such as LEDs, halo rings, or projector beams. We've created this article to help ensure what you purchase is exactly right for your needs and wants.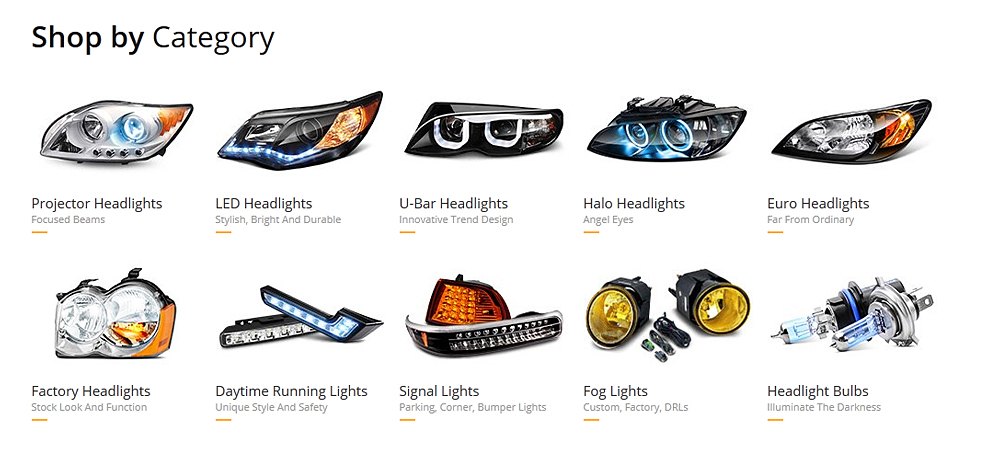 Navigating Product Options Field Choices
When you're on a page for a specific headlight assembly product, a Product Options box may be visible on the right side approximately halfway down the page. Clicking on the words "Select Product Options" will first bring you to a prompt for entering your vehicle's make, model, and year. This information is necessary in order to narrow down what variations are made specifically to fit your car. When additional vehicle query boxes ask if your car is a "2-door" or "4-door", answer them accurately. If such a question is posed, it's only because the headlight shape of coupes and sedans varies on your make and model and parts are not interchangeable. After the model and sub-model information is entered, you may still see some additional headlight design choices.

Halogen vs. HID Factory Headlamp Assemblies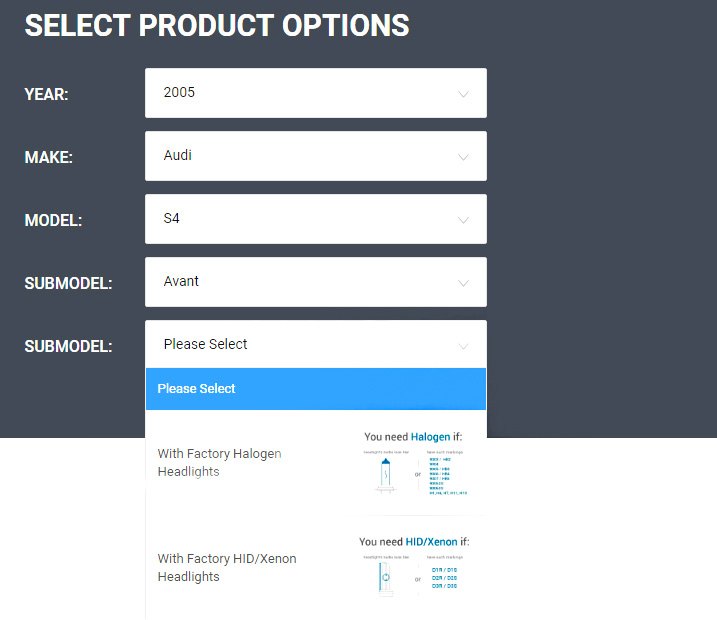 If your make and model was originally available with a choice of halogen or HID lights, you'll see a drop down bar asking you to choose between the two. Because wiring connectors for halogen and HID lights differ and are not compatible, you must stay with the same style that was originally equipped on your specific vehicle. Halogen headlights use traditional bulbs with incandescent filaments to produce light, while "HID" (high intensity discharge) bulbs use a mix of metallic salts heated to a gaseous state with a small amount of xenon gas to produce brighter light. HIDs are more expensive because they require an igniter to heat them and a ballast to eliminate flickering.
In some cases, you will see headlight bulbs also offered in the Product Options menu. Whether the factory replacement headlamp assemblies include bulbs or not, you might want to consider purchasing an extra set while you are making your lamp selections.
"Good" vs. "Better" vs. "Best"
On some products where the product manufacturer offers variations on a single basic item, you'll see a drop down box offering "quality" choices. You will see the choices "Good", "Better", and "Best". For some lamps, only two of these three will be shown.
Alongside these quality ratings will be "CAPA Certified" or "NSF Certified". CAPA stands for Certified Automotive Parts Association, and NSF stands for National Sanitation Foundation - Consumer Products Division). These are independent, third party organizations which set and verify quality standards to promote price and quality competition in the collision parts industry, reducing costs of crash repair items such as headlamp assemblies for consumers. These certifications are your assurance of making a purchase from manufacturers with proven track records of high manufacturing integrity and low defects. Additionally, the "quality" level reflected in drop down boxes does not always correlate with higher cost. Sometimes, the highest-rated item is priced the same as the standard version of it.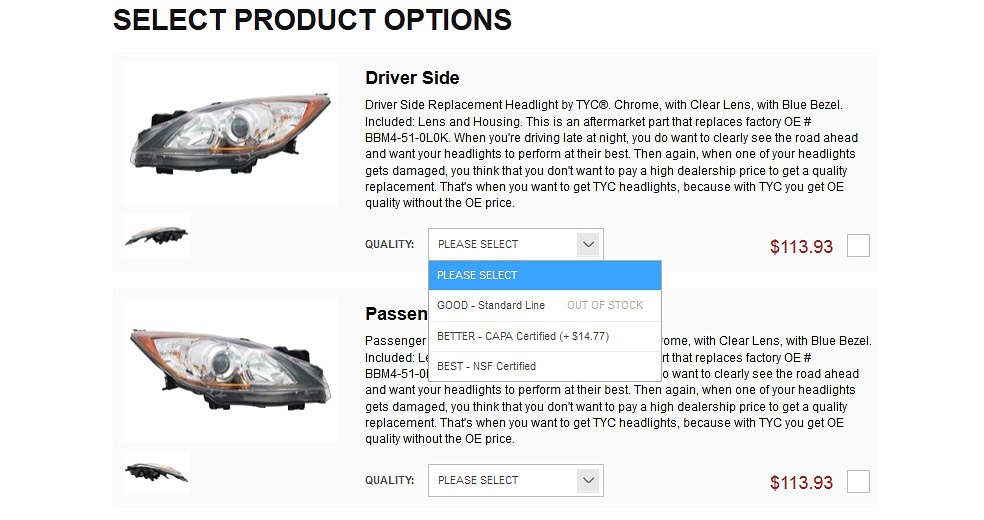 Consider Replacing Damaged Factory Headlights In Pairs
It's a well-known fact that brakes, tires, and windshield wipers are vehicle components that should be in similarly good condition on both driver and passenger sides. Mismatched brakes will cause a vehicle to pull unpredictably when stopping, unevenly worn tires cause unsafe handling issues, and wiper blades that don't clear the windshield reduce driver reaction times. While it's not as critical to replace headlamp assemblies in pairs if only one should become damaged, we feel you should consider doing so - even if you're installing an OEM-style assembly that looks the same as what's on your vehicle already.

Why spend the extra money? For starters, plastic outer lens covers on composite headlights deteriorate over time as they are sandblasted by road grit. Milky-looking "cataracts" can form on once-clear lens covers as acid rain and the sun take their toll and chemically change the plastic. Heat from the sun and humidity in the air take their toll on innards of headlight assemblies as well, causing wiring to corrode from within and electrical resistance to build up. Combine hazy cataracts on the lens covers with reduced electrical flow, and you've got headlights with much dimmer light output.

Many vehicles built since the early 1990s feature plastic front bumper covers which must be removed in order to access and replace headlamp assemblies. Unless you're practiced at this operation, the procedure can take one to several hours. And once the bumper cover is off, it's just as easy to replace two headlamp assemblies as one. With both assemblies replaced, you'll be amazed at how much brighter your light output is. Brand new headlamps make the front of your vehicle look new again - a factor that can greatly contribute to your vehicle's resale value because visual perception of age is reduced.
Quality Certifications By Industry Organizations
All replacement lights we sell meet or exceed quality standards and safety regulations set by the SAE (Society of Automotive Engineers) and the U.S. D.O.T. (Department of Transportation). Additionally, we look for manufacturers endorsed by CAPA (Certified Automotive Parts Association) and NSF (National Sanitation Foundation - Consumer Products Division). With these quality standards in place, once you've installed the assemblies on your car, you be assured they'll last and perform as well as original equipment.
We understand you may still have questions about factory replacement headlights and what's right for you, so we encourage you to contact us seven days a week with any questions you may have before purchasing.
May 07, 2015