Some accessories are just so right for your vehicle that you really wonder how it is that the car manufacturers did not offer them from the factory. These ideal accessories have an obvious use, are easy to operate, and will function in most everyone's vehicle. The best ones help keep you focused on the more important tasks, like, driving.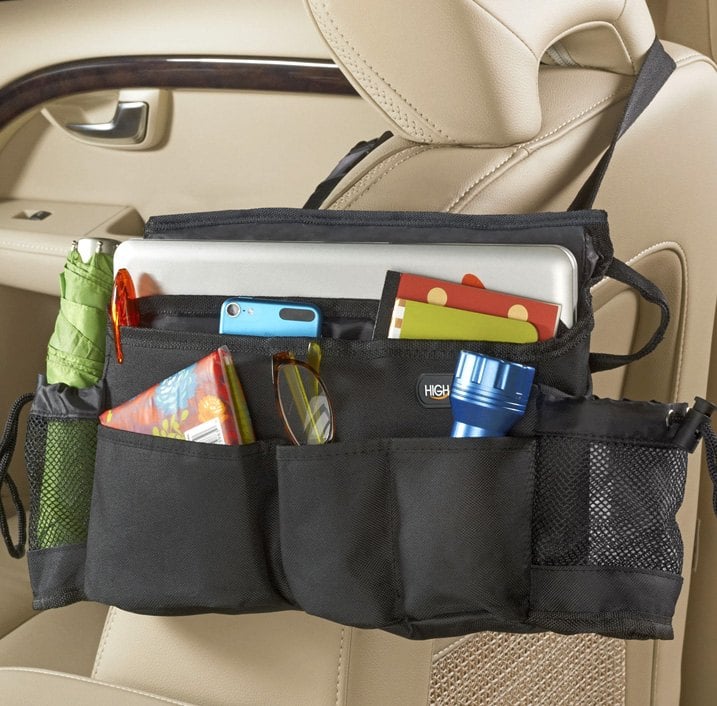 The accessory we have in mind are car organizers. Given how much time people spend in their cars and trucks today, it's a wonder that some of us don't have microwaves and mattresses in there! (Well, perhaps that's next.) Seriously, given that we are eating, drinking, talking, babysitting, and who knows what else while driving, we need all the help we can get to prevent the inside of the ride from getting completely trashed.
Today's car makers have in fact gone to great lengths to provide storage spots inside the vehicle: center console cubbies, door pockets, coin trays, overhead sunglass holders, and of course, cup holders! We cannot seem to have enough cup holders! In spite of this attention given to 'storage', we need and want more. After all, our cars and trucks are extensions of our living and working spaces, therefore, we must have our 'stuff' with us.
Car Organizers Categories
The Car Organizers at our website can be divided into the following three categories:
Trays and pockets to fit into or supplement existing interior areas;
Center consoles, made especially for vehicles which do not have one;
Trash Management in the form of bins and bags.
Taking each of these in turn, we find that some supplemental trays and pockets are designed to fit specific year/make/model vehicles. That's great news because the organizer you select will fit like it was made for your ride, which it is! The Du-Ha brand of storage organizers include behind-the-seat and under-the-seat options. Du-Ha specializes even further, with most all of these trays designed for pickup trucks and SUVs. In a similar vein, Husky Liners, a brand well-known for its excellent floor and cargo mats, offers their GearBox Interior Storage System, again for trucks. Trucks have the advantage of having lots of room inside for organizational potential.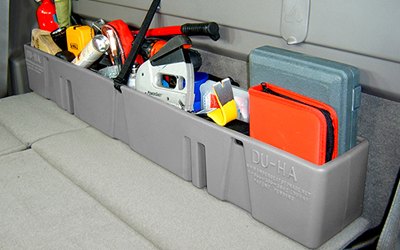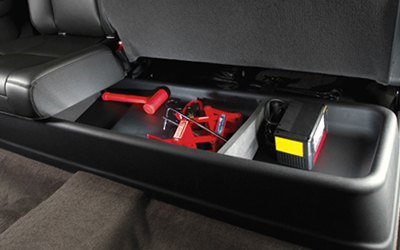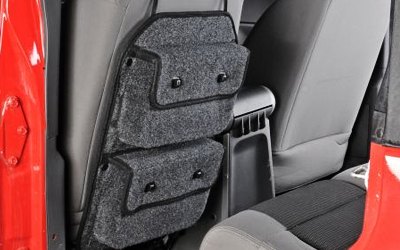 Covercraft, an American company which has decades of experience manufacturing car covers and seat covers, makes a series of Pocket Pods to assist with interior storage. The Door Pocket Pod easily fits into most existing door pockets, and keeps your smaller items in reach. The Seatback Pocket Pod, like the Door Pocket Pod, is a universal fit item. It hangs on the back of the front seats, turning what was wasted space into useful storage for anything you need to carry. Both Pocket Pods are available in your choice of several colors.
The second category, center consoles, are a must-have item for those who are driving without. We're talking to you, big sedan or pickup driver! For years, a large number of cars and trucks sold in the U.S. were equipped with bench seats. Bench seats are great when you need to put three people in the front, but hardly anyone does that anymore, given that all new cars sold today have two front bucket seats. If you are still driving a bench seat vehicle, and we know many of you are, you have several choices in the way of universal center consoles. The Bully Contractor Center Console is available in two styles, one designed to sit on the seat, and one designed to sit on the floor between the seats (for trucks and vans without an existing center console). Outland Automotive manufactures a variety of different accessories for trucks and Jeeps. The Outland Automotive series of center consoles are made in three different styles: The Contractor's Console, the Truck Bench Seat Console, and the Mini-Van Console. Each is available in your choice of blue, tan, or charcoal, to complement your existing interior color. All of these center consoles offer a great combination of cup holders, hidden storage compartment, and padded armrest. You will greatly appreciate the added convenience provided by an Outland Automotive center console.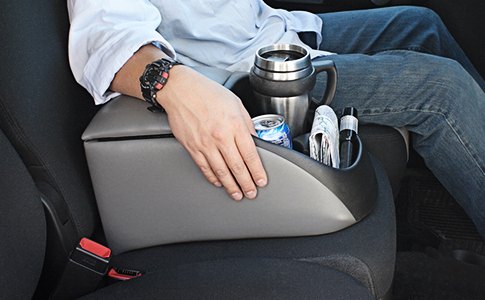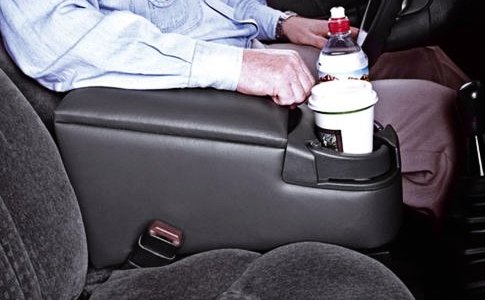 Finally, we come to the trash. Containers, that is. Let's be bluntly honest about this: we all create trash inside our car. Whether it's a candy wrapper, empty coffee cup, dropped peanut, used napkin, or errant French fry, most vehicle occupants seem to have their unique approach to keeping all this garbage in check. (Then there are those who don't bother.) Why not make a minimal investment in a specific item designed to keep all the trash in control?
Rugged Ridge, a company which specializes in off-road equipment and therefore knows a thing or two about cleaning up after getting dirty, makes an affordable Seat Back Trash Bin which holds up to 3 gallons of trash. As they like to say, "Enables responsible use of outdoor areas by discouraging littering". The most unique trash management product we've seen comes from our friends at Janibell. Their MotorMaid Portable Trash Disposal System is designed to handle all manners of garbage, no matter how messy. To that end, disposable liners are available, which keeps odors under control, and make clean-up a snap. If you are still changing diapers, or tend to spend days at a time on the road, consuming many of your meals from within your car, this could be your ultimate garbage disposal system.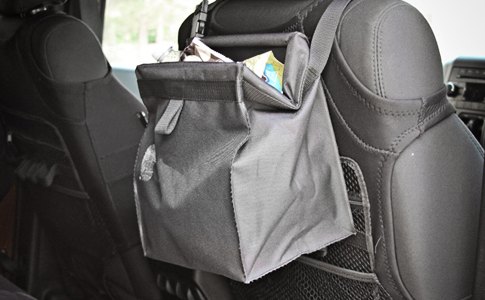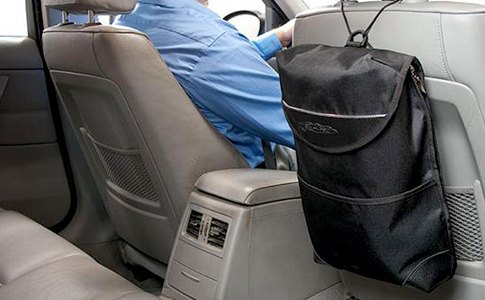 Don't downplay how inherently useful all these car organizers are. We have you covered, with the web's widest variety of vehicle-specific and universal trays, pockets, consoles, and bags. Visit us, and we can guarantee that it will feel great to get organized and stay organized!
February 03, 2015