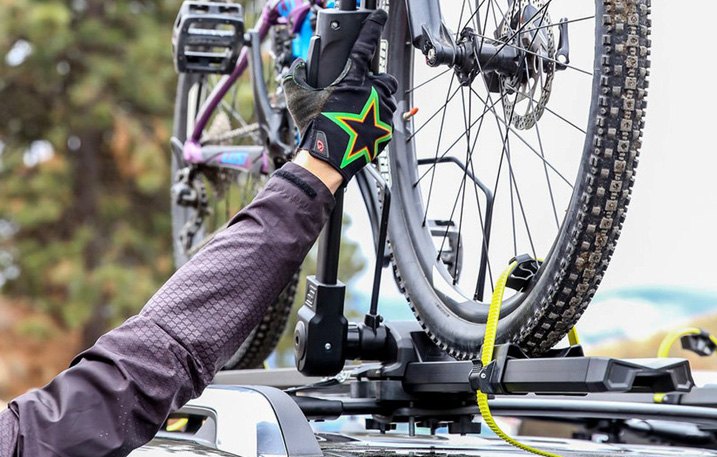 Bicycle riding, whether done for leisure, for exercise, or for sport, seems to be more popular than ever, at least judging by all the weekend riders we see hitting the pavement and the trails all over the place. In fact, bicyclists are saddling up 12 months a year; they certainly are not letting weather and temperature extremes prevent them from pedaling the miles.
Depending on where you live, you may be able to hop on and leave your driveway to ride, or, you may need to drive a distance to reach your favorite riding spot. If you're driving, and doing this more than once or twice a year, you soon realize that an investment in some proper bike carrying gear is money well-spent. A good quality bike rack allows you to drive with no concern about losing your cargo (and given that some bikes are reaching prices in the high 4-figures, that's a good thing). Let's look at what your various options are in the way of bike racks and bike carriers.
Bike Racks And Bike Carriers Options
One of the first things to examine, probably THE first thing to consider, is your vehicle. Is it a sedan? SUV? Pickup truck? Jeep? Depending on your vehicle type, you will have a narrow or wide range of options. If you have a sedan, or if you are a multi-vehicle family and are likely to use more than one vehicle for the bike-hauling, consider a trunk-mounted bike rack. Among its other conveniences, it's relatively inexpensive, easy to install and remove, takes up little storage space, and will fit various cars and trucks.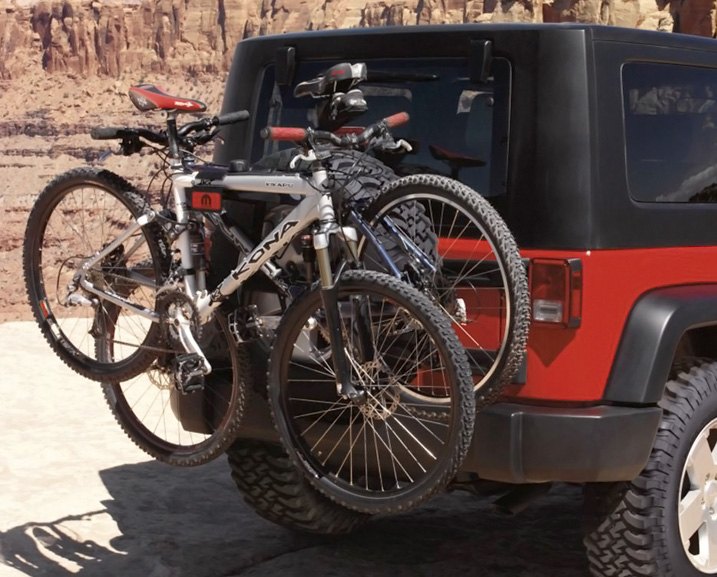 Some limitations of this particular choice are, you are limited to carrying 2 or maybe 3 bikes at most; once installed on the trunk or tailgate, you won't be able to access said storage area until the bikes AND the carrier are removed; and once set for a particular vehicle, it can take some time to reset the arms and straps for a second vehicle. Nevertheless, for the occasional user who does not want to invest a huge sum, trunk mounted racks continue to be big sellers.
You see them all the time: the station wagon or SUV with a pair of sleek-looking bikes mounted on the roof. There are lots of great reasons to go with a roof-mounted bike carrier system: the bikes are up and out of harm's way; you have complete access to all doors, trunk, and tailgate/hatchback openings; no inside space is consumed by the bikes; and today's roof-mounted carriers ensure sturdy mounting. Depending on the size of your vehicle, you can fit up to 4 bikes side-by-side on a roof. You can also combine a bike carrier next to, lets' say, a kayak carrier, for those of you who are entering triathlons.
Within this category, you have further options: there are carriers which strap the wheels to a channel; some styles bolt the front fork to the carrier after the front tire is removed; and other designs use a hinged arm to clamp onto the bike's frame.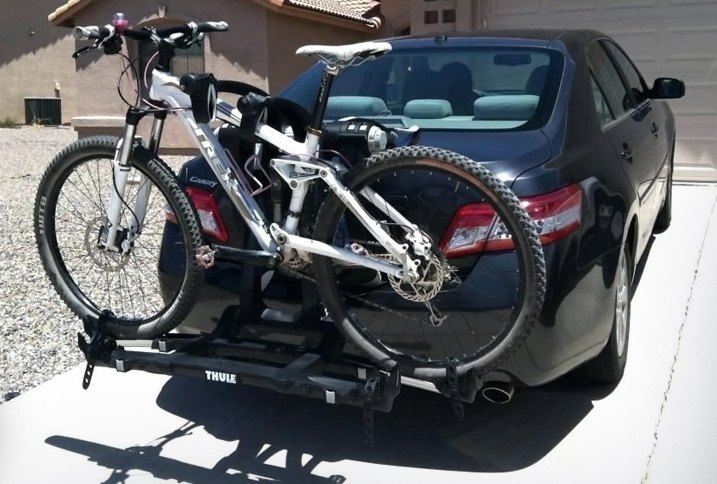 Before you plunk down your hard-earned cash, be advised that your vehicle either needs to have some kind of rails and crossbars on it, or you need to purchase these in order to have something to bolt the roof-mount carrier to. Also, depending on the height of your car or truck, your height, and the weight of the bikes, it's a S-T-R-E-T-C-H to get the bikes up there and strapped down. In spite of these challenges, roof-mounted bike carriers are being used by a large number of riders who are out there every weekend.
Does your car or truck have a trailer hitch already installed? If so, we have a most wonderful solution to extend to you: a hitch mounted bike carrier. What's so wonderful, you ask? Just this combination of features and benefits: the bike carrier itself simply slides into the hitch receiver and equally simply slides out to be stored when not in use; loading the bikes means lifting them no more than a few inches off the ground; there are hitch-mounted carriers that can accommodate up to 5 bikes; and if you want to "swing" for it, there are hinged designs that swing, or pivot, out of the way to give you access to the tailgate without removing the bikes.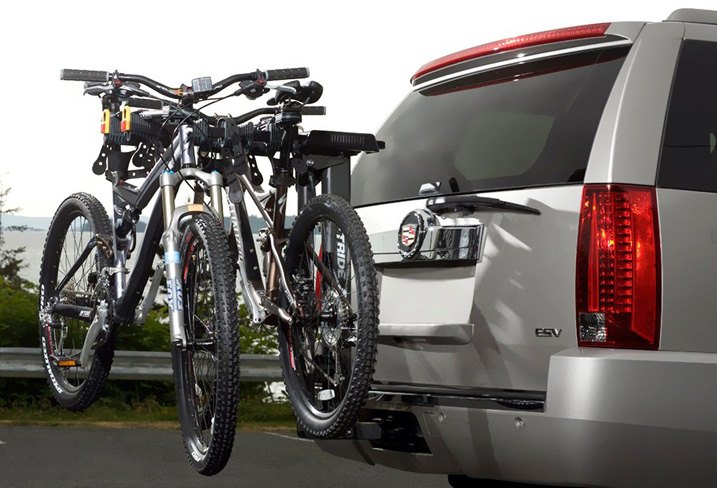 Some customers have been so enamored of the whole hitch-mounted bike carrier concept that they purchased a trailer hitch for the express purpose of using it to carry bikes! This is not as far-fetched as it may sound. Trailer hitches are surprisingly affordable. If you are using the hithc solely to carry bikes, there is no additional wiring to be concerned with. Of course, once you have the hitch, you'll also be looking for that boat you've been lusting after (!), but we'll stay on topic here for now.
If you are on a family vacation and need to carry a bike for everyone in the truck, the hitch-mounted set-up might be your only choice. Keep in mind that some of these units get heavy, especially the 5-bike swing-a-way jobs. Also, the effective length of the vacation-mobile is longer, so watch out when backing up! Actually, a great solution for that would be a back-up camera, so that your precious cargo remains in one piece. We have a feeling that once you see all the advantages of the hitch-mounted carrier, you'll purchase the best one you can and won't regret it one bit.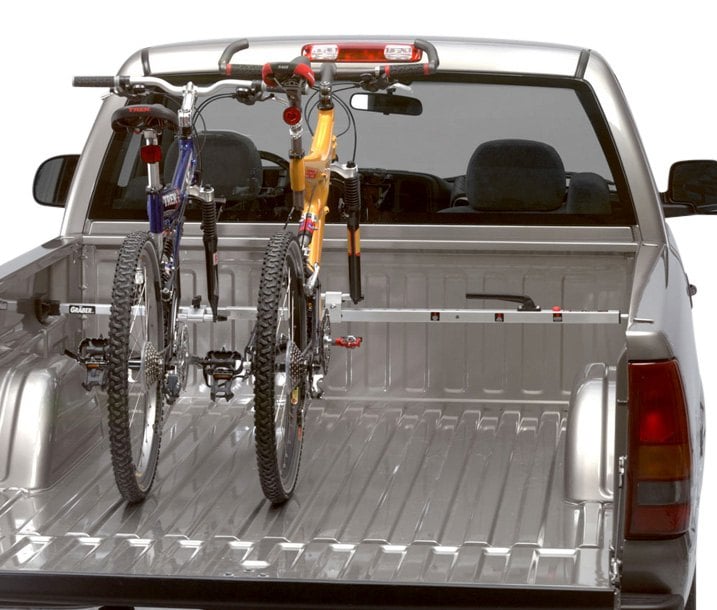 The final two bike-carrier variants are a bit vehicle-specialized: if you have a pickup truck, certainly consider a bed-mount bike rack. The beauty of these is the simplicity in loading the bikes in and out. After all, that's why you bought a pickup, isn't it? Please don't just throw your expensive bike into the back of the bed without lashing it down somehow. At the very least, the bike will slide around and get scratched up. In a worst-case scenario, it will become damaged, or, will bounce right out of the bed when you hit that speed bump "at speed"! The bed-mount carriers have almost no down-side to them. If we were to try to come up with one, we'd say that you cannot use the pickup bed for anything else while the bikes are there. But you're riding the bikes today, you're not going to the lumber yard. That's tomorrow; you'll take the bikes out first, and revel in the ease with which you can do that!
Lastly, for those of you with a spare tire mounted to the exterior of the car: yes, you can purchase a bike carrier designed to simply go over the spare. There's a lot to admire about the ingenuity of such a concept: if your vehicle is a Jeep, you really don't have any other way to carry the bike, do you? So make use of what you have. Again, easy-on, easy-off, and easy-on-the-wallet.
Our bike racks and bike carriers are sourced from only the highest-quality manufacturers: Thule, Yakima, Rhino-Rack, and Sport-Rack. Take a look at the widest selection and the best value in the marketplace, and you will be sure to find a bike carrier to suit your needs. Happy riding!
December 23, 2014