Cell phone companies along with fans of the latest high-tech devices have routinely declared for years that dash-mounted GPS (Global Positioning System) navigation systems and screens are obsolete and will soon be gone completely. They claim that there is no reason to buy one because smartphones using Apple maps or Google maps outperform them in every way.
We have observed that there still is demand for dash-mounted units, so we decided to look into this in more detail. Since we sell a variety of in-car navigation systems, we looked at features and benefits of all these units to see if dash-mounted systems offered any advantages over hand-held smartphones when used in the real world. Since GPS systems factory-installed by automakers can cost up to $3,000 and require costly updates, we have not included them in the scope of this article.
Traditional Dash-Mounted Nav Systems Have Their Advantages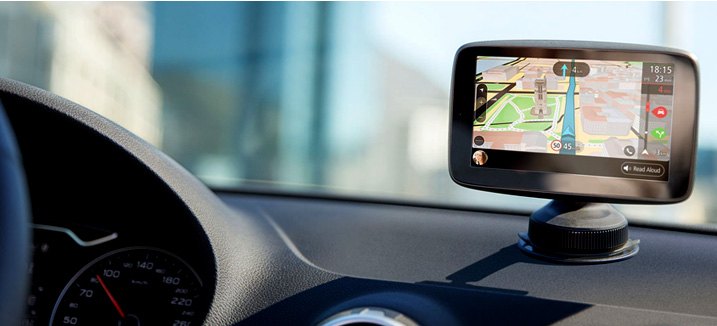 After our exhaustive research, we found, to our surprise, that we appreciated how dash-mounted navigation systems never run out of battery the way smartphones constantly do when a power cord is forgotten or misplaced. Some of us had also grown accustomed to smartphone GPS systems cutting out in weak signal areas regularly – making the hassle of intermittent operation seem normal. Instead of relying on cell tower signal strength, we valued how the satellite connections on Garmin, TomTom, Magellan and dash-mounted systems worked well in such areas, never failing to provide an unbroken stream of information. For those on the road doing long-haul trips regularly, these factors can prevent a lot of grief by using dash-mounted systems.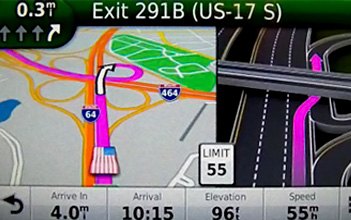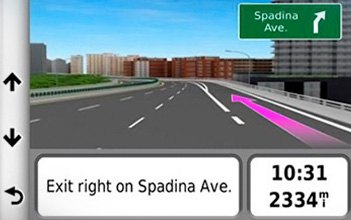 One of us grudgingly admitted appreciating how a dash-mounted system allowed his phone to be freed up for other functions at a moment's notice on a longer weekend trip. Accessing music playlists was easier, contact lists could be pulled up, and date planner notes checked. After his girlfriend's phone died and she needed to borrow his for an urgent lengthy call, giving up his source of guidance wasn't required. During that same ride, they were also free to use the camera on his phone to take some spur-of-the-moment pictures that would have gone uncaptured otherwise.
Others commented that Google maps doesn't show actual speed, miles to go, or time remaining the way satellite-based dash mounted units can, and that Apple Maps had a habit of announcing an exit very early on, then supplying a second and final reminder a very short distance from it.
Some of the dash-mounted systems are backup camera-compatible, allowing the monitor screen to display what's behind you. Plus, many offer a choice of vantage point visibility choices on their screen display. For example, you can view your position on the road from directly above in traditional map style, or by looking ahead at a 3-D image of the road approaching. Either way, large and clear traffic lanes are shown with colored arrows highlighting your path – even through the most complicated of exits. One helpful example of this system is Garmin's PhotoReal view (available on certain models) which recreates upcoming signs, intersections, and exits using actual video filmed from the ground in select areas.
If your vehicle isn't equipped to handle Bluetooth compatibility, look for that feature on certain dash-mounted systems. Bluetooth-compatible navigation systems will synch up to your phone for hands-free talking. Some will even automatically answer an incoming text with a pre-written note that you're currently driving and will respond upon arrival.
Safety Benefits With Dash-Mounted Systems Really Are Numerous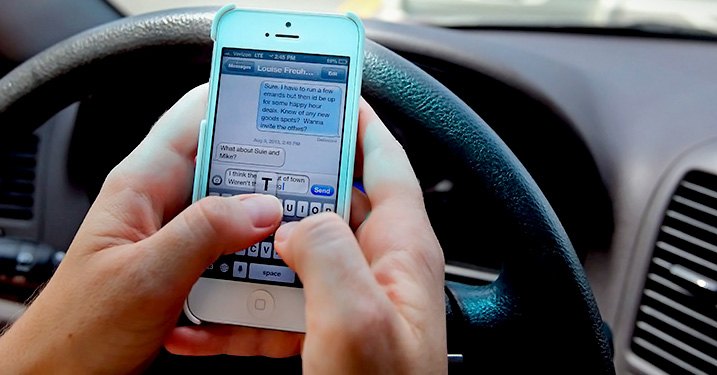 Virtually anywhere you go, there are fines for using a "hand-held device" while driving. If a police officer sees you diverting your attention to anything that looks like a cellphone while behind the wheel of a moving car, you'll be stopped and ticketed. Explaining you were using the guidance system of your smartphone instead of texting won't make a difference. Legislation may vary from region to region, but police attribute the reason for these laws to the fact that hand-held devices greatly increase the three types of driver distraction most likely to cause accidents. First is visual distraction when eyes are taken off the road. The second is manual distraction when a hands are taken off the steering wheel. The third and most serious is cognitive distraction, because the mind is taken off of driving.
Considering those three types of distractions, using a smartphone GPS app while driving can actually be more distracting than texting. At best, those familiar with typing and the layout of an alpha-numeric keyboard can manage to create a text message with one hand on the wheel while looking down only periodically. But finding information on a map requires a full and lengthy gaze at the screen, which creates visual distraction because the eyes need to completely refocus off the road and onto a small screen. Swiping a small smartphone screen to shift the area displayed can be done awkwardly with one hand, but zooming in or out requires more. Either a second hand must be taken off the steering wheel to hold the device, or the phone must be placed down somewhere. That's manual distraction.
Often, even more attention and time are required to focus on names and words shown on the screen. Depending on the application and the phone, zooming in on a map may not increase the size of lettering showing street names, highway numbers, and points of interest. The combination of visual distraction and cognitive distraction struggling to read small print on a small screen make it almost impossible to drive effectively. If you need reading glasses to read fine print, digging them out of your pocket only contributes to distraction. Being responsible requires pulling over, losing time, and may include additional stress when merging back into traffic.
Other Reasons To Like Traditional Dash-Mounted GPS Navigation Systems
Using a GPS app on your cell phone can significantly eat into data plan usage – causing overages even on family plans. Some wireless providers are phasing out cell phone plans with unlimited data and if you've upgraded your phone recently, you may have less data capacity per month than before. Trips in a moving car make sticking to wi-fi hotspots difficult, and cell phone companies will of course add to your bill if you generate overage charges. Should you prefer it, a smartphone link is available on certain Garmin and other GPS systems for iPhones and Androids that uses your existing data plan to share information such as destination, live weather radar, and even where you left the car parked.
A great number of today's car-based navigation systems include North America maps with free updates, live traffic reports, and a variety of screen sizes ranging from 3.5" to 7". A larger screen allows both driver and front passenger to see things easily on the same dash-mounted screen, without passing a phone back and forth. If the person to your right becomes remiss in their duties of helping eyes on the road for signs and things coming up ahead, no drama will result - an easy and quick glance over to the screen provides all the guidance you need. Recognizable land marks, buildings, and traffic lights appear not only in images, but are referenced in voice narration to give the driver a better description.
We also appreciate the ability of some dash-mounted navigation systems to provide audible and visual warnings of red light and speed cameras located along their path. When finding a parking garage was top priority, we were provided with locations and hours of operation. And finally, when documenting miles, locations, and other data from trips became necessary for expense reports, these systems had us covered by recording all the details for later access. Undoubtedly, business owners will find this equally valuable for fleet vehicles, as will parents.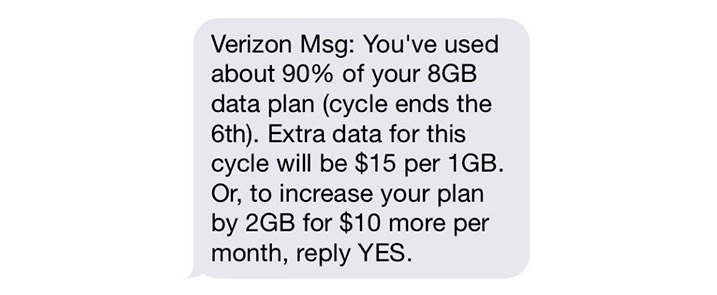 In the GPS Navigation section of our website, you'll see a full selection of car-based systems, as well as portable GPS devices and GPS-based tracking products. All systems designed for automotive use are equipped with rechargeable batteries and cords that can be plugged into your vehicle's 12V outlet. We also offer a range of GPS car mounts, and a broad variety of accessories including cases, wall chargers, USB cables and travel packs.
December 20, 2014