When you're doing any kind of performance or off-road driving at night, the right lights can brighten your path, make the adventure more enjoyable, and literally save your life if the going gets rough. Because the staff at CARiD is comprised of many individuals that enjoy 4-wheeling activities not limited to daylight hours, we seek to offer fellow enthusiasts powerful, efficient lights that produce a variety of light patterns - each one being extremely well-suited to a specific task and mounting location.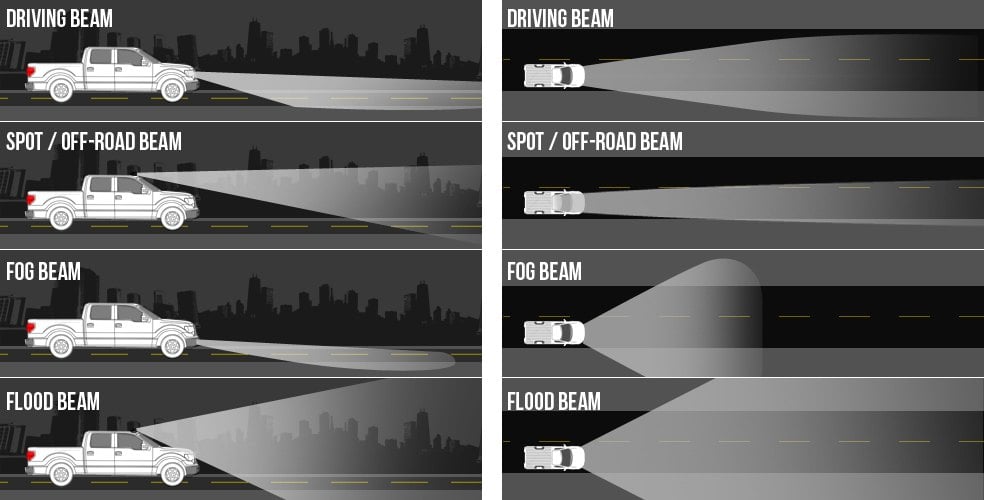 In this article, we'll take a look at the different types of fog lights, spot lights, flood lights, and driving lights available in our Off-Road Lights section, and we'll compare the light patterns they cast - each differing, thanks to variations in size and shape of their internal reflective mirrors and lenses.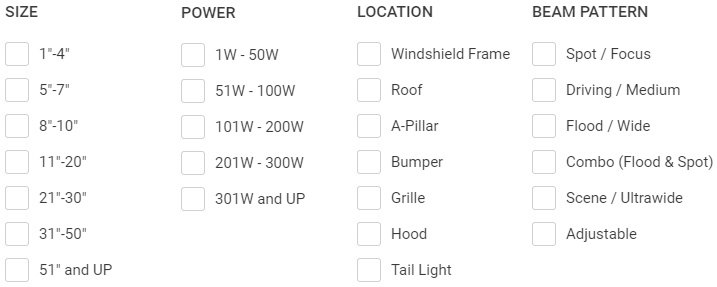 ON-ROAD LAMPS
Standard Headlamps

For reference, each OEM factory headlamp features an asymmetrical light pattern that makes a wide sweep of the entire roadway immediately in front of the vehicle, then narrows to fill only the space in front of the vehicle. This is critical to ensure oncoming drivers and those in other lanes aren't blinded.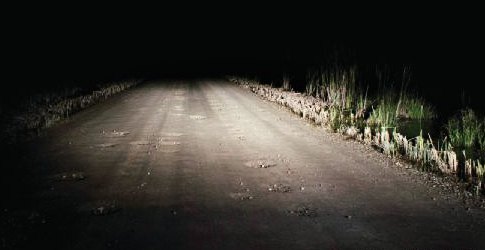 Fog Lamps (useful in both on- and off-road applications)

Because traditional fog lights are designed to mount underneath the front bumper and point low, they provide extra illumination of road surfaces immediately in front of the vehicle which standard headlamps miss. Their lower position and angle allows them to cut underneath fog, instead of creating glare that reflects directly back into a driver's eyes. Fog lights are also designed to direct light off to the sides rather than straight ahead, so they typically have a wide yet short light beam pattern.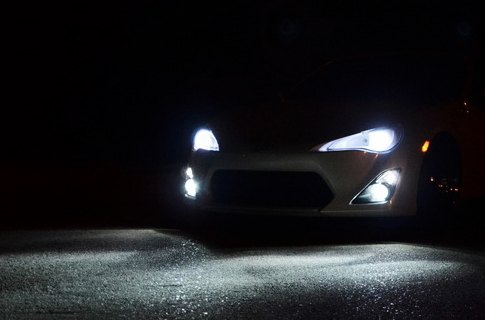 Being able to see what's close and off to the sides of the road provides distinct advantages during on- and off-road driving. For example, fog lights make it possible to see and avoid imperfections (deep holes, ruts, rocks, etc.) on unpaved trails that higher-mounted lights miss. And on dark wooded roads, they make deer or other animals lurking on the side of the road visible much sooner before they've run out in front of your vehicle.
In our Custom & Factory Fog Lights subsection, you'll find OEM style replacement fog light assemblies from Replace, Dorman, Spyder, and more. Prefer custom fog lights with halo rings? We've got those from Lumen, Spyder, and Winjet just to name a few. Check out Rugged Ridge's 100-watt halogen fog lights for powerful fog lights which are universal fit, or fog lights with built-in LEDs from Spyder and Putco.
Driving Lights (primarily on-road)

Driving lights provide an extremely bright, focused light beam pattern designed to project straight ahead a great distance instead of to the sides. Basically, they're designed to increase the range and brightness of your vehicle's high beams. While these are geared toward driving on-road at higher speeds, they must be used with caution to avoid blinding other drivers. Driving lights usually feature a more compact size which allows them to be situated near OEM headlamps on front bumper areas.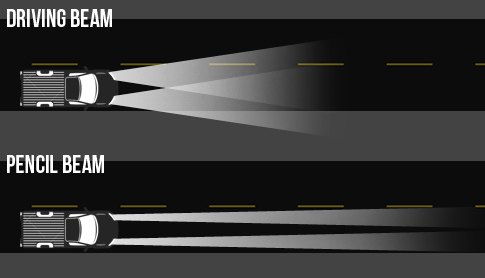 Some driving lights feature "pencil beam" lenses which create an extremely narrow beam designed for maximum distance straight ahead. These are recommended for racing or rally off-roading where higher speeds are the norm and reaction distance would normally be hampered by standard lights. Pencil beam lenses are not for on-road use.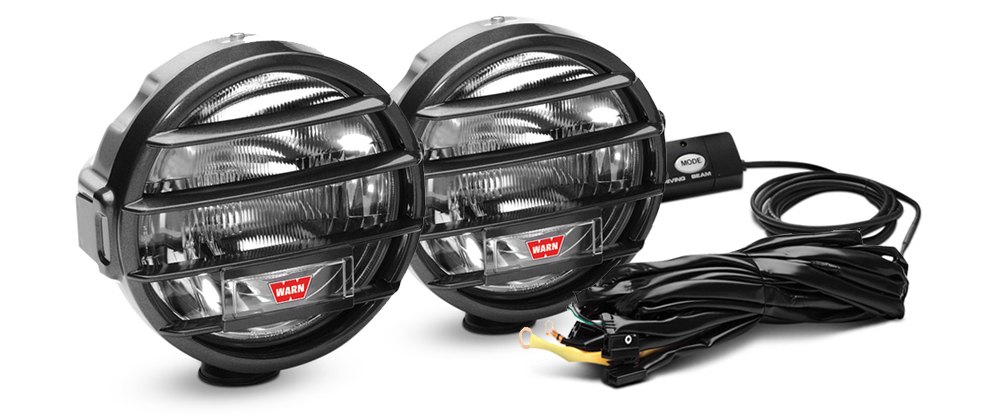 For on-road driving applications when compact dimensions are preferred, consider the KC HiLites Apollo Series halogen lights or the Rigid Industries SR-M Series LED driving lights. We've even got combination (dual function) lights which produce multiple styles of light patterns simultaneously. For example, the Warn Dual Beam Driving/Spot Light Kit (available in 5.25" or 7" diameter) has a special reflector that splits the light from a halogen bulb - allowing it to function as a spot beam that sends light 770 feet ahead and as a driving beam that illuminates a wider surface up to that point.
OFF-ROAD LAMPS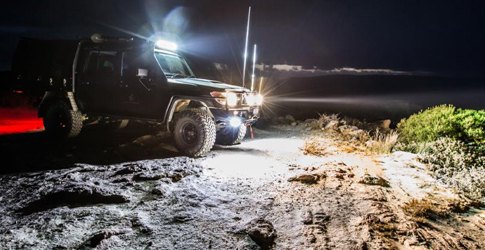 In the Off-Road Lights subsection of our website, you'll find lights designed for optimum performance on vehicle roofs or roof racks. These lights take advantage of those higher mounting positions to create a further reach with their light patterns, and the majority of them are equipped with brighter, more efficient LEDs. Because their mounting points and general functions are the same, most off-road light manufacturers develop a single outer housing design, then use it to create flood lamp and spot lamp versions of it. While they may look identical on the outside, reflectors and lenses inside feature different shapes and arrangements.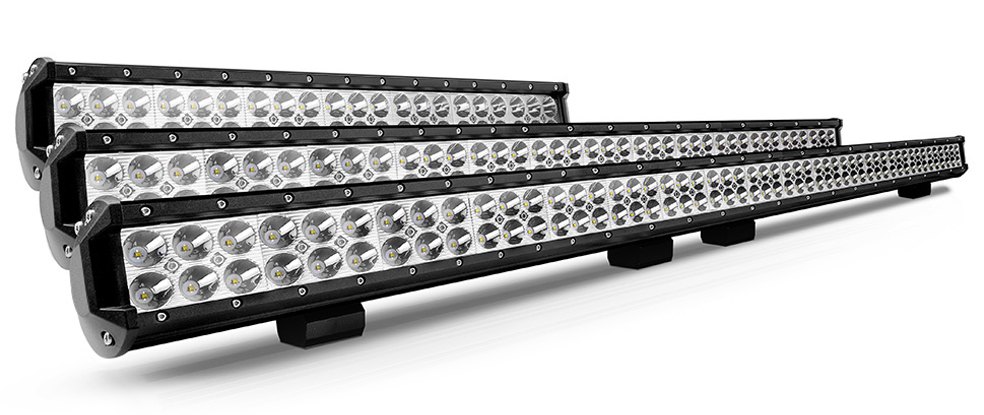 We've got a wide selection of shapes and sizes, ranging from small lights with 4 LEDs (Vision X Xmitter Dual Row LED Light Bar) to extremely wide ones with up to 108 LEDs ( Lumen Dual Row Long LED Light Bar). When viewing individual pages of these or any off-road lights, a visit to the Product Options screen will show choices available for Flood Lamp and Spot Lamp versions that may exist. Below, we elaborate on the light patterns specific to flood and spot lamps.
Flood Lamps (off-road)

Flood lamps produce a wide swath of light like fog lamps do, but with greater distance thanks to higher-powered lights, specially shaped lenses, and higher mounting positions. Ideal when a dark, wide-open area needs to be brightly lit, flood lamps are useful in farm, RV, and construction applications. And, of course, they do a great job of penetrating deeper into wooded areas when affixed to vehicle roof tops. Flood lamps should never be used on paved roads.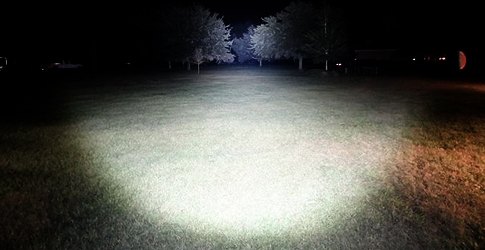 Spot Lamps (primarily off-road)

Off-road spot lamps are designed for maximum distance, providing a concentrated beam that makes it easy to pinpoint any specific area - a useful attribute for fleet vehicles that make deliveries or perform security patrols. Spot lamps are meant to be mounted up high in a position where they can be easily accessed for adjustment by hand.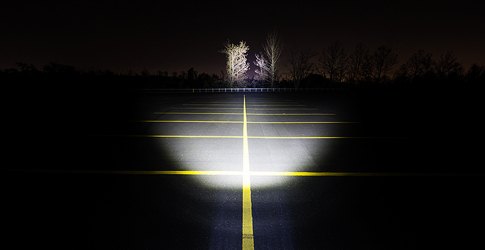 When used off-road, they can illuminate far down an unexpected embankment or penetrate streams to gauge water depth. Like flood lamps, these are not for normal on-road use. And similar to some driving lights, spot lamps may feature sharply-pointed "pencil beam" lenses which create extremely narrow beams that reach even further ahead.
Diffused Beam Lights
Diffused light beams can be created on any of the above types of lights by using lens covers built with small, numerous honeycombs that break up light and disperse it more evenly. This produces very uniform, soft lighting that illuminates an entire space with a reduced amount of shadows and reflections. An example of diffused light is that which we see when the sky is overcast with clouds, as opposed to direct sunlight on clear days.
If you're interested in diffused beam lights, Rigid Industries offers a number of them in compact sizes such as the D-Series LED Lights and D-Series Flush Mount LED Lights (in both cases, the "diffused" choices are within the drop-downs in Product Options). For slightly larger, more powerful sizes, see their SR-Q Series LED Lights or E-Series 75-Watt Dual Row Diffused Beam LED Light Bar.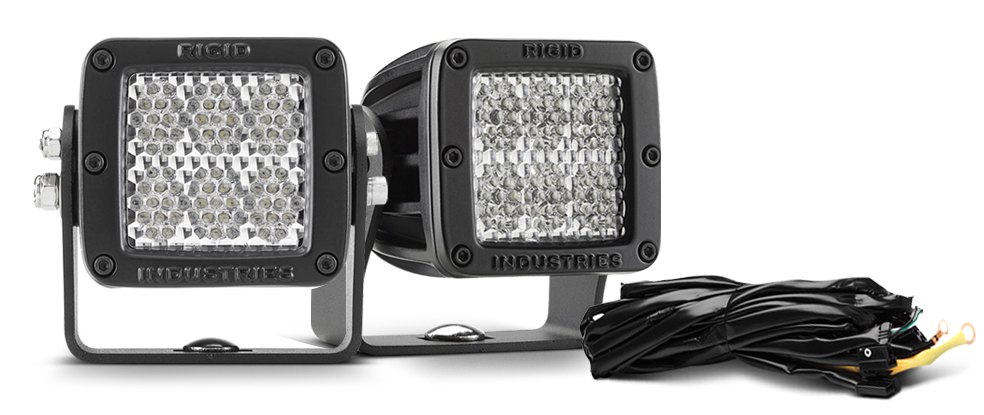 When you're ready for your new set of lights, you should ask yourself "where will I be when I want to use that light? On-road? Off-road? In open space or wooded area?" The answers to these questions will help determine the exact kind of light pattern to best suit your needs. While brightness is a critical performance factor, we will venture to state that the light pattern projected by your new lights is even more important.
We've also got you covered with related hardware such as light mounts and brackets, wiring harnesses and connectors, switchgear, light grilles and covers, and much more. We also welcome any product inquiries you have seven days a week!
July 28, 2015