Since the dawn of the automobile, spark plugs have been an integral part of gasoline engines because they conduct the electrical energy from a vehicle's ignition system needed to finalize the combustion process. After the gas/air mixture has been fully compressed inside the cylinder head, spark plugs serve a miniature bolt of lightning, igniting the mixture to create an explosion which pushes a piston downward.
Spark plugs aren't needed on diesel engines, which run at higher compression ratios sufficient to create combustion without the help of a spark. While 99% of engines feature one spark plug per cylinder, some high-performance engines such as modern Chrysler Hemi V8s have used two plugs per cylinder since their introduction.
Spark plugs are designed with an inner central electrode that's covered by a visible white porcelain insulating shell. That central electrode is connected by a heavily insulated wire to the output terminal of the vehicle's ignition coil.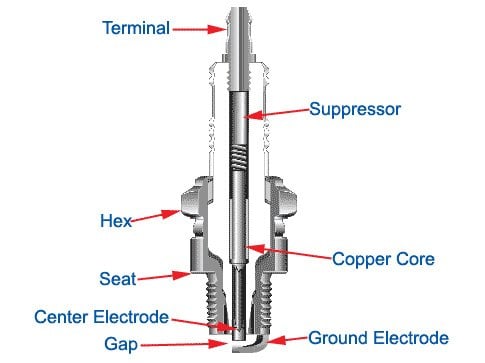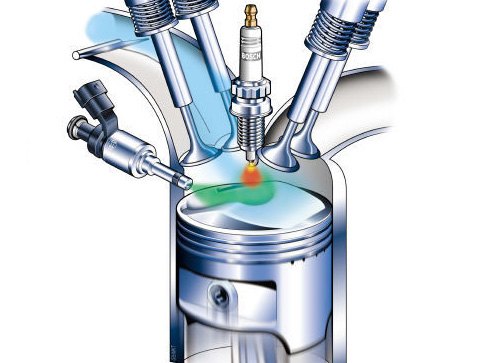 A threaded shell at the bottom of the spark plug allows it to be screwed into a vehicle's cylinder head, and the very bottom tip of the spark plug actually extends partway inside the combustion chamber. The metal used to coat the electrodes is how different types of spark plugs are known and defined.
Types of spark plugs available today are known as "copper", "nickel", "platinum", "double platinum", "iridium", and "silver". At CARiD, we offer these choices in both OEM style replacement and higher-performance configurations.
Copper/Nickel Spark Plugs

Sometimes referred to as "standard" or "normal", copper spark plugs actually use a nickel-alloy coating for the electrode. Only the inner core itself is copper. This is because copper is a soft metal that would melt almost instantly if subject to the extreme heat that outer spark plug areas endure. Because of the construction of these types of plugs, we'll refer to them as "copper/nickel" for the purposes of this article. It's interesting to note that most types of spark plugs use cores made of copper due to its ability to conduct electricity well.
Copper/nickel spark plugs are lower in cost and generally have a shorter lifespan – especially if fitted to modern vehicles with high-energy distributor-less ignition systems or coil-on-plug ignition systems.
However, there are cases when copper/nickel plugs are advantageous. Because copper delivers the best spark under the adverse conditions generated by turbochargers or higher compression ratios, some manufacturers of high-performing late-model vehicles design their engines to use copper/nickel plugs as original equipment. If your vehicle's maintenance recommendations specify copper/nickel spark plugs, we advise sticking with them. But generally, it's not recommended to install these types of plugs in most modern vehicles.
Additionally, copper/nickel plugs are best-suited to engines built before high-energy distributor ignition systems became common in the 1970s. Natural gas engines also tend to run better on copper/nickel plugs.
We've got copper/nickel spark plugs for a wide range of makes dating from before WWII through today. For Ford models back to the 1928 Model A, check out Motorcraft Nickel Spark Plugs. For GM and other makes back to 1930, there's the AC Delco Professional Conventional Spark Plug. For import vehicles with an emphasis on German makes, Bosch offers the OE Specialty Nickel Spark Plug. We've also got spark plugs designed for a diverse range of brands such as the NGK Standard Spark Plug, Denso Original U-Groove Spark Plug, and Champion Copper Plus Spark Plug, among others.
"Single Platinum" Spark Plugs
Spark plugs known as platinum feature a platinum center electrode. These are also described as "single platinum" plugs. Platinum-tipped spark plugs are more expensive because platinum is a more rare element in nature. Where platinum spark plugs shine is their great longevity under normal driving conditions. Platinum is harder than nickel alloy, so it doesn't erode the way copper/nickel plugs do. This means the gap at the tip of the spark plug does not widen as the metal wears away – a factor that causes a drop in power, reduced mileage, and intermittent misfires on startup that can trigger check engine lights on modern vehicles.
Some platinum plugs may reference a "fine wire" center core featuring one or more platinum discs inside of it. What "fine wire" refers to is basically an inner central electrode that's thinner in design. The reason for this is there does not need to be as much of the premium metals used because they conduct electricity in a superior fashion.
Platinum plugs resist carbon buildup more effectively because they run at higher operating temperatures than copper/nickel ones do. These are well-suited to modern engines designed with distributor-based electronic ignition systems, and are standard OEM equipment on many new vehicles.
The lifespan of a set of platinum spark plugs is typically double that of copper ones, although some vehicle manufacturers using them specify long plug change intervals of up to 100,000 miles thanks to precise computer control of air fuel mixture at all running temperatures. If your vehicle manufacturer specifies using platinum plugs during maintenance, stick with them. Switching to copper/nickel plugs is not recommended.

If you're looking for single platinum spark plugs, we've got them for a wide range of vehicles from NGK and Champion. Motorcraft Finewire Platinum Spark Plugs are primarily for Ford Motor Company brands back to 1958 (including Edsel), while Bosch OE Specialty Platinum Spark Plugs specialize in German makes and other imports from 1965 through today. For Chrysler/Mopar brands including Jeep, check out the Crown Platinum Spark Plug.
Double Platinum Spark Plugs
While "single platinum" plugs feature a platinum center electrode, "double platinum" plugs use platinum plating on both the center electrode AND ground electrode. Although this type of plug represents a step up in price, they typically yield slightly higher performance along with the longer life that platinum plugs are known for. Another advantage is that the double platinum plugs work especially well with "wasted spark" ignition systems.
In our Platinum Spark Plugs section, we've got double platinum spark plugs from Denso, Champion, AC Delco, NGK, and Crown. If you're interested in a higher-performing double platinum plug, check out the Autolite Double Platinum Spark Plug.
Iridium Spark Plugs
Iridium-tipped spark plugs offer better power, more complete combustion that leads to smooth-running engines, and a longer lifespan than copper/nickel plugs. Depending on application, iridium plugs can even approach the lifespan of some platinum ones. Iridium plugs are highest in cost, and typically feature "fine wire" centers designed to conduct electrical energy better.
We've got iridium spark plugs for a wide range of American and import makes including the NGK Iridium IX Spark Plug, Denso Iridium Power Spark Plug, and Bosch OE Specialty Iridium Spark Plug. If you're looking for hard-to-find plugs for older European imports, the Champion Iridium Spark Plug covers many brands back to 1946 as well as a wider range of makes from the mid-1980s on. The Motorcraft Iridium Spark Plug covers Ford (and select other makes) from 2003-today.

When it comes to high-performing iridium plugs, the Pulstar PlasmaCore Series Electrode Pulse Plug and Autolite Iridium XP Spark Plug covers a wide range of makes and models dating back decades. The HKS Super Fire Racing Iridium Spark Plug is designed for select import performance cars such as the Mazda RX-7, BMW Z3, BMW M3, Mitsubishi Lancer Evolution, and Hyundai Genesis coupe. And if you own a late-model Jeep Grand Cherokee SRT8, the RIPP Superchargers NGK Spark IX Spark Plugs are configured just for your vehicle.
Silver Spark Plugs
Silver-tipped spark plugs have the best thermal conductivity. However, they do not feature the longevity of platinum or iridium. Generally, they're specified in older European performance cars as well as some motorcycles. To this end, we've got the Bosch OE Specialty Silver Spark Plug.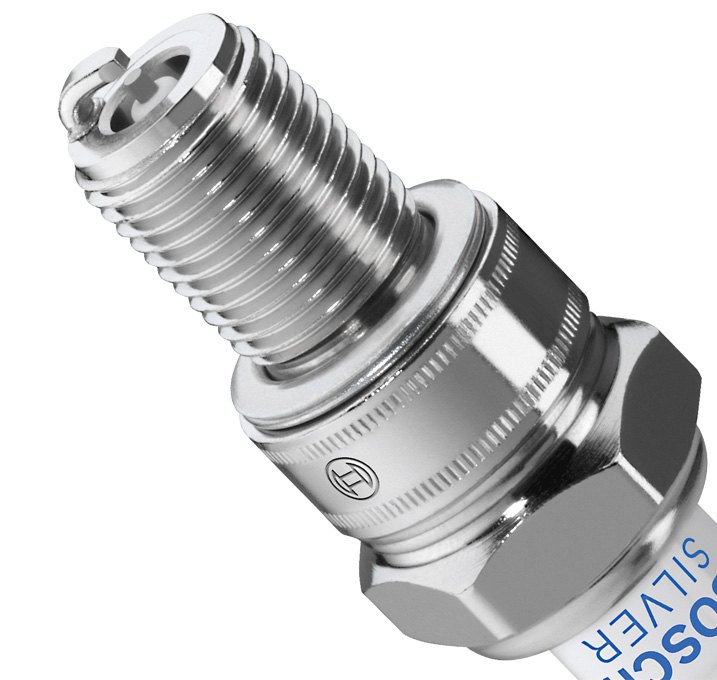 Gapping Spark Plugs
"Gapping" refers to adjusting the distance between the curved conducting electrode and the plug tip where the electricity emanates from. This is done by bending the electrode itself via a special "gap tool". Achieving proper gap distance is important for maximizing the power output, fuel consumption, smoothness, and overall lifespan of your spark plugs.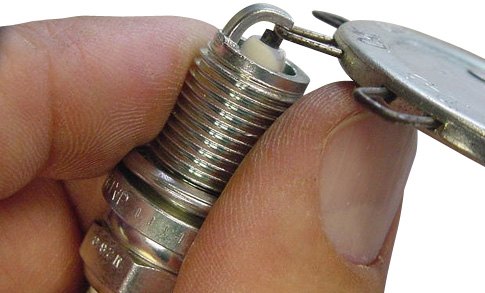 Too narrow a gap can yield a spark that's too small and weak to fully ignite the gas/air mixture while too wide a gap can cause misfires during normal driving, especially at higher revs. Misfires may be noticeable or they may be so intermittent that they're noticeable only to the car's engine computer – resulting in a pesky check engine light that won't stop coming on and off. If the gap's incorrect in either direction, misfires may not occur but power and economy can still suffer.
Once you enter the year, make, and model of your vehicle in any of our spark plug product pages, you'll see a fitment note advising you of the proper gap a particular spark plug should be set to before installation on your engine.
"Fine Wire" Spark Plugs Require Special Tools For Gapping
When more expensive spark plugs advertise a "fine wire" core, they are referring to an inner central electrode that's thinner in design in order to fit additional premium metals around it that conduct electricity better. Because of their different design, it's important to use a wire-style or feeler gage gap tool in order to adjust the spark plug gap without damaging the tip or center electrode. This ensures pressure can be put on the tip where it's needed, without prying against the center electrode.
Spark Plug Heat Range
A spark plug's heat range is the temperature range in which a plug works well thermally. No matter what type of spark plug you choose, an optimal heat rating for your vehicle's engine is important. If a spark plug gets too hot, the excess heat it retains can cause premature ignition of the air/fuel mixture (known as engine-damaging knock) during the compression stroke before the ignition system actually fires the plug. If a plug runs too cold, it can cause carbon buildup on the tip which leads to incomplete combustion and misfires.
What "Hot" vs. "Cold" Actually Means When It Comes To Spark Plugs
"Hot" plugs have a longer insulator nose with a larger surface area that's more exposed to heat from the combustion chamber. This longer nose also means a longer path exists before heat can be dissipated away from the plug – so the firing tip gets hotter pretty quickly a result.
Conversely, "cold" spark plugs have a short insulator tip and remove heat from the combustion area much quicker. Because of this, they stay cool under pressure when cylinder temperatures increase.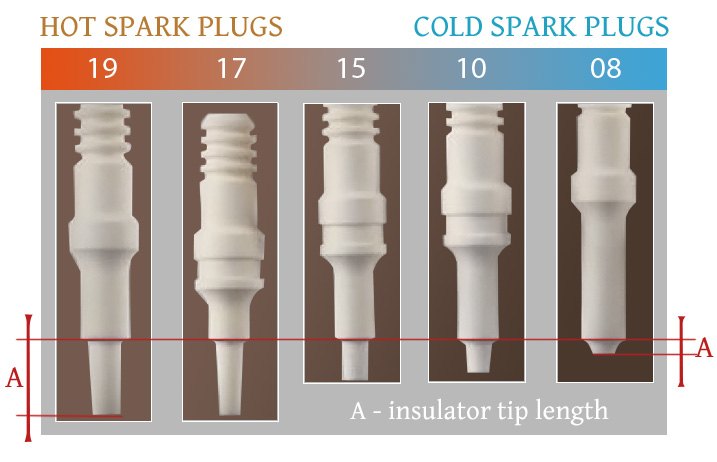 Spark plug manufacturers typically assign a numeric heat rating to their spark plugs. There's no uniform scale used for these ratings – as some manufacturers use a higher number for "colder" plugs, while others use higher numbers for "hot" ones. Once you've entered information about your car or truck's year, make, and model, our website will automatically select the correct plug for your OEM engine configuration.
When Are Cold or Hot Spark Plugs Best?
In most normal driving conditions, it's best to use factory specified spark plugs. You should only consider changing to a hotter or colder spark plug if the engine has been modified in some way, or if operating conditions have changed.
Ideally, the temperature at the spark plug tip gets hot enough to burn off deposits, but no so hot that it overheats or causes pre-ignition. If you find that the plugs become fouled from deposits (a condition known as "carbon fouling"), you might consider a hotter plug. Other reasons to switch to a hotter plug include a rich fuel-air mixture, and engine which burns oil, or a high percentage of local and low-speed driving. In each of these cases, a hotter plug will help keep the spark plug tip from becoming fouled.
If the plugs run too hot, a condition known as "overheating", the engine may suffer from pre-ignition, which can cause pinging, or in a worse-case situation, engine damage. Use of poor-quality or low-octane fuel, a too-lean fuel-air mixture, or continuous high-speed driving can all contribute to plug overheating. In these cases, switching to a colder spark plug will help prevent the overheating.
If you are modifying the engine for performance, such as increasing the compression ratio, advancing the ignition timing, or installing a turbocharger or supercharger, going to a colder spark plug may be recommended.
"Replacement" vs. "Performance" Spark Plugs
Along the left-hand side of the screen in our spark plugs section, you'll see check boxes for both "Replacement" and "Performance" plugs. Selecting either one of these boxes narrows your search accordingly. After that, it's possible to select additional boxes to view replacement or performance versions of specific spark plug types (platinum, iridium, etc.).
But how does a spark plug geared for higher performance differ from others? Regardless of the specific metal a spark plug contains, performance-style plugs are designed to withstand greater amounts of mechanical shocks. They're also built to withstand a larger range of temperature fluctuations (thermal shock).

Regardless of what metal is used, all spark plug tip coatings are going to get consumed gradually whenever the engine is running. Plus, incomplete combustion due to low octane fuel, incorrect air/fuel mixtures, or short trips where engine temperatures stay low can shorten spark plug life considerably.
If it's been a little while since you had a tune-up, we recommend pulling one of your plugs out for examination. It may be in worse shape than you think. And if it's time to order new plugs, don't settle for anything less than the perfect ones for your vehicle and driving style. Give us a call – we'll be happy to make personalized recommendations.
June 28, 2014