Snow, ice, freezing rain, and frigid temperatures make winter driving treacherous; nevertheless you're prepared, right? Your all-season radials have plenty of tread, the antifreeze is good to -32°F, and the ice scraper is in the car, ready to go. You even remembered to pack a blanket and cell phone charger in case you get stuck. But what about your wiper blades? If they're the same ones that baked on your windshield all summer then you could be in for problems. How do you know if your wiper blades are any good? And if they're not should you replace them with the same kind for winter driving? Read on to find out.

Wiper Blades Maintenance
At no time of the year is seeing out of your windshield more important, and more difficult, than in winter. The aforementioned elements, plus road slush and salt thrown up by other vehicles, combine to assault your windshield. Factor in the darkness that most of us find ourselves commuting in thanks to shorter winter days, and visibility becomes extremely challenging. If you're trying to peer through streaks, smears and chattering caused by worn out wiper blades, seeing under these conditions can become downright impossible. The difference between a safe trip and an accident can often be fractions of a second. If you can't see what's up ahead your reaction time is compromised, and you could be in a collision or skid off an icy road before you can act to avoid the situation. Make sure wiper blade inspection is part of your winter preparedness regimen. Here's what to look for:

Check the squeegee, the part of the wiper blade that contacts and wipes the windshield, for rips, tears, cracks and signs of separation that would be obvious causes for replacement. Make sure the squeegee is still flexible so it has the ability to conform to the contours of your windshield. Inspect the wiper frame for corrosion, disengagement of the frame from the blade at the attachment points, and any other signs of damage. However, if your blades are more than 6 months old, they should be replaced regardless of how they look. Dirt that collects on the windshield acts as a fine abrasive, over time creating small voids in the edge of the blade not obvious to the naked eye, and these can result in streaking and smearing. The rubber is also continually under attack from heat, ozone and UV rays, which can cause cracks, reduced flexibility and deterioration. These factors can combine to seriously reduce visibility.
Types Of Windshield Wiper Blades
So, you've decided that new blades are in order. What kind should you get? The conventional frame-type blade that has been around for decades has a steel superstructure consisting of "claws" that hold the blade, and pivots and joints that enable the framework to flex and apply even pressure on the blade so it conforms to the shape of the windshield. This type of blade is fine for use during the warmer months, but less than ideal for winter driving. The open spaces in the latticework of this type of blade can become clogged with ice and snow, preventing the blade from conforming to the windshield, and resulting in areas of the windshield that are not wiped, obstructing your vision. Frame-type blades are also prone to "lifting" off the windshield at high speed, which can cause chatter.
Wiper blade manufacturers have devised two methods to deal with the ice and snow jamming problem. Michelin Stealth wiper blades are equipped with covers that encase the steel superstructure, preventing ice and snow clogging. The cover's sleek design also makes the blade more aerodynamic and less likely to lift off the windshield at speed. The other method coincides with a change in wiper technology taking place throughout the automotive industry – the switch to beam-type blades. Rain-X, Trico, and Bosch are just some of the wiper blade manufacturers offering this design. Beam blades have a flat piece of spring steel encased in plastic, with the squeegee attached below. There is no framework that can become jammed with ice and snow, and no pivots, joints, or other moving parts that can wear. Beam blades maintain uniform pressure across the length of the blade, for even glass contact regardless of the curvature of the windshield. Beam blades also have a lower, more aerodynamic profile that is not predisposed to windlift. Beam blades are original equipment on most new vehicles, and they continue to grow in popularity.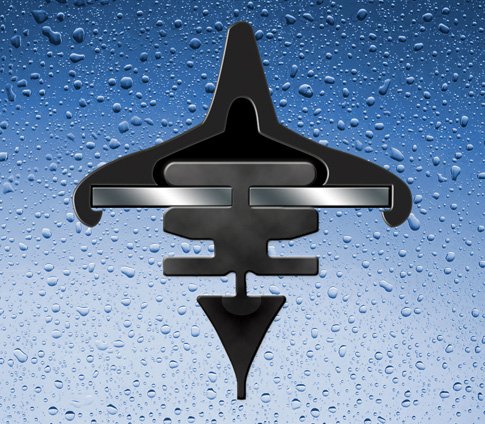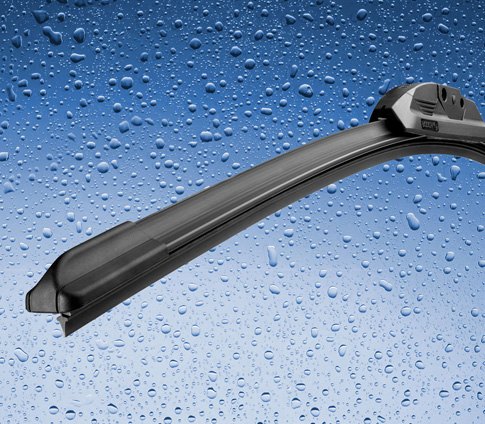 But the structure that secures and applies pressure to the squeegee is only half the story. The squeegee is made of natural rubber on most standard wiper blades, but on premium beam blades it's constructed from synthetic rubber impregnated with silicone or coated with slippery substances like Teflon or graphite. These superior rubber compounds remain flexible even at low temperatures, they're more resistant to erosion due to environmental factors, and their slick surfaces make them less likely to stick to the windshield and have ice and snow stick to them. PIAA Si-Tech silicone wiper blades actually apply a coating of silicone to the windshield as they wipe, promoting continuous water beading that improves visibility, and reduces drag and annoying chattering.
Good quality windshield washer fluid goes hand-in-hand with winter wiper blades. No matter how good your wipers are, trying to clear a windshield caked with salt and slush from the road is an exercise in futility without washer fluid. And wipers that are continually used in an attempt to clear a dirty windshield without benefit of fluid will wear prematurely. Select a fluid with a freezing temperature significantly lower than the lowest anticipated winter temperature. Remember, the wind chill in front of your windshield with your vehicle at speed will be much lower than ambient, and the last thing you want is frozen washer nozzles when you need to clear your windshield. Rain-X glass treatment adds water-beading technology to the windshield for greater driving visibility.
Inspect your vehicle's blades regularly and replace them at the first sign of poor performance or 6 months, whichever occurs first. Choose from OE-quality blades and wiper arms, or step up to higher-performance type blades. Clean your windshield every time you fill up with fuel, and gently wipe the squeegee with a damp paper towel to remove contaminants like dirt and oil. When your windshield is snow or ice covered, use your defrosters and/or ice scraper to clear the windshield; never use your wipers. Proper wiper blade maintenance will ensure you always get top performance from your blades.
October 08, 2014