Skiing and snowboarding are not inexpensive hobbies. After purchasing skis, poles, shoes, clothes, lift passes, and even lodging accommodations, you've shelled out enough money that it becomes tempting to skip spending more on a rooftop carrier. But if you've ever jammed all your snow gear inside your car, you know how chaotic, slushy, and awkward that can be – especially if you're trying to make room for friends and luggage. That's why we offer cleverly-designed rooftop carriers that won't break your bank in the Ski & Snowboard Racks section of our website. All of the ones we sell are lined with cushioning rubber across contact areas to ensure your equipment doesn't become damaged, and all of them come with built-in locks that prevent skis from being removed from the racks. Because access to mounting screws is blocked when things are locked down, the racks cannot be removed from your vehicle either.

We recommend you click on the highlighted hyperlinks in this article, which will take you directly to the specific products referenced. We say this because we've got a number of great carriers, and a more in-depth comparison will probably lead to greater satisfaction once a purchase decision is ultimately made. The manufacturers of the products may list limitations on ski size, width, etc that each carrier can accommodate, so it's important to look for this information. As a general rule, experts recommend if your skis are under 67 inches in length, make sure your crossbar spread from center to center is 12 – 24 inches. For skis over 67 inches in length, that spread can range from 12-36 inches.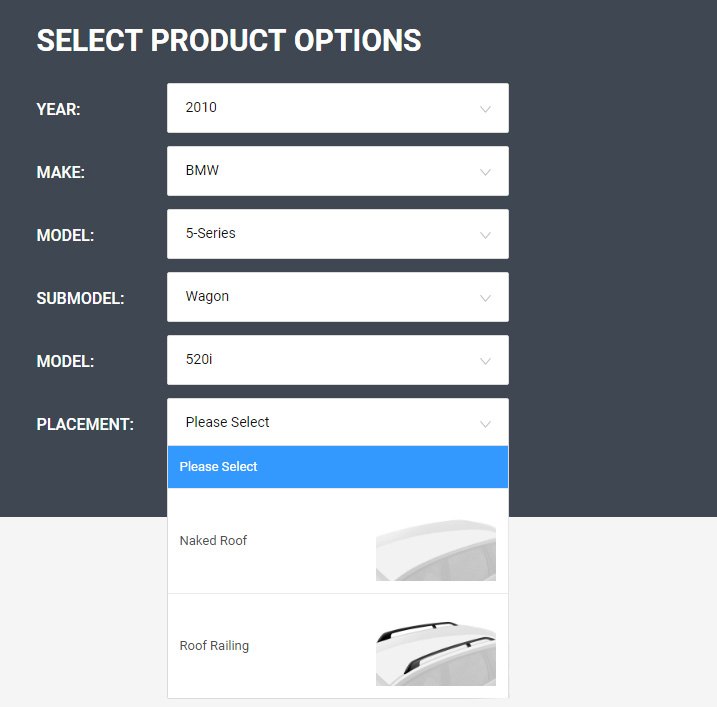 Many of the carriers we offer are available in multiple sizes that you'll be able to select in Product Options. For example, a smaller size will typically hold 4 pairs of skis or 2 snowboards, and a larger size will hold 6 pairs of skis or 4 snowboards. We've even got one carrier that holds a whopping 8 pairs of skis! If wind noise is important to you, keep an eye out for optional aerodynamic fairing pieces that some manufacturers offer. These fit at the front of the carrier and effectively cut down on wind resistance and whistling sounds at speed.
Ski & Snowboard Carriers That Mount To Roof Rack Siderails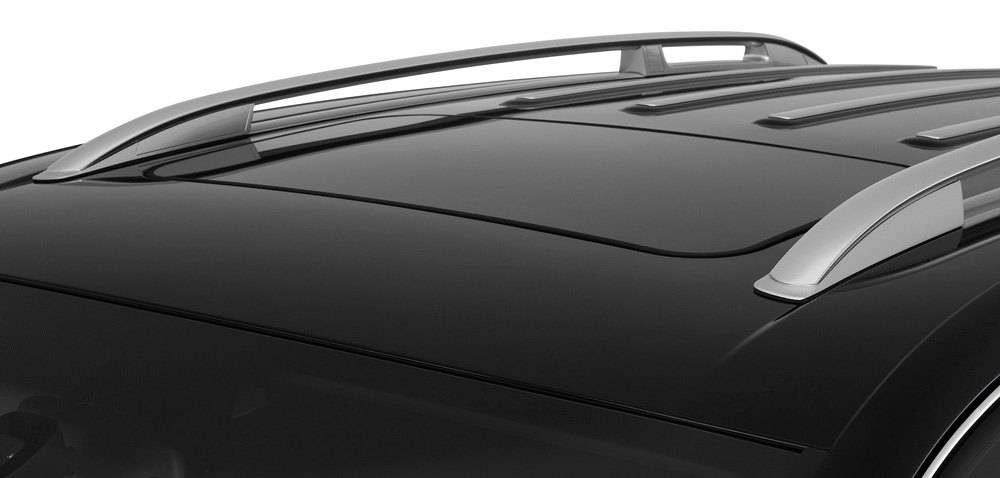 Most carriers are designed to mount on cross bar pieces that attach to roof rack side rails. These cross bars run from the passenger side of the vehicle to the driver side, and are not always fitted as standard equipment by automakers the way side rails are. If your vehicle is not equipped with cross bar pieces, we offer ski/snowboard racks that don't require them because they are designed to mount directly on the side rails themselves.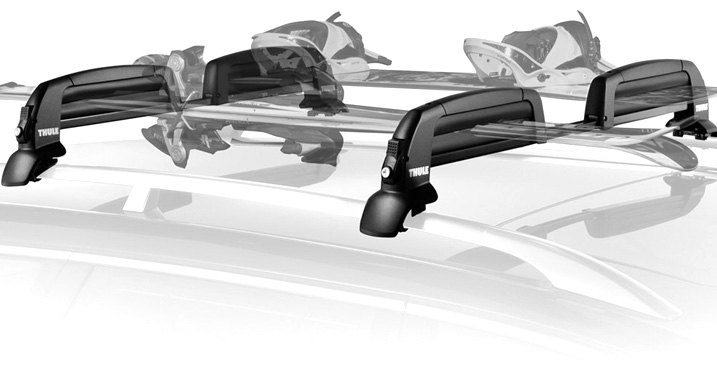 Thule's Snowcat Ski & Snowboard Rack is such a carrier, and it can hold up to 6 pairs of skis or 4 snowboards. It's got two separate clampdown areas, which allows the center section to telescope to the exact width needed on your vehicle. SportRack's Deluxe Ski & Snowboard Rack is laid out in a similar fashion, and offers a best value for budget-conscious shoppers. Note that this rack is offered in two sizes, and only the larger one (8 pairs of skis/4 snowboards) is designed for cross rail mounting.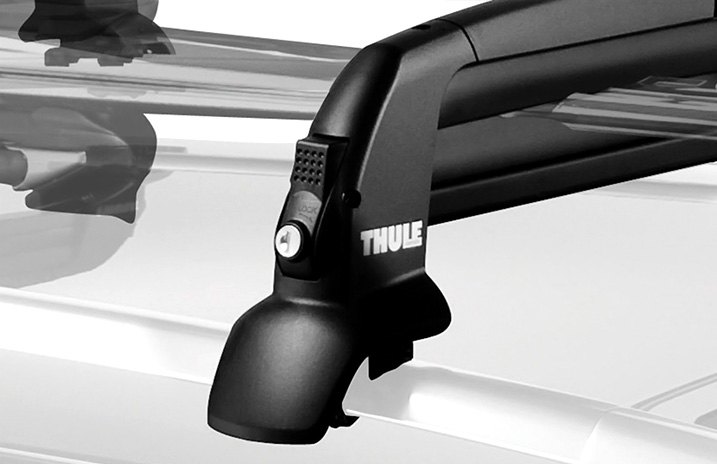 Ski & Snowboard Racks That Mount To Cross Bars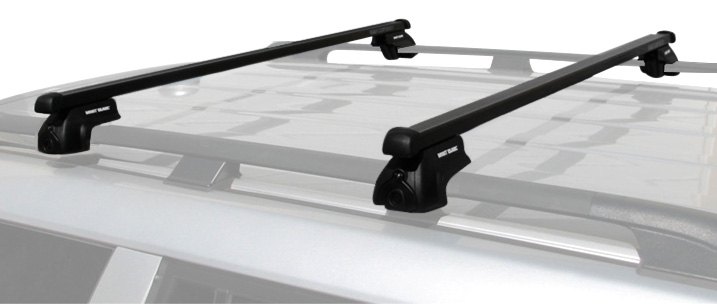 Although vehicles with factory roof racks are not typically equipped with cross bars, most ski & snowboard racks require them for mounting. Once you enter your vehicle's make, model, year, and existing roof setup in the Product Options field, you'll see a list of related accessories that will appear underneath the main item. If your existing roof setup does not already have cross bars, you'll be presented with the option of purchasing ones that are fitted for your vehicle and the rack you're looking at.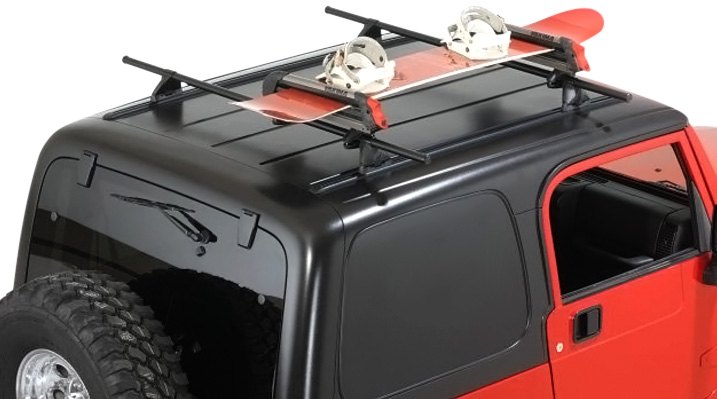 For best value, there's Yakima's ProRack Ski & Snowboard Rack (6 pairs of skis or 4 snowboards) and PowderHound Roof Ski & Snowboard Rack (multiple sizes with up to 6 pairs of skis or 4 snowboards). The PowderHound comes with a set of lift brackets which can be inserted to raise the carrier at one or both sides when extra clearance is needed for tall bindings or bigger boards. Thule's Flat Top Ski & Snowboard Rack also can be specified to hold up to 6 pairs of skis/4 snowboards.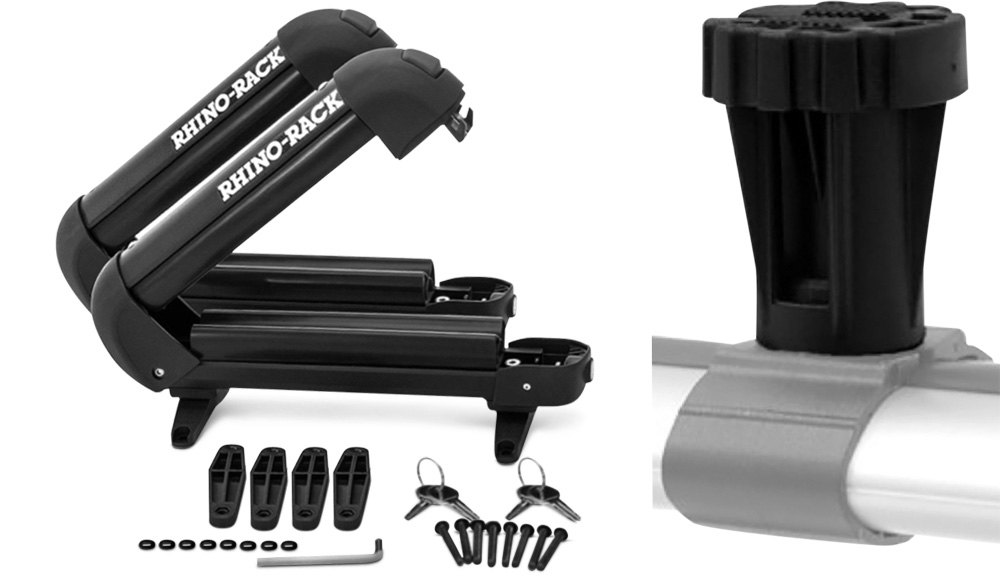 Should you prefer the stylish look of a mirror black finish on all metal surfaces, we've got the Yakima FatCat Roof Ski & Snowboard Rack and the Rhino-Rack Ski & Snowboard Rack. Like many Yakima racks, the FatCat comes with lift brackets that raise one or both sides. Rhino-Rack also offers the option of purchasing a "WrapAround Riser" set of four lift blocks that raise the ski arms an extra 35 millimeters.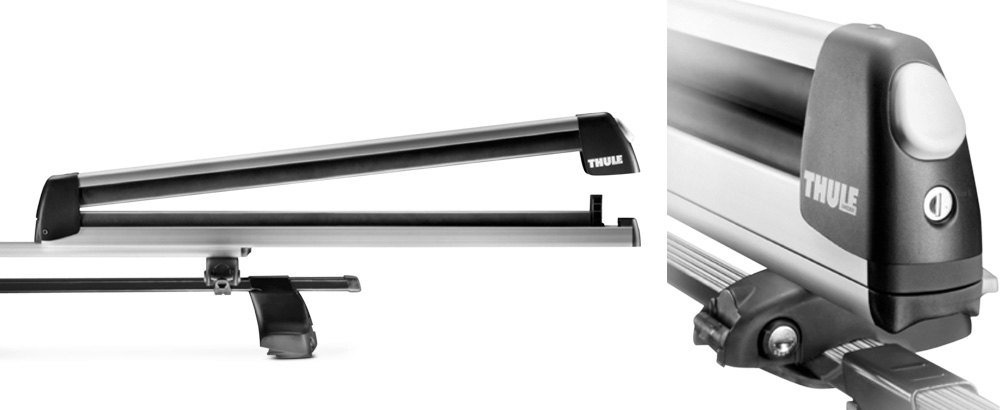 Thule's Pull Top Ski & Snowboard Rack offers the advantage of telescoping arms that slide on special channels. This allows skis and boards to glide from the top of the roof to the side of the car for what's probably the easiest installation or removal process going. The Pull Top is Thule's top-of-the-line rack, and is designed to accommodate 6 pairs of thicker "fat" skis, or 4 snowboards. Yakima's Whispbar Ski & Snowboard Rack features its own standard hinge system that allows carrier bars to be raised as little or as much as you prefer, then locked in place by tightening applicable screws.

Snowboards Only
If your roof top space is already reserved for other items such as cargo carriers or equipment and all you need is to carry several snowboards, we've got the Thule Snowboard Carrier. It secures snowboards to your cross rails at an angle, and prevents theft thanks to a built-in lock at the base of the cable that holds the boards in place. One carrier holds two snowboards, but the narrow amount of space it uses allows 3 or possibly 4 separate carriers to fit across most roofs.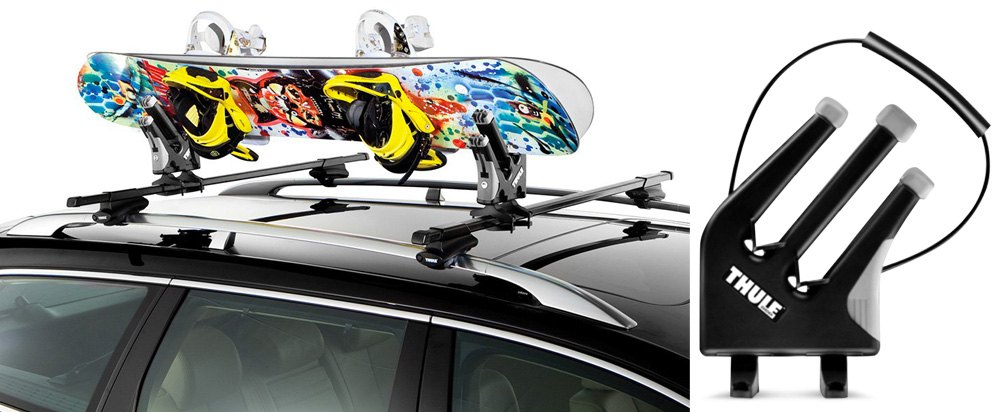 Ski and snowboard racks we offer are made from non-corrosive materials such as aluminum, so they'll remain attractive and functional for a long time to come. In fact, when you consider that any one of these mentioned here can easily be a one-time investment that provides a lifetime of satisfying returns, buying a roof carrier doesn't seem like such a bad idea after all. We know you may have questions, so we have specialists standing by seven days a week to help answer them and make your purchase more rewarding, so give us a call!
February 11, 2016