Many people think that the genuine material always is better than materials imitating other materials. If this is your view of things, obviously you might consider Real Wood to be better than Synthetic Wood. You are in distinguished company - manufacturers of luxury automobiles like Jaguar, Cadillac and Lexus share your view. They think, as you probably do, that there is no way that a synthetic material can match the feel, the depth of color and that the imperfections that are inevitable in real wood give a life to the surface that cannot be imitated. Installing a real wood dash kit and wood steering wheel can also be a way to honor the fine craftsmanship of the cabinetmakers who have provided luxury car interiors for the world's most prestigious automakers for well over a century.
Changes in Real Wood are Inevitable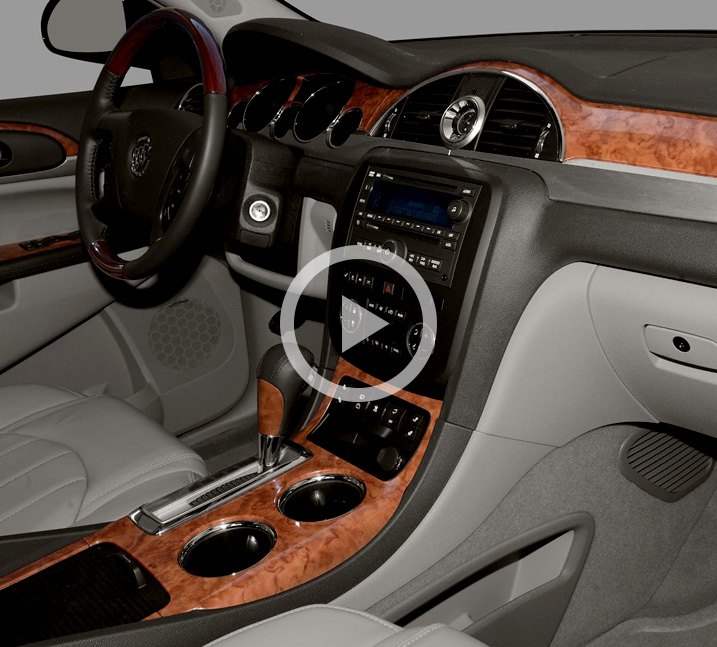 Even if the real wood is encased in plastic materials it cannot be completely isolated from the environment. This means that real wood absorbs moisture in wet weather, which makes it expand, and dries out in hot and dry weather, which makes it contract. In spite of the UV protective layer, it is inevitable that real wood is bleached and develops cracks. To lovers of real wood, this is only proof that the material is alive and natural. They consider the aging of the surface as a feature that adds to the beauty of the wood surface. A word of warning though: Convertibles offer a very hard environment for real wood. The material is much more exposed to the elements in an open car, and is prone to age faster than even the most enthusiastic lovers of real wood deem acceptable. If you honor traditional car interior design and prefer natural materials, if you consider the inevitable changes that take place in natural wood over time as a bonus and not as a drawback, the about 30% higher price of Real Wood is worth paying. Natural wood is obviously your preferred material, as you understand and appreciate the particular feeling and style that only natural wood can give.The high price of real wood comes not only from the price of real wood being higher than the price of plastic materials. The manual process needed to choose pieces of veneer that don't show any imperfections, the fairly high percentage of veneer discarded due to imperfections, contribute to the higher price.
Synthetic Wood Always Looks the Same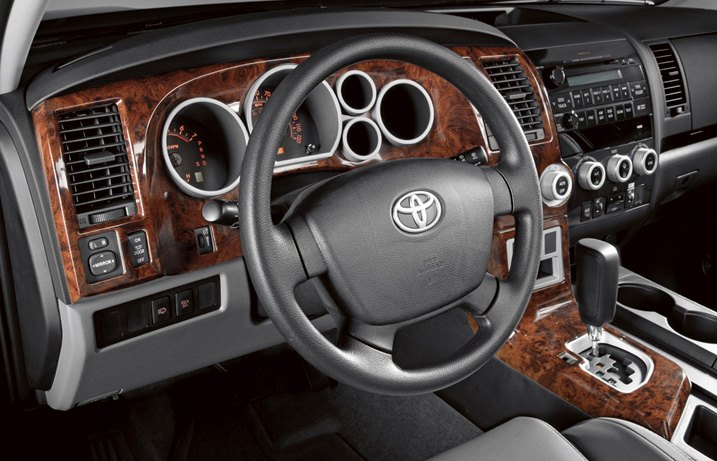 For most people, it is very hard to tell the difference between dash kits made in real and synthetic wood. Modern synthetic wood materials are so similar to the original that it takes the eye of a true expert to tell them apart when the materials have been covered with the same kind of protective polyurethane layer. In most cases, the only way to tell a synthetic wood dash kit from a real wood dash kit is the price. If you find an extremely cheap dash kit that the seller claims is made in real wood, it is probably a false statement. Claims that sound too good to be true usually are. The synthetic wood material does not change its color over time, and it will not crack, even if it is used for door sills. It will always look as if it is new. To real wood enthusiasts this feature makes synthetic wood look dead and artificial, while other people think it is one of the major advantages of synthetic wood. The physical properties are slightly different for real wood and synthetic wood dash kits. Real wood cannot be made quite as pliable as synthetic materials, and is slightly more difficult to install, but for practical purposes the difference is negligible.
Other differences are more real:
As most cars with wood trim have synthetic wood installed by the factory, it is easier to match synthetic wood to the trim installed by the manufacturer, making for a more original option total look.
The price is, as mentioned above, around 30% lower for synthetic wood kits.
In the end, the choice between real and synthetic wood is a personal choice that is determined by you own priorities, preferences and feelings. All modern dash kits offer good value for money.
April 12, 2012