Many auto enthusiasts are driving around with speedometers registering too low a speed because they've mounted bigger tires on their vehicle. This effect occurs because larger tires have a greater overall circumference (distance around the outer edge) than smaller ones do. A tire with a larger circumference will cover more ground per revolution, and it will also make fewer revolutions in a mile than a tire of smaller diameter.
This affects your speedometer and odometer, because regardless of whether overall speed readings are tied to the revolutions of a transmission output shaft, axle, or wheel, larger tires cause the entire powertrain to rotate slower. In turn, the speedometer reflects a lower speed. Picture the tires of a giant earth mover dump truck. One revolution of the earth mover's tire would cover the same distance as 10 to 20 rotations of a standard-size automobile.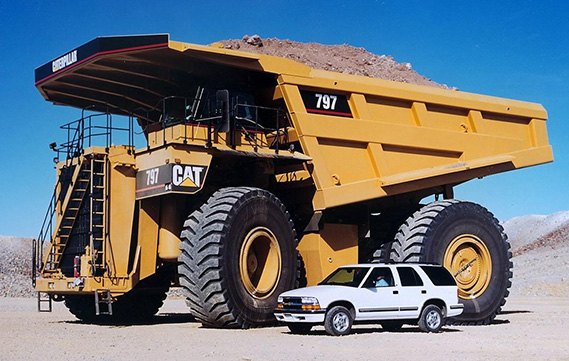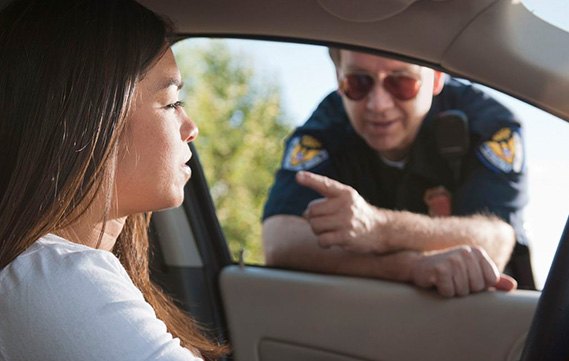 Knowing the correct speed you're driving is important for many reasons. First, it can save you a ticket when a police car is tracking your speed. Secondly, a too-low speedometer reading causes you to underestimate the amount of time and distance it will take to slow down in an emergency. Plus, steering to avoid an accident will be harder simply because the mass of your vehicle is moving through space at a greater velocity than you realize. And third, you may be lulled into a false sense of security about just what a safe speed is to maintain control in bad weather conditions.
Using a 2012 Chevy Silverado with a standard tire size of 245/70-17 as an example (see our related page explaining tire size ratings), a mild size boost to 265/70-17 tires will slow your speedometer down by 3.6%. When it reads 60 miles per hour, you're actually travelling 62.2 mph. Using a popular tire size upgrade to 305/65-18 after a 2" or 3" lift kit has been installed, the speedometer would be off by over 10% - reading 60 mph when actual speed is 66.1 mph. While those are just two examples, they're both relatively mild when compared to some of the huge tire and wheel swaps many truck owners perform.
Another common cause of incorrect speedometer readings is installing "higher" final drive gear ratios in differential/transaxle gearboxes for snappier performance. For example, a final drive ratio of "3.21 to 1" (abbreviated as 3.21:1) means the transmission output shaft turns 3.21 times for every rotation of the vehicle's tires. Swapping in a final drive gear with a higher ratio requires the engine to rev more for each turn of the wheels, leading to snappier performance. Imagine pedaling a 10-speed bike in first gear all the time instead of fifth or tenth gear.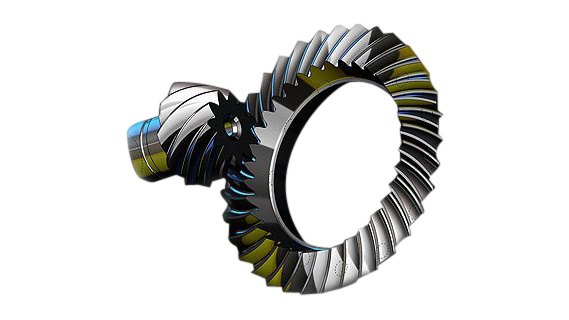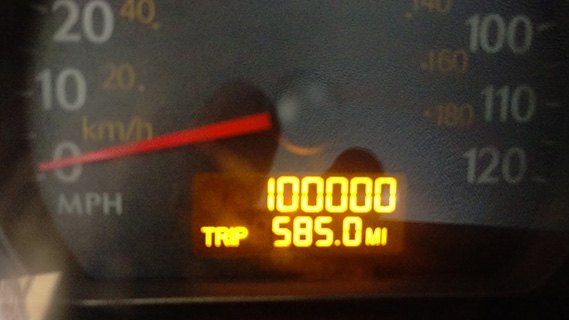 Swapping OEM 3.21:1 final drive gear with a 3.55:1 gear would lead to 10.5% more revs, and a speedometer that incorrectly shows a 10.5% higher speed. On that same vehicle, a 3.73:1 ratio would result in an error rate of 16.2%, and a dragstrip-friendly 4.10:1 ratio would result in a 27.2% error rate. When you think of the extra miles your odometer is ticking off from such swaps, you realize not adjusting for this type of change devalues your car significantly over time.
Calibrators For Speedometers
We've got a selection of basic speedometer calibrators designed to calibrate your speedometer when different tire sizes and/or gear ratios have been installed. After inputting your vehicle's OEM information, you can enter the exact specifications the new tires or final drive ratio now on the vehicle.
For best value, the Jet Speedometer Calibrator is a small data box that's programmed by PC and calibrated with the turn of a switch, then connected to your vehicle's transmission output speed sensor, ABS unit, or rear axle depending on vehicle application. Note that this unit is only capable of calibrating speedometers for changes in tire sizes and trans/diff gear ratios, and does not control anything transmission-related.
The TS Performance ReSpeed Series Speedometer Calibrator also adjusts for differences in tire sizes and gearing. But if your plus-size tires have a higher speed rating than your vehicle's OEM ones did, you're also able to change the velocity at which your vehicle speed limiter kicks in. Or, you can turn off the limiter completely.
For late model trucks, the Pro Comp Accu Pro Speedometer & Odometer Calibrator represents solid value. After plugging into your vehicle's diagnostic port, it can compensate for tire sizes and gear ratios, plus it reads and clears diagnostic trouble codes your vehicle's ECU has flagged, even before a check engine light has come on. You'll know about any kind of problem with your vehicle, and you'll be able to delete those fault codes and turn check engine lights off. Dealership service departments typically charge an hour of labor to do this, so your savings will add up quickly. The unit has a small digital display with control buttons, and it can be upgraded (via a software download from Pro Comp) to a full-function Power Pro Tuner at a later point.
Hypertech's Speedometer Calibrator features a similar design and digital screen, and can adjust speedometers and handle fault codes for a wider range of cars and truck models back to 1996.
Transmission Shift Calibrators
We've also got transmission calibrators that allow you to change the shift points of your electronically-controlled automatic transmission. This is extremely helpful, because optimum shifts for maximizing performance, towing smoothness, and fuel economy all come at differing engine rpms. If you've modified your tire size or final drive gear ratios, being able to revise shift points will be extremely helpful in preventing your transmission from getting "confused" and wandering through gears. We'll start with value-priced units that specialize only in transmission shifting calibration.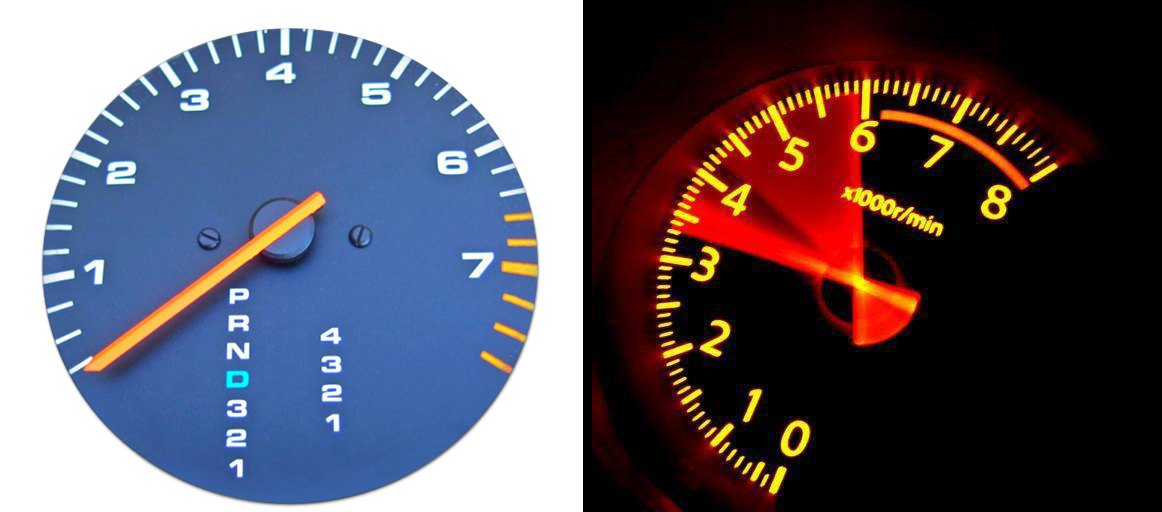 The Auto Meter Digital Pro Shift System Controller is designed to give any OBD II-compatible vehicle 5 different transmission shift point programs. It features a small digital display for rpms, and will record 90 seconds of engine speed for playback. It can also be used with related shift light reminder products from Auto Meter such as the Quick-Lite Shift Light and the Super-Lite Shift Light.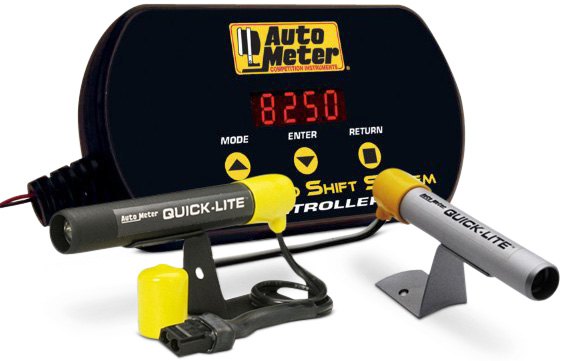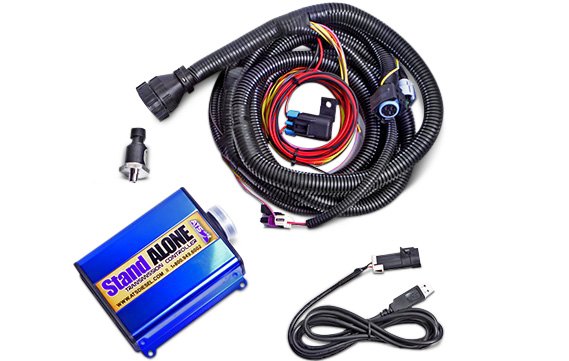 The ATS Diesel Performance Select Shift Stand Alone Transmission Controller Kit is a comprehensive unit that specializes in full-size Dodge and Ford diesel 4x4s with automatic transmissions that are new enough to have a "partial" level of electronic controls built in to them. The controller is a simple box that's programmed initially via hookup to your computer, and it contains 16 different wires that are connected to a varying number of transmission sensors (depending on year, make, and model.)
Once installation is complete, an older transmission that operates using fluid pressure-based governors and valves to determine shift points can now be controlled more fully by electronics. The vehicle user will have increased control over torque converter lockup, shift points, firmness of shifts, line pressure adjustment, and more. The unit will also record data, should you choose to.
Whether you have modified your vehicle or not, these speedometer calibrators and transmission controllers allow you to "tap into" your ride's electronics to see what possibilities lie there. These devices give you the ability to play "engineer" with your vehicle's electronic parameters. You can look at these speedo and tranny control devices as the next phase of hot-rodding, bringing you to the 21st century!
July 15, 2016