If you have a pickup, SUV, or a Jeep, then you probably feel, as we do, that 4x4s are attractive in nature and serve as great canvasses for creating an individual vehicle identity. Because the overall shapes of truck designs are unpretentious, lines tend to accentuate strength. And bright work (or black work) applied in the right fashion can heighten bold styling, accentuate luxury, or both. We know that running boards or side steps have potential to make a big impact in this category, and we understand form is just as important as function when it comes to selecting the right ones. That's why we offer a great variety of full-length running boards and step bars as well as short-length steps. We've even got steps that fit easily onto trailer hitch openings.
In the Running Boards & Step Bars section of our website, you'll see all of the products we offer and you'll be able narrow your search down by clicking on any of the categories in our "Shop by Category" section. Should you encounter product terms and expressions in this section that you're not familiar with, we've got helpful definitions and explanations in our Running Board and Side Step Glossary.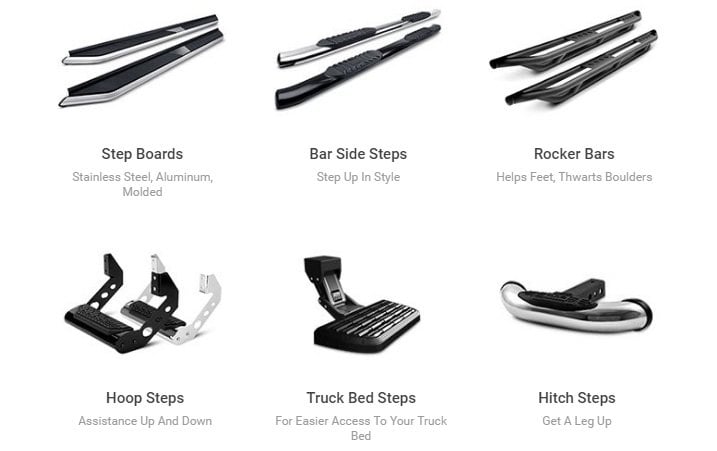 All of the running boards, side steps, rocker bars, and other steps we sell typically come in a choice of metals and finishes which you'll see after clicking on any "Product Options" drop down box found on product pages. Once you enter vehicle make, model, and year, selections built to fit your specific vehicle will display.
You may find corrosion-free aluminum and stainless steel versions (usually polished to a high metal shine), or the products you see may be built from traditional mild steel and coated with durable, weather-resistant powder coat or chrome finishes. Regardless, we've selected products from manufacturers that have shown the most consistent proven track records when it comes to quality and long-term durability.

What's Best For Me?
The first choice to make is deciding between a true running board (flat and flush-mounted) and a step bar (tubular in shape). If you purchased your 4x4 because you value high ground clearance for off-roading, you'll see products below that are designed to protect your rocker panels from damage without protruding a great deal downward or to the side of the vehicle. You'll also find running boards, step bars, and other types of steps that retract out of the way completely when desired. Think about what your priorities are, and whether you need a bar or board that leans toward serving passengers, or the vehicle itself.
THIS article features a selection of running boards for your vehicle. If you are also interested in reviewing a selection of side steps, you can find that article here.
A Brief History Of Running Boards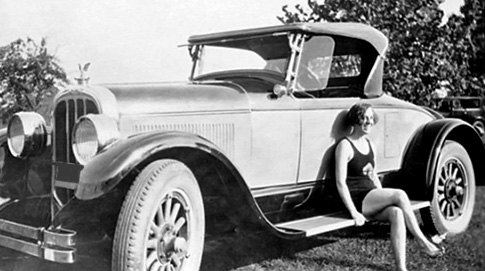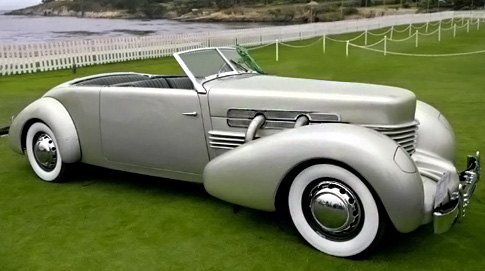 When the automobile first entered production in the early 20th century, all cars had running boards as a necessary design element. The body, bolted to the chassis, was narrow and high. In order to gain entry, the running board was the entrance step. Its size also allowed it to serve as a place to sit or even lie down.
Automobile design evolved during the 1920s and 1930s and car bodies became more aerodynamic. One of the first designs to do away with running boards was the 1936 Cord (right picture above). It was a polarizing change for a public which had grown accustomed to them.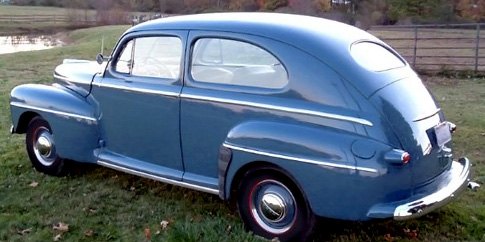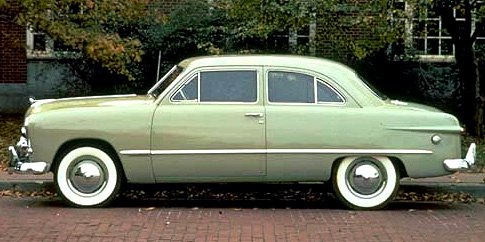 In 1945, at the end of World War 2, carmakers met pent-up demand by resuming manufacture of their pre-war designs. By the end of the decade, cars (but not trucks) were done with running boards. Compare this 1948 Ford with the 1949 Ford. Although the '48 has a slim"running board", by '49 it was all slab-sided.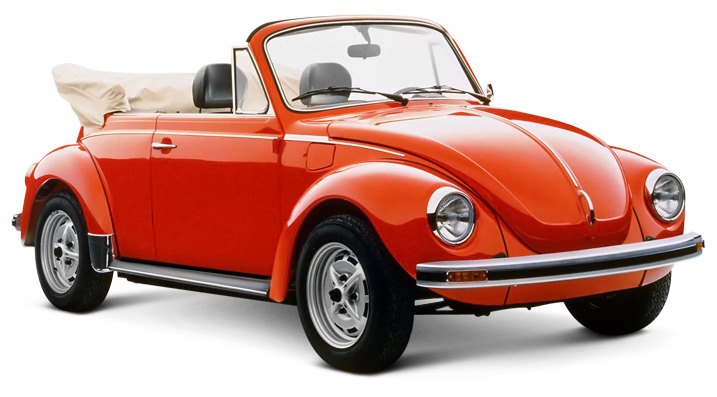 One significant hold-out was the Volkswagen Beetle. Designed before the war, the basic styling never changed. Running boards that had been included since day one stayed until the end, which in the U.S. was represented by the 1979 model year convertible.
Trucks always lagged behind their automotive brothers in the design department, keeping running boards into the mid-1950s. Since "trucks" were sold to farmers and laborers, automakers felt they didn't need to be updated as often.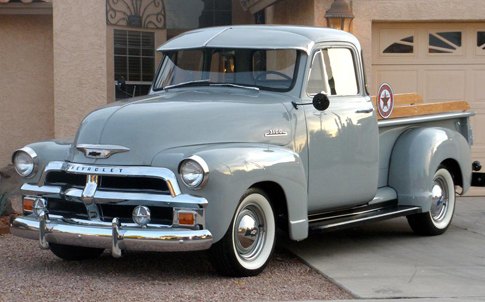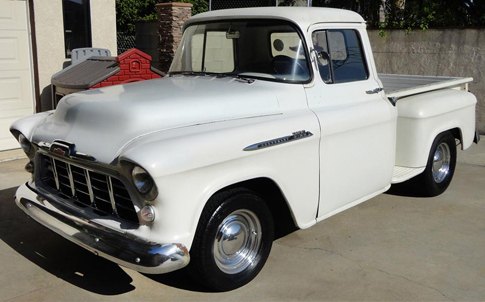 In more recent decades, running boards made a comeback as a practical matter. First, with the booming popularity of the large SUV (Sport Utility Vehicle), these trucks were used to ferry families, friends, even paying customers if used as limos. Since the SUVs sat higher off the ground than the typical car, some riders needed help during entry and exit. The running board was the "stepping stone" to do just that.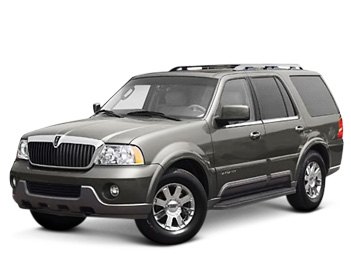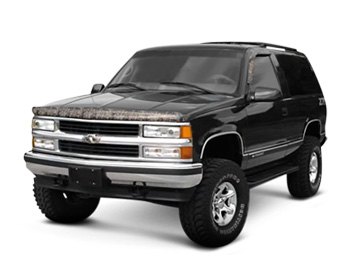 Secondly, the craze toward "lifted" vehicles was a boom to those who wished to go off-roading in their 4x4s. The increased ground clearance meant that boulders and streams could tackled more easily. The trade-off was in the literal leap between the ground and the driver's seat. A running board helped you get in and out, but ran the risk of becoming the truck's low point during off-road excursions. But compared with tubular side bars, the running boards hugged the truck's rocker panels and minimized the decrease in ground clearance.
Today, running boards are as much a style statement as they are a matter of practicality.
Pickup Cab Length & How It Affects Wheel-To-Wheel Running Board Coverage
"Wheel-to-wheel running board coverage" refers to running boards that span the complete length of a pickup, van, or SUV between front and rear wheel well openings. Such running boards can come in the form of a one-piece section fitted to the exact length of the vehicle, or they can exist in the form of two separate but adjoining sections.
In two-piece applications, the first section typically spans the length of a pickup truck's cab area while the second is cut to fit on the area below the bed - varying in lengths depending on short-, medium-, or long-bed configuration. In the Product Options field when pickup models are entered in the vehicle specifics field, under-cab sections and under-bed sections may be sold together or separately. Because sometimes, a step for just the cab area is all you need or want.
Along the left side of the screen, check boxes under the LENGTH heading allow you to narrow your search to running boards with full wheel-to-wheel coverage, cab length only, or pickup bed section pieces.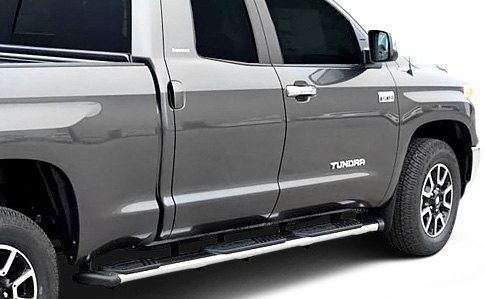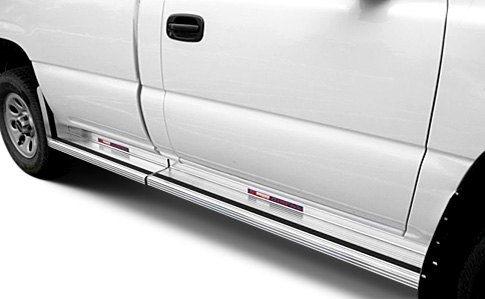 Fixed Running Boards
Running boards are wide, flat, and mount close to the body in a flush or near-flush manner. If you prefer running boards with a black step area accented by parallel "pin stripes", we offer a few that are both workweek strong and Saturday night tuxedo formal. For example, you may appreciate Broadfeet R11 Running Boards, Lund Crossroads Chrome Running Boards, or Romik RCV Series Running Boards.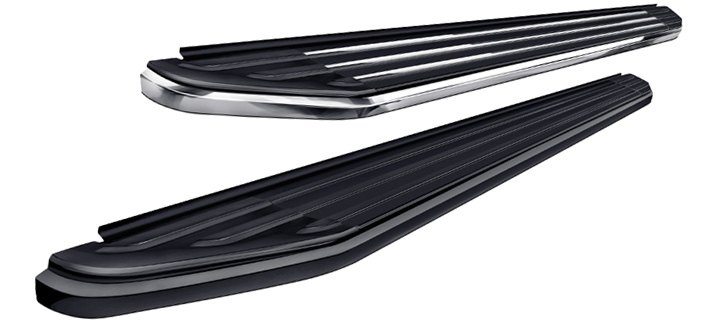 We also offer running boards styled with contemporary looks to match today's sleek crossover vehicles. There are the Westin Stylized Running Boards and APG iStep Running Boards. You'll typically find black board surfaces with black or chrome edging, or stainless steel board surfaces with black edging. All feature raised black grip strips or pads for secure footing.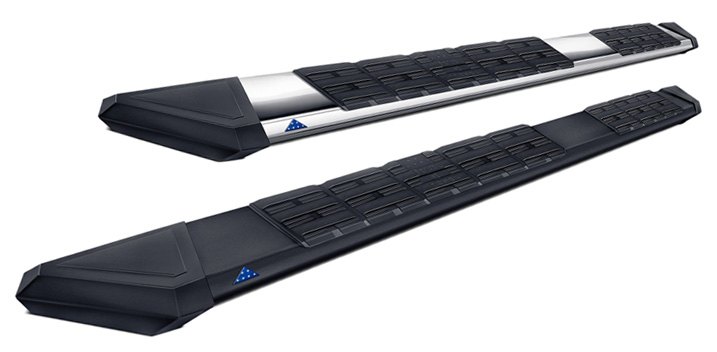 If you prefer beefier-looking running boards, take a look at the Iron Cross Patriot Running Boards, Lund Summit Ridge Straight Running Boards, and Westin R7 Series Step Boards among others.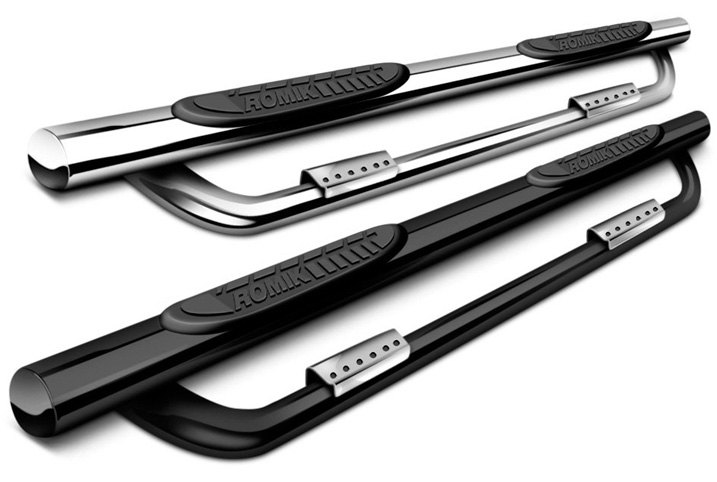 For those that like the look of step bars but need a larger, more convenient foot placement area typically found on running boards, take a look at Romik Max Bar Round Side Steps with Add-On and the RBP RX-3 Series Round Side Bars. Both of these feature an actual step bar as its main structural frame member, so they look the part. The extra convenience comes with a flat, horizontal stepping plate that's attached. Because it's integrated into the design, it fully serves as a wide running board without visually detracting from the step bar look.
Running Boards With Built-in Lights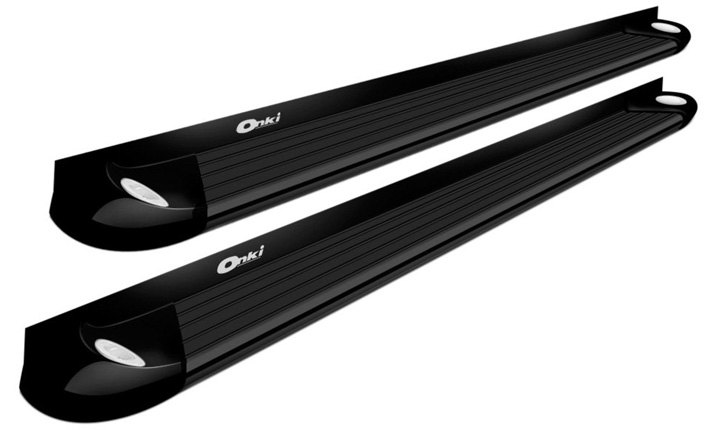 Do you often get out of your truck in dark areas where the ground may be uneven or marshy in spots? We've got running boards that offer the option of LED lights that illuminate footing surfaces on top as well as on the ground underneath. Built-in wiring connects to your vehicle's door ajar sensor, so the running board lights activate automatically when any door is opened.
Take a look at the Westin Molded Polymer Running Boards with a grooved black polymer covering, and Onki American Runner Lighted Black Running Boards designed with a solid rubber overlay. Both feature one-piece aluminum framework. Note that if the lighting feature is an option, you may need to select that choice in the Product Options field.
Running Boards For Maximum Grip & Removal Of Muck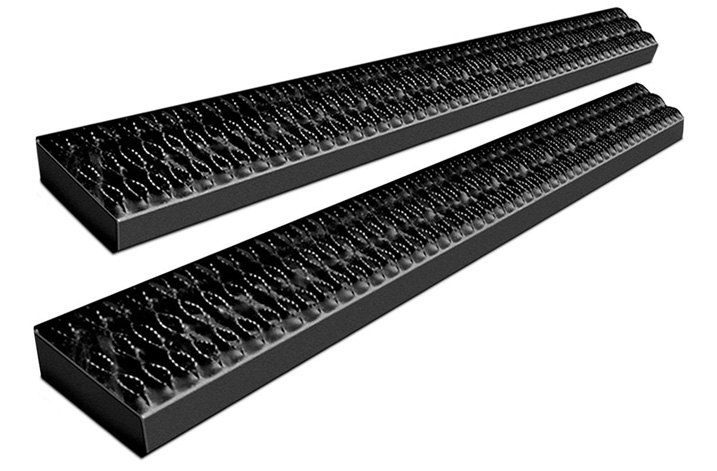 If you need running boards that can handle big boots stepping in and out of your truck all day whether it's on the job, on the farm, or driving the team home from a soccer game, consider the DeeZee Rough Step Running Boards, Luverne Grip Step Black Step Boards, or Dorman Chrome Truck Cab Side Steps.
All of these feature a perforated grate pattern that provides complete and biting grip for virtually any footwear except heels. First, it scrubs all water and debris out of shoe treads, then promptly drops it through the holes onto the ground below - effectively removing large amounts of muck before it ends up inside. Heavy-duty steel construction ensures the highest strength and a selection of finishes resist corrosion for the long haul.
Aluminum 'Diamond Plate' Pattern Running Boards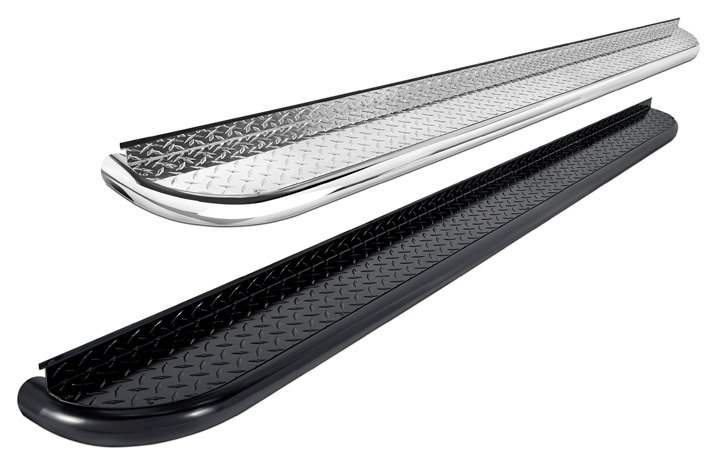 If you need high-strength running boards that match the big-scale style of your pickup truck or sport utility, we've got heavy-duty running boards with textured diamond plate pattern. Both the Willmore Arches Running Boards and the DeeZee Brite-Tread Silver Running Boards create a look that's strong enough for an 18-wheeler and smoothly finished enough for any compact luxury SUV.
Built-in splash guards block spray from wheel openings so horizontal running board surfaces remain cleaner and safer to use. Even if covered with water, slush, or snow, raised diamond patterns provide a textured running board surface that squeezes wetness out from shoe treads to provide safe, sure footing.
Retractable Power Running Boards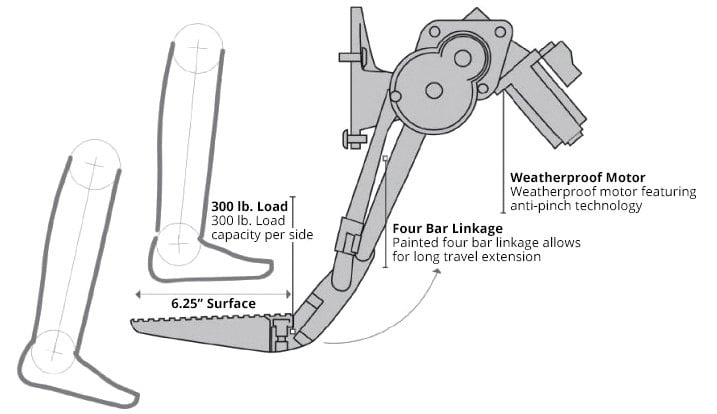 How about adding a touch of luxury to your pickup truck or sport utility vehicle? We've got stylish, power-operated running boards that extend outward when you need them, then retract neatly out of sight when you don't. We offer AMP Research PowerStep Black Running Boards built with components engineered and built to such high standards that Ford and General Motors use these very boards as OEM equipment. Installation is easy because mounting brackets with a pivoting design fit easily onto vehicle body mount bolts or existing frame holes.
A centralized control module is placed under the hood and comes with heavy grade wiring that connects to power motors on the bracket ends. Should you wish to add LED lights or stainless steel trim strips, they're available in Product Options. To ensure moving parts do not become compromised by mud and grit buildup, motors and pivot points are sealed with internal lubrication - making them virtually maintenance-free.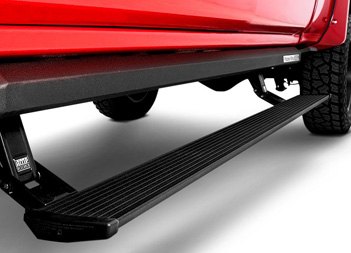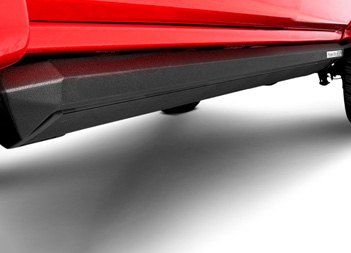 For best value, Bestop Powerboard NX Black Automatic Running Boards offer similar styling and function with the option of a wireless controller as well as extension arm pieces that drop the step 2 inches closer to the ground. Both of these power running boards are crafted from heavy-grade aluminum with stainless steel hardware, and can support up to 600 pounds on each side. Textured surfaces provide maximum grip when covered with snow, mud, rain, or ice.
These are perfect for 4x4 owners who need maximum ground clearance during off-roading and for those who prefer not to alter the original lines of their vehicle with fixed running boards. Whatever the length of your truck's cab, both of these power running boards are sized to fit your make and model like OEM equipment.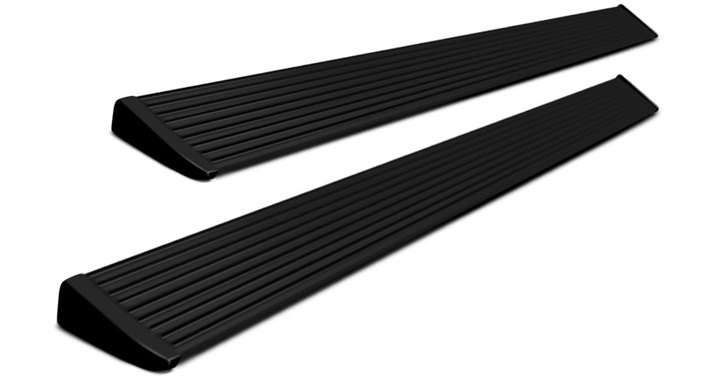 We understand you may still have questions about what's right for you, so we encourage you to contact us seven days a week with any questions you may have before purchasing.

May 15, 2015