Auxiliary fans are great for providing a boost to your vehicle's original cooling fan if you've encountered overheating conditions. For those that live in climates that see high temperature and humidity, excess coolant temperatures can be a prevalent problem – one that will not go away if ignored. Aluminum engine blocks and cylinder heads found on most of today's cars built since the beginning of this millennium are much more sensitive to overheating than traditional engine blocks made of iron. All it takes is one stretch of time with parts reaching excessively high temperatures to cause permanent metal warpage, leaks, and damage to a myriad of moving parts.
Not only do auxiliary fans deliver proven results when it comes to keeping engine temperatures down, they also reduce the workload of primary OEM cooling fans. As with any moving part, removing excess strain increases longevity many times over – putting money back in your pocket by eliminating repairs because of failure due to wear. So even you don't use your vehicle for deliveries or to shuttle Uber passengers, an auxiliary cooling fan is money well spent. Auxiliary cooling fans we offer are all powered by electric motors, and will achieve optimum results when wired to come on automatically based on thermostat temperature.
In this article, we'll show you the different fan types, the proper way to measure fan size, and the large variety of fans we sell in the Performance Cooling Fans section of our website. We'll also provide an overview of the different installation methods which are used, as well as steps involved with the actual install.
Determing Optimum Airflow
Auxiliary fans are given a measurement of how much air they can pump, in the form of cubic feet per minute (CFM). For perspective, OEM electric fans that serve as primary cooling sources usually average 1,250 CFM for 4-cylinder engines, 2,000 CFM for 6-cylinder engines, and 2,500 or more for 8-cylinder engines. V8s larger than 5.0 liters typically need 2,800 or more CFM, and airflow demand increases with size, horsepower, and ambient heat. Some electric fans may even be rated by recommended engine horsepower to provide a better idea of what's suitable. An auxiliary fan need not achieve those high levels of airflow to be beneficial.
'Pusher' vs. 'Puller' Fans
Auxiliary fans can be mounted on either side of the radiator. If your vehicle's OEM cooling fan is an electrical one in front of the radiator, you'll need a "puller" auxiliary fan that literally pulls air through from behind the radiator. Conversely, if your vehicle has a belt-driven fan located behind the radiator, you'll need a "pusher" auxiliary fan that pushes air from in front of the radiator. Some auxiliary fans are "reversible", which means they can spin in either direction to pull or push air from either side of the radiator. With reversible fans, wiring ends are reversed so that red and black wire leads are swapped, and the fan blade is unbolted, flipped over, then bolted in place again.
Puller fans are recommended if the electric fan will serve as the primary cooling source - something that is possible with more powerful "high output" fans. Mounting the auxiliary fan on the back side of the radiator (as you would do with a puller fan) maximizes exposure of the radiator's front side to cool air. A pusher-style fan is best as a secondary cooling source. Whichever you choose, it's to your advantage to select a fan that covers as much of the radiator core as possible. To do this, taking the length and width measurements of your radiator is vital.
Measuring To Ensure Proper Fit
Using a tape measure, determine the dimensions of both the radiator core and the entire radiator assembly itself. The radiator core is the area that consists of a series of tubes and cooling fins. Tubes are the pipes where hot coolant from the engine passes through. Fins that surround the pipes absorb radiant heat from the tubes and disburse it to the outside air as it passes through the core area. Since the core is the area where air will actually flow through, it's recommended to purchase a fan that is sized to cover at least 70% of the core's diameter. Knowing the dimensions of your core will allow you to pick a fan with measurements best suited to your vehicle.
If you're buying a fan that uses brackets for attachment, your measurements must take into account how the brackets will mount to the radiator (see further down in this article). The thickness (sometimes described as "width") of auxiliary fans is important if clearance in under hood areas is tight. If that's an issue, slim-line fans are designed to fit in tighter spaces. Further in this article, we'll discuss slim-line fans in greater detail.
Once you know these important measurements that are specific to your car or truck, you'll be better prepared to make a selection from the products we offer. If an auxiliary cooling fan only comes in one size, you'll see its outer dimensions in the product description. If more than one size or style is available, you'll most likely find those dimensions in the Product Options drop-down field.
Fans We Offer
Fans With An Aluminum Shroud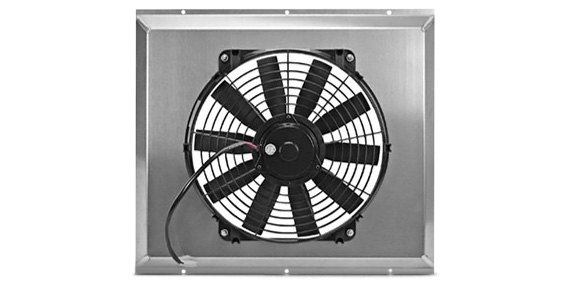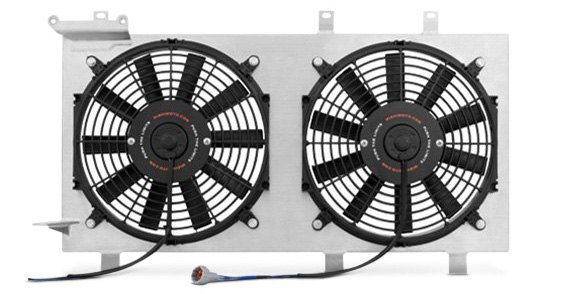 If you're looking for fans with a larger shroud assembly that provides the advantage of maximum tunneling for air, we've got fans with lightweight aluminum shrouds such as the Mishimoto Electric Fan With Aluminum Shroud and the Mishimoto low-profile Slim Electric Fan. Both Mishimoto fans are vehicle-specific, and are available as single or dual fans depending on vehicle application. We also have the Flex-A-Lite Electric Fan With Aluminum Shroud (universal fit, with single or dual configurations available).
Slim, 'Low Profile' Fans

As their name indicates, low-profile auxiliary cooling fans are purpose-built to fit within narrower confines. We've got the vehicle-specific Flex-A-Lite Lo-Profile S-Blade Electric Fan (single or dual configuration depending on vehicle application), the Mishimoto Slim Electric Fan (referenced in paragraphs above), the Flex-A-Lite Trimline Electric Fan (see paragraphs below), and the Derale Performance High Output Curved Blade Electric Puller Fan, which is extremely powerful and available in the greatest range of universal sizes from a 10" version up to a 16" size.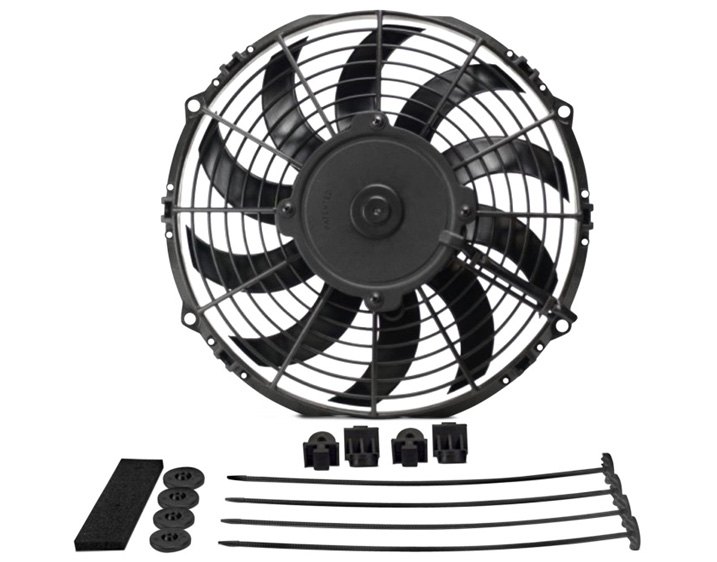 Reversible Fans
For starters, reversible singe fans we offer are the slim-profile Flex-A-Lite Trimline Electric Fan and the Hayden Rapid-Cool Reversible Fan Kit. Derale Performance's High Output Pusher/Puller Fan makes the reversal process easy. Specially designed fan blades means they'll pull or push air equally well – eliminating the need to unbolt and flip the fan assembly over. All that needs to be done to reverse the fan is swap front and rear brackets. And the Derale Performance Dyno-Cool Universal Electric Fan comes with sensors and equipment that allow you to vary the turn-on temperature between 32-240 degrees Fahrenheit – an extremely wide range that's great for special-use vehicles.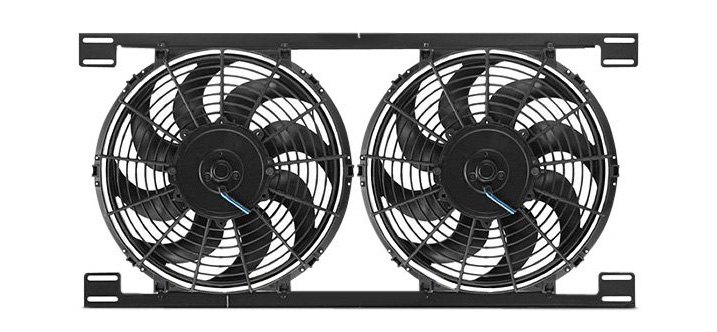 Derale's reversible Performance Tornado Universal Electric Fan is available in single or dual-fan combinations, and offers ten different sizes of single fans – the largest of which is powerful enough to serve as a primary cooling fan for a small 6-cylinder engine.
Attaching The Cooling Fan Assembly Itself

Most auxiliary cooling fan assemblies are attached with flexible pins that protrude through gaps between the cooling fins on the radiator. This is an easy installation because the fan is secured right onto the radiator core itself.
First, plastic or nylon fastening pins are inserted through the mounting holes on the fan assembly. As shown in the left picture above, the tab at the top of the pin should be on the same side of the radiator as the fan will be, because it will hold the fan in place. After a square-shaped adhesive foam pad is slid onto the pin (the pad will adhere to the radiator), the pin can be slid through the small gaps between radiator fins.
On the other side of the radiator (right picture), a second protective pad is inserted onto the pin with the adhesive facing out. Dampening springs that usually come with the fan are then slid onto each pin fastener, with the larger side of the spring coil facing the radiator. Note that the spring should be making direct contact with the adhesive pad - not the radiator.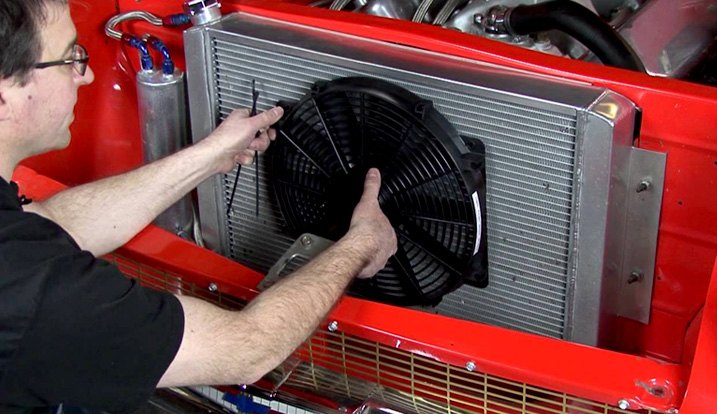 Once that's done, a separate fastening clip is attached on the pin. After sliding that fastening clip snugly against the spring and other side of the radiator, excess pin plastic is trimmed off. Once this process is done for multiple pins, the fan is securely held in place - with the springs serving to dampen vibrations. Note that for most installations, the radiator does not need to be removed from the car.
When mounting any auxiliary cooling fan, it's important to make sure the fan assembly rests flush against the radiator core. Gaps along the edges will allow air to find the easiest path and squeeze out to the sides instead of going through the radiator.
With a pusher fan, air would push out from the edges - reducing air velocity into the front of the radiator. With a puller fan, air would be drawn into the fan from the side gaps instead of from the other side of the radiator where it should be.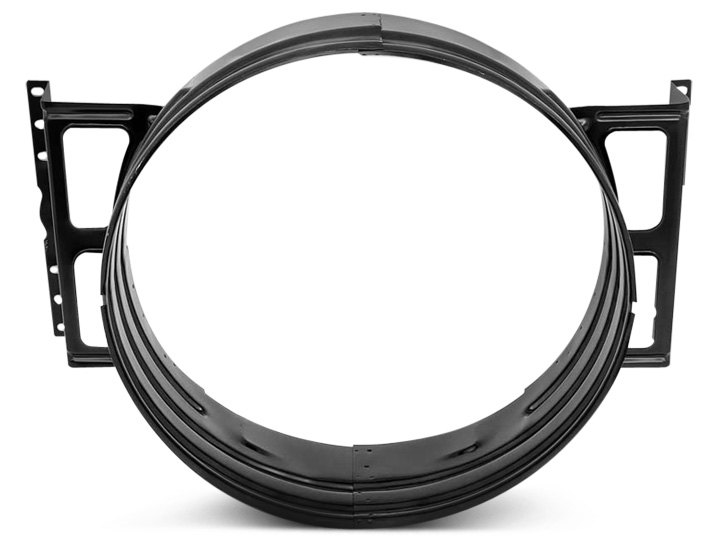 Auxiliary cooling fans come with their own shrouds, which circle and surround the fan blades on all sides. The shroud also guides air where it's supposed to go – through the radiator. Without a shroud, pressure would be lost out to the sides as well. Should you find yourself in need of a replacement fan shroud, we've got a good selection to choose from.

Most vehicles are equipped with separate transmission fluid coolers that are, in a sense, mini-radiators that contain trans fluid instead of engine coolant. Because trans fluid coolers are often mounted directly behind the main radiator, they might be in the way if you're installing a secondary electric puller fan.

One solution for this would be to unbolt the trans fluid cooler from it's mounting points and install spacers so that it's positioned further back. Another solution would be to opt for a combination transmission fluid cooler / electric puller fan – a number of which can be found in our Performance Transmission Oil Coolers section.
Wiring
Auxiliary cooling fans can be wired to activate in several ways. First, the fan wiring can be connected to a manual on-off switch in the cockpit. However, this method requires you to be diligent about watching the car's temperature gauge, as should you forget, or react too late, the system may still overheat. Another option is to wire the fan to operate any time the engine is running, by connecting it to a 12-volt source which is hot with the ignition. But this isn't the best setup either because the fan will run all the time- not just when it's needed. This is inefficient at best, and power-robbing at worst.
The most efficient switch-on method for an electrical fan is to use a thermostat as the control device. This ensures that the fan runs only when needed, and kicks on the instant that coolant temperature begins to rise above a predetermined level. At this point, you will need to know if your vehicle already has an electric fan (and you're installing a second one), or if it does not currently have an electric fan.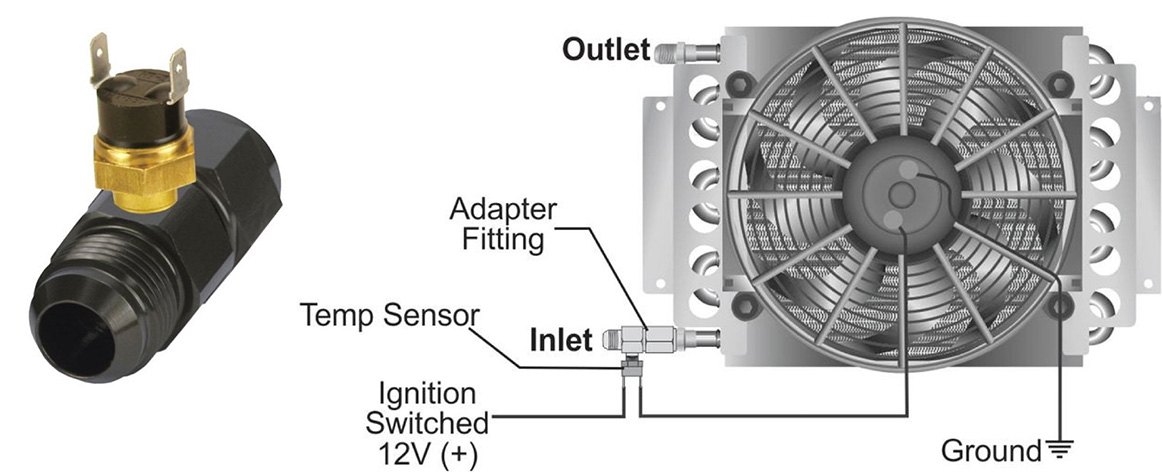 If you need to purchase a thermostat, we've got the Derale Performance Fan Switch Thermostat. Installation will vary based on vehicle and manufacturer's instructions, but typical location choices include the radiator, intake manifold, or radiator hose. Some of these choices require you to know pipe measurement details. The "AN" designation refers to a US military standard specification (Army-Navy). The number in front of the AN refers to a pre-designated size. The "NPT" designation refers to tapered pipes. See the charts below for sample sizes you may encounter.

If an electric fan is already present, you will likely be able to piggy-back onto the existing electrical thermostat. Whether you are installing a thermostat or using an existing one, you will need to wire the new fan to the vehicle. Many of our cooling fans come with a wiring kit (check the specifics when purchasing). Such kits will include installation instructions. If wiring is not included, wiring / thermostat control kits are available from Flex-A-Lite and Maradyne, among others.

Those who have the electrical experience and know-how can complete the installation using a standard automotive relay, fuse, and 14-gauge wiring. IF there is any doubt about your own ability to perform the job, please seek out the assistance of a professional!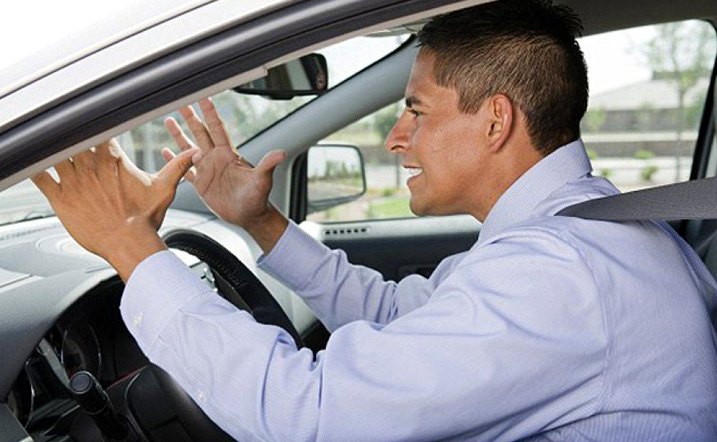 We think that the security and confidence that comes with not having to worry about engine temperature spikes every time traffic slows down just a little bit is well worth every penny these cooling fans cost. Browsing through what's available, you'll notice each auxiliary fan features one main lead picture. These pictures are not necessarily indicative of the variations you'll find for each fan, because configurations vary from vehicle to vehicle. For example, a product showing a single fan assembly may be available as a dual fan setup as well. Layout of the fans may also vary from lead pictures depending on size of the fans and vehicle applications.
Base your auxiliary fan purchase decision on the CFM you need, the available space you have, and the choice of pusher versus puller. If you're doing the install yourself, make sure you understand what's involved. Whichever you choose, you'll find the exact auxiliary fan you need at our site. Please don't hesitate to contact us if you need selection guidance for your auxiliary cooling fan.
April 29, 2016