Dollar for dollar, there is likely no performance upgrade which can delight multiple senses the way a performance exhaust system can. The thunderous roar fills your ears; the glittering metal surfaces delight your eyes; and the newly unleashed torque pushes your entire body back into your seat as you launch yourself down the road.
Better still, many performance exhaust upgrades are priced right AND can be installed in your home garage in just a few hours. Similar to our other DIY performance articles on engines and cooling systems, you won't need a bank loan to treat your ride to an exhaust upgrade. From exhaust tips and mufflers to headers and complete systems, we have the components designed to work with your exact year, make, and model vehicle, so we eliminate the hassle factor when it comes to making the parts fit together correctly the first time.
When using our website, make use of the Refine Search menu on the left side of the screen. This allows you to narrow down your choices based on kit type, sound level, material, pipe diameter, and tip finish. You can also make your decision either based on the year, make and model of your car, or, if it's a custom build, based on the engine family.
Below, we highlight four of the more popular categories featured under Performance Exhaust. Follow along below as we walk you through a series of choices for each of those.
Headers
Headers replace factory exhaust manifolds. Factory manifolds are, by design, restrictive, because engineers are looking for the best compromise among flow, sound, and fitment. The advantage of exhaust headers is that they utilize a combination of larger pipes and/or less restrictive bends in order to scavenge the exhaust gases from your engine more efficiently.
Different brands may offer "short tube" or "long tube" header designs, the availability of which may depend on your specific vehicle. It's a best practice to plan ahead and consider whether you'll be matching up a header to the existing exhaust system or replacing the remainder of the pieces.
Most inline engines have one exhaust manifold, while "V" engines have two. Depending on the design of the header and the age of your ride, installation can be rather simple, or can become more complicated, especially in crowded modern engine compartments. Before making your purchase decision, you may want to investigate the install instructions, especially if you're planning on tackling the job yourself. In some instances, you may need to remove some engine components, slightly raise the engine off its mounts, or modify inner sheetmetal to make headers fit.
Let's not forget the bling factor. If the headers are polished, chrome plated, or enameled, you can expect eyes to pop every time you pop the hood at a cars & coffee event or cruise night. That's just the icing on the cake, along with the extra oomph you get from free-flowing headers.
Shorty headers from PaceSetter are available to fit a variety of domestic and Asian vehicles from the 1980s onward. They are intended as a direct replacement for the factory manifold, meaning that they bolt to the stock downpipe and keep the catalytic converter in its place. They look sharp in either black painted or polished Armor coated.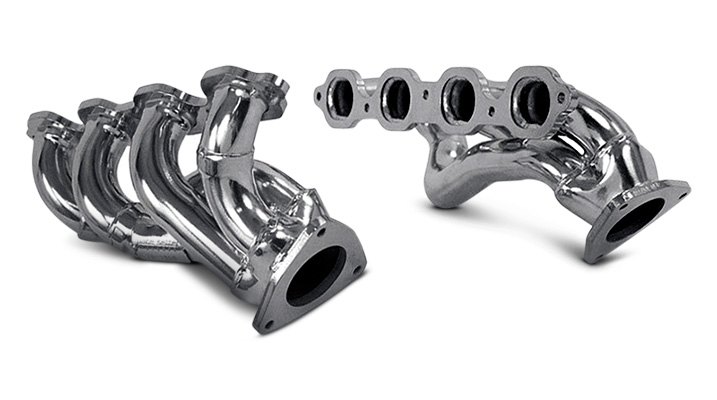 BBK's full length exhaust headers fit all the popular pony cars, include gaskets and hardware, and bring a horsepower gain of up to 30 HP. Choose between brilliant chrome or silver ceramic finishes.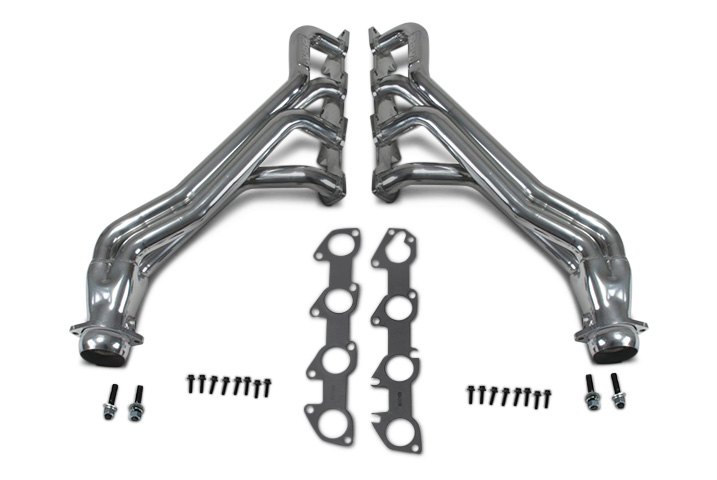 The stainless steel, ceramic-coated headers from DC Sports are designed to work with a variety of Honda, Acura, and Toyota vehicles, and provide a nice low-to-mid range power boost that works well for both street and track driving.
Full Kits
A complete exhaust kit, or full kit, continues to be one of the most popular exhaust upgrades, and for good reason. For cars built with catalytic converters (since about 1975), a complete exhaust kit is in reality a "cat-back" kit, meaning, it replaces everything AFTER the catalytic converter. This keeps your vehicle emissions-legal, provides you with all the pipes and mufflers behind the converter, and simplifies installation, as you only need to make one connection to the cat's outbound flange.
If a cat-back system is out of your budget, take a look at "axle-back" systems, defined as exhaust systems which start at the rear axle on back. While not quite as extensive as a cat-back kit, most axle-back systems include one or two mufflers, connecting pipes, and tail pipes, still giving you the performance and sound upgrade you seek, at a not-insignificant price savings.
If your vehicle still has its original factory-installed exhaust system, it's more than likely that the exhaust pieces are rusty and starting to leak, and need replacing anyway. Trying to separate a pipe from a muffler that's been joined together since the factory assembled it over 20 years ago is not fun. In fact, you may find yourself intending to replace just one part, but each successive part crumbles in your hand. With a full kit, you're able to remove everything behind the starting point, toss it, and then enjoy working with all new pieces which fit together well.
If you happen to own a pre-catalytic converter car, a "complete exhaust kit" likely starts at the exhaust manifold flange. Again, you're throwing away everything else, so as long as you can separate the down pipe from the manifold, installation should be straightforward.
Borla is a well-known name in the performance exhaust arena, and are perhaps most famous for their "million-mile warranty". Their exhaust kits are available in both cat-back and axle-back versions, and many of these kits allow the exhaust sound to be adjusted by the addition or removal of block-off plates. Borla kits include polished exhaust tips as a final touch.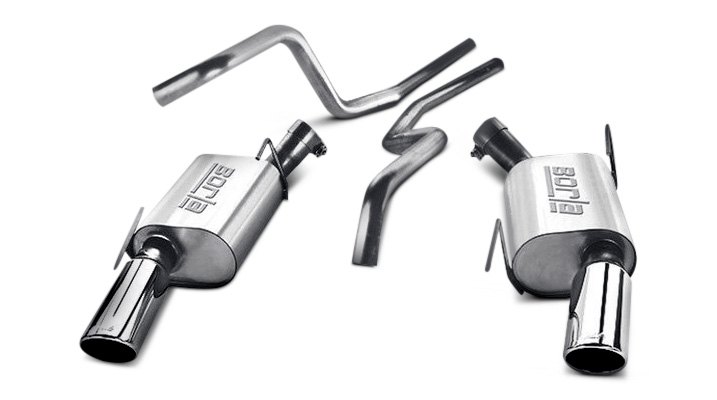 The Torxe brand is a value leader among makers of complete exhaust kits. That does not mean that their kits skimp on quality, as all Torxe systems include stainless steel pipes, mandrel bends, and TIG-welded flanges. Their cat-back systems fit a variety of domestic, European, and Asian brands from the 1980s to the present, and in some cases with your choice of finish and tip design.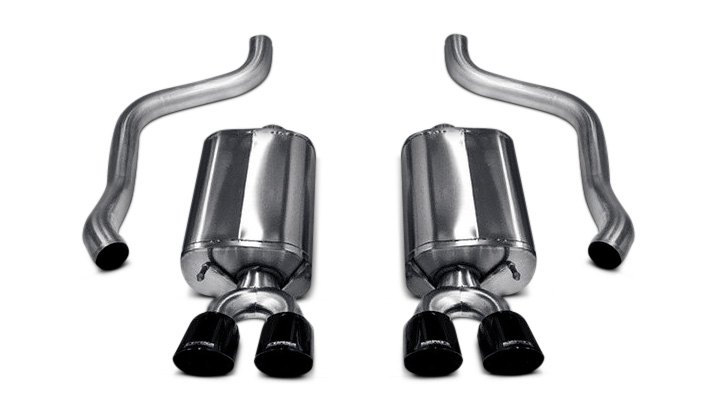 Corsa's Sport Exhaust Systems are designed and built in the USA of stainless-steel componentry. Available for a wide variety of sports cars, sporty sedans, and trucks from the 1980s through the present day, kits are available in cat-back and axle-back configurations, with your choice of polished or black muffler tips.
Mufflers
One of the simplest and most cost-effective ways to install a performance exhaust is by simply replacing a restrictive factory muffler with a less-restrictive and better-sounding performance model. By keeping the rest of the exhaust in place, you minimize your monetary outlay, yet still create an aural thrill provided by the free-flowing muffler. The removal of backpressure definitely bumps up the horsepower too!
From an installation viewpoint, keep in mind that the better condition your existing system is in, the easier it will be to accomplish this. Older, rusty systems might fall apart in your hands and have you rushing back to the website to order additional parts you hadn't planned on. A best course of action is to perform a complete visual inspection BEFORE you order an individual muffler.
Most stand-alone mufflers are universal, and some extra care needs to be exercised when making a selection. Universal products might require some cutting and fitting to make it all work. The good news is that we provide exact dimensions for overall size as well as inlet and outlet size and location. Do your homework before ordering so that you know what you're getting into if you decide to go the universal muffler route.
Flowmaster, a leader in performance exhaust systems, also offers an entire line of universal performance mufflers. Their Super 44 Series Delta Flow mufflers are finished in a menacing black, provide an aggressive, powerful tone, and feature a two-chamber design that boosts both horsepower and torque. You can choose among centered or offset inlet and outlet pipes to ensure that you'll find a size and shape that fits your needs.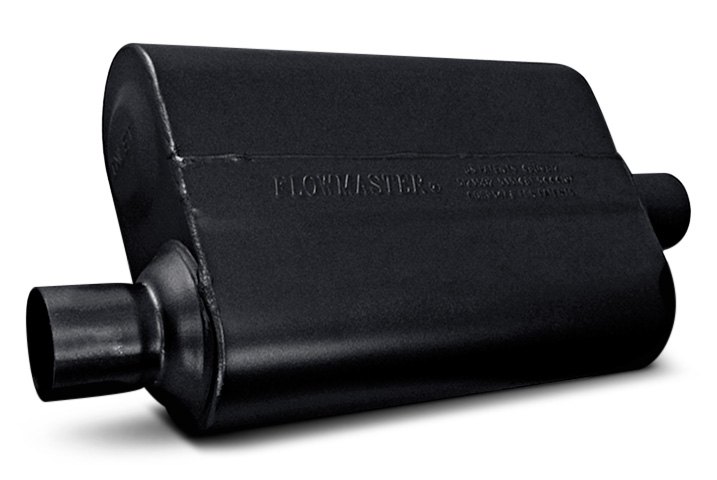 If you need a muffler with built-in exhaust tips, look at the Street Series Stainless Steel muffler from MagnaFlow. The stainless steel looks great, as do the polished dual tips. The muffler features a removable sound dampener to increase the roar, and includes a lifetime warranty.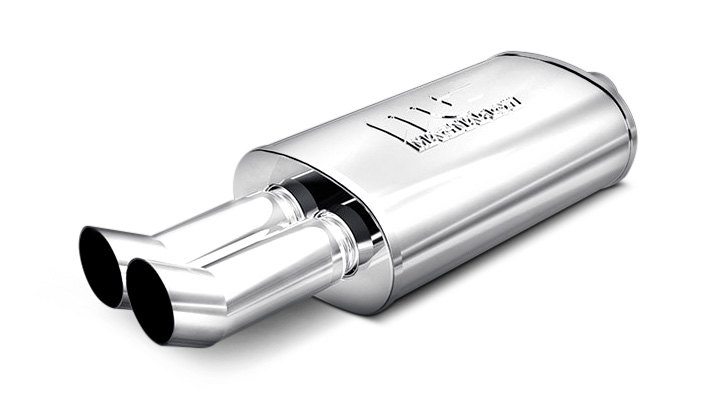 Nothing is more old-school than this Cherry Bomb M-80 red muffler. Embraced by hot-rodders of the day when they were unveiled in 1968, Cherry Bomb continues their well-earned reputation with this retro-designed muffler that frankly will look good on any hot rod.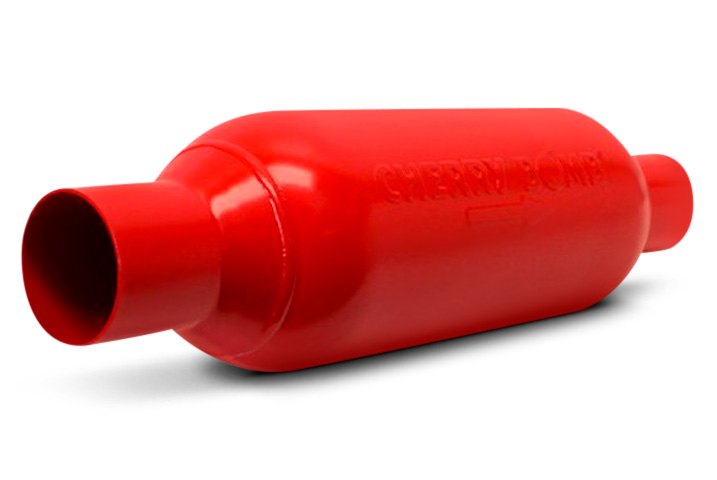 Exhaust Tips
Perhaps your budget is a little tight right now; or you want to spring for something small while you save up for the big exhaust purchase; or your newer car's exhaust sound is sweet, but lacks some pizzazz at its tail end.
In any of those cases, we have the answer, and it's called "exhaust tips". Of all the performance exhaust upgrades, these are the most affordable AND easiest to install, while still providing a nice bling factor.
When perusing our site for the exhaust tips of your choice, it's very important to think about fitment. You want to make certain that the INSIDE diameter of the new tip will fit over the OUTSIDE diameter of your vehicle's current tip. Once you're sure of that, installation in many cases needs nothing more than a screwdriver or wrench to tighten down the hold-down bolt. Make note that some exhaust tips are listed as "weld on".
The aFe brand offers the Mach Force XP dual exhaust tip, which can instantly change your ride's back end from a single to dual outlet, or dual to quad. These bolt-on tips are made of stainless steel, with a rolled end, and are available in a choice of diameters as well as in polished or black finish.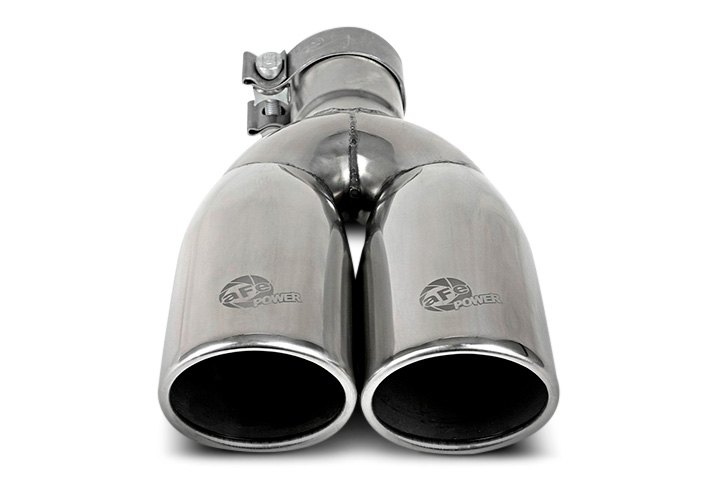 You can proudly fly the flag even on your exhaust tip with the Gibson Patriot Series Black Ceramic Exhaust Tip. Besides its unique looks, this exhaust tip is chock full of features: 304 stainless steel material, ceramic finish, rolled slash-cut end, and simple bolt-on installation.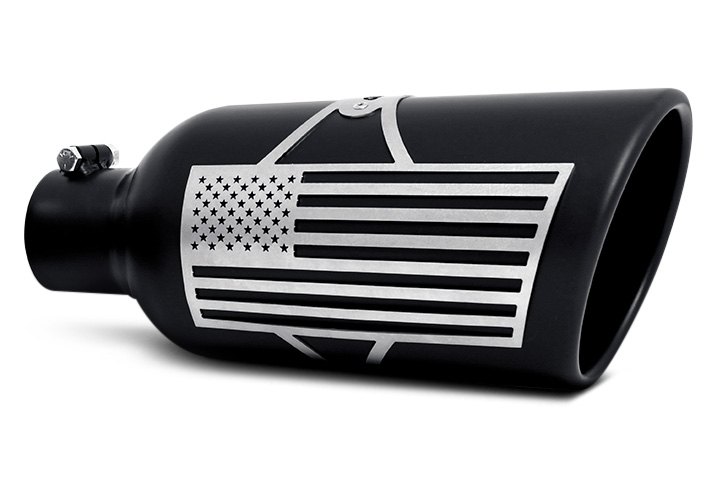 If you want to stand out from the crowd, be sure to check out these hexagonal black-coated exhaust tips from MBRP. These tips bolt on, and are available in a choice of diameters.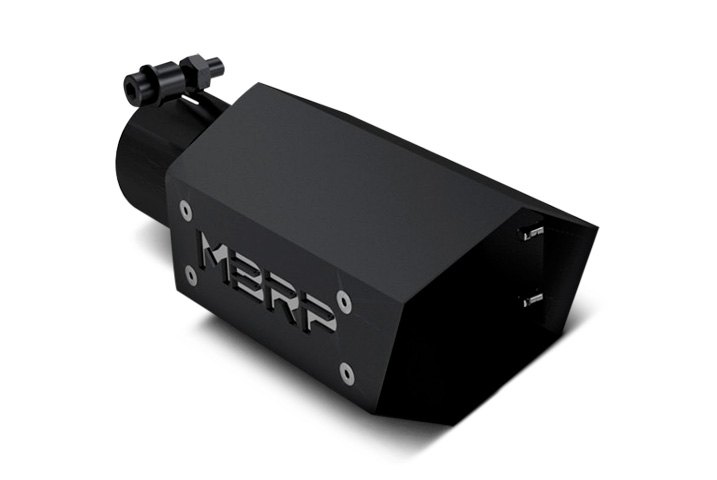 That concludes our brief look at our more popular performance exhaust products. What we've included in this overview is priced from under a hundred bucks up to several thousand. Installation varies, too, from just a few minutes to the bulk of a weekend. But the beauty of all these choices means you can find the performance upgrade to fit your budget, your wrenching skills, and ultimately, the uptick in sound and power you want. And be sure to take a look at the other products in our performance exhaust department, including pipes, catalytic converters, stacks, and a wide variety of clamps, hangers, and gaskets.