Keeping your car clean is important, not only to make it look better but also to preserve its value. Freshly washed and waxed paint, crystal clear glass, and a showroom-new interior are all possible with the right products and a little elbow grease. On CARiD, we have dedicated an entire category to car care products for you to choose from.
Now that life is slowly but surely returning to normal in this post-pandemic world, we may have stopped obsessing about germs. However, it's still a best practice to be proactive and keep certain surfaces as clean as possible. If there is one surface on your car or truck that is more "hands-on" than any other surface, it's the steering wheel. You have (or should have!) at least one hand on the wheel at all times while moving. And try as we might, our hands are not always as clean as they could be. In addition to the normal oils in our skin, we might have dirt, grease, food, and the remnants of the last sticky thing we touched on our fingers. Gripping the steering wheel makes it more than likely that those substances get transferred to it. Any interior cleaning you undertake should include special attention to that round object in front of you.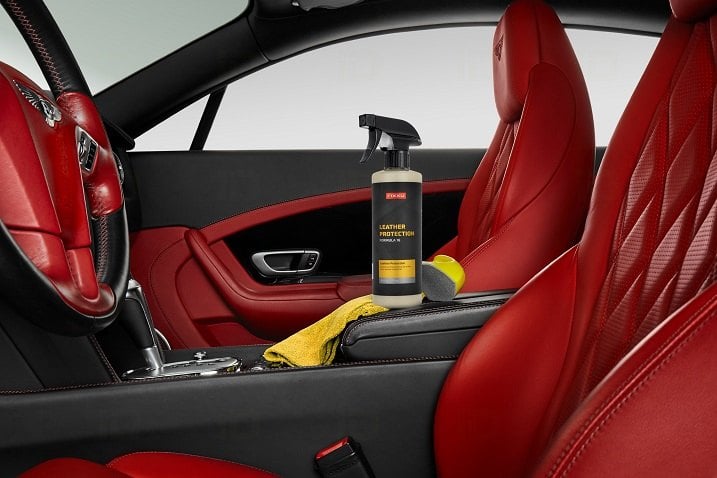 When setting out to clean the steering wheel, the first step is to determine its material. The steering wheel surface could be leather, vinyl, Alcantara, wood, plastic, or some combination of these. The different materials require different products. In some cases, using the incorrect product could actually damage the wheel's surface.
There are all-purpose cleaners that can get the job done. You may also come across dedicated steering wheel cleaners. In both cases, be sure to read the labels as you want to verify that the product is appropriate for your particular wheel's surface. We recommend the use of a microfiber cloth for cleaning. As a best practice, start with a clean microfiber cloth and use it only on the wheel; do not continue to use the same cloth on the remainder of the interior, in recognition of the amount of grimy stuff you're removing. The last thing you need is to transfer any of that bad stuff to someplace else in the interior.
At our website, start your product search at Auto Detailing:
https://www.carid.com/auto-detailing.html .
Next, select "Interior Care" (highlighted in green in the image below).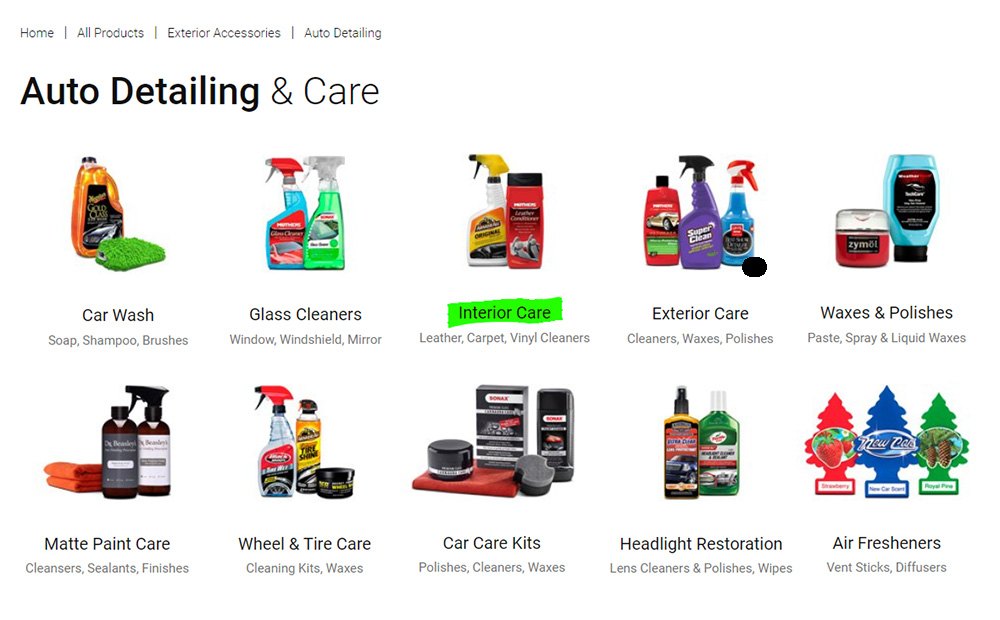 When searching for the appropriate material, our Refine Search menu on the left side of the screen makes it easy for you to narrow down your choices. As you can see in the image below, "Cleaners" under TYPES is a good place to start; if the steering wheel material is leather, as it is on so many newer vehicles, then make that selection.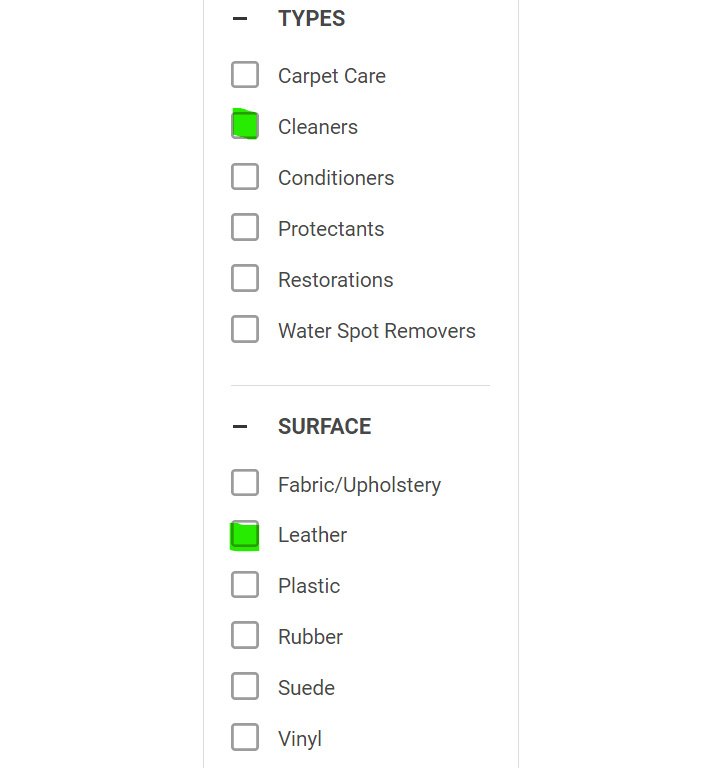 We carry a wide variety of manufacturer's products, from name-brands to value-priced selections to our own CARiD-exclusive Rixxu brand. You can find steering wheel cleaners from Griot's Garage, Meguiars, Mothers, Turtle Wax, Chemical Guys, and more! Again, use the Refine Search menu on the left if you would like to search by brand.
When performing the actual cleaning, be sure that the wheel is at a temperature that is comfortable to the touch. A wheel that is too cold or too hot will not react appropriately with the cleaning solution. Start with clean microfiber cloths; having two on hand is best. Apply the cleaner to the microfiber cloth, not onto the wheel itself. You will have better control of the amount that way. Rub the solution into the surfaces of the wheel. If the wheel is excessively dirty, change to a clean area of the cloth so that you are not moving dirt from one place to another. Many modern cars have buttons on the steering wheel for sound system functions, cruise control, etc. Avoid getting solution into those buttons, which could affect their functionality. After you have cleaned the wheel with the first cloth, use a second clean cloth to wipe away any residual solution and dirt. As suggested earlier, once you have cleaned the steering wheel, do not use the same cloths on other areas of the interior. Microfiber cloths can be machined washed and dried. Use cool or cold wash water, and a low temperature setting on the dryer. High heat can damage the cloths.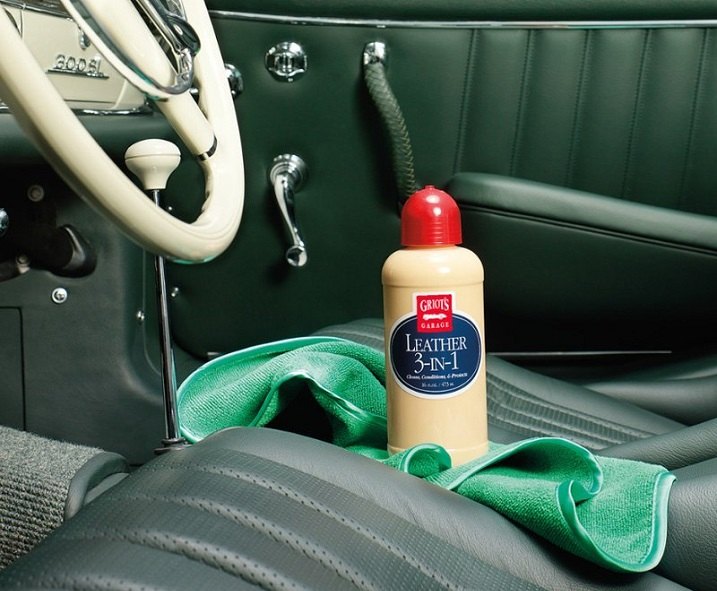 With the right products on hand, performing the necessary and important steering wheel cleaning does not take much time at all. And just like your car's paint, glass, and upholstery, keeping your steering wheel looking like new makes you feel better about your ride while also maintaining its value!
Remember, at CARiD, "You Are What You Drive!"
February 03, 2023